Are you stuck choosing between Gemini and Kucoin to begin your cryptocurrency trading journey but unsure which option is better?
This thorough Gemini vs. Kucoin comparison dives into every vital aspect of both exchanges, from trading options to products, fees, security, and more. So stay tuned to find out which exchange wins more points and comes out on top in all aspects!
| Website | Gemini.com | Kucoin.com |
| --- | --- | --- |
| 🚀 Founded | 2014 | 2017 |
| 🔎 Founder | Winklevoss Twins | Johnny Lyu |
| 🌐 Headquarters | NYC | Seychelles |
| 👤 Users | 1M+ | 20M+ |
| 📈 Supported Coins | 80+ | 700+ |
| 🔁 Spot Fees (maker and taker) | 0.20% / 0.40% | 0.1% |
| 🔁 Futures Fees (maker/taker) | N/A | 0.02% / 0.06% |
| 🔒 Security Level | High | High |
| 🕵️ KYC Verification | Required | Required |
| ⭐ Rating | 4.1/5 | 4.8/5 |
| 🪙 Native Token | GUSD | KCS |
| 📱Mobile App | ✅ | ✅ |
| 🏦 FIAT Withdrawals | ✅ | ✅ |
Gemini vs. Kucoin Overview
When comparing Kucoin and Gemini, there are some apparent differences. Kucoin, established in 2017 in Seychelles, specializes in altcoins, offering nearly 700 assets. Moreover, it has a massive global user base of over 20 million.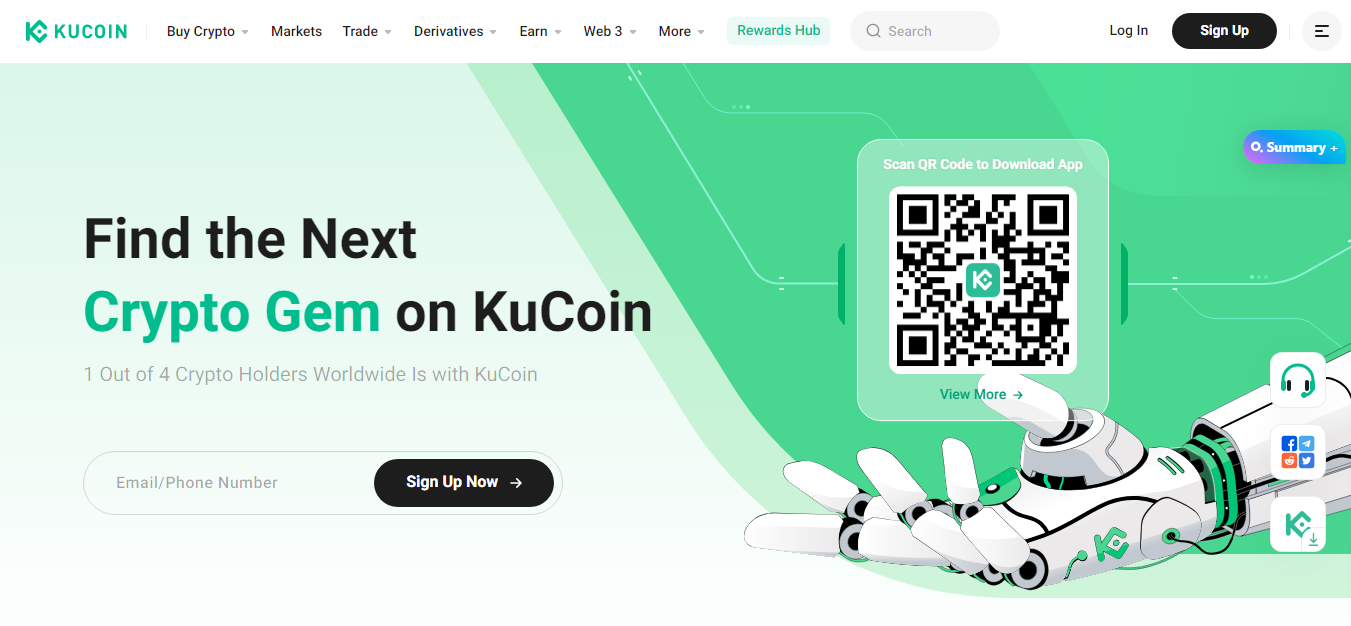 Apart from trading, Kucoin offers passive income options like staking and mining. Kucoin caught our eye with its Q2 2023 rebranding, bringing a user-friendly site and a mobile app for iOS and Android with 10M+ downloads and a 4.4/5 rating.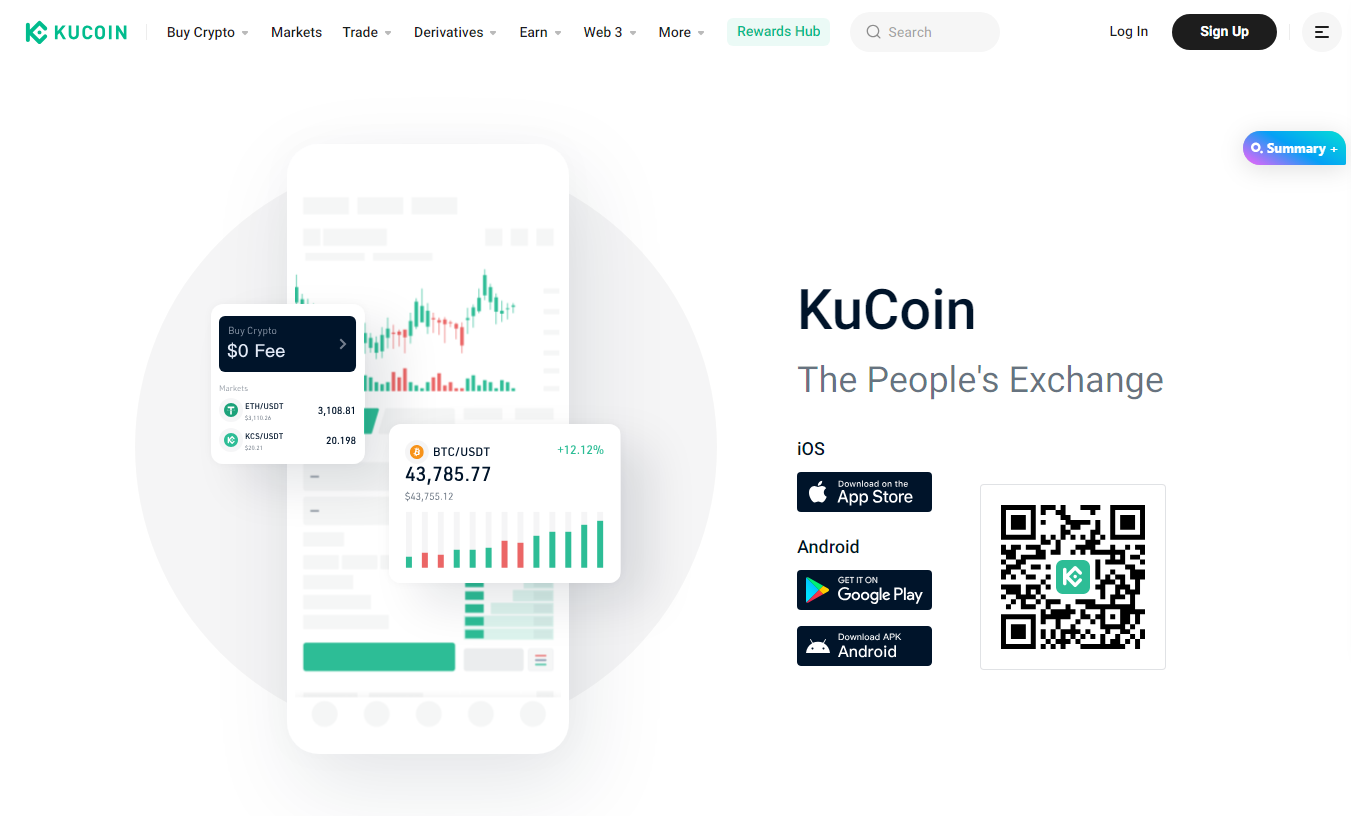 On the other hand, Gemini, founded in 2014 by the Winklevoss twins in NYC, stands out, boasting a staff of over 500 and a user base exceeding 1 million. The exchange's 24-hour spot trading volume is around $800 million, with 100+ cryptocurrencies, including popular ones like Bitcoin and Ethereum.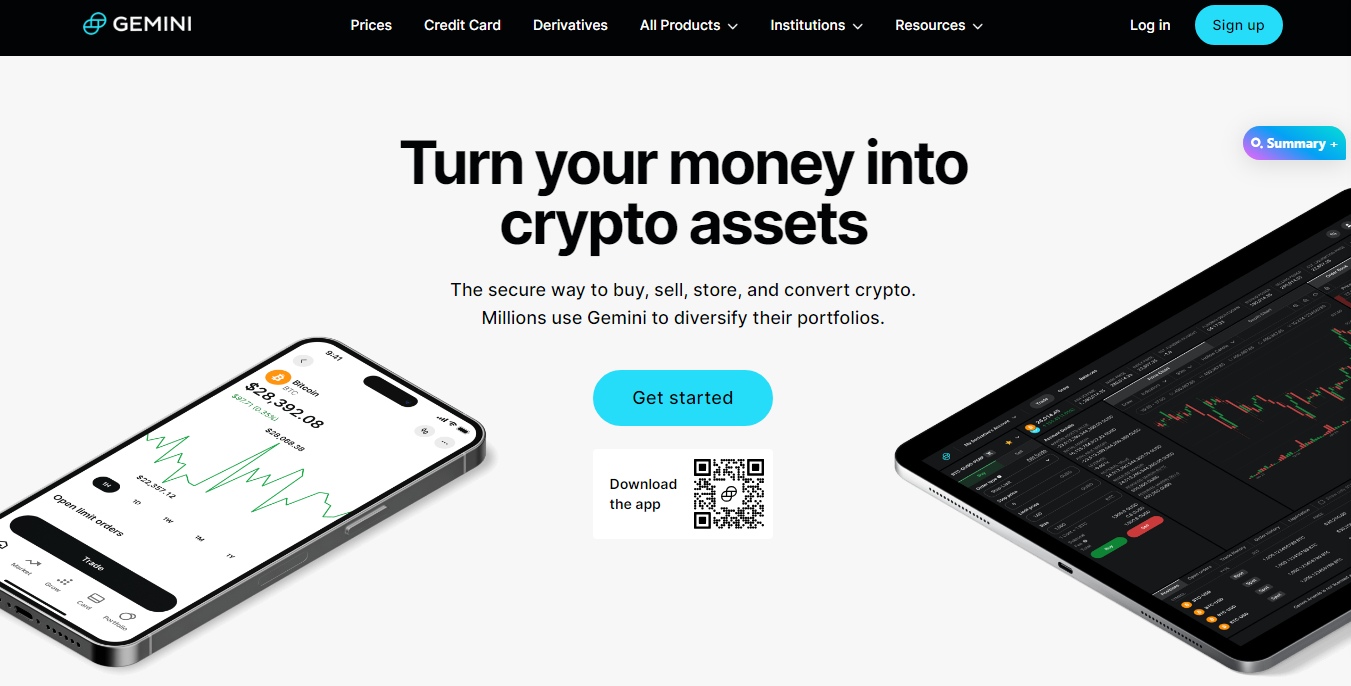 Beyond trading, Gemini excites with features like Gemini Earn and Gemini Custody. Their secure app is user-friendly and holds a similar 4.4/5-star rating as Kucoin on Google Play.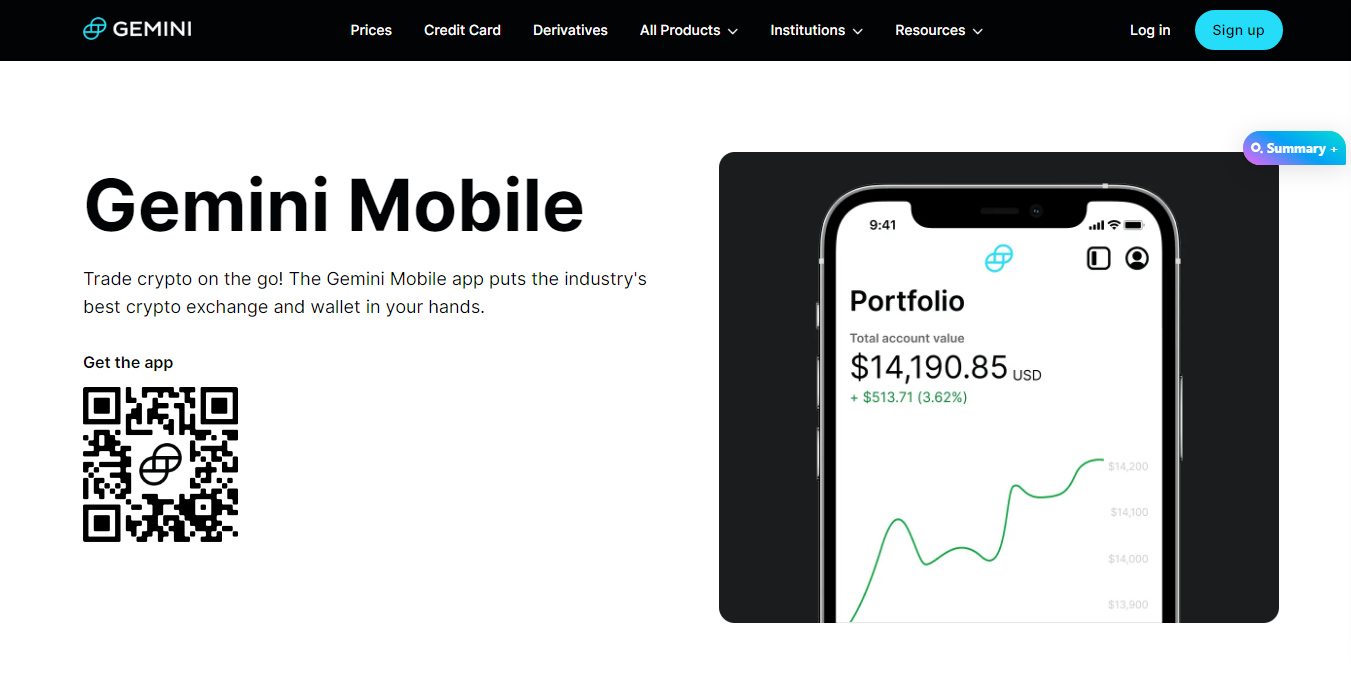 Gemini vs. Kucoin Signup & KYC
When comparing the signup and KYC processes of Gemini and Kucoin, we found that signing up on Gemini involves entering your full name, email, number, password, and country of residence.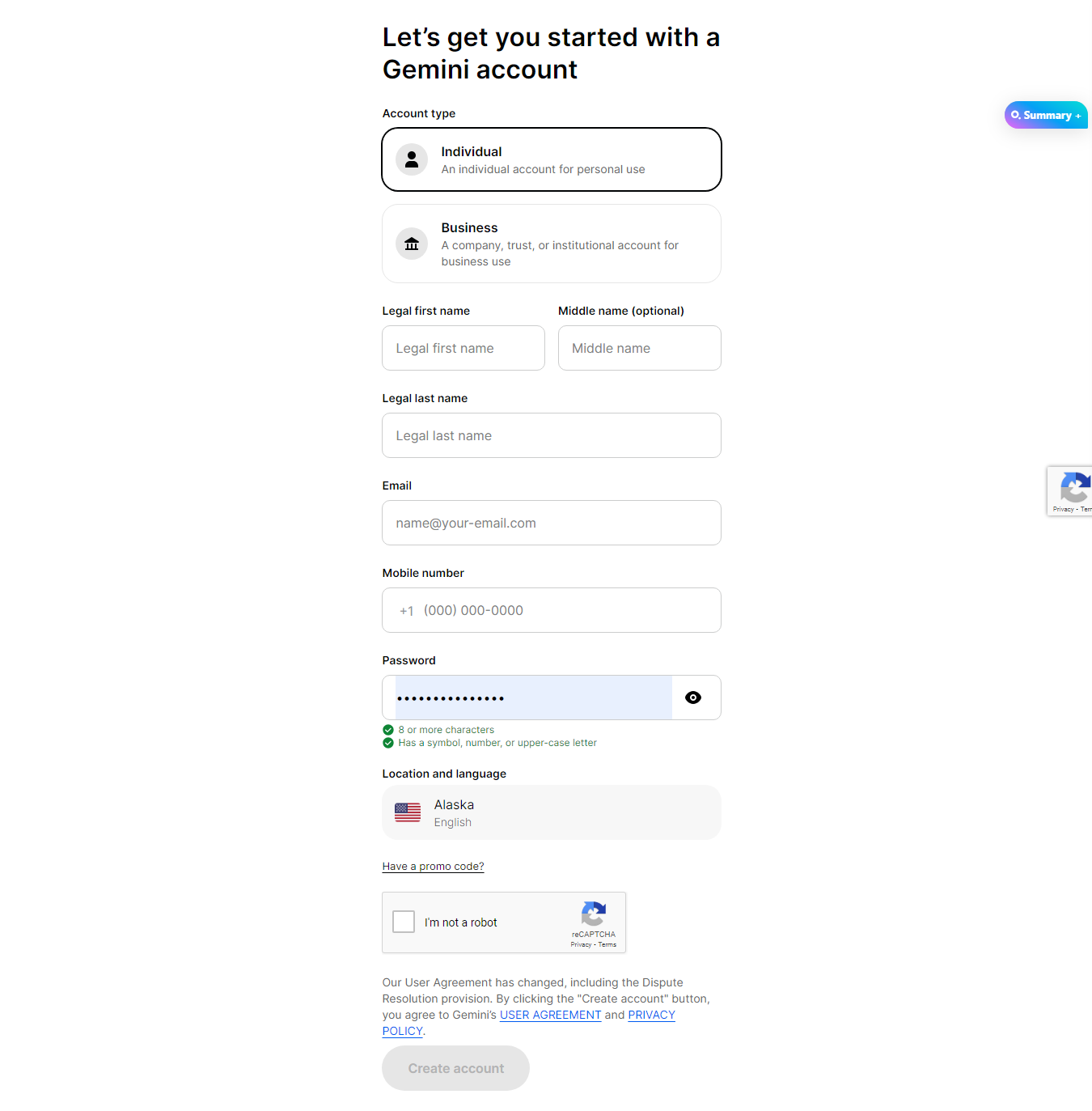 Following that, you'll need to undergo KYC verification, which entails submitting your tax ID number. The verification process takes a few days, after which you gain access to full trading and transfer capabilities.
On the flip side, Kucoin offers a faster signup process, requiring only basic email information. Regarding KYC, Kucoin officially adopted KYC verification on November 1, 2018, aligning with industry standards.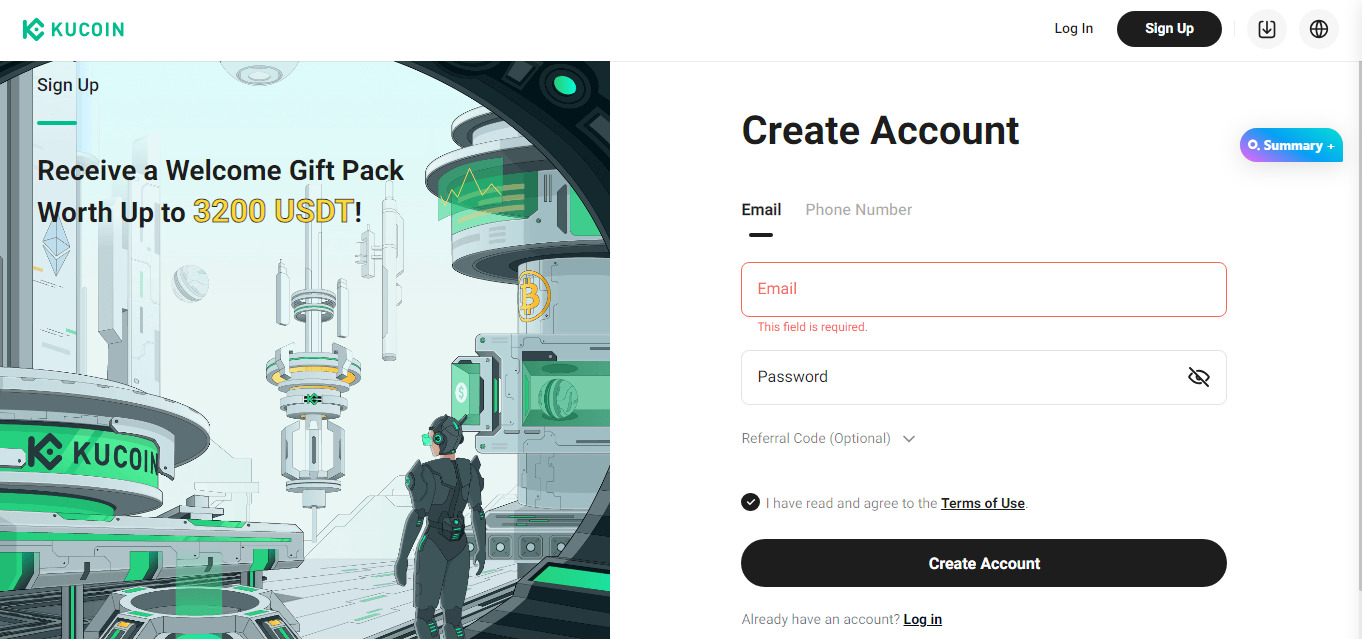 This KYC implementation aids in preventing fraudulent activities, money laundering, and other malicious actions.
According to the August 31, 2023, recent update of Kucoin's KYC process, new Kucoin users must complete standard user identity verification (KYC) to access their products and services.
Users registered before this date who haven't completed KYC yet can still use certain services like selling coins, closing positions, and redeeming products. However, they won't have access to deposit services (withdrawal services remain unaffected).
Between Kucoin and Gemini, we found that both platforms are on par regarding KYC verification. However, Kucoin's signup process is clearly faster and straightforward, making it suitable for users who prefer simple registration processes.
Gemini vs. Kucoin Products, Services, & Features
In terms of products and services, Gemini offers secure spot trading, wallet, and custody services. Their Gemini Custody service provides a regulated, secure, and compliant method to store cryptocurrency, utilizing a patented Cold Storage System.
This service keeps cryptocurrency segregated with unique addresses for transparency and security, regulated by the New York State Department of Financial Services.
Gemini provides a simple user experience suitable for beginners, though it offers a limited range of trading products. It's a good starting point for newcomers.
Additionally, the platform offers Gemini Earn, allowing users to earn rewards on over 40 cryptocurrencies by lending their holdings for interest. Gemini Dollar, an Ethereum-based stablecoin linked to the US dollar, merges blockchain technology with USD stability.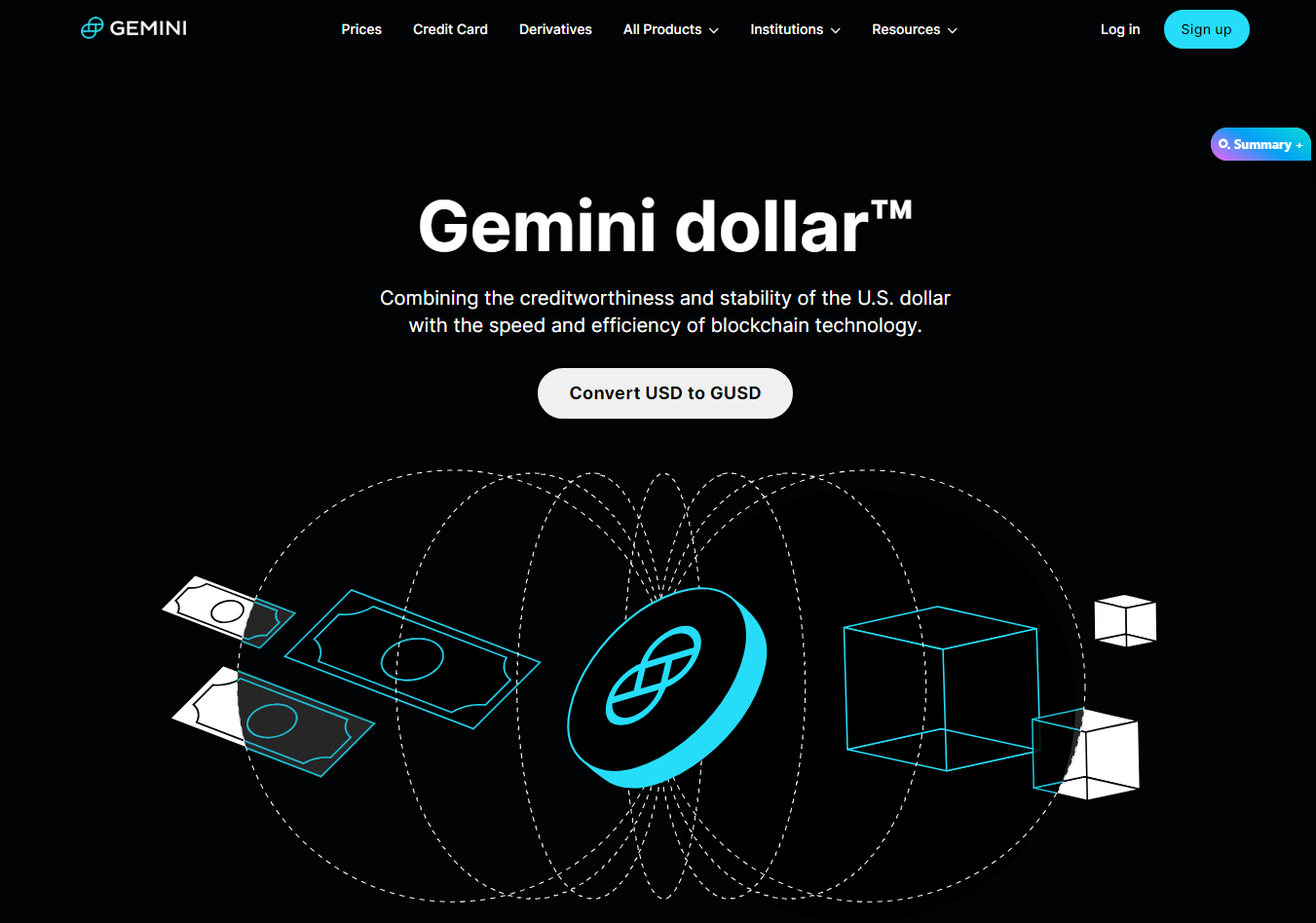 In contrast, Kucoin presents a broader range of trading services, including spot, futures, perps, margin, and options trading. It also features staking, lending, borrowing, an NFT marketplace, and a Web 3 wallet.
While comprehensive, it may seem complex for beginners. Kucoin boasts an average daily spot trading volume of $2.4M+, with 800 cryptos on the spot market and 250 on the futures market.
Kucoin excels in listing shiny altcoins not found on other exchanges, making it popular for buying new cryptos.
In isolated margin mode, it offers a margin of up to 10x spending on the trading pair and a 100x leverage on futures. With its redesigned user-friendly interface since Q2 2023, Kucoin enhances the trading experience.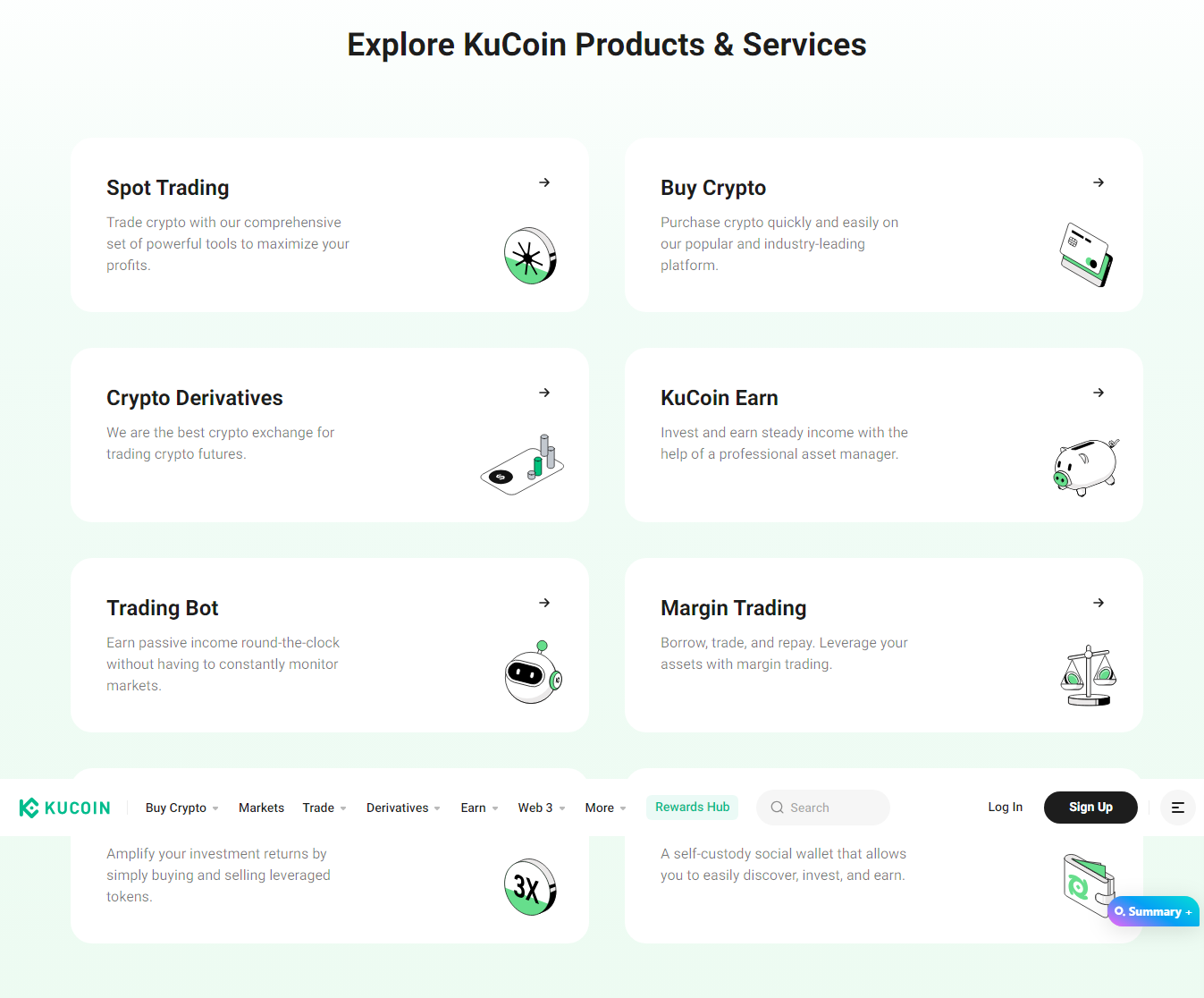 If we compare the two, Gemini provides a straightforward starting point, while Kucoin offers a more diverse and advanced trading landscape, making it a clear winner here.
Gemini vs. Kucoin Trading Fees
When considering Kucoin and Gemini's fees, we found noticeable differences. KuCoin's spot trading fee structure encompasses a 0.1% maker and taker fee for 'Class A' and a 0.3% maker and taker fee for 'Class C' among 'Level 0' traders.
In futures trading, maker fees vary from 0.02% for 'Level 0' to up to '-0.015%' for 'Level 12', while taker fees range from 0.06% to 0.03%. Deposits are free for all users, and you can also get a 20% discount on this fee by utilizing Kucoin's native token "KCS."
It is worth noting that these discounts require trading over $4.4 billion. You can refer to Kucoin's fee structure here.

On the contrary, Gemini has higher fees, with 0.20% spot maker fees and 0.40% spot taker fees. They also offer volume-based discounts, but their fees remain higher than Kucoin's. You can check Gemini's fee structure here.

If you're looking to minimize trading fees between the two, Kucoin is the better option. It has lower fees overall and provides discounts for high-volume traders, making it a cost-effective choice.
Gemini vs. Kucoin Deposit Methods
Regarding depositing funds, both Kucoin and Gemini have their approaches. Gemini accepts eight fiat currencies like USD, EUR, and GBP, allowing deposits through Bank Transfer (ACH/Wire), Debit Card, or PayPal.
While bank transfers are free, debit card transfers carry a 3.49% fee, and PayPal deposits have a 2.5% fee.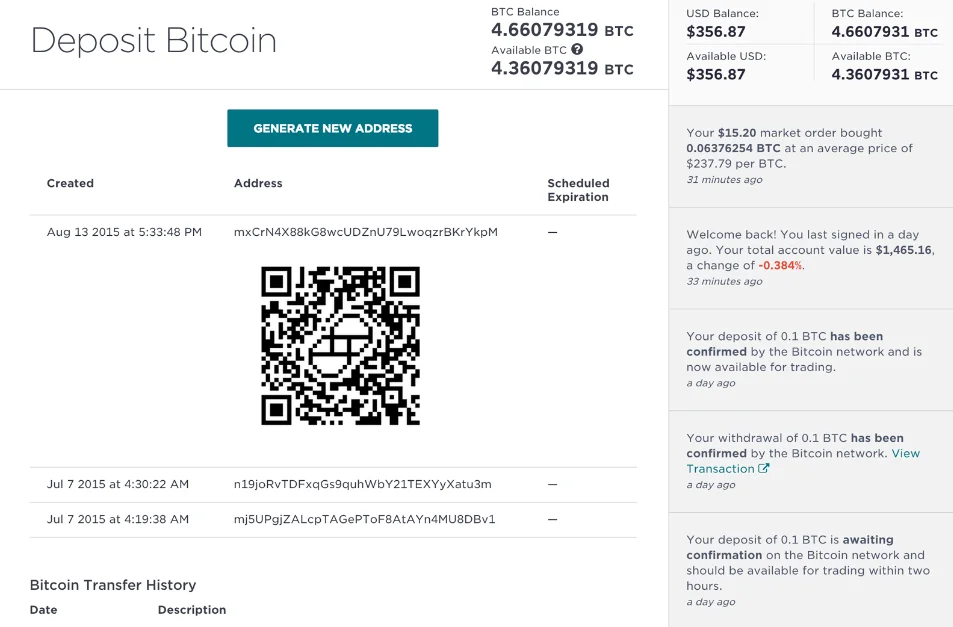 On the other hand, Kucoin supports over 20 currencies, including EUR, GBP, AUD, USD, RUB, and SEK, mainly through Bank and Wire transfers for fiat onramps. In some cases, credit cards are accepted.
Fees range from $1 to $25 based on the payment method. The cheapest option is Bank Transfer with a fixed fee of 1€/£.
In terms of currency support and methods, Kucoin offers more options. Yet, if budget is a concern, Gemini's free bank transfers take the lead here for being a more cost-effective choice.
Gemini vs. Kucoin Withdrawal Methods
Considering the option of withdrawing funds in our Kucoin vs. Gemini comparison, we found that both exchanges offer different options.
Kucoin provides crypto withdrawals for over 400 coins and major networks, each with varying withdrawal fees. USDT and BUSD with TRC20 or BEP20 networks have a fixed $1 fee.
Kucoin supports seven currencies for fiat withdrawals, like USD, EUR, GBP, RUB, TRY, UAH, and BRL.
However, not all initially deposited fiat currencies can be withdrawn. USD fees range from 0% (Advcash) to $80 (Bank Wire). EUR, GBP, and others have a fixed 1€/£ fee per SEPA transaction.
On the other hand, Gemini allows USD, EUR, and GBP fiat withdrawals through the bank with no fees. Cryptocurrency withdrawal fees are reasonable, like 0.0001 BTC for Bitcoin and free for Ethereum. However, Solana and USDT withdrawals have specific fees.
Comparing the two, Kucoin offers more options, but Gemini is better for larger withdrawals in USD, EUR, or GBP due to no withdrawal fees. However, it is worth noting that while Kucoin accepts USD on and offramps, the platform is not accessible for US citizens.
Gemini vs. Kucoin Security
While Gemini is a secure platform today, there have been instances that raise questions. Specifically, a breach in December 2022 led to a legal challenge, indicating potential vulnerabilities for Gemini users.
To address this, Gemini adopted a proof-of-reserves strategy, promoting transparency and reassuring users.
Presently, Gemini's safety approach includes storing some of your cryptocurrencies in an insured online hot wallet, supported by two-factor authentication (2FA), for enhanced login and withdrawal security.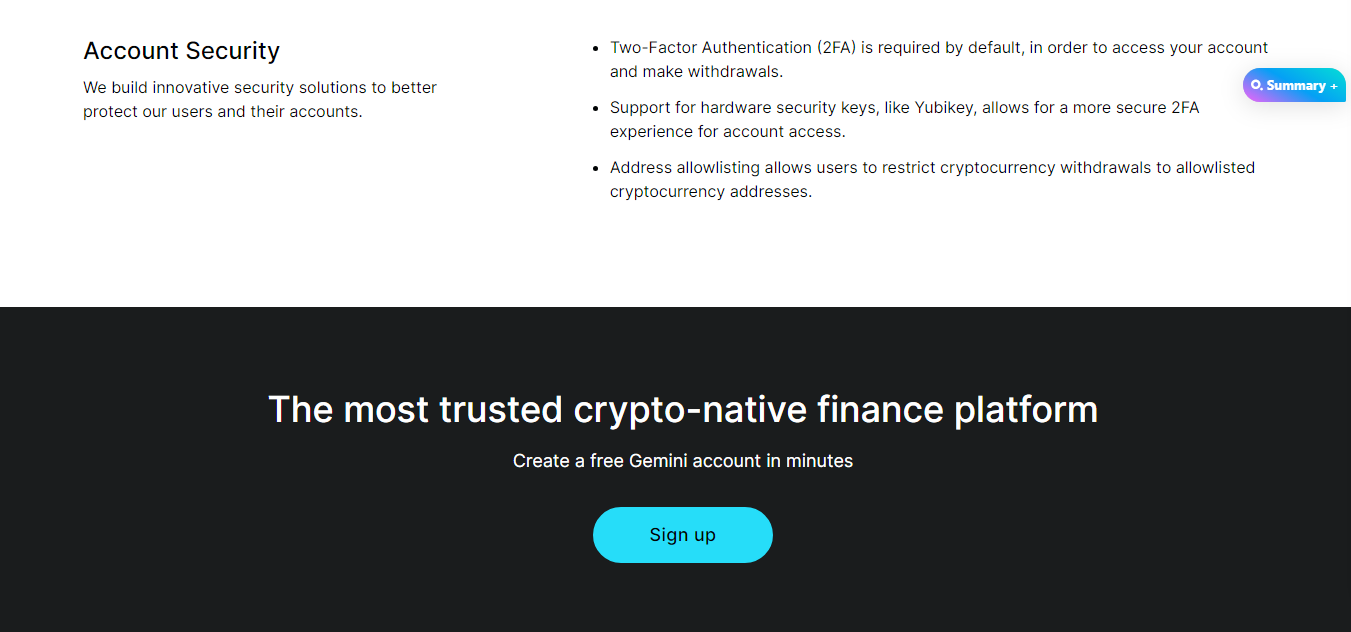 Additionally, web authentication with hardware security credentials strengthens its defenses, and certain operations are restricted to prevent potential threats.
Gemini's dedication to heightened security is also evident through its regular cybersecurity audits by the New York Department of Financial Services. These audits are further complemented by certifications like SOC 1 Type 2, SOC 2 Type 2, and ISO 27001.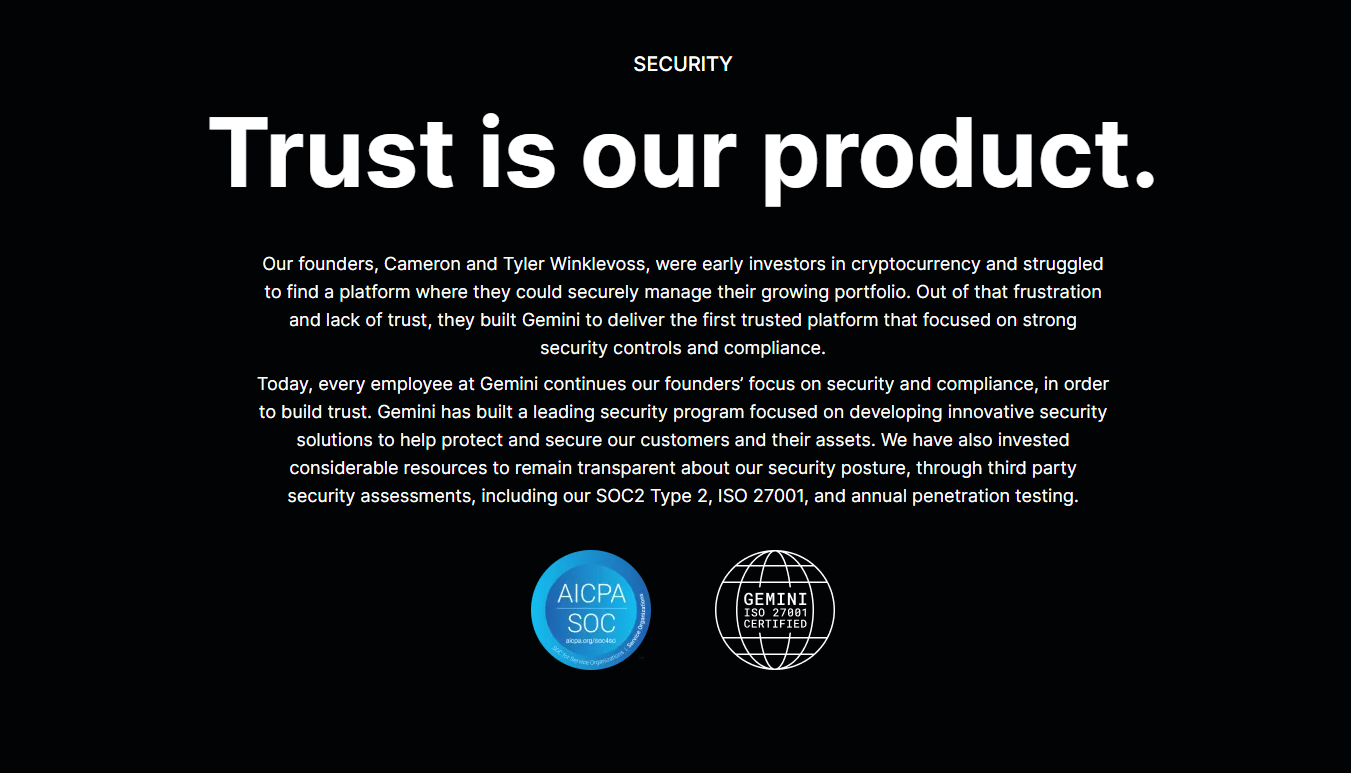 On the other hand, Kucoin also prioritizes security and has taken steps to enhance its defenses. Similar to Gemini, the exchange experienced a hack in 2020 that resulted in significant losses.
Nonetheless, Kucoin managed to recover most of the stolen funds and compensated affected customers through insurance. The exchange now holds a substantial portion of customer funds in multi-sig cold storage wallets, minimizing exposure to online risks.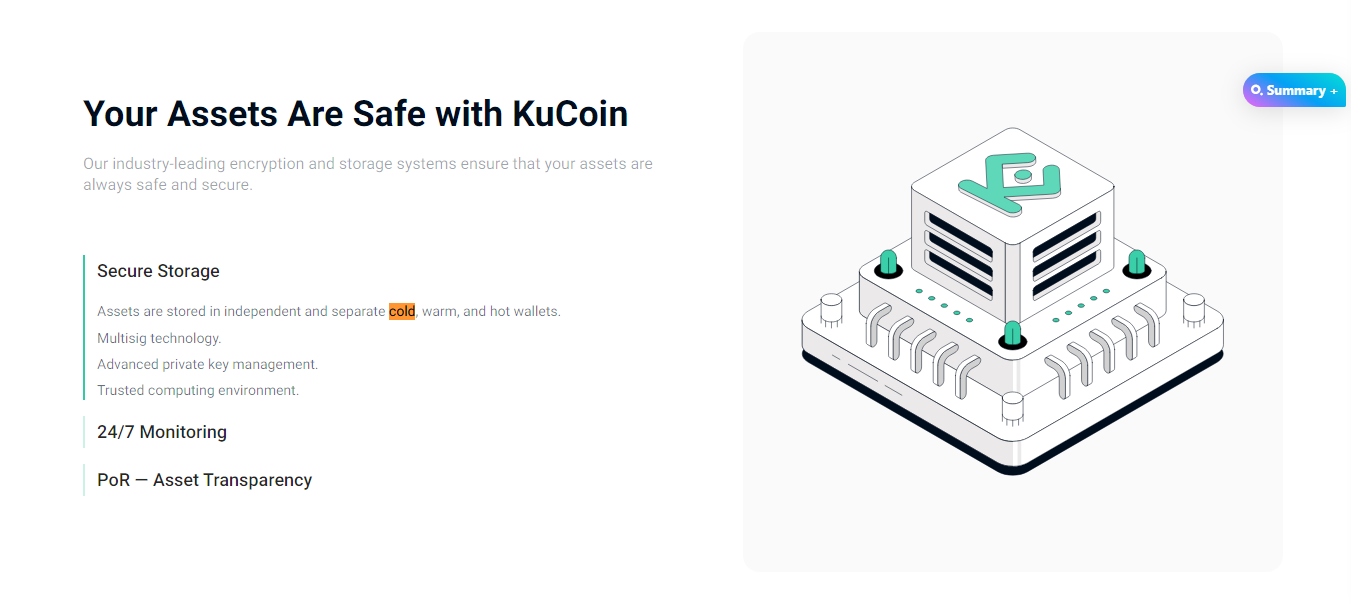 For users seeking a more reliable safety and security measure, Gemini's regular audits, certifications, and commitment to transparency make it a dependable option.
On the other hand, Kucoin's improvements post-hack, including proof of reserves and various protective measures, cater to users who prioritize security along with broader trading options.
Ultimately, as with any financial platform, exercising caution and considering additional security measures, such as using a hard wallet, remains essential for all users.
Gemini vs. Kucoin: Which Exchange Wins?
Now, we choose a winner considering this Kucoin vs. Gemini comparison. After considering all the two exchanges offer, it is clear that the winner depends on what suits your needs best.
Gemini is a highly regulated exchange under the New York State Department of Financial Services' watch. It's a secure platform for trading widely recognized cryptocurrencies like Bitcoin and Ethereum. Gemini's your pick if you're new or prioritize simplicity and security.
Kucoin, on the other hand, is a global exchange with over 700 cryptocurrencies, including smaller altcoins.
It offers a user-friendly interface and advanced trading tools, which attracts traders. Kucoin goes beyond Gemini with additional products and notably lower spot and futures fees.
Ultimately, both platforms have their strengths and weaknesses. To make the right choice, weigh your goals and preferences as a user or crypto enthusiast. It's about finding what aligns with your needs and will benefit you the most.