DigiFinex is a world-leading digital assets trading platform focused on offering trading services for cryptocurrencies like Bitcoin, Ethereum, Litecoin etc. Due to its user-friendly features and an increasing number of traders, it ranks in the top 50 crypto exchanges for its liquidity and trading volume according to the Coinmarketcap website.
DigiFinex Exchange
DigiFinex is a global cryptocurrency trading platform with over 4 million users, offering spot, leverage trading, perpetual swaps, and credit card purchases. With over 350 cryptocurrencies and 500 trading pairs, it supports major cryptos like Bitcoin, Ethereum, and Solana and a diverse selection of altcoins. Additionally, it offers over 100 trading pairs in derivatives trading.
Currently headquartered in Hong Kong and additional locations in Singapore, China, South Korea, and Australia, DigiFinex was founded in 2017 and registered in Seychelles. The regulatory body in Singapore, MAS, has authorised the cryptocurrency exchange DigiFinex to provide services there using digital payment tokens. DigiFinex is also authorised to conduct business in Australia.
DigiFinex Features and Services
DigiFinex provides services and features for trading and investment. By enabling customers to buy cryptocurrencies and trade hundreds of assets on a single platform, they make it simple to have a complete experience in the blockchain sector. Traders can even choose from a variety of markets.
Derivatives trading
Derivatives trading is not something all cryptocurrency exchanges offer. However, derivatives trading can increase profits and provide better opportunities to make money. The beauty of derivatives trading on DigiFinex is that the exchange offers perpetual swaps, including USDT or currency swaps. Traders can view insurance funds and financing rates for better insights and opportunities.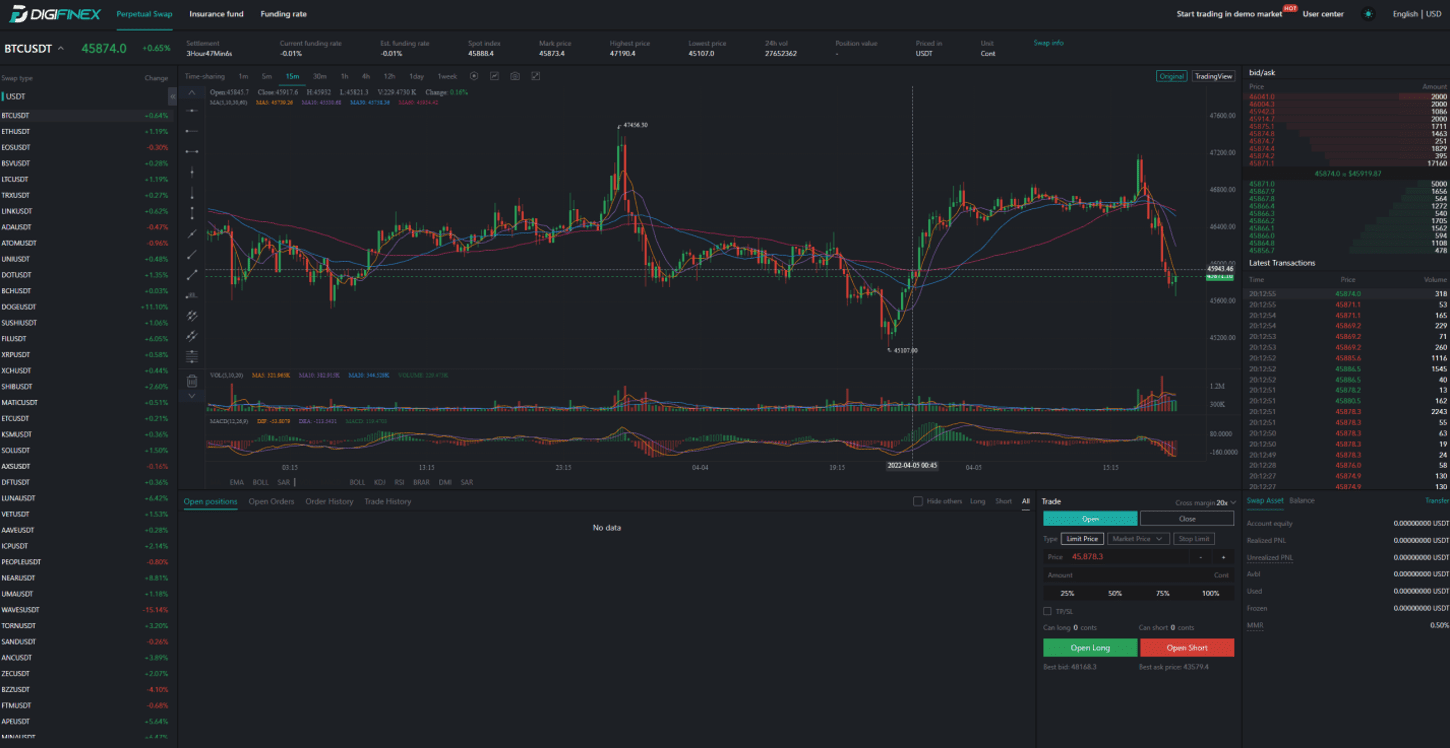 Copy Trading
Users can copy the trading strategies of well-known traders on the platform with the help of DigiFinex's copy trading feature. By following another trader's instructions, users of this service can choose a trader to execute orders on their behalf automatically.
Before selecting a trader, beginners can choose from a list of experienced traders and view their past trades (and performance). Copy trading is part of the derivatives platform, and traders usually take long or short positions, mostly with leverage, so there is a high risk of losing money with this service. On successful trades, the profits are shared with the trading experts.
Spot Trading
DigiFinex spot trading is a platform that enables users to buy and sell cryptocurrencies at current market prices. It supports over 300 digital assets, including Bitcoin, Ethereum, and Litecoin, and allows trading against fiat currencies or stablecoins. Users can access real-time market data, set price alerts, and receive price alerts. DigiFinex offers low and transparent fees, with a flat 0.2% fee for both makers and takers. Users can also enjoy lower fees by holding the DigiFinex native token (DFT) or joining the VIP program.
DigiFinex spot trading ensures security and convenience through advanced encryption technology, biometric authentication, asset password, and Google verification. To start trading, users need to register an account, complete identity verification, deposit funds using various methods, and access the spot trading interface on the website or mobile app.
Margin Trading
DigiFinex has nothing exceptional to offer in terms of margin trading. It provides 3 to 5 times leverage, similar to other cryptocurrency exchanges. Increasing leverage allows traders to maximise opportunities, amplifying the risk as well.
Here are some things you should know about margin trading on DigiFinex:
Margin Trading pairs: DigiFinex provides margin trading for a number of cryptocurrency pairings, including BTC/USDT, ETH/USDT, and others. Each pair's maximum leverage ratio, margin requirements, and liquidation price are unique.
Leverage Ratio: Currently, DigiFinex offers up to 3X leverage on five major currencies: BTC, ETH, LTC, EOS, and XRP. This means that you can trade up to three dollars' worth of the underlying cryptocurrency for every dollar of your own funds invested.
Margin Requirements: In order to keep margin positions open, DigiFinex needs users to hold a particular amount of funds in their margin account. This is referred to as the maintenance margin. The position may be liquidated if the margin level falls below the maintenance margin.
Liquidation occurs when the margin falls below the liquidation threshold. At this moment, the trade is automatically closed, and the borrowed money are returned to the exchange. To avoid liquidation, it's critical to keep a tight eye on your margin holdings.
Futures
DigiFinex offers two types of futures contracts:
perpetual contracts with no expiry date and settled in USDT or BTC, with up to 100x leverage and over 30 trading pairs. Users can choose to go long or short to profit from underlying asset price movements.
the fixed-expiry quarterly contracts which have a fixed expiry date and settle in USDT or BTC, with up to 100x leverage and over 10 trading pairs.
Over 300+ Crypto Assets
DigiFinex offers a wide range of crypto assets, including popular and promising new cryptocurrencies, as well as numerous trading pairs and assets for experienced traders. With hundreds of assets, including popular ones like Bitcoin and Ethereum,
Deposits
DigiFinex does not have a direct payment system. However, the exchange allows users to buy cryptocurrencies through third-party merchants via credit card or bank transfer. While credit card transactions are practically instantaneous, verifying bank transfers may take a few days.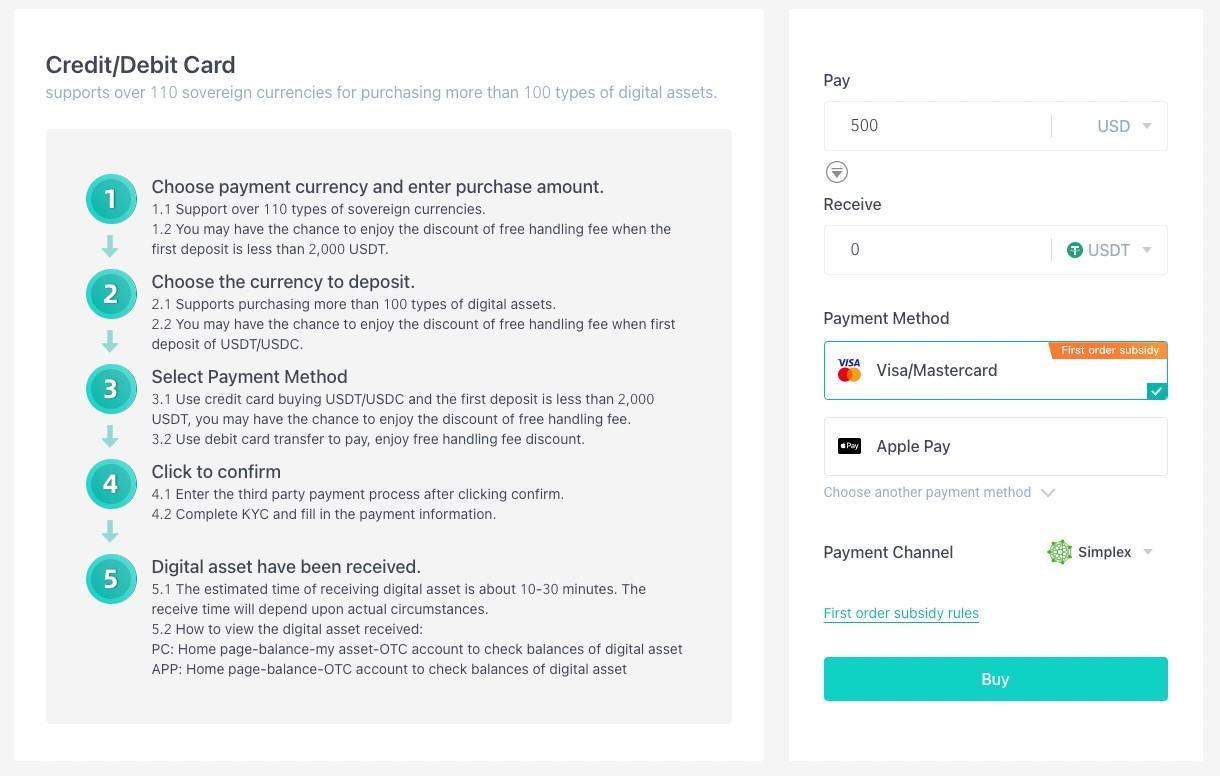 Crypto Loans
Crypto loans are available on DigiFinex to registered users. DigiFinex offers these loans at low-interest rates and zero agency costs. To request for loans, users must fill a borrower's request. The exchange will examine the request; if accepted, borrowers receive the money immediately. Before taking out a loan, carefully check the interest rate and terms.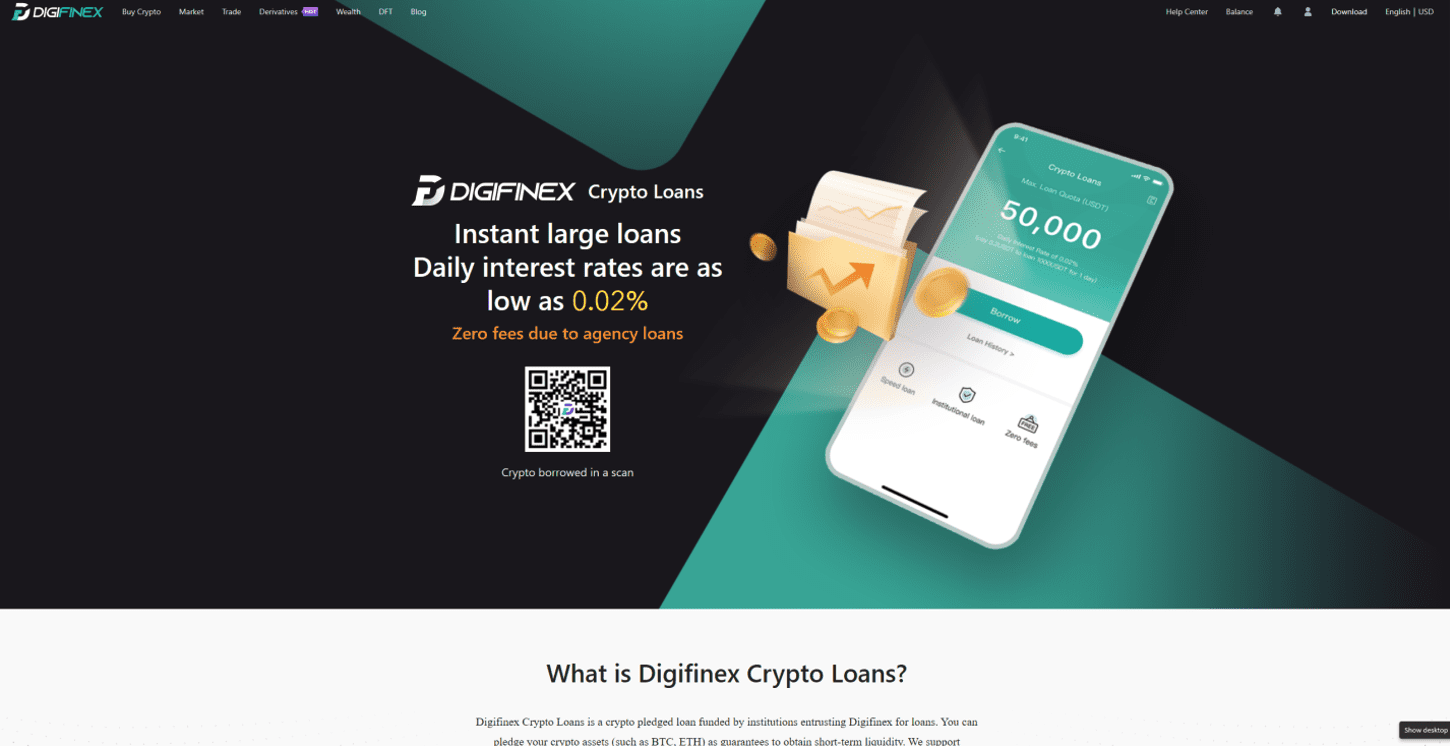 DigiFinex Launchpad
The launchpad feature is for investors who don't want to miss out on future investment opportunities. This feature lets users stay informed about new crypto projects, such as launch dates, crypto exchange listing dates, and wallet integrations.
There are three distinct sections in the DigiFinex Launchpad for ongoing, soon-to-be-released, and newly launched projects.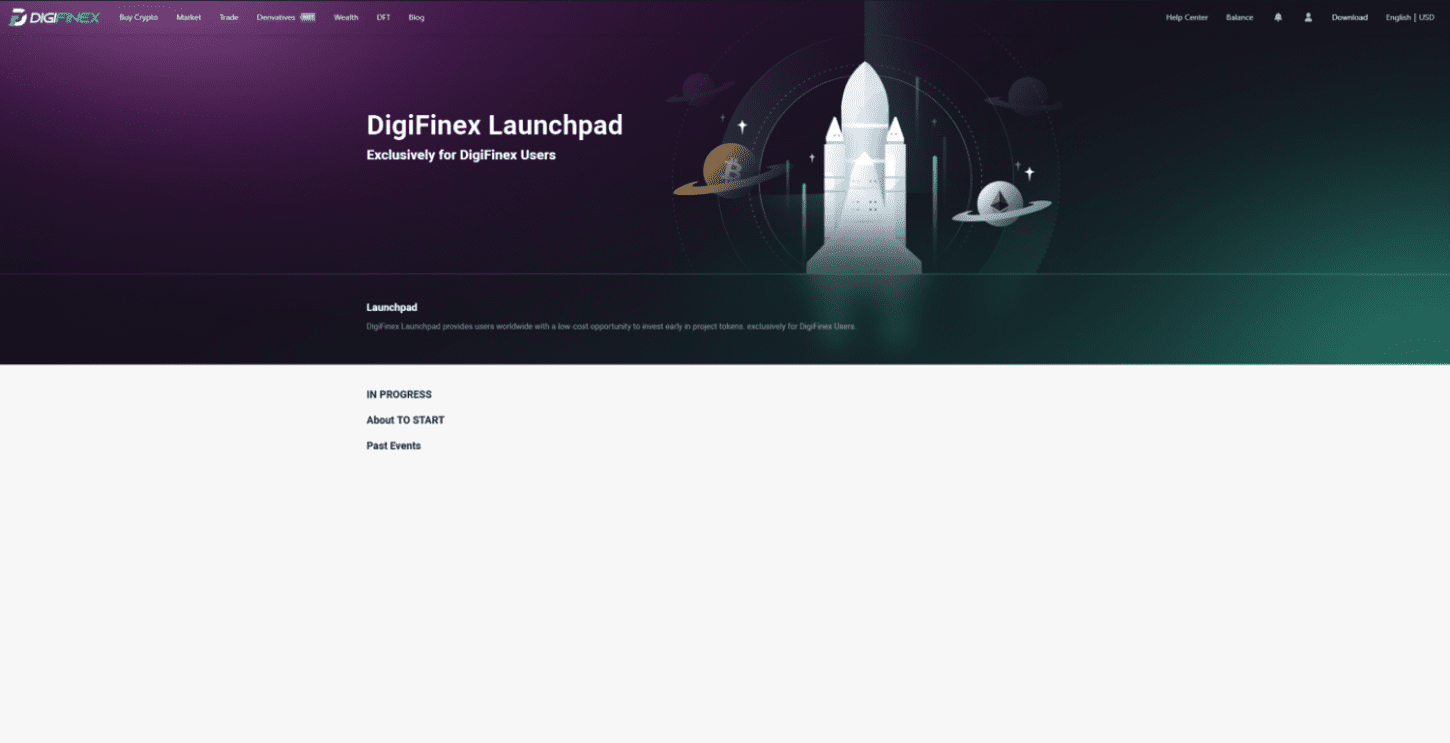 DigiFinex Referral Program
The referral program at DigiFinex is a good, passive source of income. The platform offers users commissions for inviting new people to the exchange.
DigiFinex Wealth Management
DigiFinex Wealth management offers various financial products, including Stable Earning, Advance Stable Earn, Cloud Mining, and Merged Mining. These products offer fixed returns, flexible withdrawals, and fixed lock-up periods. DigiFinex boasts a professional asset management team and a diverse range of products suitable for users with different risk preferences. The company also offers cloud mining and merged mining services.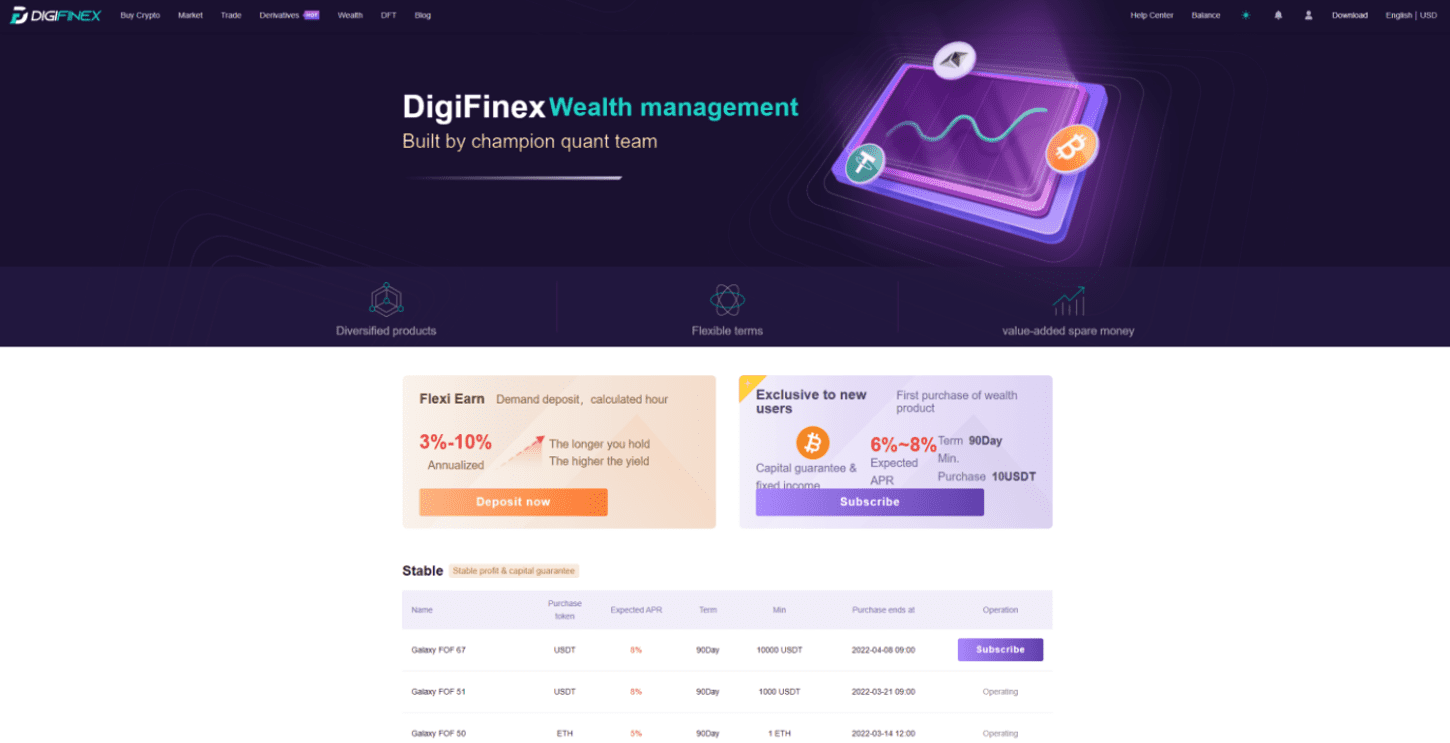 DigiFinex Native Token
DFT is DigiFinex's native token. Possession of this token provides users with an extensive list of enticing benefits. These are a few examples:
Traders that lock their DFT tokens qualify for large fee discounts.
Staking payouts are increased for those that lock the native tokens.
When new initiatives are deployed, holders of DFT are prioritised and given first-row seats.
Permission to join the DFT Superstar Program (a program with additional perks).
User Interface and Experience
DigiFlex provides advanced charting, real-time order books, and a variety of order types to cater to intermediate and advanced cryptocurrency traders' needs. DigiFlex lets traders monitor the market using its default charting tool with the option of upgrading to TradingView, a leading charting platform.
Users can access a comprehensive list of trading pairs with just one click, and a quick menu allows them to switch between spot and margin trading. Users can also add their favourite cryptocurrency pairs to a list, giving them quick access. Market, limit, and stop limit orders are just a few of the different order types offered.
DigiFinex Account Registration
As with all cryptocurrency exchanges today, creating an account with DigiFinex requires users to register to create a trading account. DigiFinex Exchange will ask you for an email address or phone number and a security PIN, which will be sent to the provided email address or phone number. Email or phone number verification completes the basic account creation process.
Verification Requirements
You don't have to prove your identity to trade on DigiFinex. However, verifying your account increases your maximum withdrawal limit from $10,000 to $100,000. Besides increasing your daily withdrawal cap, finishing the KYC process is advised because it opens up more features like crypto credits. Users must enter personal data, including name, birthdate, phone number, home address, valid ID card or passport copy, and address verification.
Depositing Funds
Users of DigiFinex can deposit well-known cryptocurrencies and stablecoins like Tether (USDT) to begin trading. Deposits can be made on both the desktop and mobile trading platforms. The DigiFinex exchange allows traders to use various digital assets as collateral on the spot or leveraged markets.
Follow these three easy steps to deposit funds on DigiFinex:
Select the cryptocurrency
Copy the unique deposit address
and transfer funds from another cryptocurrency hardware wallet or exchange.
This comprehensive video guide on the DigiFinex website's support page will benefit beginners.
DigiFinex offers bank transfers as its primary deposit option using popular integrated payment systems like Simplex, Wyre, and MecuryO. Users can leverage any of these payment portals to deposit funds via credit/debit cards. The exchange also allows users to make deposits through Google Pay and Apple Pay
DigiFinex Fees
Trading Fees
Trading fees at DigiFinex start at 0.15% for makers and 0.2% for takers. However, VIP members and DFT token holders on the platform can lower the fee to 0.06% per transaction, which is a good incentive to purchase and hold the platform's native token.
Deposit & Withdrawal Fees
Cryptocurrency deposits at DigiFinex are cost-free. However, fees are associated with buying crypto assets on the platform from their third-party merchants. These vendors charge varying fees which range between 5% and 15%. Cryptocurrency withdrawal fees on DigiFinex differ depending on the asset.
DigiFinex Mobile App
Thanks to DigiFinex's mobile app, users can conveniently log in to their accounts, trade cryptocurrencies, and monitor their investments via smartphones. The DigiFinex app is available on both iOs and Android devices. Users can download them on the App Store and Google Play Store.
DigiFinex Customer Support
The primary means of contact for DigiFinex's support team is a live chatbot available around the clock. DigiFinex also has a Telegram channel and other social media sites dedicated to responding to inquiries.
The exchange has a "help center" which is well-documented with guides, blog posts, and FAQ sections to help users troubleshoot any issues they may encounter while using the platform. Thanks to the organization of the help center, users can easily find the information they need. However, the help center's search feature has some hitches. Users have complained about having difficulty finding information due to frequently appearing ads in the search results.
DigiFinex Security and Privacy
DigiFinex security features protect users' funds, data, and identity. These include
two-factor authentication
cold wallet storage
secure physical vault storage
advanced encryption technology
KYC and AML/CTF compliance
and user verification through documents like passports, national IDs, or driver's licenses.
These measures reduce the risk of hacking, theft, or loss of funds due to cyberattacks or system failures. DigiFinex also uses secure physical vaults in different countries, guarded by armed personnel and equipped with biometric locks, alarms, and cameras. Advanced encryption technology ensures data confidentiality and prevents unauthorised access. DigiFinex also complies with KYC and AML/CTF regulations in its operating jurisdictions, ensuring users' identity verification is conducted through their documents.
Pros and Cons Of DigiFinex
| Pros | Cons |
| --- | --- |
| Digifinex offer various trading markets | DigiFinex is unavailable in the US |
| Premium support | Limited P2P market |
| Professional trading experience | |
| Easy and fast crypto purchases | |
| Crypto loans | |
Conclusion
Even if Digifinex is not the most popular cryptocurrency exchange in the world right now, it still has a lot to offer in terms of services.
DigiFinex's most outstanding feature is its wealth management services that enable its users to earn passive income. As a result, you can stake, mine, and lock your crypto assets on the platform to reap tremendous rewards. Furthermore, the site provides substantial discounts to token holders and offers some airdrop opportunities.
FAQs
Is DigiFinex safe?
For several years, DigiFinex has served millions of users from all over the world. It assures its users and the funds they bring onto the platform are entirely safe. DigiFinex has recently installed a string ISMS and a round-the-clock trade monitoring system to guard against security gaps and dishonest market manipulations.
Does DigiFinex Have a Wallet?
Yes, it does have a wallet. The wallet is known as the DHM wallet, and it is linked to the exchange.
Can US citizens register on DigiFinex?
DigiFinex does not provide its services to users in the United States due to local restrictions and regulations.