The goal of this comparison between Bybit vs Bitvavo is to shed more light on both exchanges and help potential users make well-informed decisions. This in-depth analysis covers everything you need to know about Bybit and Bitvavo, including trading options, fees, deposit and withdrawal methods, security measures, etc.
Bybit vs Bitvavo Comparison Overview
Bybit is a relatively new crypto exchange. Ben Zhou founded the exchange in 2018. The exchange is one of the fastest growing worldwide, with about 25 million users and a daily trading volume of over $ 10 billion.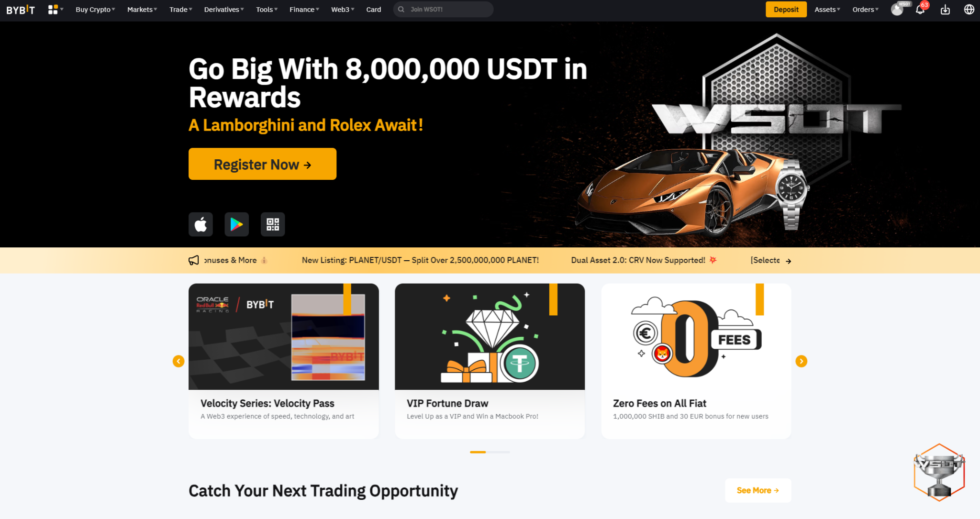 Over 1200 employees currently work at Bybit. Their headquarter is located in UAE, in Dubai, however, they are accessible in over 180 countries across the globe.
Bitvavo, founded in 2018, is based in Amsterdam, the Netherlands. The exchange is one of the leading platforms in Europe, covering about 27 countries. They have about 280 employees currently serving over 1 million users. Bitvavo has a trading volume of about $ 51 million.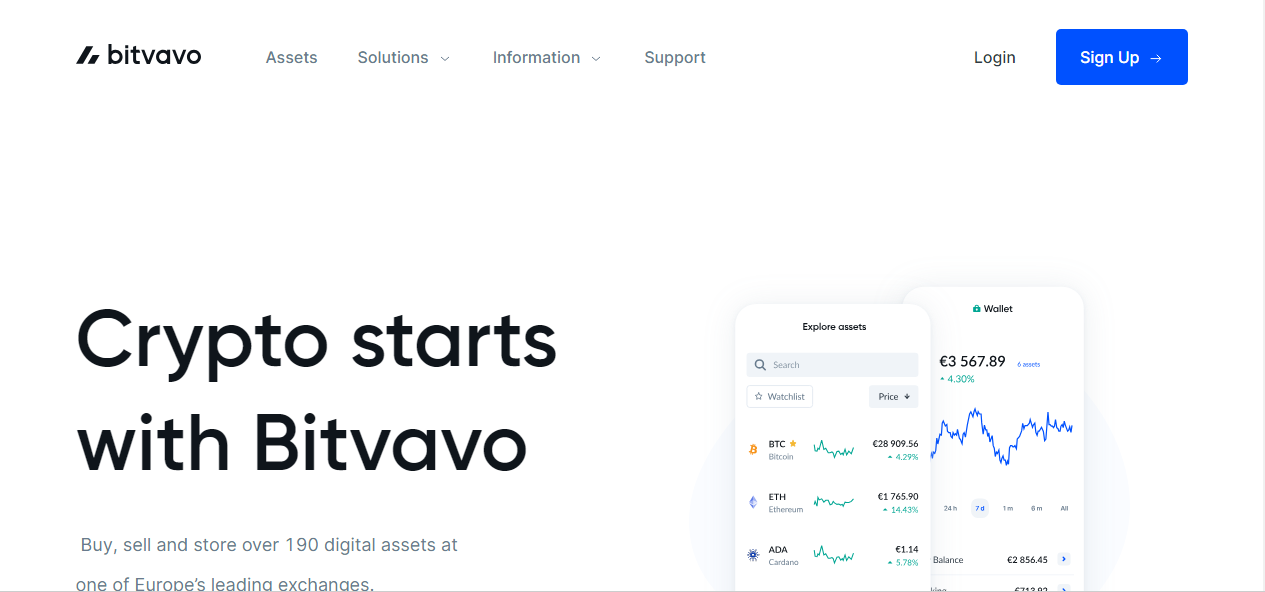 Both Bybit and Bitvavo have mobile applications for Android and Apple users. You can trade over 400 cryptos on Bybit mobile app. Meanwhile, Bitvavo offers over 190 crypto assets for trading.
Bybit app has over 1 million downloads and a 4.6/5 star Google Play store. Bitvavo, on the other hand, has over 500,000 downloads and a 4.2/5 star.
Bybit vs Bitvavo Signup and KYC
Opening an account on Bybit and Bitvavo is straightforward. You can sign up on Bybit using your email address or phone number. However, only your email address is needed for signing up on Bitvavo.
You must verify your email once you have signed up on both exchanges. You will receive a code in your mail, which you will input on the registration portal.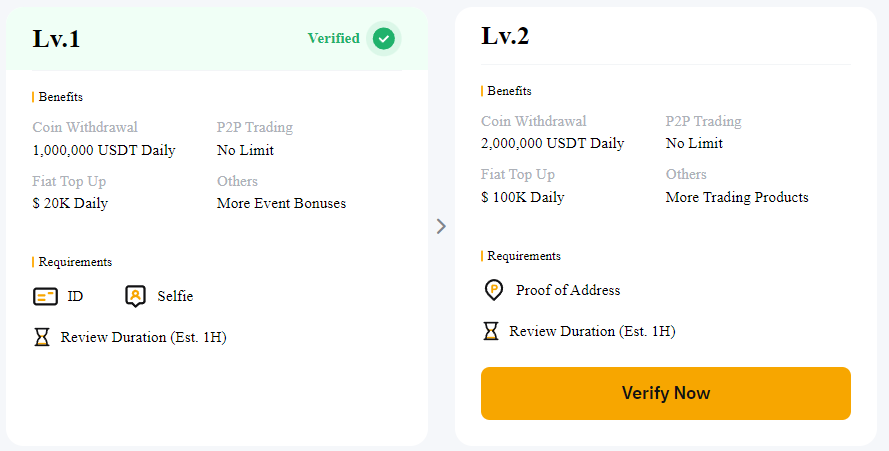 After this, your account is ready on Bybit. Meanwhile, you must still provide your details on Bitvavo before you get an account.
The KYC verification differs slightly for Bybit and Bitvavo.
You must do your Bybit KYC before you can trade on the platform. Their KYC is divided into levels 1 and 2. For level 1, you must submit a government-issued ID or passport. Level 2 requires proof of residence.
Bitvavo verification stages divide users into starter, intermediate, and pro. A starter needs to do only an email verification. The trader can access the platform but not trade. An intermediate must provide personal details and verify their identity and bank details. To verify your identity, you will need a government-issued ID. However, to be a pro trader, you will provide proof of funds and what is required from an intermediate.
Bybit vs Bitvavo Products, Features, and Services
Trading Features
When it comes to the number of supported currencies, Bybit wins. Bybit allows users to trade about 400 cryptos, while Bitvavo has over 190 cryptos. If you need varieties of tradable assets, then Bybit is your best bet.
Bybit and Bitvavo focus primarily on spot trading. However, they still offer value in terms of trading other crypto assets.
For instance, on Bybit, you can trade futures, options, bots, and copy trading in addition to spots. Their future trading allows a maximum leverage of 125x, while spot trading allows a margin of 10x. Bybit is also a go-to place for trading Nonfungible tokens.
Bitvavo, on the other hand, offers fewer trading varieties. In addition to spot trading, they offer contracts on futures and perpetual. You can't trade NFT and derivatives on Bitvavo.
If you want to earn passive income from any of these two exchanges, Bybit is your best bet. Bybit has a vast spread of passive income products including, savings accounts, dual asset yield, liquidity mining, ETH staking, launch pool staking, and crypto loans. In addition to that, you can use their crypto card online and offline purchases outside the platform.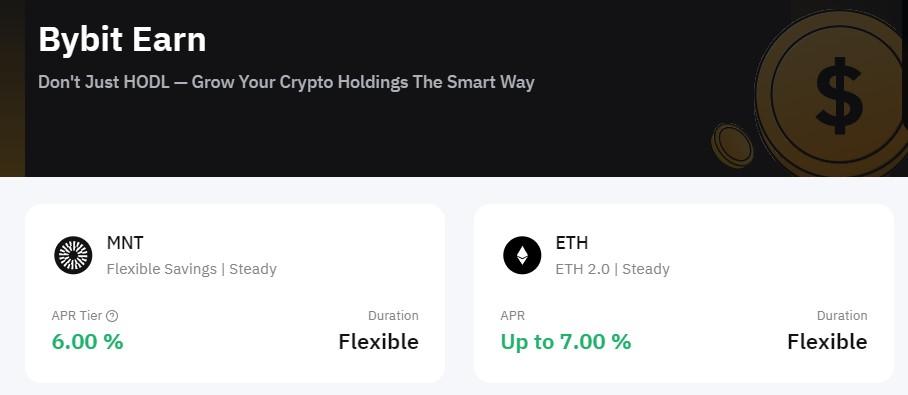 Meanwhile, crypto investors can earn a return by keeping their crypto assets on Bitvano. The exchange offers up to 15% yield on staked assets.
Undoubtedly, Bybit is the better platform considering the number of supported cryptos, the diversity of trading options, and the available passive income products.
Trading Interface
Bybit offers a more user-friendly interface than Bitvavo. Their interface has advanced charting tools, order options, and a responsive mobile layout that makes it easy for both intermediate and experienced traders to use.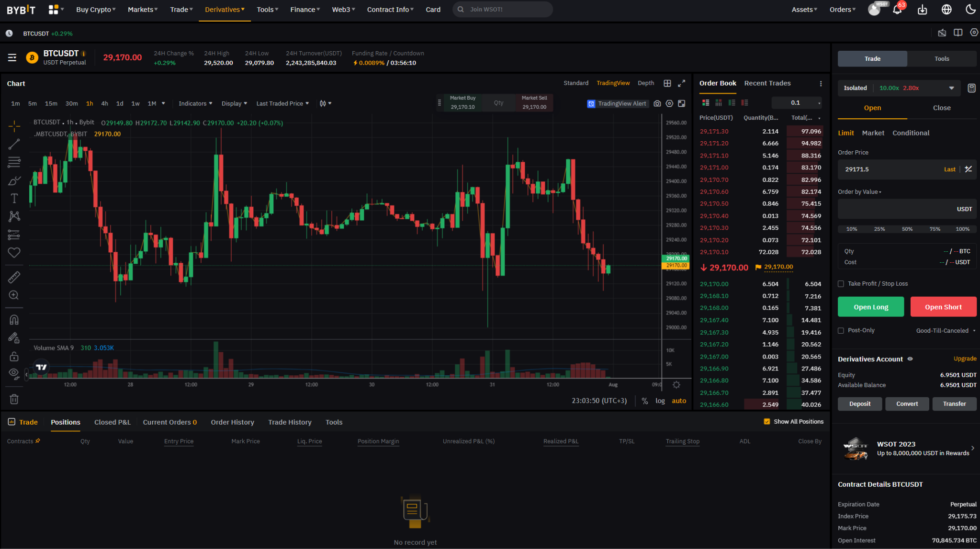 Meanwhile, Bitvavo offers a simple interface for new traders. They also have advanced prompts and multiple order types to boost the trading capacity of experienced traders.
Bybit vs Bitvavo Trading Fees
Bybit and Bitvavo offer a transparent and affordable fee structure. They have a tiered-fee structure, where you pay less as your trading volume increases. However, the Bybit trading fee is lower than that of Bitvano.
For Non-VIP traders, Bybit offers a maker fee of 0.1% and a taker fee of 0.1% for spot trading. This fee reduces as you begin to trade more assets on the exchange. For instance, a Pro 5 trader pays 0.005% as a maker fee and 0.02% as a taker fee.

Bitvavo fee is based on your trading volume in the past 30 days. Their fee is slightly higher than Bybit. They charge 0.25% as a taker fee and 0.15% as a maker fee when you have a trading volume of less than € 100,000. Traders over € 25 million pay 0.04% as a taker fee and 0.03% as a maker fee.
Bybit offers a similar tiered structure for futures and options. They charge 0.02% as a maker fee and 0.055% as a taker fee if you are a non-VIP future trader. For options trading, they charge 0.03% as a maker fee and 0.03% as a taker fee.
Overall, Bybit has better value for money as the fees are lower with better fee discounts than Bitvavo.
Bybit vs Bitvavo Deposit Methods
Crypto deposits on Bybit and Bitvavo are free for their users. You must be verified before you can deposit crypto on both exchanges. Both platforms differ widely in their fiat currencies deposit fee and method.
Bybit supports 15 major fiat currencies, including USD, EUR, GBP, TRY, RUB, BRL, and more. Meanwhile, Bitvavo, which serves only Europe-based users, accepts only EUR for deposits.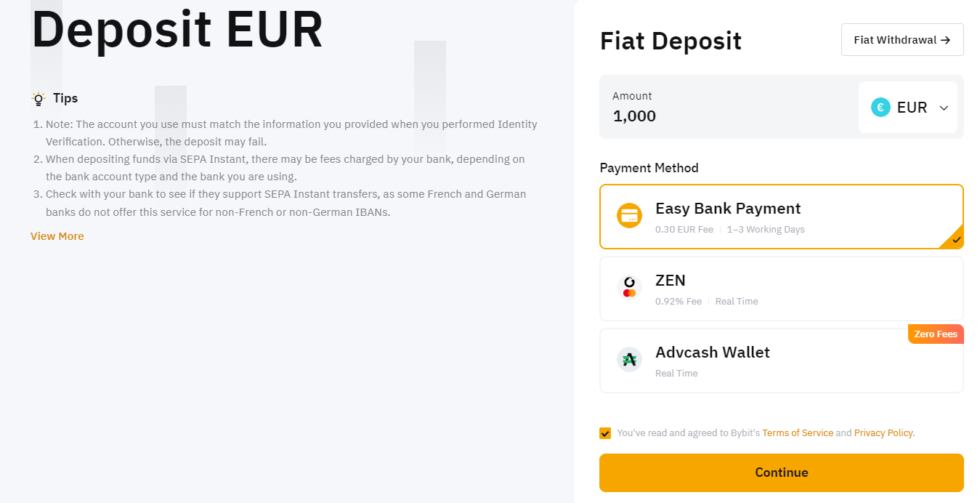 There are several ways you can deposit fiat currencies on Bybit. They include bank transfers, ZEN, Advcash, wire, and others. Advcash appears to be the most convenient method to deposit fiat currency on Bybit. Depositing with Advcash is free and faster.
Meanwhile, you can deposit EUR into your Bitvavo account using 8 deposit methods. They include SEPA bank transfer, SEPA instant transfer, Paypal, iDeal, Sofort, Bancontact, Giropay, and EPS Uberweisung. While deposit through SEPA, Bancontact, and iDeal is free, Sofort charges the highest (2.25%).
Bybit wins it here for the wide range of supported fiat currencies, as Bitvavo only supports Eur for deposits.
Bybit vs Bitvavo Withdrawal Methods
You can withdraw your crypto assets from both exchanges to another wallet. However, it comes at a price.
The fees for withdrawing cryptos on both exchanges depend on your coin and network. Bitcoin and Ethereum networks attract higher fees, usually greater than $10. However, networks like BEP20 and TRC20 charge about $1.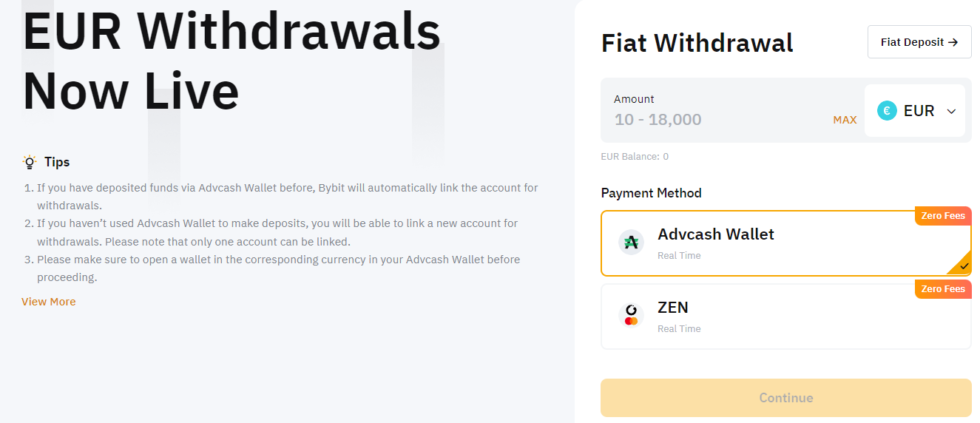 You can transfer your money from Bybit to your bank account. They support 10 fiat currencies for withdrawals, including GBP, USD, and EUR. Advcash and ZEN handle the withdrawal process, which is free to use.
Meanwhile, the only fiat currency you can withdraw on Bitvavo to your bank account is EUR. Bank transfer within the Netherlands takes 1 business day to reflect. In contrast, international transfers take 2 business days.
Bybit Vs Bitvavo Security
Bybit and Bitvano prioritize the security of their exchange and investor funds. Since their establishment in 2018, there have been no reports of hacking on any of the exchanges. However, Bitvavo experienced a technical issue in 2022, where the personal data of 8 users were shown on their app and web. They reacted immediately by clearing the cache and providing the affected users with the needed support.
Another way most exchanges assure investors of their funds' safety is by providing proof of reserves (POR). Currently, Bybit's POR supports verifying 20 crypto assets including BTC, BUSD, USDT, XRP, SOL, etc. This means Bybit holds users' assets on their platform in a 1:1 ratio. So far, there has been no information about Bitvavo PoR.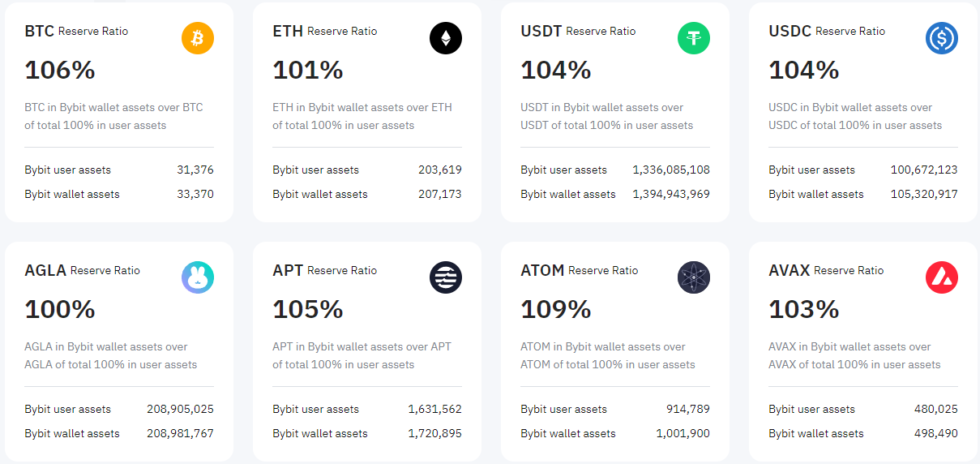 Furthermore, Bybit also protects the user's account by using strict security measures for logging in. Some measures include two-factor authentication, human-computer authentication, hardware authentication, and encrypted data transmission.
Meanwhile, Bitvavo ensures the security of users' accounts through their two-factor authentication, cold wallet, and multi-signature wallets. In addition, Bitvavo is insured with Insure Custody Providers up to € 255 million.
Both exchanges offer robust security measures. However, we rate Bybit higher in terms of security because they provide proof of reserve for 20 crypto assets.
Bybit vs Bitvavo – Which Exchange Wins?
Despite Bybit and Bitvavo being established the same year, Bybit growth has been impressive. Unlike Bitvavo, which is strictly based in Europe, Bybit has a global reach. Bybit wider range of cryptocurrencies and trading features stands them out and makes them more suitable for experienced traders. Furthermore, Bybit has a cheaper trading fee than Bitvavo.
Bybit's proof of reserve gives them an edge in terms of security over Bitvavo.
Overall, Bybit is the winner of this Bybit vs Bitvavo comparison. With better value for money, lower fees, more advanced features and passive incomr products, Bybit is the best option for crypto enthusiasts.