Bitvavo is a popular Dutch bitcoin trading platform that offers a wide range of more than 190 cryptocurrencies for trading. With its strong presence in Europe, Bitvavo has gained recognition as one of the largest exchanges in the region, attracting seasoned traders who appreciate its diverse selection of digital assets.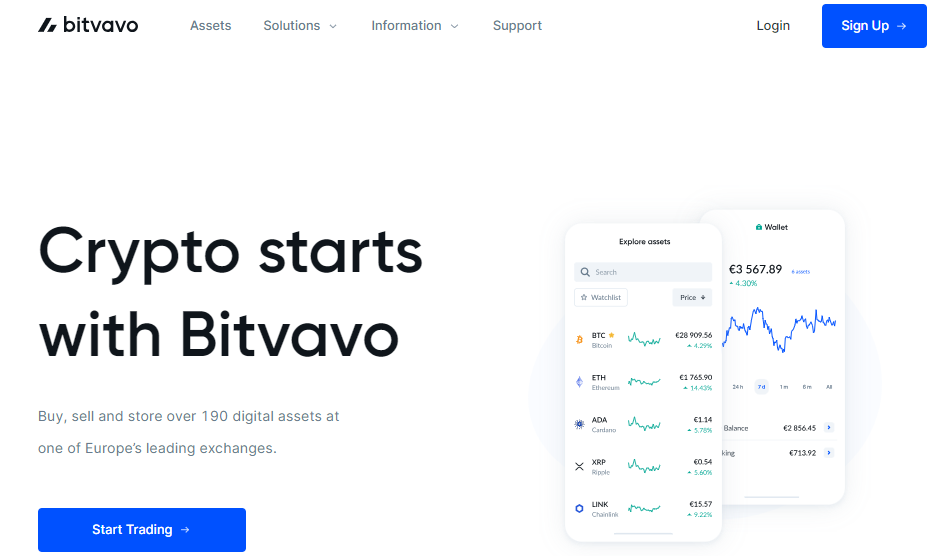 While Bitvavo may not be as widely known outside of Europe, its focus on serving the European Union market sets it apart. Unfortunately, this means that individuals residing outside EU member states are unable to access the platform.
In this comprehensive Bitvavo Review 2023, we will delve into the platform's features, advantages, limitations, and safety measures. Our objective is to provide an objective assessment of Bitvavo's reliability as a cryptocurrency trading platform. Join us as we explore the intricacies of Bitvavo and assess its suitability for your trading needs in the dynamic world of digital assets.
Bitvavo Overview
| Website: | https://bitvavo.com/ |
| --- | --- |
| Exchange Owner: | Bitvavo B.V. |
| Headquarters Country: | Netherlands |
| Foundation Year: | 2018 |
| Mobile App Trading: | Available |
| Minimum Deposit: | €5 |
| Deposit/Withdrawal Fees: | Free deposits for SEPA; withdrawal fees may vary |
| Supported Crypto Assets: | 190+ crypto assets (BTC, XRP, ETH, ADA, SOL, and more) |
| Trading Pairs: | 60+ |
| Accepts US clients: | No |
Pros
As we embark on this Bitvavo Review 2023, let's begin by highlighting the platform's remarkable strengths and focusing on the standout features that set it apart from the competition.
Regulated by the Dutch Central Bank: Bitvavo's regulatory compliance ensures that the platform operates within the framework of established financial standards, providing users with a secure and trustworthy trading environment.
Low Trading Fees: Bitvavo's trading fees are minimal and competitive, allowing users to make trades without incurring unnecessary expenses. This is especially useful for active traders or those who want to optimize their profits.
Supports over 190 crypto assets: With a wide range of supported cryptocurrencies, Bitvavo provides users with ample options for diversifying their portfolios and exploring new investment opportunities.
User-friendly interface: Bitvavo's user-friendly design makes it simple for both new and seasoned traders to quickly learn the ropes, place orders, and keep tabs on their holdings.
High level of verification for safety: Bitvavo implements robust verification processes to ensure the safety and security of user accounts. This added layer of protection helps safeguard against unauthorized access and potential risks associated with the crypto industry.
Suitable for beginners and experienced traders: Bitvavo caters to the needs of both novice and seasoned traders. Beginners and seasoned traders can enjoy a user-friendly interface and educational resources.
Cons
Although Bitvavo seems to be a well-acclaimed platform with unique features, strong security measures, and reasonable costs, it is essential to recognize that no platform is without its restrictions.
Limited trading features: Bitvavo's limitation to basic trading features means that advanced traders seeking derivatives, leverage, or CFD trading options may find the platform lacking in terms of more complex investment strategies.
Not available in countries outside of the EU and EEA: Bitvavo's geographical restrictions can be a drawback for users located outside of the European Union and the European Economic Area, as they are unable to access the platform's services.
No 24/7 customer support: Bitvavo does not appear to offer around-the-clock service for its customers. This may be troublesome for customers who need help right away or who have problems outside of regular business hours.
Only support Euro: The fact that Bitvavo only accepts Euros for fiat money transactions may be a problem for some customers. People that predominantly use alternative currencies may find themselves shut out due to this restriction.
Trading Features
Bitvavo offers a comprehensive range of trading features designed to cater to the needs of both novice and experienced cryptocurrency traders.
Buy and Sell
The Bitvavo Exchange caters to the needs of both novice and experienced traders by providing a comprehensive suite of features and order types, allowing them to execute their cryptocurrency strategies with precision and flexibility. With Bitvavo, traders have access to a wide range of order types, including limit orders, market orders, and stop-limit orders, enabling them to execute trades according to their specific requirements.
Supported Assets
Bitvavo opens the door to a vast selection of cryptocurrencies and stablecoins, offering users a diverse range of digital assets to explore and engage with.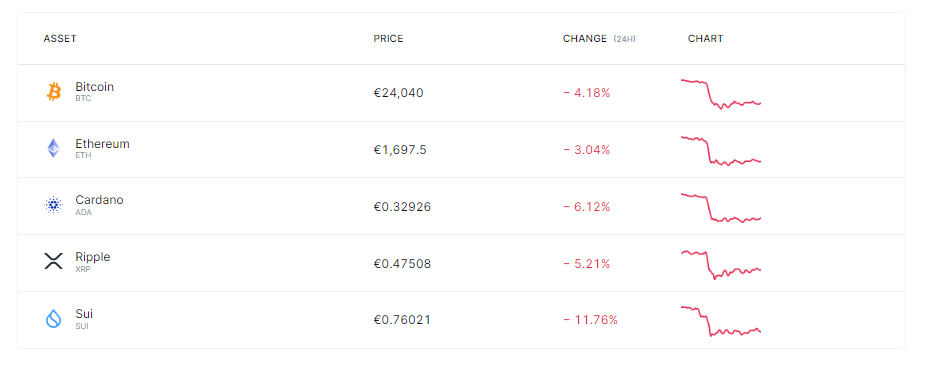 Among the extensive list of supported assets are Bitcoin (BTC), Ethereum (ETH), Binance Coin (BNB), Chainlink (LINK), Cosmos (ATOM), FTX Token (FTT), Litecoin (LTC), Polkadot (DOT), Ripple (XRP), Sui (SUI), Tezos (XTZ), and Tron (TRX).
Bitvavo goes beyond offering a wide range of cryptocurrencies and extends its support to over 60+ trading pairs, all denominated in EUR. Among the diverse selection of EUR trading pairs available on Bitvavo are popular options such as BTCEUR, ETHEUR, XRPEUR, RNDREUR, MTLEUR, and many more.
These are just a glimpse of the diverse portfolio available on Bitvavo, showcasing the platform's commitment to offering users a comprehensive range of investment options.
Services
Bitvavo provides a comprehensive suite of services, including trading over 190 cryptocurrencies, off-chain and on-chain staking options, an affiliate program, and a wide range of educational materials. In this Bitvavo Review 2023, we will explore the key services offered by Bitvavo, emphasizing their dedication to providing a seamless and secure cryptocurrency trading experience.
Staking
Bitvavo sets itself apart by offering both off-chain and on-chain staking services to its users, providing them with flexible options to earn rewards. With off-chain staking, Bitvavo users can maximize their idle account balances and earn rewards on those funds. This allows them to make the most of their assets without the need for active participation in blockchain validation.
On the other hand, Bitvavo's on-chain staking services take a more active approach, allowing users to actively participate in the transaction validation process on proof-of-stake blockchains. By holding a minimum-required balance of specific digital assets, users can contribute to the security and integrity of the blockchain network while earning staking rewards.
To make use of these services, Bitvavo users simply need to ensure they have the supported staking assets within their account and opt-in to Bitvavo Staking Services. Once opted-in, they can enjoy the benefits without any additional steps required. The staking services apply to a wide range of cryptocurrencies, including popular options like Bitcoin (BTC), Ethereum (ETH), Cardano (ADA), and Tezos (XTZ), among others.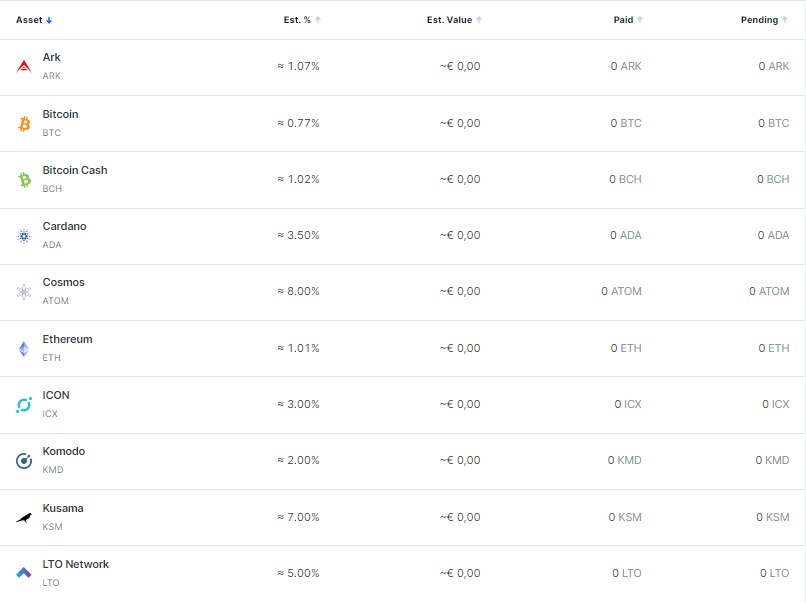 Bitvavo calculates rewards based on the current rewards rate, which users can easily view in their account. Additionally, the rewards are determined by the amount of digital assets held in individual wallets, taking into account the lowest balance on a specific day, including assets held in open orders. To keep users informed, Bitvavo provides detailed insights into estimated reward percentages, reward values, as well as a breakdown of rewards paid and pending through the dedicated 'Staking' page.
By offering off-chain and on-chain staking services, Bitvavo empowers its users to actively engage with their digital assets and explore various avenues to earn rewards while contributing to the growth and security of blockchain networks.
Direct Euro Transfers
Bitvavo has modernized the way Europeans can purchase digital assets by providing eight different, safe payment options, such as Single Euro Payments Area (SEPA) bank transfers and rapid transfers. This multifaceted approach to payment processing ensures the convenience and security of buying digital assets on the Bitvavo platform for all consumers.

Charts
Bitvavo offers traders a seamless trading experience by providing access to interactive charts powered by TradingView, a renowned charting and analysis platform.
Traders can take advantage of the robust charting capabilities on Bitvavo's Advanced page, allowing them to perform in-depth technical analysis using various tools such as drawings and a wide range of technical indicators.
With TradingView integration, users can choose from a comprehensive selection of technical indicators to customize their analysis according to their trading strategy. Moreover, they have the flexibility to select different time intervals, enabling them to zoom in or zoom out for a more detailed or broader view of the market.
Bitvavo caters to different trading preferences by offering multiple chart types, including candles, hollow candles, Heikin Ashi, bars, line, area, and baseline. Traders can choose the chart type that suits their visual preferences and analysis style.
To access the desired chart for a specific cryptocurrency pairing, users can navigate to the Advanced page and simply select the desired asset pairing from the 'Change Market' dropdown menu conveniently located at the top left-hand side of the Advanced page. This allows traders to quickly switch between different markets and analyze the price movements of their preferred cryptocurrencies effortlessly.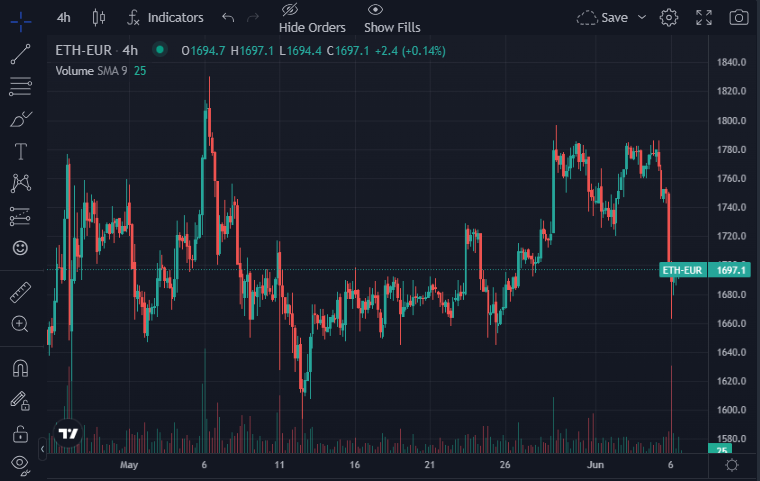 Bitvavo Learn
Bitvavo stands out by providing a wealth of educational resources tailored to traders of all levels, with a comprehensive curriculum of 32 lessons. Delving into the intricacies of cryptocurrency trading, Bitvavo's educational materials are categorized into three levels: Beginner, Intermediate, and Expert, offering a progressive learning journey.

For those new to the world of cryptocurrency, the Beginner level comprises 14 in-depth lessons aimed at establishing a solid foundation. From understanding the basics of cryptocurrencies to exploring various trading strategies, Bitvavo ensures that beginners have the necessary knowledge to navigate the market confidently. To further support beginners, a dedicated beginner's guide is available, offering step-by-step assistance to kickstart their trading journey.
Moving up the ladder, the Intermediate level comprises 16 lessons, diving deeper into advanced concepts and trading techniques. Here, traders can enhance their understanding of topics such as technical analysis, risk management, and market indicators, empowering them to make more informed trading decisions.
For seasoned traders seeking to refine their skills, the Expert level provides two specialized lessons that delve into advanced trading strategies and market insights. These lessons cater to experienced traders looking to gain a competitive edge in the dynamic cryptocurrency landscape.
Under the umbrella of "Bitvavo Learn," the educational materials cover a diverse range of over 10 subjects, spanning Altcoins, Bitcoin, Blockchain, Consensus, DeFi, Essentials, Ethereum, Finance, History, NFT, Security, and Trading. By addressing these vital subjects, Bitvavo ensures that traders have access to a comprehensive educational hub that equips them with the knowledge needed to navigate the ever-evolving cryptocurrency market.
Web Trader
Bitvavo supports the trading of a wide range of cryptocurrencies paired with EUR, providing traders with ample opportunities to explore and invest in different digital assets.
Bitvavo's advanced trading platform offers comprehensive analysis tools and various order types for serious traders. It enables in-depth chart analysis using technical indicators and provides access to the order book. With features like market and limit orders, the platform caters to the needs of active traders who seek to make informed decisions and execute multiple transactions.
Whether you're a seasoned trader or actively engaged in the market, Bitvavo's web trader equips you with the necessary tools to make informed decisions and execute trades efficiently.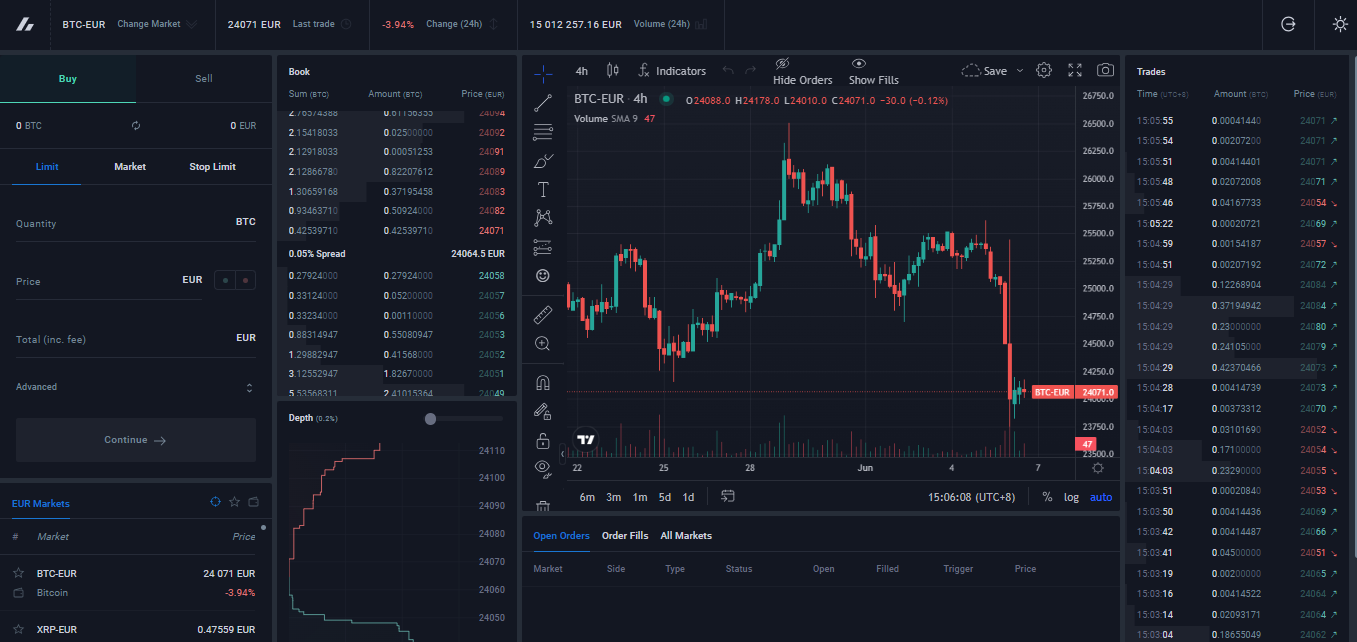 Mobile App
The Bitvavo mobile app has an intuitive design that puts all the most important features and tools of the web terminal at the user's fingertips. Users may quickly and easily manage their accounts, including making deposits, withdrawals, verifying their identities, and staking, all from their mobile devices.
However, seasoned traders in need of sophisticated trading options may find the mobile app lacking. However, the Bitvavo mobile app provides a polished and fun trading experience for users on both iOS and Android.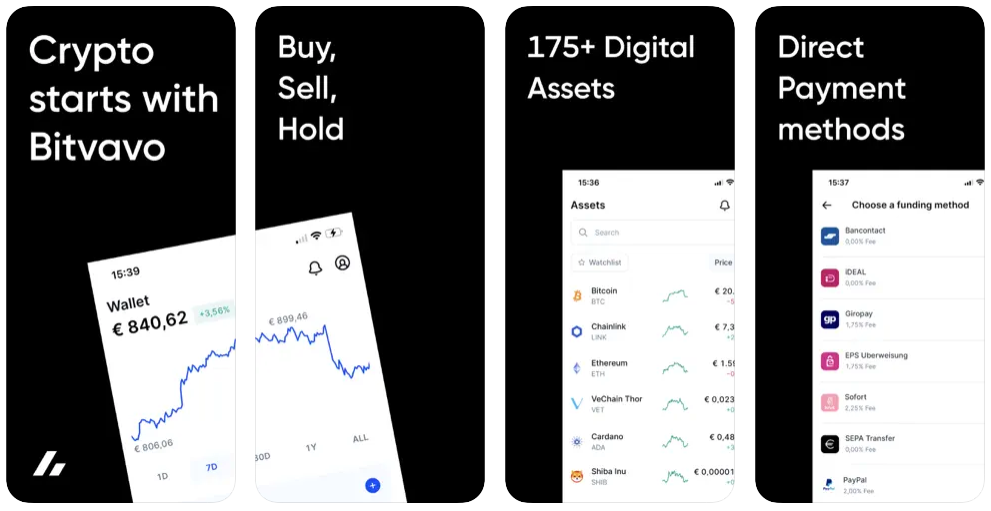 Affiliate Program
Bitvavo takes partnership to the next level by offering an enticing affiliate program, presenting an opportunity for users to become affiliate partners and earn generous commissions. By joining the affiliate program, individuals can tap into a rewarding revenue stream, starting with a commission rate of 15% on all trading fees paid by their referred users.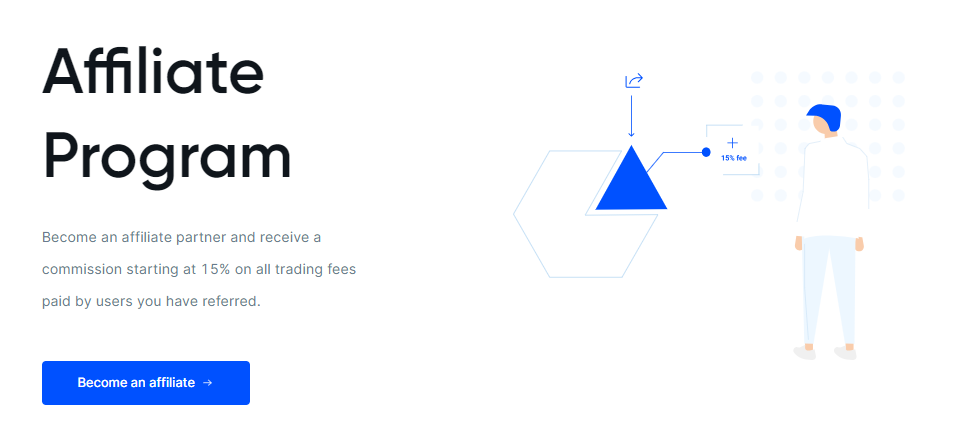 The reach of this program extends across 27 countries, ensuring that aspiring affiliates from various regions can participate and benefit from their referrals. What sets this affiliate program apart is its unlimited earning potential, allowing affiliates to continuously earn from their referred users' trading activities.
Becoming an affiliate with Bitvavo is a seamless process, involving just three simple steps. First, interested individuals need to sign up for the affiliate program, gaining access to their unique referral link. Next, they can share this referral link with their network, attracting potential users to join Bitvavo through their affiliation. Finally, as their referred users engage in trading activities, affiliates receive their well-deserved commission.
By combining a user-friendly affiliate program structure with attractive commission rates, Bitvavo empowers individuals to monetize their network and leverage their influence to earn from their referrals' trading activities.
Fees
Bitvavo stands out with its low and transparent fee structure, catering to the needs of both high-volume traders and market makers.
Trading Fees
Bitvavo generates revenue through taker fees and maker fees, similar to other crypto exchanges. These fees are determined based on the trading volume of investors over the previous 30 days. Additionally, Bitvavo offers staking interest of up to 10.5% on the exchange. For a detailed breakdown of the fee structure, including maker fees and taker fees, please refer to the accompanying image below.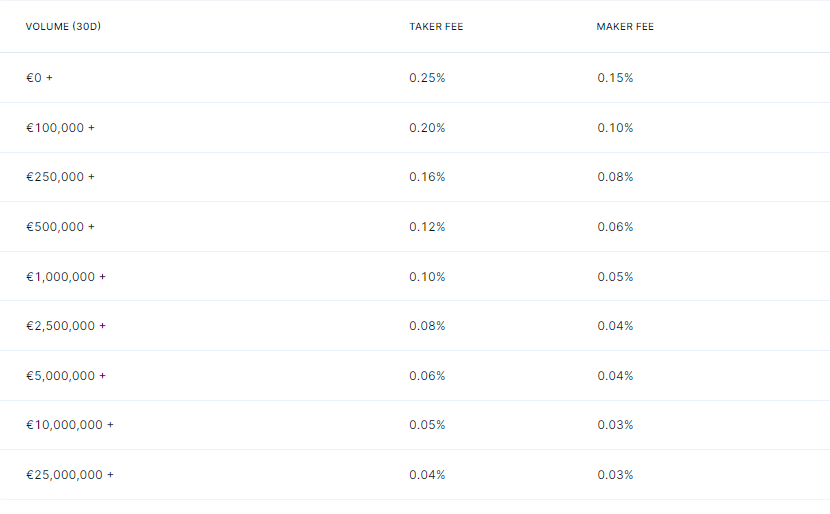 Deposit Fees
Bitvavo's exchange imposes a nominal fee for depositing credit into the exchange account. To provide convenience, customers have the option to choose from a variety of payment methods, including Bancontact, Giropay, iDeal, MyBank, PayPal, and more. The image below displays the specific details of the absolute fees, relative fees, and the maximum deposit amount associated with each payment method.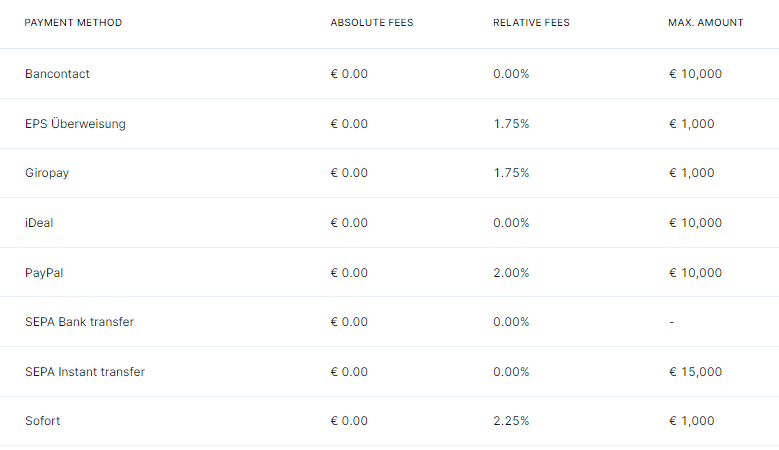 Withdrawal Fees
Withdrawal fees for cryptocurrencies at Bitvavo are dynamic and can fluctuate based on the congestion and network conditions of the respective blockchain. While these fees may vary, it is helpful to provide a sample of the withdrawal fees to give users an idea of what to expect.
Here is an overview of some sample withdrawal fees at Bitvavo, however, please note that these fees are subject to change and it is advisable to refer to the official Bitvavo website for the most up-to-date fee structure.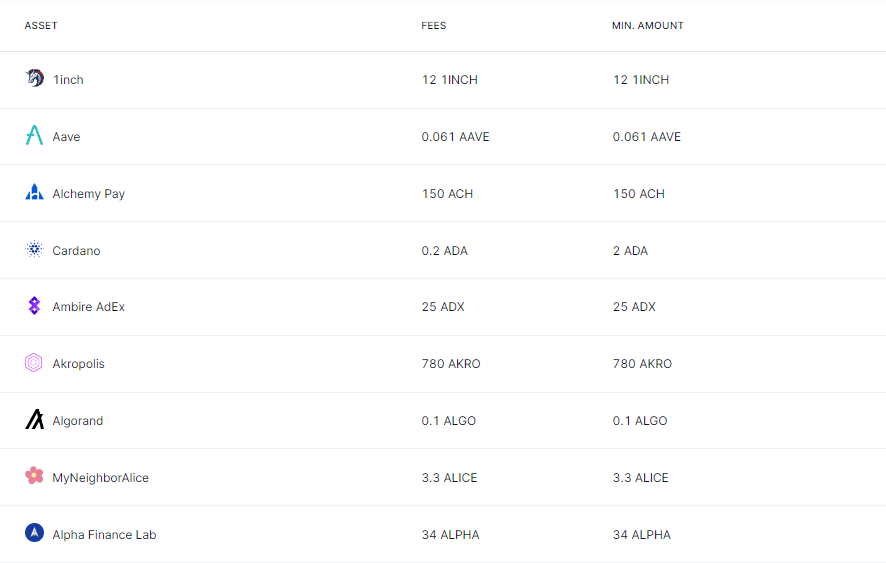 Security
Bitvavo prioritizes the safety of funds and personal information, implementing strict security measures. Account security features include 2-factor authentication, device management, and anti-phishing codes. Client funds are held in a segregated account, Stichting Bitvavo Payments, for added protection. Additional security measures include address whitelisting, IP whitelisting, and permission-based API access.
Bitvavo employs various security measures such as advanced monitoring, strong organizational setup, multi-signature cold wallet storage, regular external penetration tests, coding audits, and screening. The majority of crypto assets are stored in secure cold wallets with 24/7 monitoring. Large transfers undergo manual verification and approval by a selected group of executives.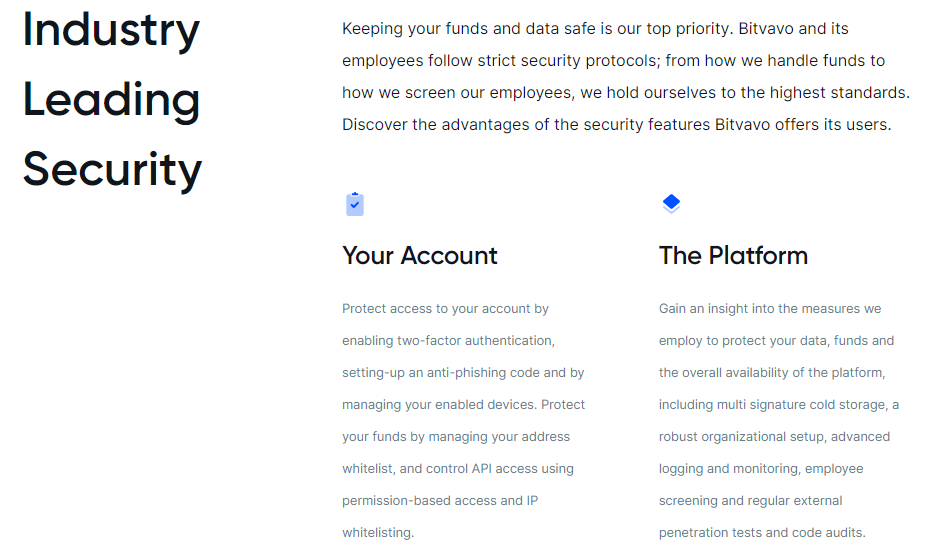 Please note that while Bitvavo has implemented rigorous security measures, it is always recommended to exercise caution and adhere to best practices in managing your digital assets.
Customer Support
Bitvavo offers multiple avenues for contacting their support team. You can easily access the live chat feature by clicking on the chat icon located in the lower-right corner of any page on their website. The live chat is available during specific hours, from 10:00 to 20:00 on business days and from 10:00 to 16:00 on weekends.
If you prefer to communicate via email, you can reach out to Bitvavo's support team at support@bitvavo.com. To receive prompt assistance, make sure to provide your email address associated with your Bitvavo account and include as many details as possible about your question or issue. If relevant, you can also attach screenshots to aid in the resolution process.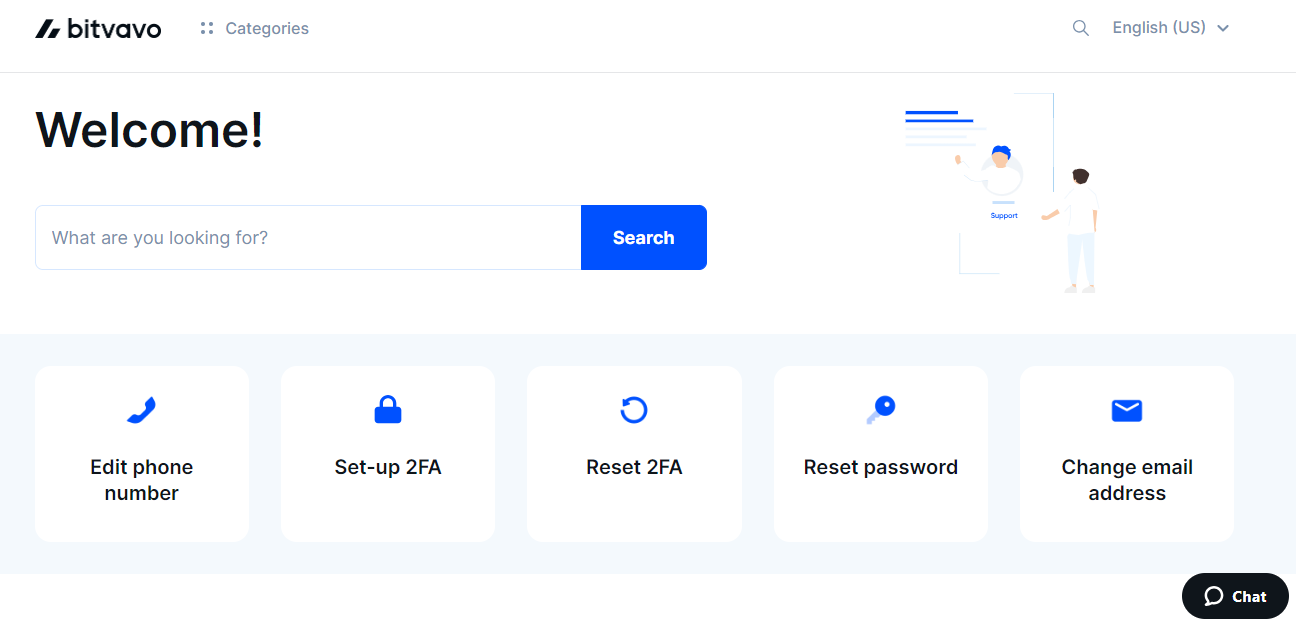 While Bitvavo's support team aims to respond to every email within one business day, occasional delays may occur.
Conclusion
After conducting this comprehensive Bitvavo Review 2023, it is evident that Bitvavo is a top-notch choice for traders and investors, whether they are beginners or experienced, operating within Europe.
Bitvavo stands out for its affordability and compliance, providing access to a diverse selection of cryptocurrencies. The platform boasts a user-friendly interface, transparent fee structure, robust security measures, exceptional customer support, swift fund transfers, and advanced trading features. With its combination of competitive advantages, Bitvavo emerges as a premier option for European traders seeking a seamless and feature-rich trading experience.
FAQ
Is Bitvavo safe to use?
Yes, Bitvavo is safe to use. The platform employs various security measures, including two-factor authentication (2FA), to ensure the safety of user accounts.
Can you store cryptocurrencies at Bitvavo?
Yes, you can store cryptocurrencies at Bitvavo. The platform provides users with unique wallet addresses for each supported cryptocurrency.
What is the minimum deposit required at Bitvavo?
The minimum deposit at Bitvavo is €5.
Can I deposit funds using a credit card?
No, it is not currently possible to deposit funds to Bitvavo using a credit card.