Choosing the proper crypto exchange is very important whether you're a crypto trader or investor.
If you're looking to choose between Bitpanda and Kucoin, you've come to the right place. This comparison Kucoin vs Bitpanda covers everything you need to know about both exchanges, such as security, fees, deposits and withdrawals, trading options, etc.
Bitpanda vs Kucoin Overview
Bitpanda is one of the oldest crypto exchange platforms. It was launched in 2014 by Eric Demuth, Paul Klanschek, and Christian Trummer. With over 700 employees and 4+ million users, Bitpanda is one of the fastest-growing exchanges in Europe. It is available in over 100 countries across Europe and beyond with its headquarters located in Vienna, Austria.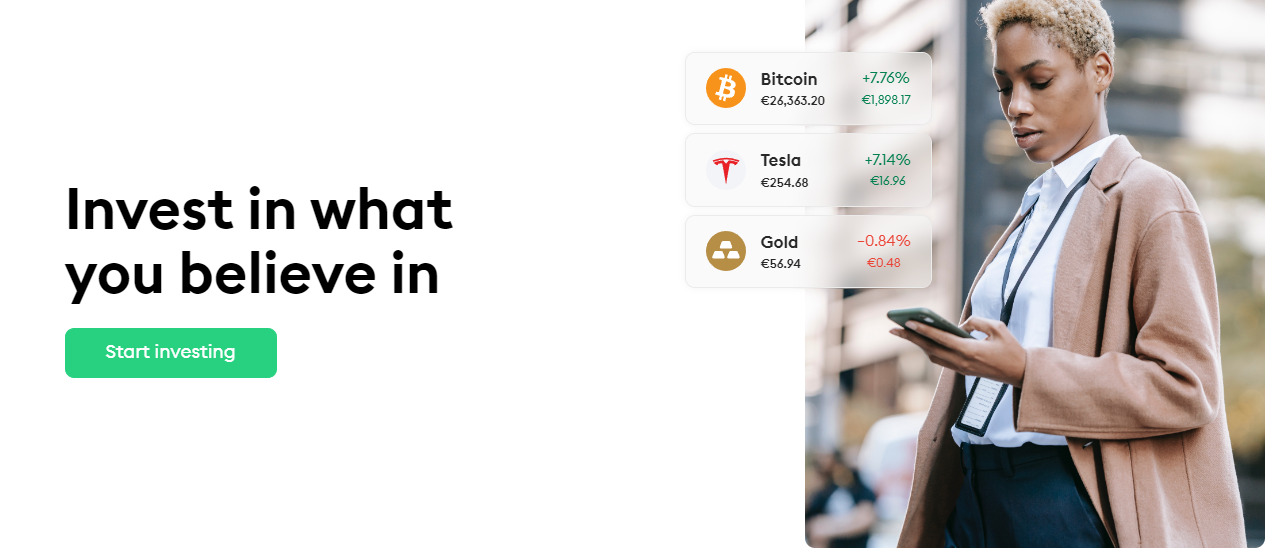 Bitpanda Homepage
Bitpanda has a daily trading volume of about 1.5million and offers trading of over 3000 digital assets like crypto, stocks, precious metals, and crypto indices. A mobile app for users seeking to trade or manage their crypto assets from their phones is available for IOS and Android devices with over 1 million downloads and a 3.5/5 star rating on the Google Play store.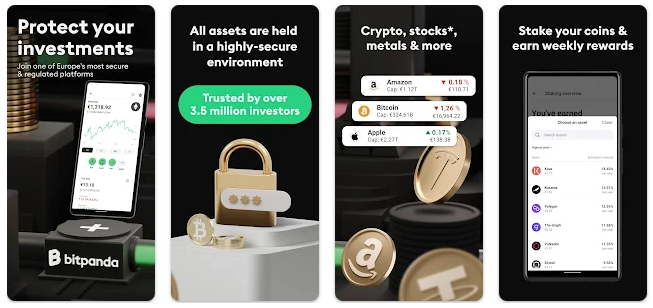 Bitpanda Mobile App
Kucoin, on the other hand, is a relatively new crypto exchange. It was co-founded in 2017 by Michael Gan and Eric Don. With over 900 employees and over 29 million users, Kucoin ranks as one of the largest crypto exchanges in the world. It is available in over 200 countries globally, with its headquarters located in Seychelles.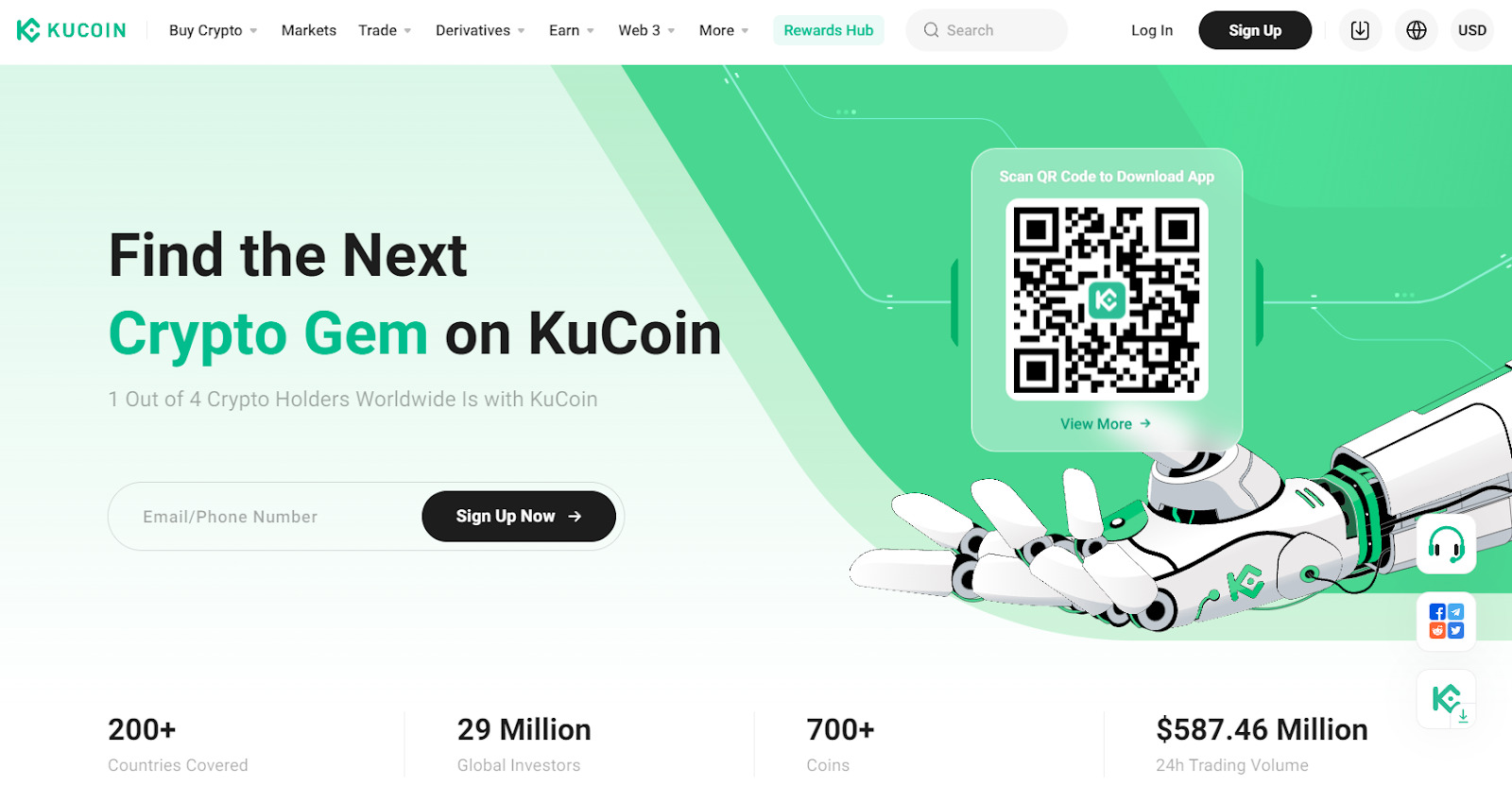 Kucoin Homepage
Kucoin has a daily trading volume of about $1.5 billion and offers trading for 700+ digital assets. It also has a mobile app for IOS and Android for mobile users with over 10 million downloads and a 4.2/5 star rating on the Google Play store.
The Kucoin app is considered superior to Bitpanda as its features support more advanced trading options which also reflects in the rating.
Bitpanda vs Kucoin Sign-Up & KYC
Bitpanda
To sign up on Bitpanda, you must provide your legal name and a valid email address, then read and agree to their privacy policy and terms & conditions. After creating an account, a confirmation link will be sent to your mailbox; click on this link to verify your email address, and you will now have access to the platform.

Bitpanda KYC Verification
Next, you have to verify your identity to enable you to trade and deposit on Bitpanda. You will be asked to submit your address, date of birth, and phone number. You also have to submit either your Passport or ID for verification.
To complete your verification, you will be in a live video call with a third-party verification company affiliated with Bitpanda. This video call can be done on your computer or your phone as long as you have a good camera and microphone.

Bitpanda KYC Verification
Kucoin
Creating an account on Kucoin simply requires an email address or a mobile phone number. After signing up with either a phone number or email address, the next is to complete the KYC verification because you can't withdraw or access trading options without completing your KYC.
The KYC verification is grouped into 3 levels.
Kucoin requires at least level 1 KYC for withdrawal which requires only personal information. The daily withdrawal limit on level 1 KYC is $499.
Level 2 KYC increases the daily withdrawal limit to $1,999 and Level 3 KYC has a limit of $999,999.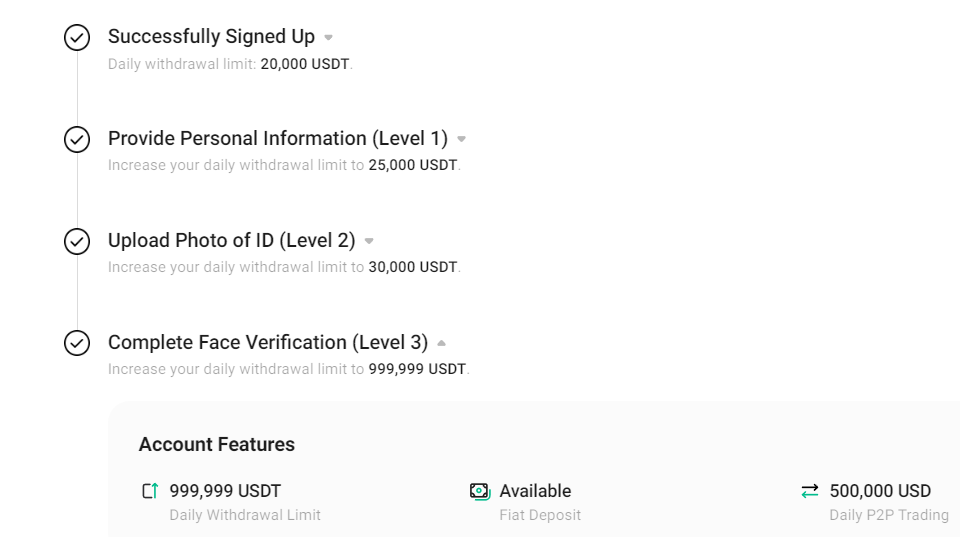 Kucoin KYC Verification
Kucoin is the better choice in terms of seamless registration and KYC verification process.
Bitpanda vs Kucoin Product, Services, and Features
Bitpanda has two variations; Bitpanda and Bitpanda Pro. Bitpanda is designed for passive investing rather than trading and supports over 100 cryptos. If you're into actual trading, you must use Bitpanda Pro to access real-time candlestick charts, a trading terminal, advanced order types, and an order book.
Bitpanda Pro offers 20+ digital assets for trading with an average daily trading volume of about 1.5 million. Additionally, Bitpanda offers up to 2x leverage which contains a margin close-out control with a trigger of 50% of the initial margin. This means that a position will be automatically closed if a 50% loss has been incurred.
Bitpanda also offers traders other investment products on the basic Bitpanda platform such as stocks, ETFs, leveraged tokens, and crypto indices that can be used to earn passive income.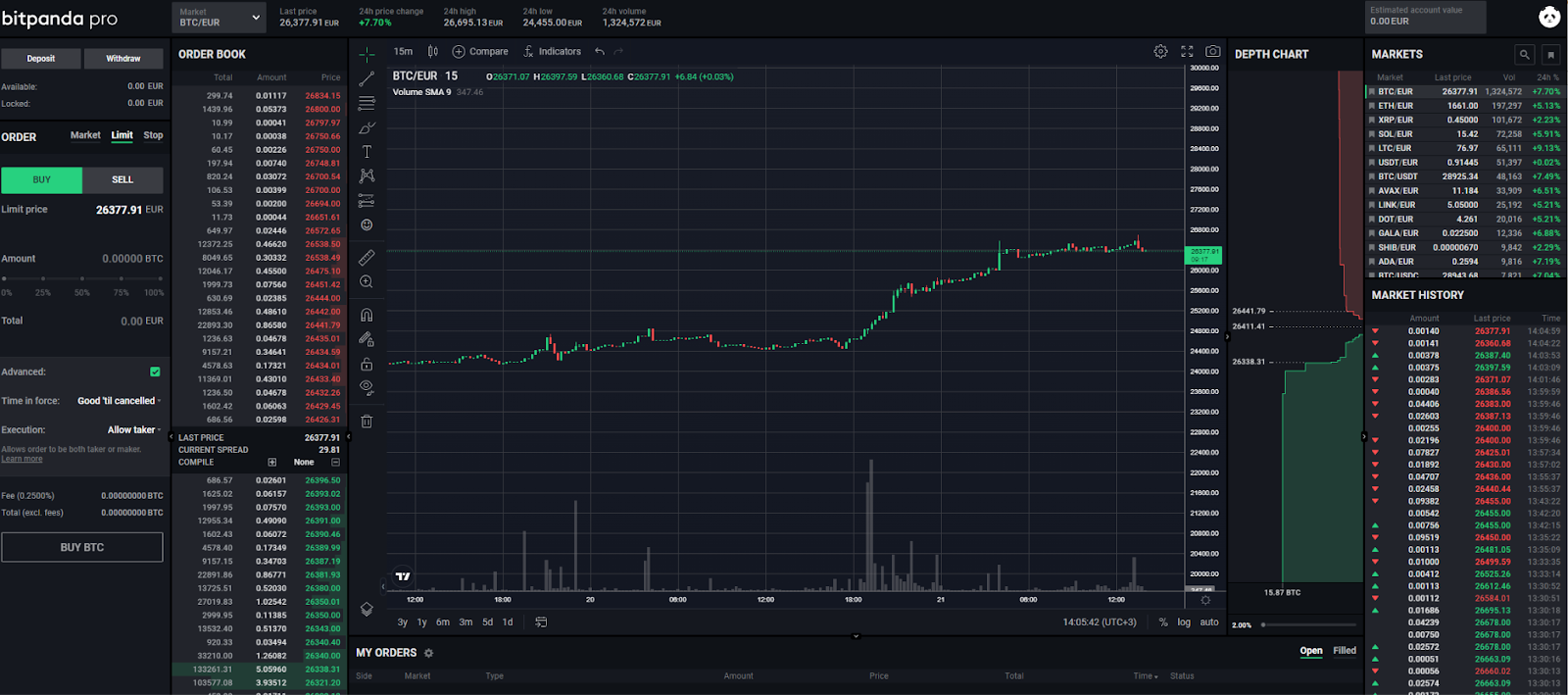 Bitpanda Pro Interface
Bitpanda has a user-friendly interface that makes it easy to navigate through the trading terminal for experienced traders and even beginners.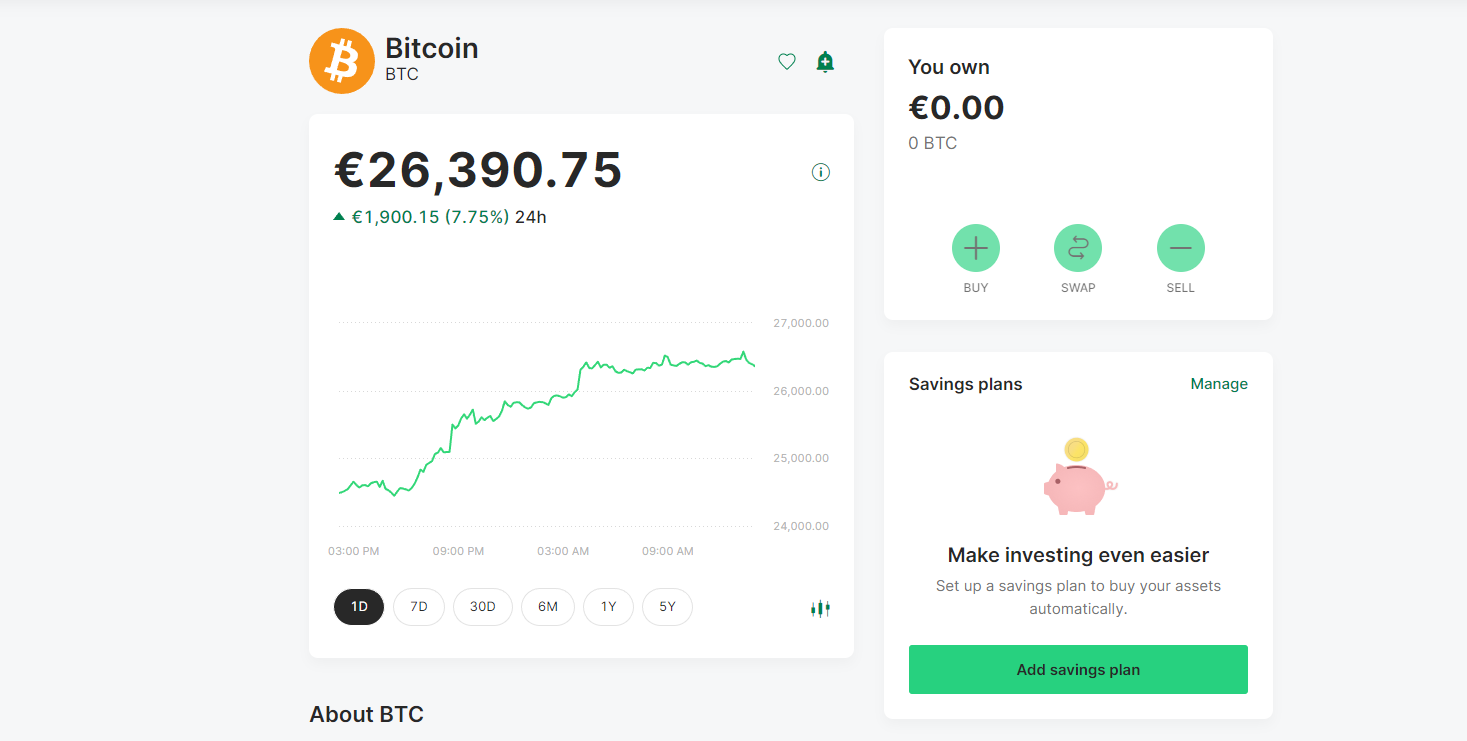 Bitpanda Basic Interface
Kucoin, on the other hand, offers over 700 cryptocurrencies for buying, selling, and trading, with an average daily trading volume of about $1.5 billion. This makes it a good choice for crypto traders and enthusiasts.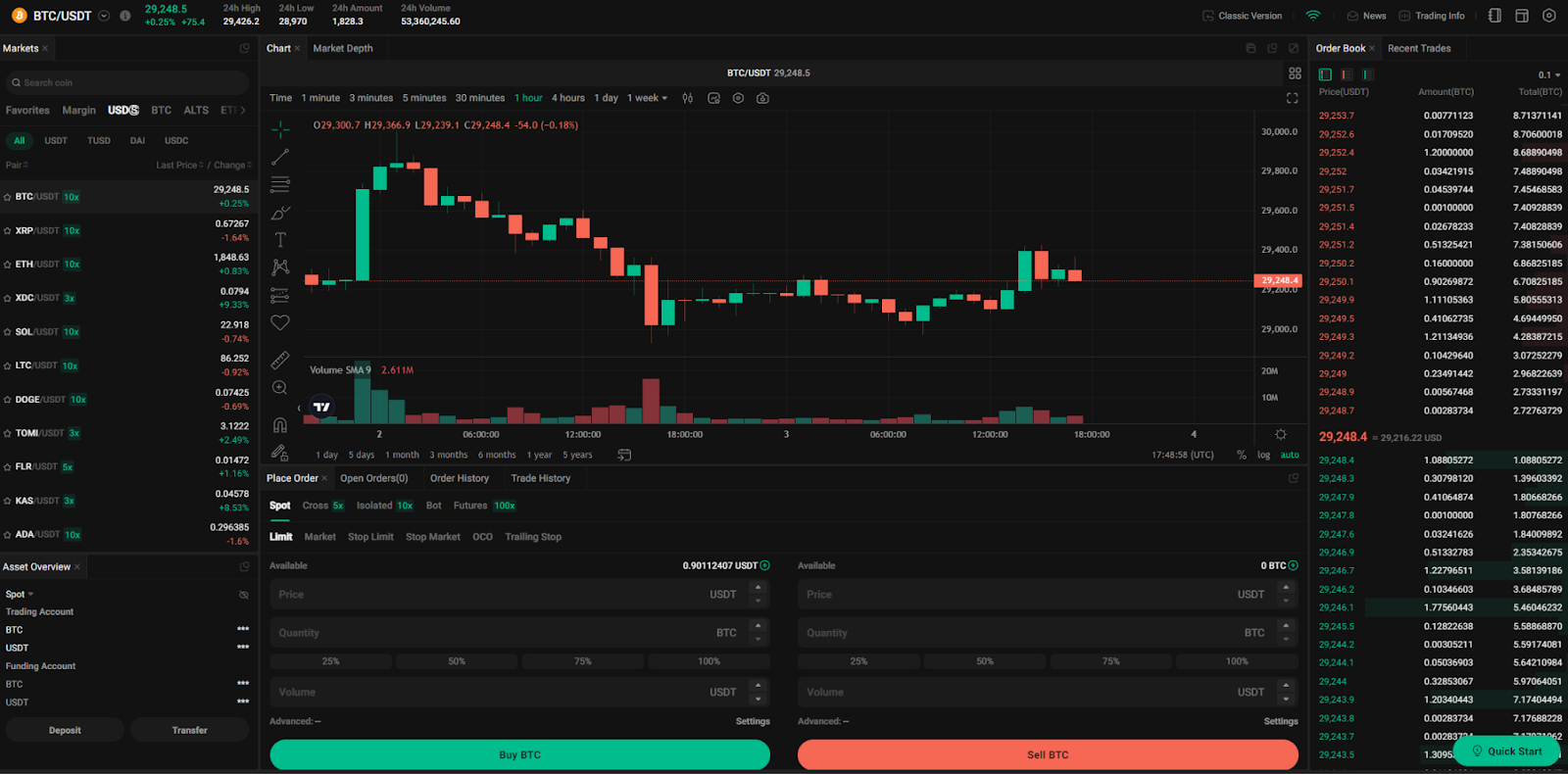 Kucoin trading interface
Kucoin is well known for its spot market with shiny altcoins not listed on other exchanges yet. Thus, Kucoin is one of the best spot trading platforms for buying new cryptos. Additionally, Kucoin offers up to 100x leverage when trading futures.
If you are interested in NFT trading, Kucoin has you covered with their Windvane NFT aggregator.
Kucoin also provides automated trading bots that can help you earn passive income without having to monitor the market. Additionally, Kucoin supports over 50 assets for earning in staking and savings to earn passive income.
Kucoin and Bitpanda both feature a good trading interface, but Bitpanda stands out with a more user-friendly interface, especially for beginners. Though, Bitpanda is not suitable for serious traders due to a lack of advanced features and liquidity.
Regarding Products, services, and features, Kucoin is the clear winner as it offers more cryptocurrencies for trading, higher leverage, more income-earning options, and NFT trading.
Bitpanda vs Kucoin Trading Fees
The fee structures of Bitpanda and Kucoin are relatively different. The trading fees on Bitpanda are 0.25% for makers and takers and do not differentiate between spot and leverage trading.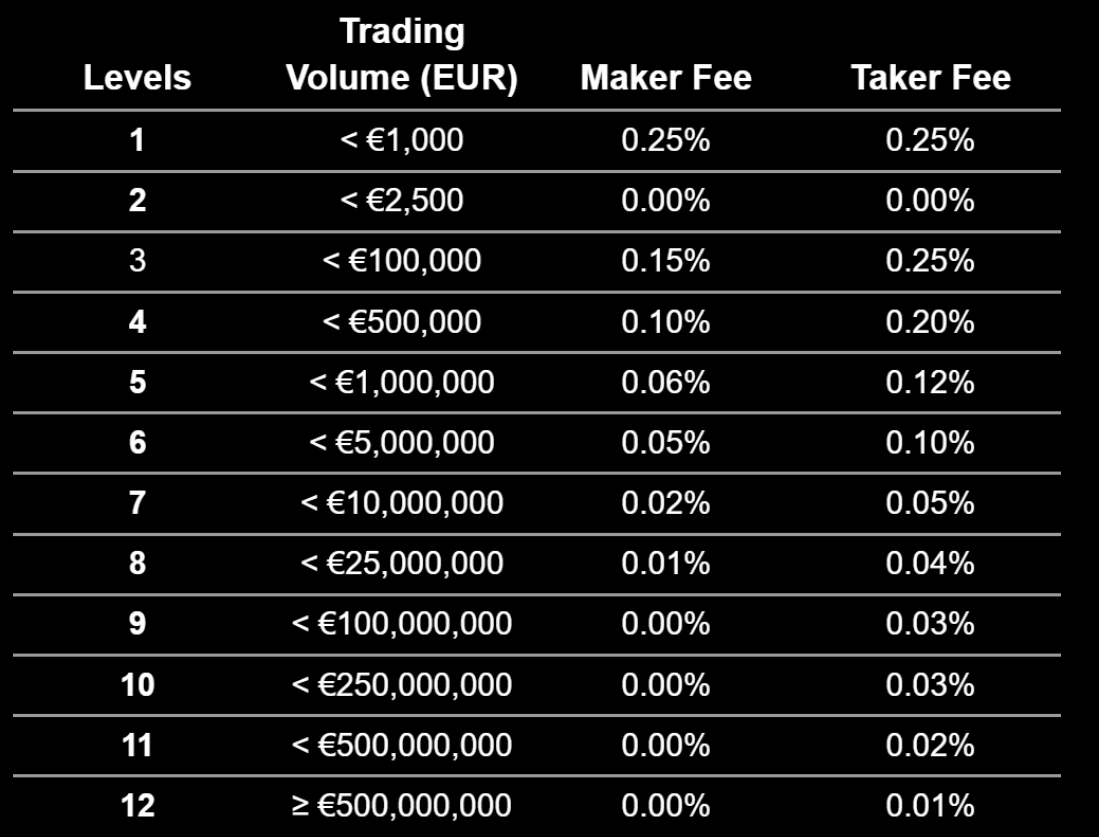 Bitpanda Trading Fees
Kucoin, on the other hand, uses a tiered trading fee structure for the spot. This means your trading fee depends on your trading volume. Level 0 traders pay 0.1% as both maker and taker fees. The fees decrease gradually, even to a negative trading fee. Kucoin offers a 20% discount when you pay fees with their native token, KCS.

Kucoin Trading Fees
Kucoin also offers a tiered fee structure for future trading. Level 0 pays 0.02% for maker fees and 0.06% for taker Fees.
Regarding fees, Kucoin is the better choice as it offers lower fees and generous discounts when holding the Kucoin token.
Bitpanda vs Kucoin Deposit Methods
Both Bitpanda and Kucoin offer free crypto deposits.
For FIAT deposits, Bitpanda only supports EUR, GBP, CHF, and PLN. The supported payment methods are SEPA, Visa/Mastercard, Skrill, and Netller. The fees range between 1.8% for cards and 3.6% for Netller and Skrill. SEPA transfers take 1-3 working days, while the other payment methods are processed immediately.
SEPA transfers are the cheapest deposit method for Bitpanda.
Kucoin, on the other hand, supports 28 fiat currencies, some of which include; SEK, CHF, EUR, GBP, AUD, and RUB.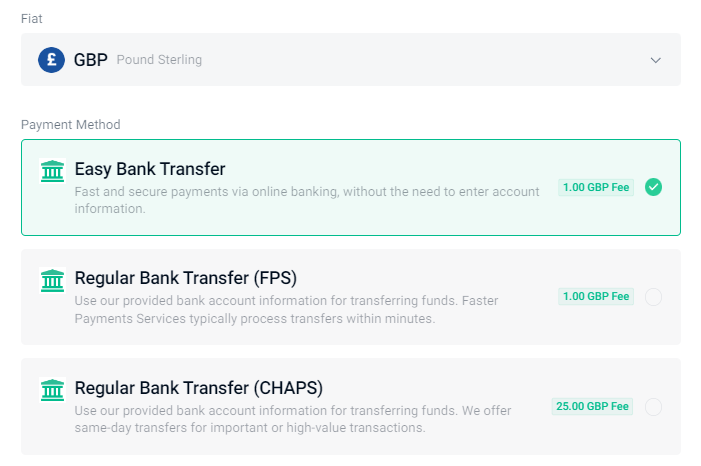 Kucoin Deposit Methods
Most ways to deposit fiat money on Kucoin involve using Visa and Mastercard, which come with a fee of 3.8%. However, there are some exceptions, like the EUR, which can be deposited through a bank transfer, with a fee of 1 EUR. Other ways to deposit fiat currencies on Kucoin include bank transfers, wire Advcash, etc. EUR Bank transfer is the cheapest deposit method for Kucoin.
Although Kucoin supports more FIAT currencies for deposits, Bitpanda is the winner when considering Deposit methods as it offers more deposit methods and lower fees.
Bitpanda vs Kucoin Withdrawal Methods
Kucoin's withdrawal process supports only 7 currencies for FIAT withdrawal: USD, EUR, GBP, RUB, TRY, UAH, and BRL. Withdrawal of fiat currencies is, as of now, limited to mainly EUR and GBP. It offers withdrawals through SEPA for EUR and a 5 EUR fee.
Kucoin also offers crypto withdrawals for over 400 coins and all major networks. The fee they charge for withdrawal is small, and it is dependent on the coin and the selected blockchain network.
They charge 0.01 ETH for Ethereum and 0.001 BTC for Bitcoin.
However, some of the cheapest withdrawal options on Kucoin are USDT and BUSD with the TRC20 or BEP20 network with a fixed fee of $1.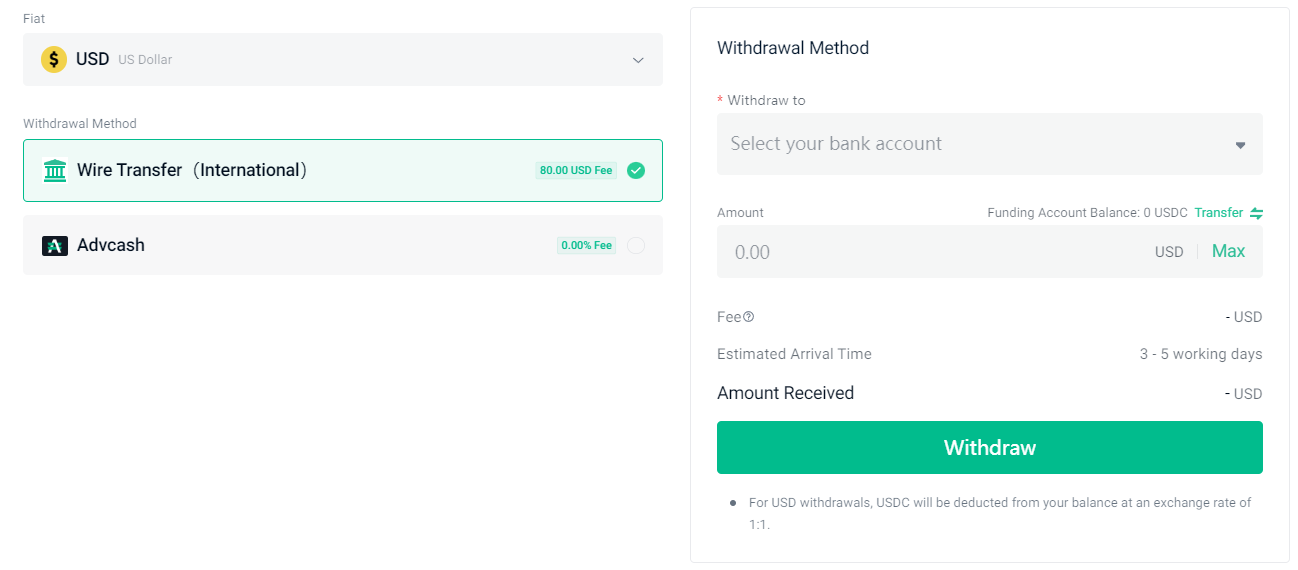 Kucoin Withdrawal Methods
Bitpanda offers crypto withdrawals for all major currencies through the Bitpanda wallet. Unfortunately, Bitpanda charges extra fees for crypto withdrawals aside from the standard network fees. The minimum withdrawal limit is 25€, and the fee is 5€ + network fees.
Bitpanda also supports 5 different FIAT currencies for withdrawals and offers free FIAT withdrawals through SEPA.
Overall, Kucoin is the winner as it supports more FIAT currencies and offers lesser withdrawal fees than Bitpanda.
Bitpanda vs Kucoin Security
KuCoin faced a security incident in 2020 that led to a loss of more than $150 million in user funds. However, they bounced back almost immediately, retrieving most of the lost assets and tightening its security measures to avert similar future events. Customers were refunded as well.
Kucoin also provides independent proof of reserves that confirms that they have the needed funds to cover user assets. A third-party auditing company usually carries out this assessment. A recent report shows that BTC has a reserve ratio of 104%, ETH 118%, USDT 10,4%, and USDC 124%.
KuCoin prioritizes security by implementing features like Google Authenticator for added protection. Additionally, after modifying key security settings, withdrawal services are locked for 24 hours, and users are advised to set an anti-phishing safety phrase to distinguish legitimate communications. It also features a 6-digit password that is used to withdraw and trade.
Bitpanda on the other hand, takes regulations very seriously and is a fully licensed trading platform that has never been hacked. It implements two-factor authentication, session management,reCAPTCHA, and DDOS & SSL encryption. It also requires a secure password to perform transactions.
In terms of security, Bitpanda is the clear winner as it implements more safety measures and also has a proven track record of maximum security.
Bitpanda vs Kucoin Which Exchange Wins?
Kucoin is the winner of this comparison. Despite being established not many years ago, Kucoin has enjoyed very impressive growth. Unlike Bitpanda, Kucoin has a larger global reach across 200 countries. Its wide range of supported cryptocurrencies and trading features make it more suitable for experienced traders.
Bitpanda is best for:
Security
Lower deposit fees
User-friendly interface for beginners in crypto trading
Kucoin is best for:
Passive income products
Easy registration and KYC verification
Lower withdrawal fees
Spot trading
Bot trading
Lesser trading fees and discounts