Bithumb is one of South Korea's largest and most popular cryptocurrency exchanges and one of the world's top exchanges by trading volume. The exchange offers several services and features, including crypto loans, staking, margin trading, and airdrops. Bithumb's goal is to use its knowledge of blockchain technology to position itself as a future pioneer in the transition to digital financing. Read the Bithumb review below to learn more about this exchange and get a comprehensive list of all its services.
Bithumb Exchange
Bithumb, founded in 2014, is a leading digital asset exchange that has gained recognition for its innovative services and solutions. Initially known as Xcoin, Bithumb has expanded its offerings to include mobile website services, daily trading volumes, and a coveted British Standard 10012. In 2020, Bithumb was named the number one digital asset exchange by the Korea Reputation Institution and collaborated with the University of Korea for blockchain research. In 2021, Bithumb was recognized as the number one company in the digital assets market by Korea Mobile Awards.
Bithumb Account Registration
Users must follow the necessary process to create an account with Bithumb. Here are the steps to follow while signing up on Bithumb:
Only users from specific supported countries can open Bithumb trading accounts.
Users must first navigate to the Bithumb website and select sign-in.
Then users must enter basic information such as their username and email address.
They must pass a brief verification test to demonstrate that they are not robots.
Users must then enter their country, address, and phone number.
For their account, they must create a strong password.
Bithumb customer support representatives encourage users never to disclose their account passwords to anybody to maintain maximum security.
Users are then texted a verification code, which they must enter on the website.
Users will receive a confirmation email after this is completed.
They must click on the link supplied in the email.
The user has registered for an account and is ready to begin trading. They must fund their deposits with cryptocurrencies or Korean won.
However, additional ID evidence verification is required for particularly large quantities of trading.
Features of Bithumb
High Trading Volume
Bithumb crypto exchanges deal with massive amounts of transactions regularly. However, trading methods are structured so no particular force may unfairly manipulate market pricing.
Maximum Security
One of the most safe crypto trading sites for digital assets is the Bithumb cryptocurrency exchange. Bithumb uses the ISMS (information security management system) for its client security solutions. They also offer an option for OTP verification of trades for further security. It was chosen by MSIT as a top enterprise in a cyber crisis response training simulation in 2020.
Huge Liquidity Pools
Thanks to access to sizable liquidity pools, it is simpler for Bithumb users to execute their buying and selling at the prices they desire.
Bithumb's Services and Products
Users of the cryptocurrency exchange Bithumb can trade in various cryptocurrencies, including Bitcoin, Ethereum, Dogecoin, Ripple, and many more.
The sum of all the cash users have in their accounts is known as Bithumb Cash, a unique feature of the Bithumb app. Both online and offline payments can be made by users using this Cash.
The bitcoin exchange Bithumb offers auto trading and staking services as well.
New Bithumb members receive a free coupon for their first trade and transaction when they sign up.
Bithumb also provides a cryptocurrency trading bot option.
Institutional account holders have access to a unique feature called Bithumb Prime, which offers high trading volume.
Bithumb's Customer Support
Bithumb customer service assists and counsels users with queries or problems with the platform. Users can submit an inquiry form online, and they will receive a response within 24 hours. Email general inquiries to info@bithumbcorp.com or specific email addresses for listing, mileage drops, collaboration, or tip submissions. BitGlobal platform users can get help via BitGlobal support, which includes announcements, FAQs, and online inquiry forms. Twitter, Facebook, Telegram, Medium, and Reddit are examples of social media platforms that provide updates, news, and community interactions.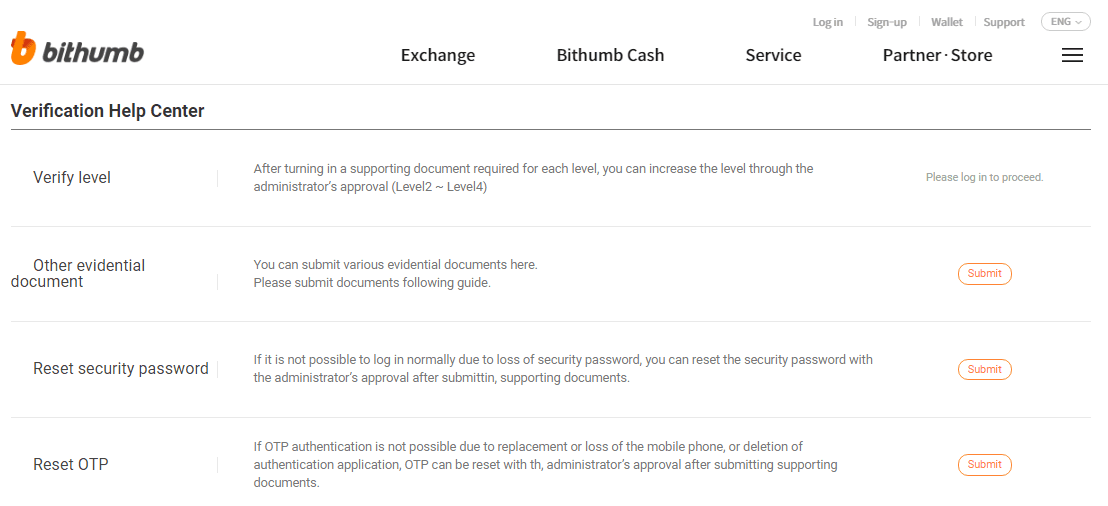 Bithumb User Interface
The Bithumb user interface is incredibly user-friendly and straightforward to browse. This crypto exchange is suitable for both novice and expert traders. Users can browse between multiple tabs and content pages on the Bithumb website without experiencing any lags or malfunctions. The order book is presented on the right side of the Bithumb exchange platform interface, while all supported assets are displayed on the left. The order book displays the currency's current buy and sell rates at that time. In addition, the crypto exchange's values are constantly updated with real-time market data.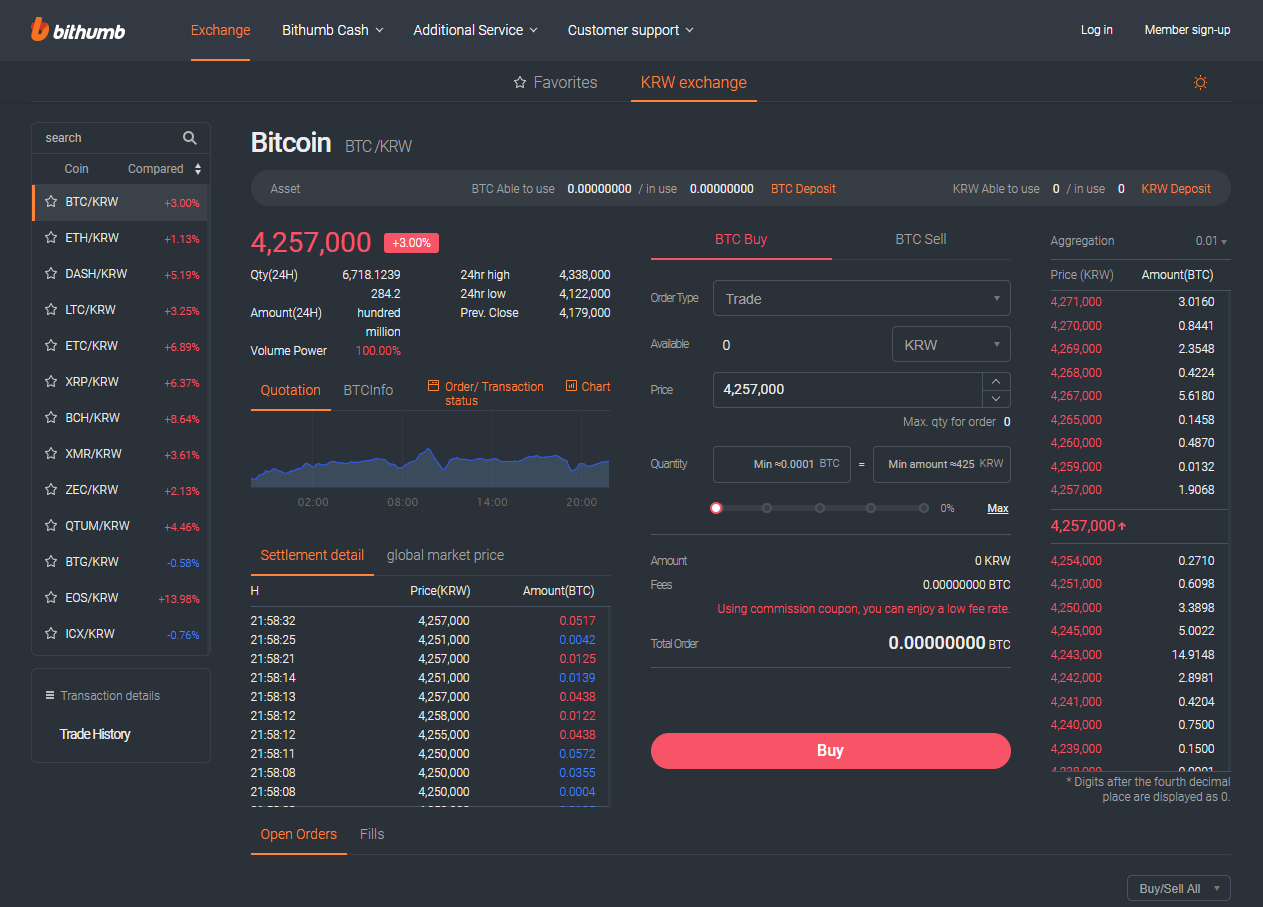 Bithumb Trading Accounts
Users open a Level 1 account when they sign up for a Bithumb account. This account also has cheap trading costs and offers access to various services and features. On the other hand, users who want to trade in huge volumes must register an institutional account. This is intended for giant firms and businesses. They gain access to exclusive Bithumb Prime features and decreased trading fees. Users must submit additional identity evidence and verification documents to sign up for a high-trade volume account.
Bithumb Supported Currencies and Countries
Bithumb is currently supported in a wide range of nations throughout the world. However, the majority of business is conducted in South Korea. It also accepts a wide range of coins. Popular cryptocurrencies like Bitcoin, Ethereum, and Ripple are available, as are lesser-known altcoins such as Cortex, ChainLink, Orbs, and many others.
Bithumb Fees
Trading Fees
Compared to other cryptocurrency exchanges in South Korea, Bithumb offers one of the lowest trading costs. The maker or taker charge for all KRW market transactions is between 0.04% and 0.25%, and there is no trading fee for all BTC markets. The actual trading fees are determined by the type of coupons the user purchases. A 0.25% coupon is available for new traders. Coupons for high-frequency traders might range between 0.04% and 0.045%.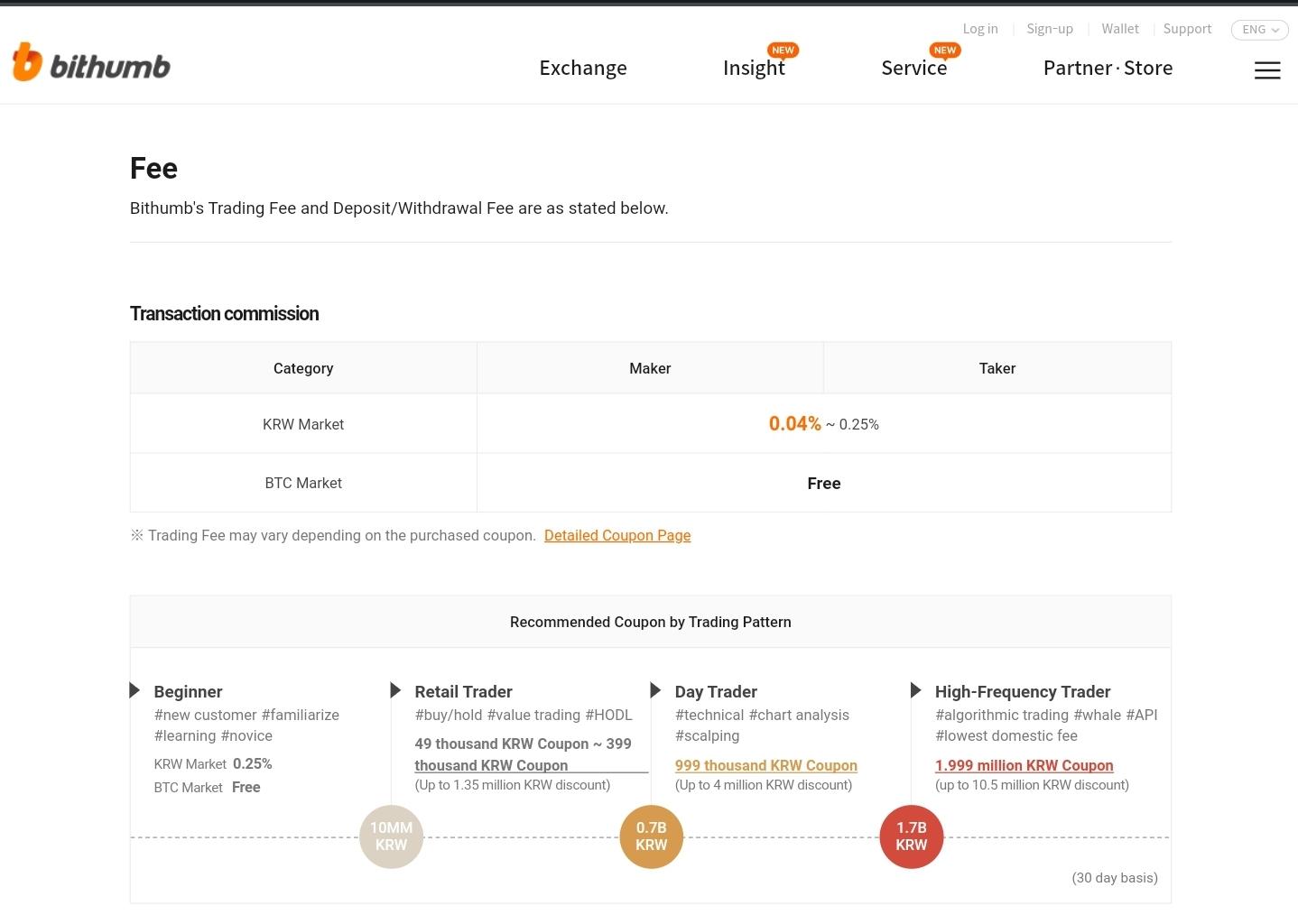 Deposit and Withdrawal Fees
Bithumb does not charge deposit fees for most fiat currency and cryptocurrency deposits except for a few cryptos like bitcoin-related coins and Kusama(KSM). Withdrawal fees vary depending on the cryptocurrency being withdrawn.
Bithumb Deposit and Withdrawal Methods
Bithumb accepts deposits and withdrawals in cryptocurrencies or KRW points, which can be purchased through the KB escrow service and converted to South Korean Won.
To deposit, users log in to their accounts, select the token, copy its address or QR code, and paste it in the asset transfer platform's address bar.
To withdraw, users log in, select the token, enter the withdrawal amount, complete SMS verification, and enter the security passcode.
Bithumb's Mobile App
The Bithumb mobile app is a smartphone or tablet application that allows users to trade over 180 digital assets, including Bitcoin, Ethereum, Ripple, and Litecoin. It provides real-time market information, offers various trading options, and ensures security and convenience through advanced encryption technology, biometric authentication, asset passwords, and Google verification. Users can deposit and withdraw funds using QR codes or addresses. The app is available for Android and iOS devices and can be downloaded from the Google Play Store or the App Store.
Bithumb Security & Privacy
Bithumb's security and privacy measures protect users' funds, data, and identity. These measures include identity verification, advanced encryption technology, biometric authentication, asset passwords, and Google verification. Users must provide copies of their documents to verify their identities, comply with South Korean cryptocurrency trading regulations, and prevent money laundering and fraud. Biometric authentication, a two-factor authentication method, is also available for accessing accounts. Users must set up an asset password and a six-digit transaction code and enable Google verification for two-factor authentication.
Bithumb's security monitoring team monitors the platform's servers 24/7 for suspicious activity or cyberattacks, taking immediate action if abnormalities are detected. Bithumb has obtained various security certifications, such as ISMS, ISO27001, and BS10012, demonstrating its commitment to best practices and standards in information security management.
Pros and Cons of Bithumb
| Pros | Cons |
| --- | --- |
| User-friendly trading platform | The only supported fiat currency is KRW for deposits and withdrawals. |
| Very low trading prices, one of the lowest in the domestic industry. | Bithumb's account verification process could be faster. |
| ISMS and OTP verification features for added security of digital assets. | |
Conclusion
Bithumb is a well-established and popular cryptocurrency exchange that offers a variety of digital assets, trading options, and payment methods. Bithumb also has competitive fees, high liquidity, and a user-friendly platform. However, Bithumb has its drawbacks, such as the limited support for fiat currencies other than KRW, the slow verification process, and the history of being hacked in 2017. Therefore, users should weigh the pros and cons of Bithumb before deciding to use it.
FAQs
Is Bithumb secure?
Although Bithumb is an unregulated cryptocurrency exchange, it has made a name for itself as one of South Korea's top providers of digital asset services. To guard against security lapses and dishonest market manipulation, Bithumb has also recently implemented a string ISMS and a round-the-clock trading monitoring system.
Where Is Bithumb Located?
Bithumb is originally from South Korea. The company was founded there in 2014. Bithumb Global is now present in some other countries.
Who Can Benefit from Bithumb?
Bithumb is suitable for both novice and professional traders. Bithumb's trading platform is intended for use by people of any demographic. Users can quickly create an account and begin trading via the website.
How Can I Begin Trading Using Bithumb?
To begin trading with Bithumb, customers only need to open an account and get started. They must fund their account with Bitcoin or KRW before selecting the cryptocurrency they want to trade from the Bithumb platform's listings and analysis charts.