Bitget vs. Phemex, which of these two giant crypto exchanges is better? This is the question asked by many traders entering the world of cryptocurrency exchanges. It is normally a difficult choice for traders who want to select between the two as both have a great exchange platform with innovative features to meet the evolving requirements of crypto trading.
We review Bitget vs. Phemex and assess their features, including trading fees, deposit methods, withdrawal fees, security, trading volume, and more, to see where they place among the world's best crypto exchanges.
Bitget vs Phemex Overview
| | Bitget | Phemex |
| --- | --- | --- |
| Year Founded | 2018 | 2019 |
| Founder | Sandra Lou | Jack Tao, Zhou Ting |
| Registered | Singapore | Singapore |
| Users | 10 million plus | 5 million plus |
| Mobile App | Yes | Yes |
| Available Cryptos | 400+ | 200+ |
| Supported Countries | 100+ | 200+ |
| FIAT Withdrawals | Yes | Yes |
| Withdrawal fee | 0.0005BTC | 0.0004BTC |
| KYC Verification | Not required | Not required |
| Max Leverage | 125x | 100x |
| Spot Fees | 0.1% | 0.1% |
| Joining Bonus | Yes | Yes |
Founded by Sandra Lou in 2018, Bitget is a crypto exchange based in Singapore. Bitget has become one of the best and most reputable crypto exchanges, with over 10 million users trading on the platform in over 100 countries. The platform has employed over 800 people. As of August 2023, Bitget achieved its highest trading volume, at $7.8 billion within 24 hours. Investors will appreciate Bitget's user-friendly interface and mobile app friendliness.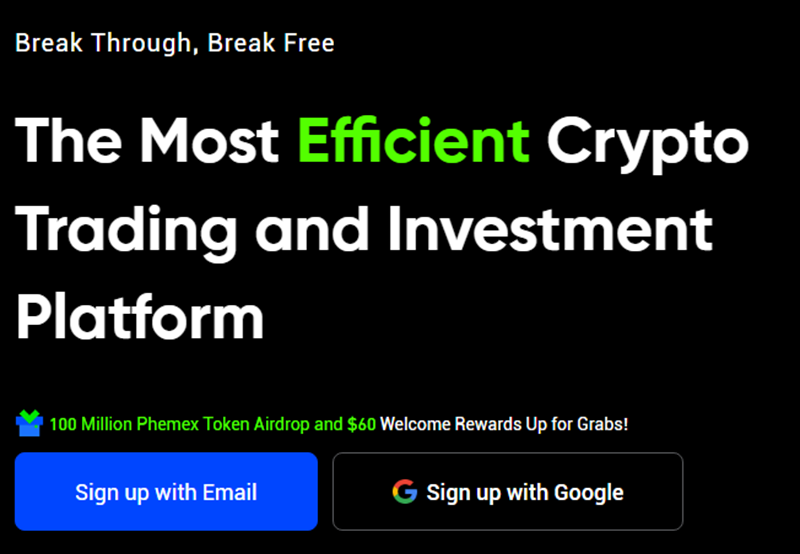 Phemex Home Page
On the other hand, the Phemex platform was founded in 2019 by Jack Tao. Phemex futures let users trade different digital assets. The platform is already used by over 5 million users covering over 200 countries and regions served by more than 400 workers. The company has already achieved the highest 24-hour trading volume of over $5 billion.

Bitget Home Page
Similar to Bitget, Phemex has an app. The Phemex Mobile App offers everything a crypto trader requires, all in one platform. The user interface is easy to use, making it easy for users to trade on the platform.
Both Bitget and Phemex come with different features. Bitget offers spot trading, great contracts, futures trading, and more, while Phemex offers great contracts, margin trading, spot trading, and more.
Bitget vs Phemex Signup & KYC
Bitget account registration is a very simple process. All you need to register a Bitget account is either through the: Mobile number or Email address during registration and then come up with a strong password. The sign up process will take only a few seconds.
When it comes to KYC:
Bitget recommends you to go through a voluntary Know Your Customer (KYC) process to ensure trust and deter unauthorized access. However, this is not mandatory, and you can trade freely on the platform without going through the process, but with some limitations.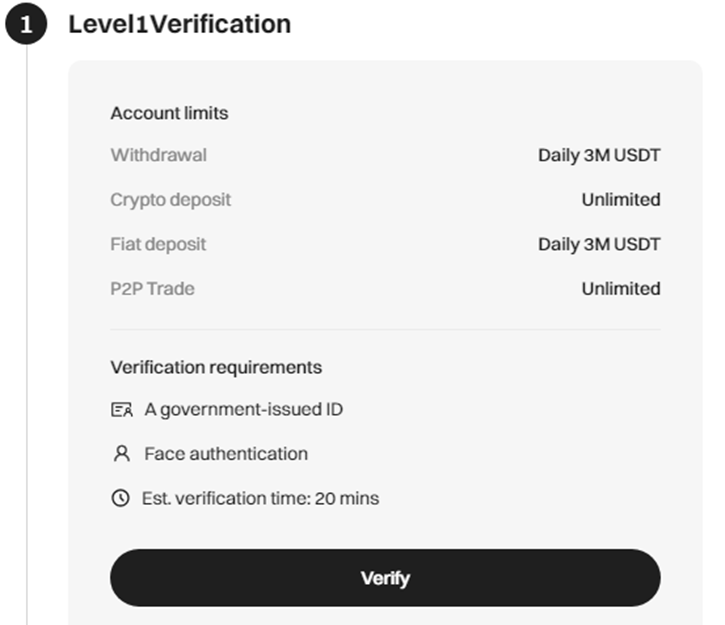 Bitget KYC Requirements
Unverified accounts have a withdrawal limit of 20 BTC or 50,000 USD. Therefore, the withdrawal limit is capped at $50,000 per day or $100,000 monthly. Verification needs you to upload your ID and photo, which can be verified in just a few minutes if you upload your documents correctly.
Phemex sign up is also straightforward. It will take less than 1 minute to get your new account. When writing this review, we found that the KYC verification is not required to trade on the Phemex platform. You can create an account at Phemex and start trading without submitting your identity for verification. However, if you are a large trader looking to withdraw over $50,000 per day, you will be required to complete the Phemex verification to be able to withdraw large amounts.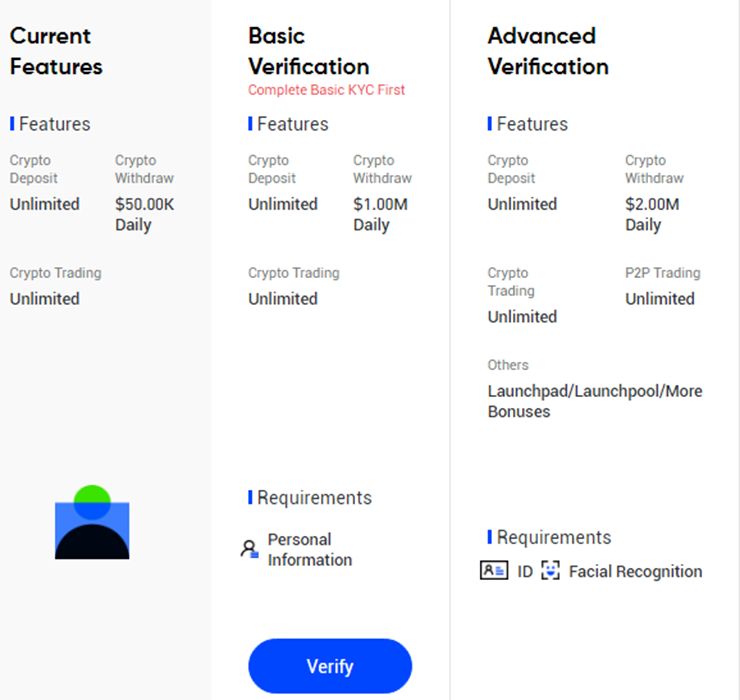 Phemex KYC Requirements
You just need to upload an ID and a photo, and verification will be completed in just a few minutes if the documents are uploaded correctly.
Bitget vs. Phemex Products, Services & Features
Both Bitget and Phemex offer a variety of features to their users. Both crypto exchanges offer leverage trading, with Bitget offering up to 125x leverage and Phemex offering up to 100x.
The Bitget crypto exchange is currently at $2.5 Billion in trading volume over the last 24 hours. BTC/USDT is presently the most active trading pair on Bitget. There are 50+ margin trading pairs available on Bitget, with a maximum leverage of 125X.
On the other hand, Phemex allows users to trade with up to 100x leverage and offers a broad platform for both spot and derivatives. Phemex 24h volume is currently at $1.3 Billion in the last 24 hours.
Bitget copy trading is one of the best copy trading platforms available for traders interested in crypto copy trading. Using Bitget's copy trading feature, you can become a follower and have the same positions as top traders at no cost.
Phemex is proud to announce that they now support one-click copying trading. One-click Copy Trading is best for both experienced and beginners.
Both Bitget and Phemex's spot trading feature lets users trade quickly, securely, and with low fees. As far as the user interface is concerned, Bitget is ahead of Phemex. Bitget is very clean and easy to use when trading. The interface is suitable for both experienced and beginner traders.
Like Bitget, Phemex users can adjust the platform as they like, and there is a demo-trading option to allow new users to have a taste of all the Phemex options without adding funds. However, we found that some parts are not very well customized. Overall, Phemex features a great user interface, similar to most top cryptocurrency trading platforms.
Bitget vs Phemex Trading Fees
Bitget: Futures trading incurs a 0.02% fee for makers and a 0.06% fee for takers, with no discounts. For Spot trading, each trade will come with a fee of 0.1% for both Makers and Takers.
In contrast, when it comes to trading fees, Phemex keeps it simple. It applies a 0.01% maker fee and a 0.06% taker fee for contracts. Like Bitget, spot trading fees are 0.1% for maker and taker.
There are different ways to benefit from Bitget's special VIP program. Users can use BGB to enjoy a direct 20% discount on spot fees or earn staking rewards such as DeFi participants.
Phemex has introduced a new discount for users to enjoy. As of August 22, the new VIP program has been released! Traders are rewarded with lower fees for bigger volumes. If you trade huge volumes, you can take advantage of as low as 0.0325% contract taker fees and no maker fees at all! Therefore, check out the VIP program and start earning using the discounts.
Bitget vs Phemex Deposit Methods
Apart from the free deposit of cryptocurrencies on Bitget, the platform lets users deposit fiat currencies. However, this can only be done through a wire transfer. Using a debit card, or credit, Apple Pay and Google Pay are all available options for payment. Bitget supports over 400 cryptocurrencies and trading pairs such as Bitcoin, Litecoin, BGB, Ethereum, etc. Note that Bitget does not charge fees for crypto deposits.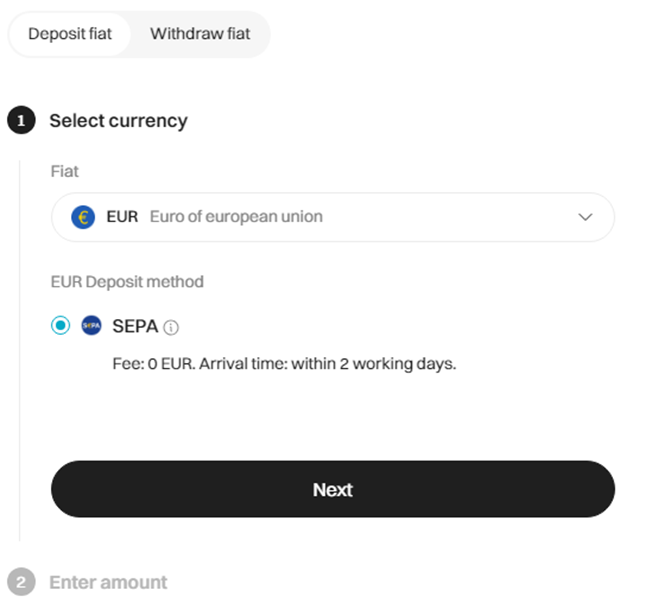 Bitget Deposit Methods
In addition to cryptocurrencies, Phemex supports more payment methods compared to Bitget. The platform allows you to buy crypto via debit and credit cards. Accepted options include MasterCard, Visa, POLi, and UnionPay. Phemex also does not charge any deposit fees.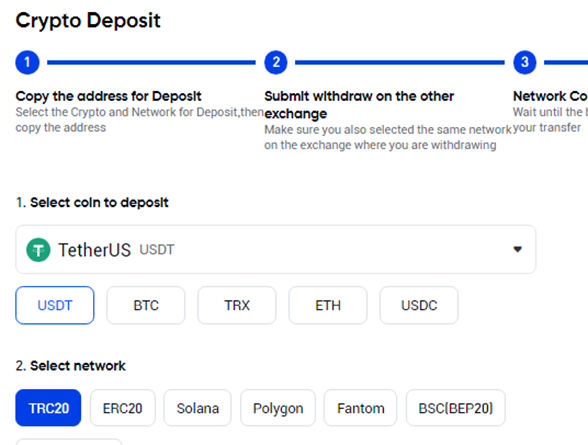 Phemex Deposit Methods
You will find that both Bitget and Phemex have limitations regarding fiat deposits. Users of Bitget and Phemex need to rely on third-party providers to convert their fiat currencies into cryptocurrencies.
Bitget vs Phemex Withdrawal Methods
Bitget supports over 150 cryptocurrencies for withdrawal. You can withdraw fiat currencies (EUR, GBP, RUB, UAH, and BRL.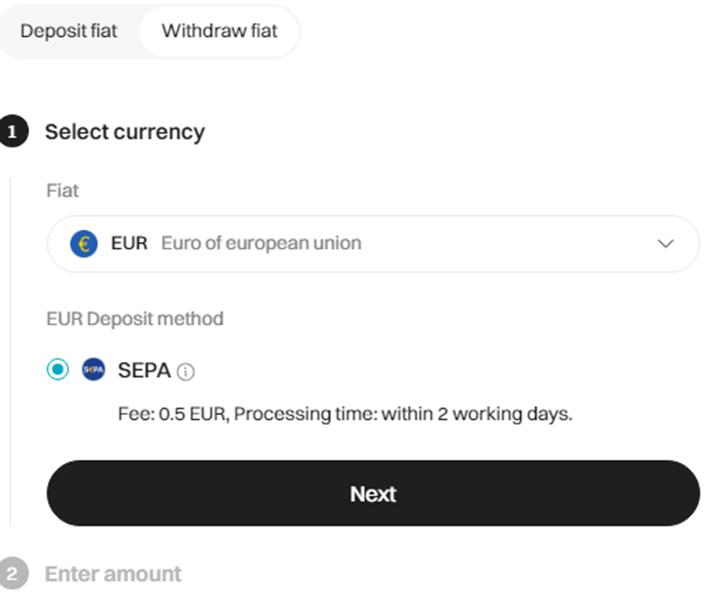 Bitget Withdrawal Methods
The withdrawal fees when using BTC are 0.0000051BTC and 0.0001ETH for ETH withdrawal. But if you decide to use USDT, you will pay as little as 0.1USDT withdrawal fee.
All new and unverified accounts have a daily withdrawal limit of 20 BTC. But if your Bitget account is verified, your daily withdrawal limit of 200 BTC. KYC verification is only required for copy trading, purchasing crypto, and withdrawing amounts of more than 20 BTC. However, the withdrawal fee can vary depending on the asset you need to withdraw, though the fees are normally small.
Phemex supports 7 FIAT currencies. The currencies supported include EUR, JPY, GBP, CHF, USD, AUD, and CAD. Phemex supports one FIAT withdrawal method, which is wire transfer, and it takes 1-3 days, based on the currency selected.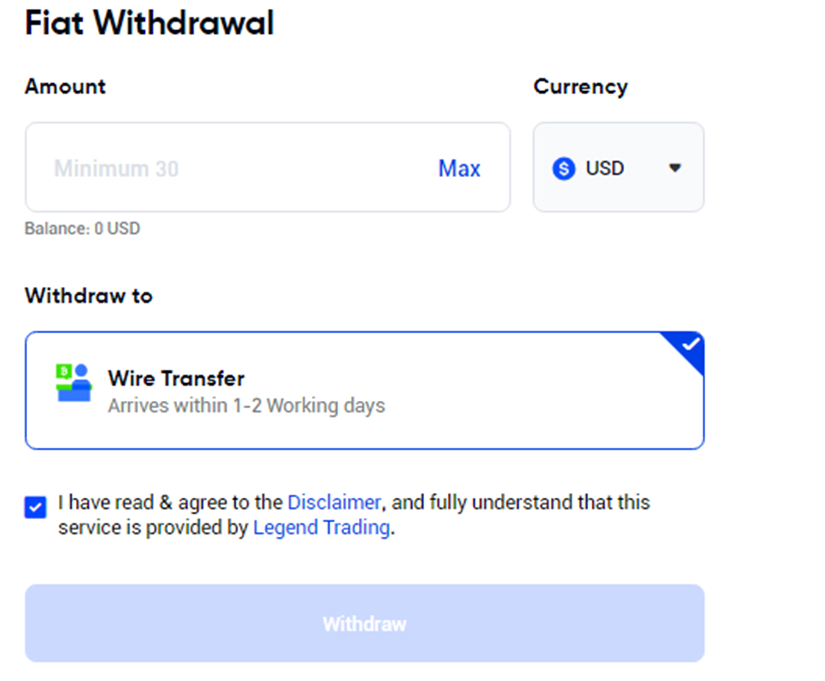 Phemex Withdrawal Methods
Withdrawing Bitcoin has a 0.0004 BTC fee, and Ethereum comes with a withdrawal fee of 0.001 ETH. At the same time, Solana offers a 0.01 SOL withdrawal fee.
If you want to withdraw a huge amount, you must complete the NYC verification process. Unverified accounts have a 50,000 USDT withdrawal limit per day. For KYC Verified Lv1 accounts, the Phemex limit for withdrawal is around 1,000,000 USDT per day.
With many more available cryptos for withdrawals and smaller withdrawal fees, Bitget is a better withdrawal option.
Bitget vs. Phemex Security
Bitget takes security above all else, and it has, therefore, already designed a Bitget Protection Fund to ensure that your assets are always protected. To emphasise safety, the Bitget uses hot and cold wallets and two-factor security authentication. This is to make sure that SSL is top-notch.
Our investigations also found that Bitget has never been hacked since it started working. The company also continuously ensures the security systems are good, averting hacks and breaches at all costs. Overall, Bitget is a safe, secure, controlled, and licensed platform.
Phemex can be considered safe due to its great security measures, proof of reserves, and the skilled team behind it. As the main centralised exchange, the company has never been hacked during its entire operation.
Phemex uses a multi-signature cold wallet system to ensure that assets are protected; implements advanced risk management strategies, and provides negative balance security to its users. In addition, Phemex has also offered the Merkle-tree Proof-of-Reserves to allow users to
check and verify where their money is kept within the platform.
Bitget vs Phemex Which Exchange Wins?
So, does Bitget or Phemex win this battle? It's not easy to say. However, the two exchanges are well-established companies with many features in common: they have a similar trading strategy, have almost similar fees, offer a range of assets, have a high level of security, and provide great customer support. Both exchanges are quite competitive in all aspects, and selecting either will work for you well.
Both exchanges charge only 0.1% for spot trading, and futures trading are 0.02% for Bitget and 0.01% for Phemex.
The two exchanges are reliable, safe, and robust trading platforms suitable for beginner and experienced users looking for an all-in-one crypto platform.
However, there are slight differences between the two.
Bitget stands out most with its great platform that offers high leverage of up to 125x and a daily trading volume going beyond $7 billion in 24 hours regularly.
On the other hand, Phemex Exchange offers high-speed trading, low spot trading fees, and advanced trading features.