You may be wondering which exchange to use. BingX vs Kucoin presents a compelling comparison as both are among the top cryptocurrency exchanges, but they have different features and offer additional benefits.
This article will compare BingX and Kucoin regarding security, fees, trading options, features, and services. We will also provide our recommendations for which exchange is best for different types of traders.
By the end of this article, you will have a clear understanding of the pros and cons of each exchange, and you will be able to choose the one that is right for you.
BingX vs Kucoin Overview
BingX is one of the top global players, founded by Josh Lu in 2018. With its headquarters in Hong Kong, BingX supports over 520 different cryptos, and it has more than 5 million users worldwide and an average daily trading volume of over $8 billion.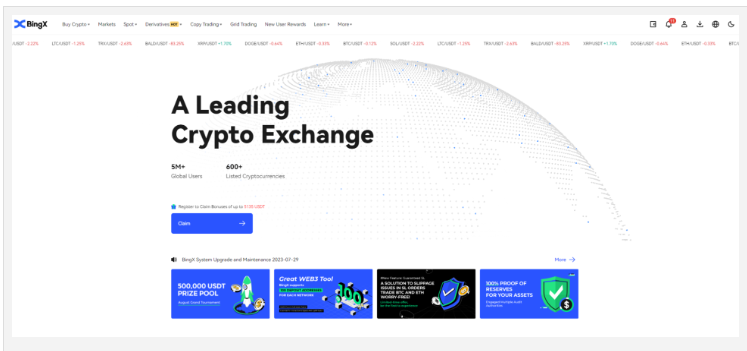 BingX Home Page
New and seasoned traders can trade on the BingX platform and support spot, derivatives, copy, forex, stocks, commodities futures, and grid bot trading.
On the other hand, Kucoin was founded by Johnny Lyu in 2017. With over 29 million users and 600 employees across 200 countries, they are headquartered in the Seychelles. It operates as a crypto trading exchange under the subsidiary of MEK Global Limited, which is registered in the Seychelles.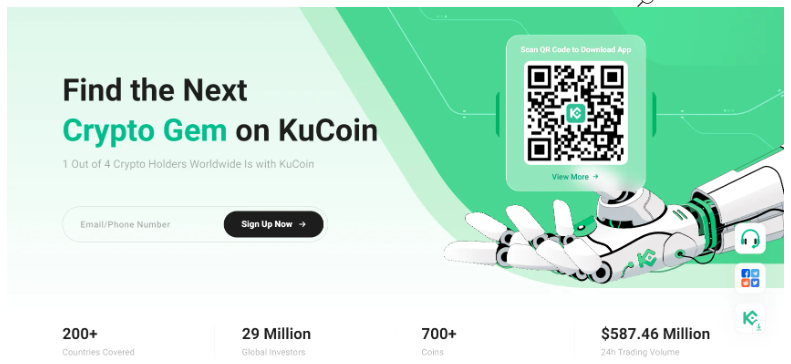 Kucoin Home Page
With a daily trading volume of $1.5 billion, Kucoin is the top exchange for altcoins and offers over 800 digital assets for trading.
In addition to trading, Kucoin offers passive income, earn and financial products options, mining, staking, algorithmic bot trading, and more.
Both exchange platforms are accessible via their mobile apps, Android and iOS. The Kucoin and BingX apps can be downloaded on the Google and Apple play stores.
The Kucoin app has over 10 million downloads and a 4.2/5 star rating. At the same time, the BingX app has over 1 million downloads and a 4.5/5 star rating. Based on downloads, the Kucoin app takes the lead, while the BingX app takes the win for rating.
Kucoin has a more extensive user base and over 800 digital assets, while BingX has a higher average daily trading volume and diverse trading features.
BingX vs Kucoin: Signup and KYC
BingX
The BingX signup procedure is straightforward. An email address or a phone number and a strong password are the requirements for traders to create their accounts. The account creation process ends with verifying the phone number and email address.
After that, traders can make a deposit and begin trading immediately without completing KYC. The withdrawal limit for unverified users is $50,000 per day. However, they must complete the KYC verification to access higher withdrawal limits.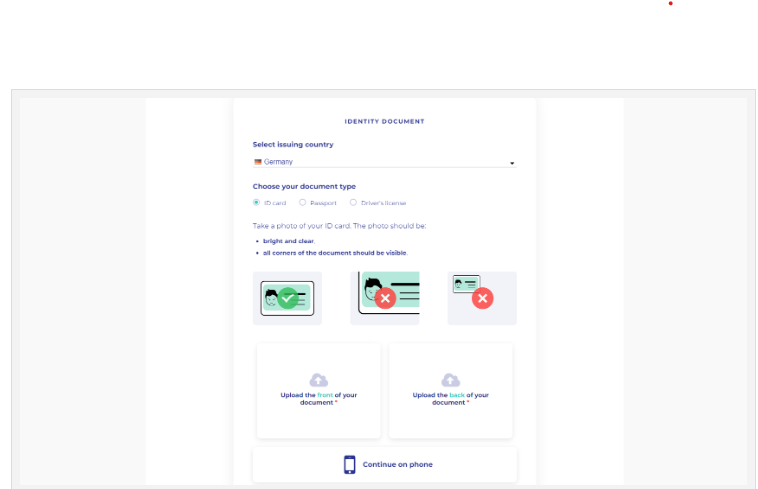 BingX KYC Requirements
That involves giving personal information and proof of identification, which can either be Identity Card or passport, and the verification process can take a few hours to a few days to finish.
Kucoin
Like the BingX exchange, the Kucoin exchange follows the same procedure for opening accounts. The requirements are an email address or a phone number, and password. It takes a few seconds to have the account set up.
When compared to BingX, KuCoin takes a different approach to KYC. Kucoin requires KYC verification to process withdrawals and grant users access to more trading options.
Level 1 KYC is the first step, which calls for submitting personal data, an ID number, and a government-issued ID like a passport or driver's license. It has a daily withdrawal limit of $499. If users upgrade to Levels 2 and 3, their withdrawal options are higher and are set at $1,999 and $999,999, respectively.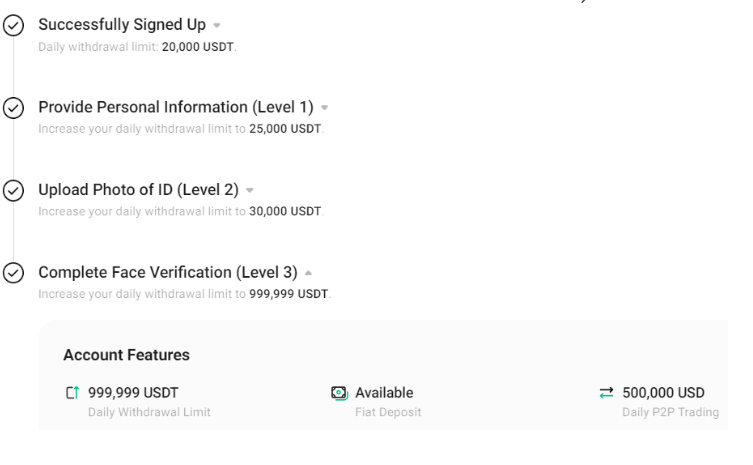 BingX KYC Requirements
Trading without KYC is permitted on BingX, but there are withdrawal limitations. In contrast, Kucoin has different levels of KYC that offer higher withdrawal limits with more thorough verification.
BingX vs Kucoin: Products, Services, And Features
Trading Features
BingX exchange is best for professional traders and beginners, providing access to over 520 coins. Additionally, they provide a range of trading services, including spot trading, forex, indices, stock, commodities, derivatives like perpetual and standard futures, and demo trading.
The special thing about BingX is that they not only offer crypto trading but also futures for traditional finance assets, which are stocks, commodities, forex, indices.
BingX also provides an automated grid bot and copy trading, allowing traders to make passive income by following experienced traders.
On the other hand, Kucoin has a daily trading volume of over $1.5 billion, along with 800 cryptocurrencies on the spot market and 250 on the futures market. They are one of the most reliable options for buying new altcoins on the spot market. They expanded their service portfolio by adding the NFT aggregator Windvane.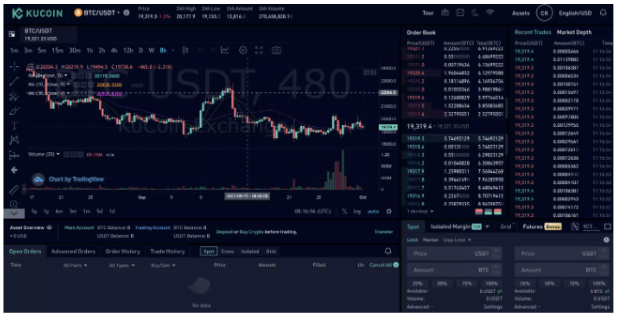 Kucoin Trading Interface
Additionally, Kucoin offers spot trading with a 3x-10x margin, futures trading with 125x leverage, leveraged tokens, and trading bots. Thanks to various automated trading bots, traders can also make passive income without needing to monitor the market. The bots are simple to set up, and once they are operational, they will generate passive income for traders. However, they don't provide copy trading.
Both exchanges have strong market liquidity. With 200x leverage, Bingx offers the highest leverage on commodities and indices, while Kucoin offers 100x leverage for derivatives and a 3–10x margin for the spot market.
BingX offers more diversified trading options, including copy trading. Meanwhile, Kucoin is known for spot altcoin trading, offering NFT and multiple trading bots, but Kucoin is lacking copy trading.
Trading Interface
In terms of user experience, Bingx provides an interface similar to Kucoin. The user interface (UI) is smooth, well-designed, and free of lags or bugs. The platform is easy to use, clear, and well-organized. Thanks to the design, BingX is simple to use, even for beginners.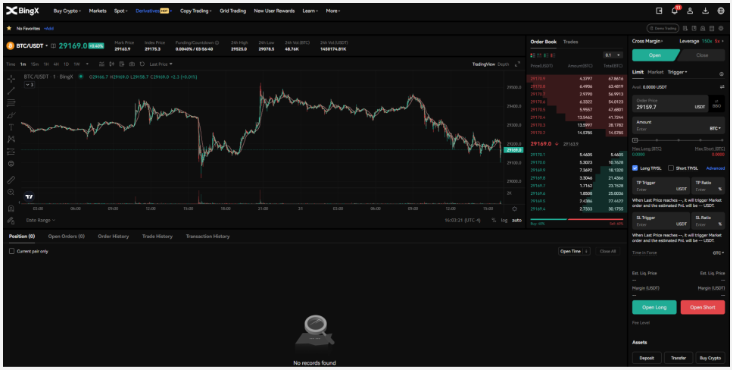 BingX Trading Interface
Kucoin, on the other hand, has a more user-friendly interface for beginners and a wider selection of products and services. Both seasoned traders and newcomers can use the interface easily because it is user-friendly and has a quick guide and navigation.
Both trading exchanges are well designed, reliable and easy to navigate, so beginners will have a good time on both platforms.
BingX vs Kucoin: Trading Fees
There is no difference between BingX and Bybit spot trading fees because they both start at 0.1% for makers and takers. For futures trading, Kucoin and BingX have quite similar fees again. Kucoin also offers 20% fee discount when holding the native Kucoin Token (KCS)
BingX charges a 0.02% and a 0.05% maker fee for futures trading. The BingX maker and taker fees can be reduced to 0.0015% and 0.035%, respectively, depending on traders' 30-day trading volume. The futures market fees charged by Kucoin are 0.02% maker and 0.06% taker. The lowest possible fees are 0.03% for the taker and -0.015% for the maker.

BingX Trading Fees
Kucoin provides fee reductions based on the user's 30-day trading volume and KuCoin Shareholdings. In addition to these, they also offer adjustable USD/USDT futures lending rates.

Kucoin Trading Fees
Kucoin has cheaper spot fees when applying the 20% KCS discount, meanwhile BingX has slightly lower futures fees. So if you're picking based on futures fees alone, BingX is the way to go, while Kucoin offers better value for money on the spot market with the discount.
BingX vs Kucoin: Deposit Methods
Crypto deposits are free on BingX and Kucoin. Although FIAT on- and BingX does not support off-ramps, traders can still buy cryptocurrencies using third-party services like Advcash, MoonPay, and Banxa. According to your payment options and currency, the minimum fees range from 1% to 6%.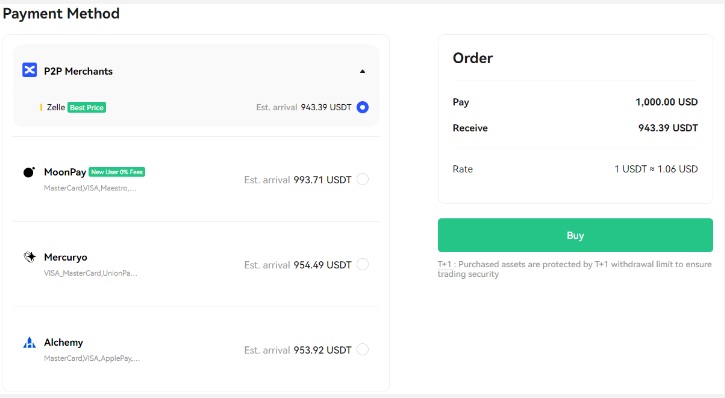 BingX Deposit Methods
Meanwhile, Kucoin accepts fiat deposits in over 20 currencies, including EUR, GBP, AUD, USD, RUB, SEK, etc. Bank and wire transfers are the accepted payment options for fiat onramps. In most cases, Kucoin also takes credit card fiat onramps. The fees range from $1 to $25, depending on the traders' payment method.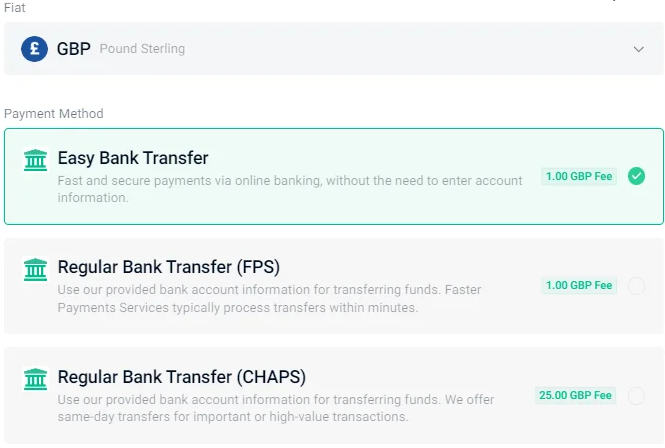 Kucoin Deposit Methods
Traders can buy and sell cryptocurrencies on Kucoin through other companies; the fees are about the same. Also, Kucoin gives traders more options for fiat deposits than BingX, which doesn't provide any.
Kucoin is better than BingX when it comes to onramps; it supports fiat deposits in over 20 different currencies with varied payment options.
BingX vs Kucoin: Withdrawal Methods
The BingX exchange provides withdrawals for more than 300 different cryptos, including Bitcoin, Ethereum, Solana, and many others. The withdrawal fees vary depending on the coin and the network. Furthermore, the network fees for some cryotos differ based on the network capacity.
Trading profits from cryptocurrencies cannot be transferred to bank accounts because BingX does not support FIAT currencies. They are required to work with a third-party company that permits FIAT offramps.
Kucoin, on the other hand, allows withdrawals in 7 different fiat currencies, including USD, EUR, GBP, RUB, TRY, UAH, and BRL. Fees for using bank wires for US dollars range from 0% (Advcash) to $80.00. In SEPA transactions involving currencies like EUR, GBP, and others, the fees are set at 1€ or £.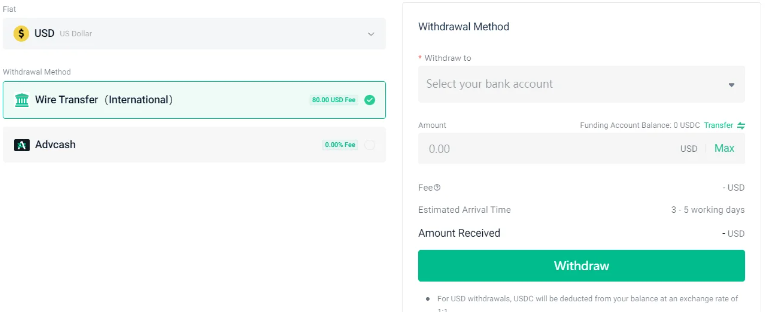 Kucoin Withdrawal Methods
On BingX, traders can withdraw Bitcoin, Ethereum, and Solana for 0.0002 BTC, 0.00076 ETH, and 0.0008 SOL, respectively. These are extremely low withdrawal fees for cryptocurrencies. When it comes to FIAT withdrawals, Kucoin takes the clear lead.
BingX vs Kucoin: Security
No crypto trader will want to jeopardize the security of their assets. For this reason most crypto exchange firms take all necessary security measures to protect their customers' funds.
On the brighter side, BingX has no history of being hacked. That is an impressive feat because it gives the exchange an edge over other platforms in the exchange market. To continue safeguarding its security, BingX introduced different security features.
These features include a strong password, Two-Factor Authentication (SMS authentication, email authentication, and Google Authenticator), avoiding phishing scams, and a fingerprint feature for mobile apps.
Sadly, KuCoin's account was broken into in 2020, and they lost more than $150 million. KuCoin said they found some big money taken out.
Then, on April 24, 2023, another incident happened again. This time, their Twitter account needed to be fixed. Following the report, people sent 22 Bitcoin and Ethereum transactions during a 45-minute hack. Sadly, this gave the bad guys enough time to steal $22,628.
In response, KuCoin implemented several security measures, including micro-withdrawal wallets for splits and asset security at the bank level. Multi-factor authentication, multilayer encryption, and internal risk management protect withdrawals.
Also, both platforms made their proof of reserve public. BingX customers' funds are 100% backed by reserve funds. They publish via Merkle Tree on the 1st and 15th of each month.
Kucoin also publishes with Merkle Tree cryptographic proof of reserves. Additionally, they use the zk-STARK zero-knowledge proof algorithm to validate all user assets stored on their exchange.
BingX has not experienced any hacks and offers multiple security features. Therefore, they seem to be the more secure option. Compared to Kucoin, that has experienced a significant hack in 2020 and a Twitter account breach in 2023.
BingX Vs Kucoin – Which Exchange Wins?
While both exchanges have their strengths, BingX comes out on top regarding its diverse trading options, flexibility with KYC, higher trading volume, and impeccable security record. Kucoin excels in user base size, fee structure, and fiat deposit/withdrawal methods. Traders should choose according to their specific needs, but overall, BingX provides a more comprehensive and secure trading environment.
BingX is best for:
Higher trading volume
Security
Futures trading fees
Day trading
TradFi assets (stocks, commodities, fx, indices)
Copy trading
Kucoin is best for:
Staking
FIAT on/offramp support
App rating
Spot Trading fees
Investing in new projects
Spot Trading
Bot Trading