In the fast-paced world of cryptocurrencies, finding a reliable and efficient exchange is crucial for traders and investors alike. Enter AscendEX, a digital cryptocurrency exchange that's making waves in the industry. Established in 2018 and headquartered in Singapore, AscendEX offers a user-friendly platform that caters to both seasoned traders and newcomers.
With an impressive selection of crypto assets available for trading and the integration of various trading markets like futures and spot, this exchange provides traders with endless possibilities.
Join us as we explore the features, advantages, and unique offerings of AscendEX, including seamless transactions with third-party payment merchants for popular cryptocurrencies. Get ready to embark on a rewarding crypto journey with our AscendEX review!
Overall Thoughts on Exchange
AscendEX is a trading platform that takes trading to another level with its integration of standard and professional-grade trading interfaces. This allows users to trade according to their skill level, providing a personalized experience.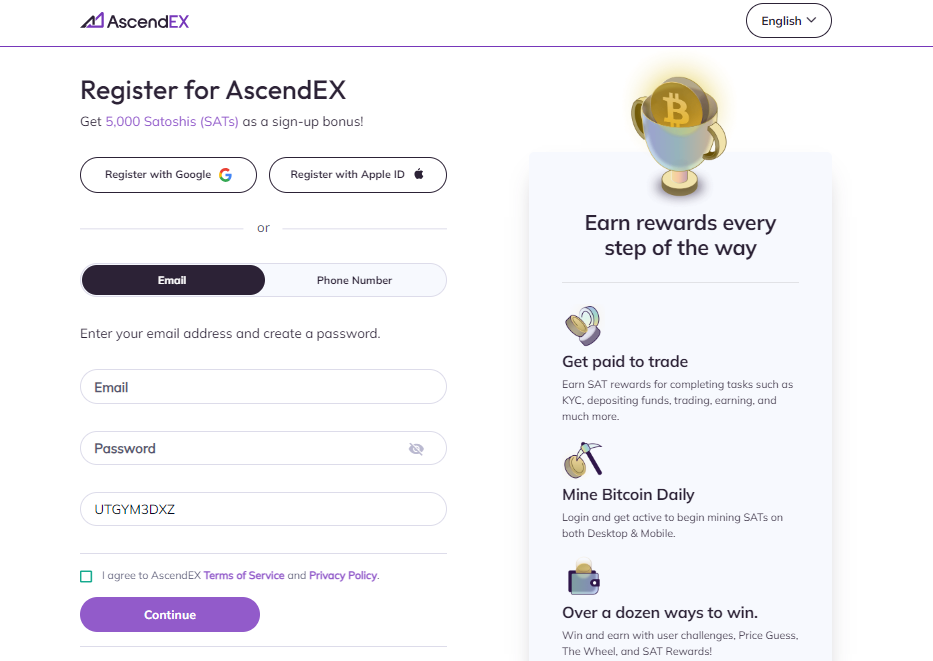 The platform offers a good variety of cryptocurrencies, with over 200 trading pairs available for immediate trading. Users can also benefit from features like indicators, chart adjustments, candle swaps, and time zone adjustments, enhancing customization options.
Additionally, AscendEX offers earning modes, rewards, and staking opportunities, allowing users to earn extra money effortlessly. While the platform could improve its customer support and country restrictions, its continuous transformation and adaptation to digital standards indicate the potential for positive changes in the future.
AscendEX Pros
Great variety of 200+ crypto assets
Native utility token ASD(BTMX) to traders.
Professional and standard trading interfaces
Tons of efficient ways to earn extra income
Functional mobile application.
Spot and futures markets
AscendEX Cons
It's not supported for the USA
No live chat support
Services Offered on AscendEX
Copy Trading:
Copy trading is an exciting and emerging feature embraced by cryptocurrency platforms for its remarkable success. For those who have little to no knowledge about trading, copy trading offers a fantastic option.
This innovative feature allows you to replicate the trades of a skilled trader, essentially letting them do the trading on your behalf. All you have to do is sit back, relax, and watch the professionals work their magic. Of course, you'll need to compensate the chosen trader by paying a fee for their expert services.
When opting for copy trading, it's crucial to select the right trader. Thoroughly examine their trading history, assessing their overall profit and success rate to ensure you're making a wise choice.
Staking
If you're seeking to passively earn significantly more than what a traditional bank savings account would yield, then staking might be the perfect option for you. Think of staking as a savings account but with considerably higher returns.
AscendEX offers users the opportunity to earn over 100% APY on select assets, which is truly remarkable. Even with popular assets like Bitcoin, you can expect APY ranging from 3% to 15%.
What's more, AscendEX boasts a diverse range of over 50 projects available for staking. If you already own these assets, you can simply stake them and watch your investments work for you.
Guides and Articles
In AscendEX's help center, you'll find a treasure trove of guides and articles written in a friendly and engaging style. These resources provide precise solutions to any confusion, trouble, or misconception you may encounter.
From signing up and enhancing security to depositing, withdrawing, and trading, AscendEX covers it all. Simply search for your specific problem, and the detailed solution will pop out instantly, ensuring a smooth and hassle-free experience on the platform.
OTC (over-the-counter) Trading
AscendEX offers a delightful and efficient over-the-counter (OTC) trading facility, catering to bulk trades with a minimum transaction size of USD 1,00,000. Simplifying the process, OTC transactions are currently available for BTC, ETH, and USDT crypto assets.
To ensure security and compliance, AscendEX partners with Prime Trust, an independent U.S.-regulated custodian, for seamless transaction processing. Remember, before engaging in OTC trading, complete your KYC with AscendEX and Prime Trust for a hassle-free experience.
DeFi Yield Farming
DeFi yield farming is like a treasure hunt for crypto enthusiasts, and the AscendEX platform makes it a delightful and hassle-free experience. By depositing your assets into DeFi interest-bearing protocols such as lending, liquidity pools, and derivatives products, you can unlock a world of lucrative opportunities.
Unlike other complex yield farming platforms, AscendEX simplifies the user interface and handles all the intricacies on the back end. This means you can effortlessly deposit funds to your preferred protocol, earn interest regularly, and withdraw your funds whenever you desire.
The best part? AscendEX takes care of the technicalities, so you won't encounter any gas fees or endure frustrating lockup periods for tokens. It's smooth sailing as you navigate the seas of DeFi yield farming, maximizing your potential gains with ease.
AscendEX: Signup And KYC
Signing up for AscendEX and depositing cryptocurrencies for trading is a breeze, and the best part is that KYC (Know Your Customer) is not mandatory. Here's a step-by-step process to get started:
Registration: Visit AscendEX and create an account using either your email or phone number. It's a simple process.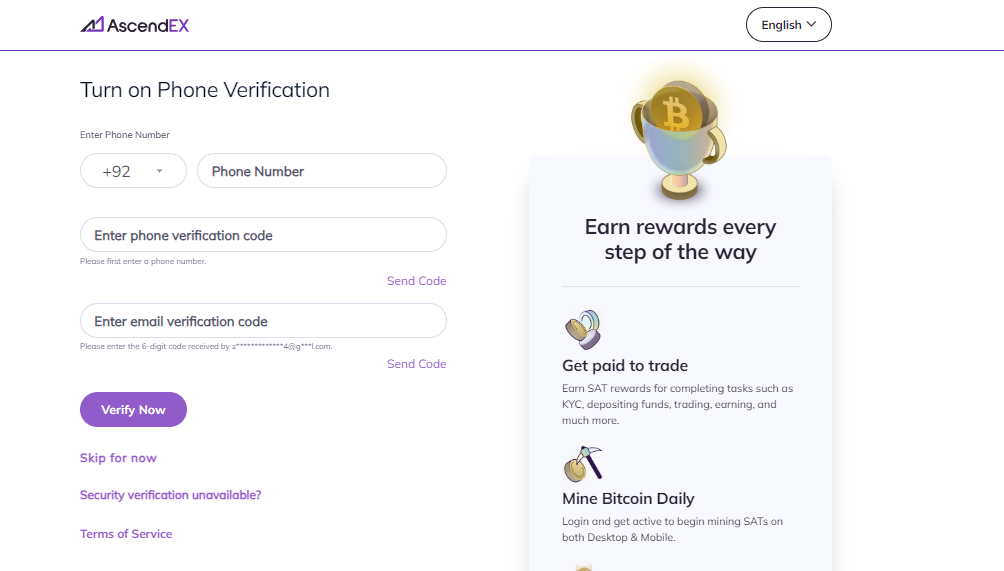 Deposit Cryptocurrencies: Once your account is created, you can deposit your desired cryptocurrencies and begin trading immediately.
Optional KYC: If you wish to deposit fiat currencies or access higher withdrawal limits, completing the KYC verification process is necessary.
Here's how to do it:
a. Identity Verification: AscendEX follows a tiered VIP level-based structure for verification. You'll need a government-issued ID and proof of address.
b. Selfie Verification: Take a selfie holding your ID documents to validate your identity further.
Verification Approval: The verification process usually takes a few hours to be approved in the best-case scenario. However, it may take 1-2 business days in the worst case.
By following these steps, you can create an account on AscendEX, fund your account to start trading, and optionally complete the identity verification process to increase your trading limit.
AscendEX Mobile App
AscendEX offers a user-friendly and engaging mobile app for both Android and iOS devices. With over 500k downloads on the Android marketplace alone, the app provides a convenient way to access the platform's features.
From account signup and verification to buying and selling crypto, advanced trading, margin, futures, and earning interest through staking or DeFi, the mobile app offers most of the same functionalities as the web app.

The app has received an overall 4.0/5 star rating in the Android store, based on more than 4,000 reviews, which is a respectable rating for a crypto exchange app. While some users mentioned issues with KYC verification and long withdrawal wait times, it's important to note that AscendEX is continually working to improve these areas.
However, customer feedback indicated that the AscendEX customer service team may need to be more active in responding to comments. Despite these minor setbacks, the AscendEX mobile app remains a popular choice for crypto enthusiasts seeking a seamless trading experience on the go.
AscendEX Trading Features
AscendEX offers a range of trading features that provide traders with exciting opportunities to diversify their portfolios and maximize their earning potential. The platform presents two distinct markets: the spot market and futures trading.
The spot market is popular among traders who seek diversity, as it offers numerous options to choose from. Exploring different markets and seizing the right opportunities can greatly benefit traders.
Moreover, AscendEX offers a powerful feature known as margin trading, which allows traders to amplify their potential profits. With leverage of up to 25x for major coins like Bitcoin and Ethereum, and 10x or 5x for other cryptocurrencies, traders can significantly scale their funds.
However, it's essential to remember that while margin trading can enhance earnings, it also carries increased risk. Conduct thorough research before deciding where to allocate your equity to ensure informed and strategic trading decisions.
AscendEX Exchange Fees
Spot Trading Fees
For spot trades, the following fees are payable:
Large Market Cap Tokens – 0.1% of the transaction value
Altcoins – 0.2% of the transaction value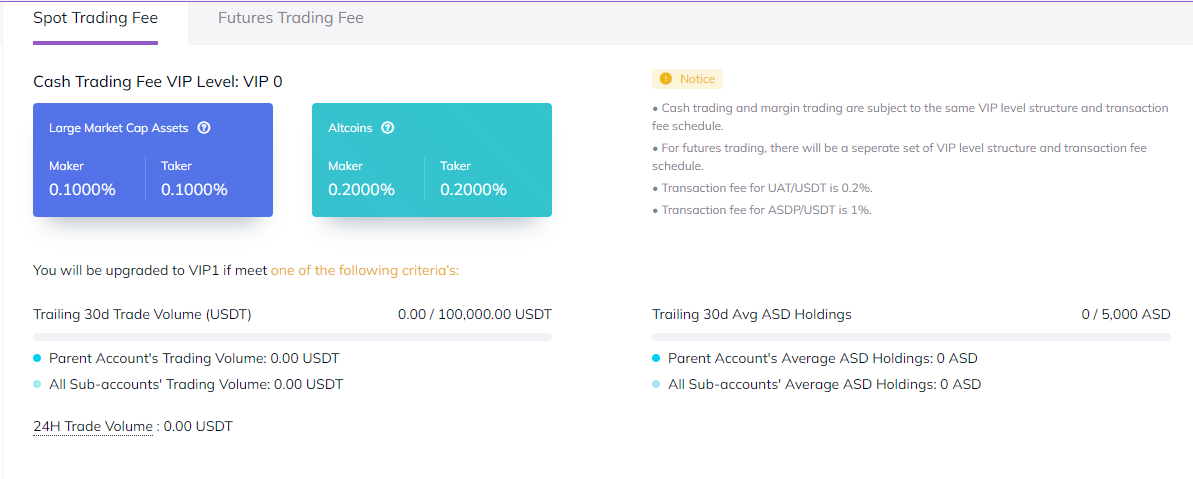 In addition, high-value traders are categorized as VIPs and receive different fee discounts.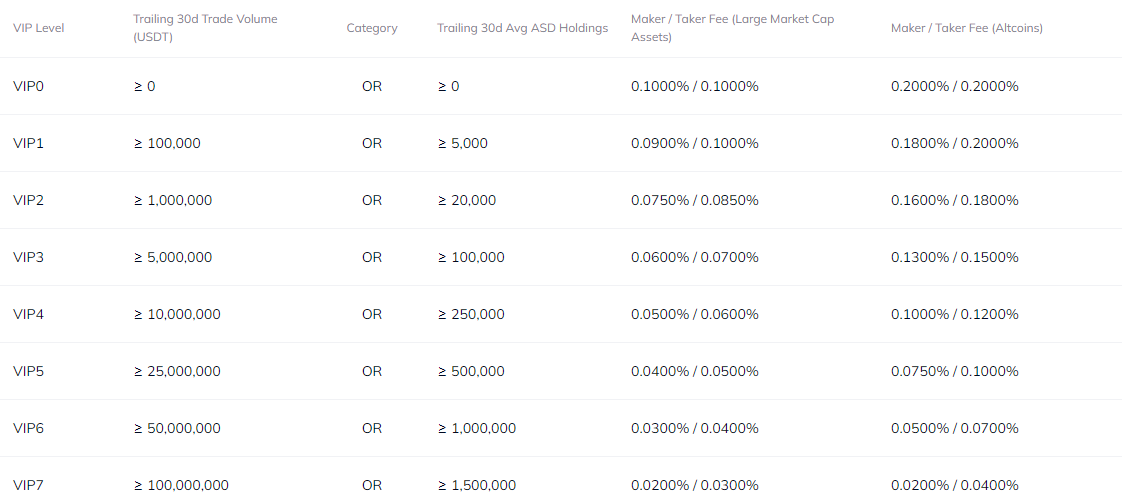 Futures Trading Fees
Maker – 0.02% of the transaction value
Taker – 0.06% of the transaction value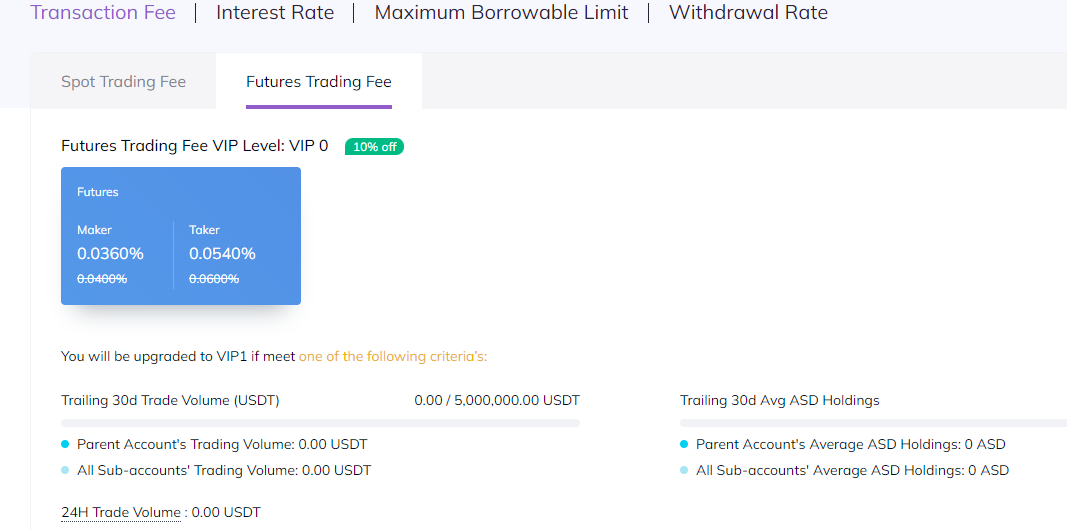 Furthermore, high-value traders are categorized as VIPs and are eligible for a variety of fee discounts.
Additionally, there is no fee for deposits on the platform. Withdrawals are charged based on the crypto asset being withdrawn.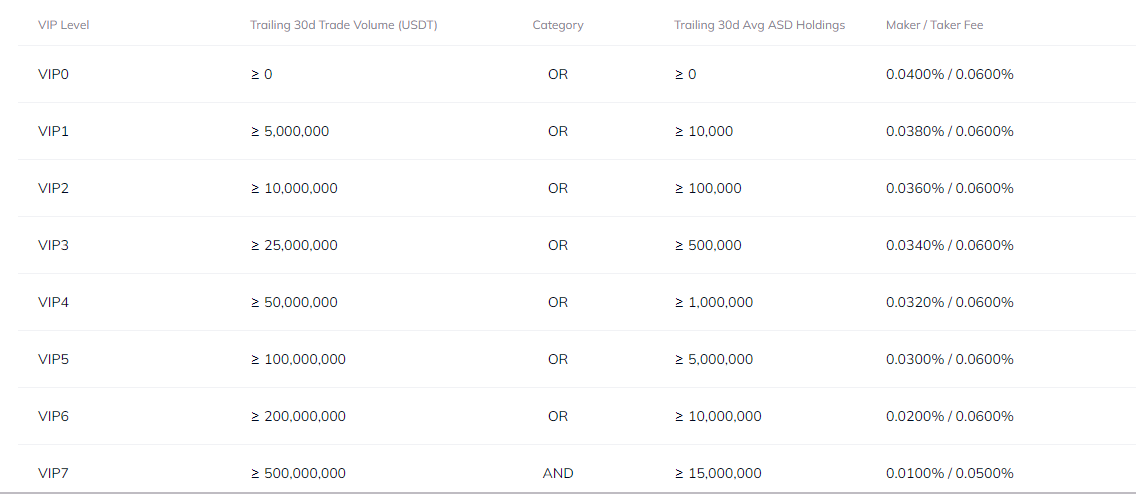 Withdrawal Fees (FIAT)
AscendEX does not support fiat withdrawals. In the exchange, crypto assets can only be purchased directly with fiat currency.
Withdrawal Fees (Crypto)
AscendEX applies different minimum withdrawal requirements and fees for each crypto asset on their platform. For instance, when withdrawing BTC, users are required to pay a fixed fee of 0.0005 BTC.
On the other hand, the withdrawal fee for Ethereum is set at 0.01 ETH. To obtain accurate and detailed information about the withdrawal fees, it is recommended to visit the fee page on the AscendEX exchange.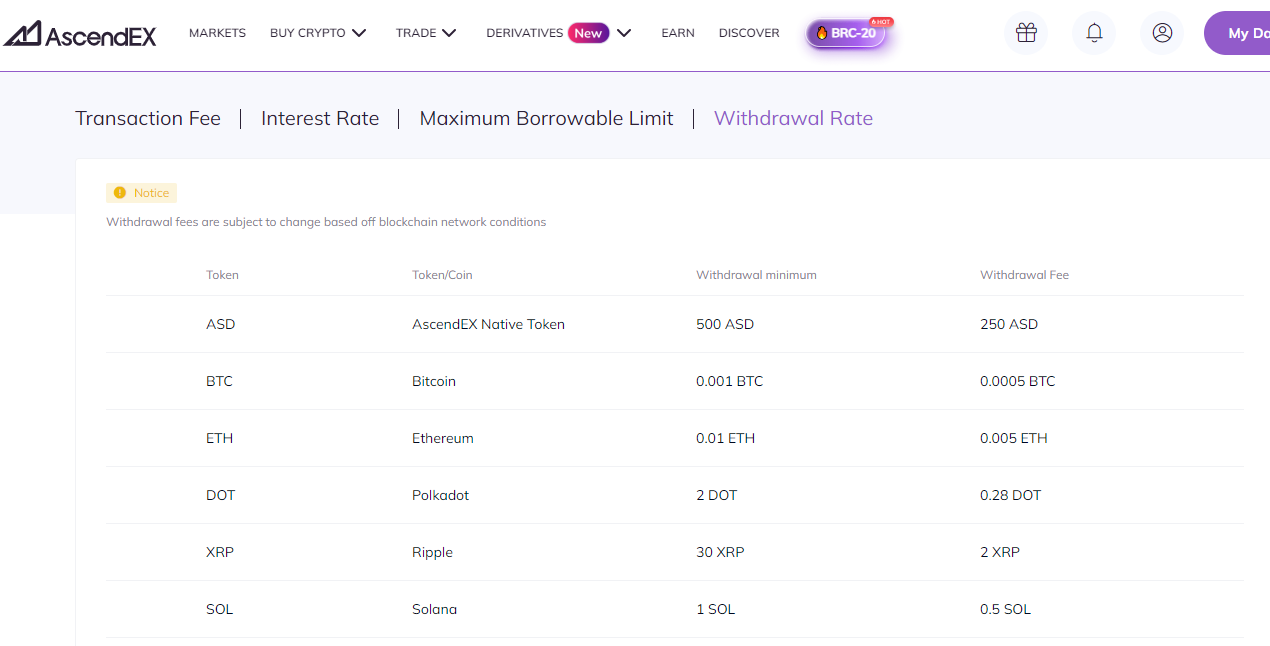 AscendEX Security
The platform implements industry-standard security measures to ensure the integrity of your investments. Most crypto assets are stored securely offline in access-controlled vaults, safeguarded from potential online threats.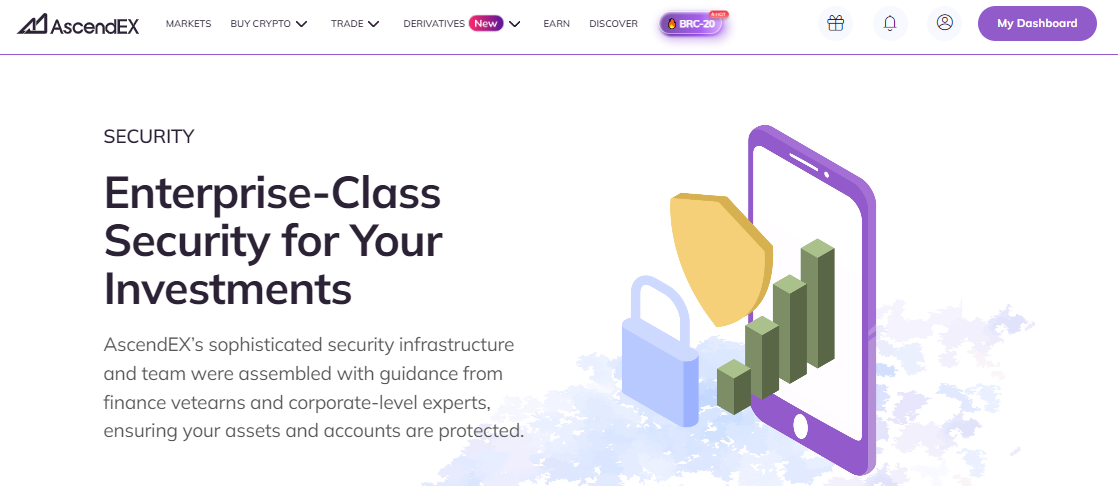 While AscendEX does not provide specific details on the geographical distribution or third-party hosting of their cold storage vaults, they prioritize the protection of your funds. In addition to offline storage, AscendEX maintains an insurance fund on its books. This fund acts as a safeguard against the loss of customer assets due to theft, offering you an added layer of protection.
It's important to note that, in 2021, AscendEX experienced a hack in one of their hot wallets, resulting in a loss of over $70 million. However, it's reassuring to know that user accounts were not impacted, and AscendEX took responsibility for the losses incurred. This incident highlights their commitment to customer protection and absorbing potential risks.
While AscendEX strives to maintain a secure platform, it's essential for users to exercise caution and implement personal security measures. This includes setting up two-factor authentication, using strong and unique passwords, and being vigilant against phishing attempts.
AscendEX Customer Support
AscendEX offers multiple avenues for customer support, starting with an onsite form where traders can submit grievances along with attachments. This lets users provide detailed information about their issues through images or PDF attachments, enabling the support team to understand and address concerns effectively.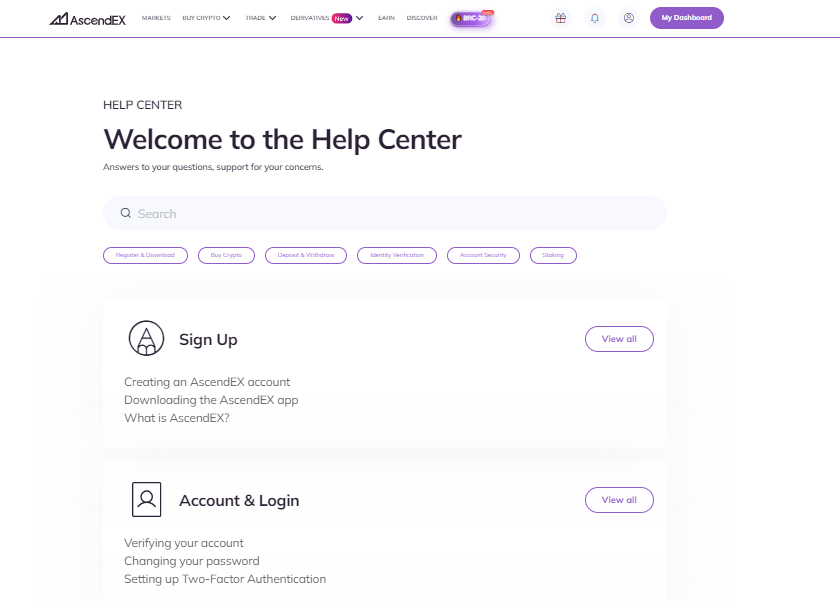 Moreover, AscendEX has built a robust community on Telegram, where traders and the support team interact 24/7. With agents proficient in multiple languages, including Korean, Turkish, Vietnamese, Italian, English, Japanese, Arabic, and Spanish, language barriers are never a hindrance to receiving prompt assistance.
To top it off, AscendEX maintains email support through support@ascendex.com, ensuring that users can always reach out for help, guidance, or any inquiries they may have.
Conclusion
AscendEX proves to be a versatile and user-friendly platform catering to the needs of both beginners and advanced traders. With its straightforward order form for buying crypto and a comprehensive advanced trading platform equipped with numerous charting tools and indicators, AscendEX offers a seamless trading experience.
Moreover, the platform's inclusion of margin trading with up to 25x leverage and crypto futures trading provides added flexibility for traders. With its wide range of features and competitive fees, AscendEX stands as a promising choice for traders worldwide, ensuring a delightful trading journey with every transaction.
FAQs
Does AscendEX provide its services in the United States?
No, currently AscendEX does not offer its services to residents of the United States. This restriction is due to compliance with laws and regulations specific to the country.
Is AscendEX a trustworthy platform?
Yes, AscendEX is a trusted and reliable crypto exchange. With a presence in the industry since 2018, they have successfully served millions of users. AscendEX aims to continue providing secure and reliable services to its customers.
Has AscendEX ever experienced a security breach?
Yes, AscendEX encountered a security breach in December 2021, resulting in a loss of approximately $78 million. However, the exchange has taken responsibility for the incident and has committed to fully reimbursing the affected users.