Crypto exchange partner programs are some of the most lucrative affiliate programs out there. If you want to make money with crypto affiliate marketing, Phemex is a reasonable option. The Phemex crypto exchange is an advanced trading platform for traders from all around the world. Over 4 million users call Phemex their home when it comes to digital asset trading.
With a comprehensive affiliate program, also called the Phemex Collaborator Program, the crypto exchange attracted affiliate marketers in the crypto industry. But how does the Phemex affiliate program work? Which features does it have? How high are the commissions, and how can I join? Read on to learn all that and more in your detailed Phemex affiliate program review.
| Website: | Phemex.com |
| --- | --- |
| CEO: | Jack Tao |
| Year Launched: | 2019 |
| Location: | Singapore |
| Users: | 4+ Million |
| Supported Cryptos: | 200+ |
| Leverage: | 100x |
| KYC? | No, not required |
| Spot Fees: | 0.1% |
| Futures Fees: | 0.01% Maker / 0.06% Taker |
| Type: | Revenue Share (Commissions) |
| Affiliate Commissions: | 40% - 50% |
| Sub-Affiliate Commission: | 10% |
| Conversion Rate: | High |
Phemex Affiliate Program Overview
Phemex was launched in 2019 and quickly became a one-stop shop for crypto traders. What makes Phemex stand out most is its non-KYC policy, which means that new users don't have to verify their identity in order to trade on the exchange. This increases the affiliate program conversion rate heavily. No matter where your invitees are located, they will be able to register and trade on Phemex within just a few minutes without any GEO restrictions.
With a spot trading fee of 0.1% and futures fees of 0.01% maker and 0.06% taker, Phemex is a great palace for day traders. With over 300 supported cryptos and leverage of up to 125x, Phemex ensures a great trading experience.
The Phemex affiliate program is also known as the "Phemex Collaborator Program." With commissions of 30-50%, Phemex offers amazing earning potential for its partners. With thousands of partners across 200 countries and over $100 million in paid commissions, Phemex is a reliable option for crypto affiliate marketers. On top of that, you will earn 10% in sub-affiliate commissions, which makes the Phemex affiliate program a great way to scale up your income.
Due to the high conversion rate of new users and an incredibly user-friendly trading platform, we consider Phemex to be one of the best crypto exchange affiliate programs.
If you want to learn more about the Phemex crypto exchange, you can read our full Phemex review.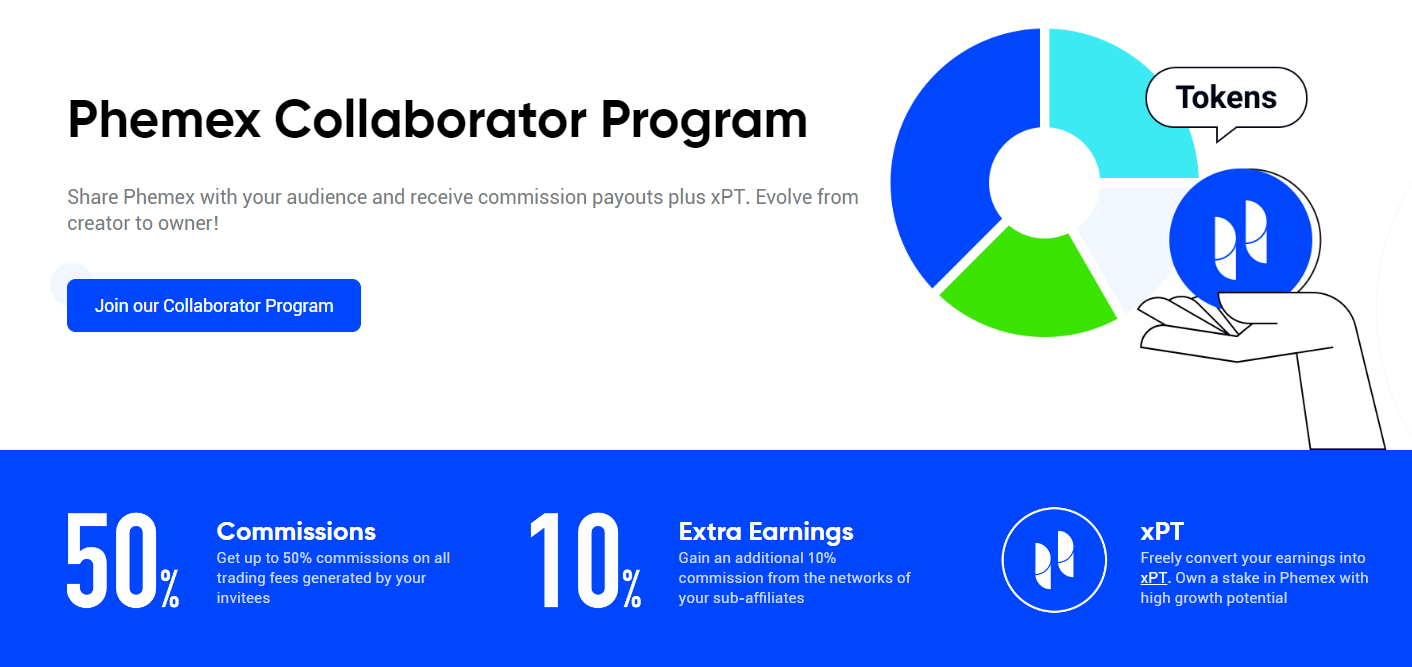 How to Join the Phemex Affiliate Program
If you want to get started with the Phemex affiliate program, also known as the Phemex collaboration program, you must have some sort of audience or a way to share your link with other traders. This can be on YouTube, Twitter, your discord server, telegram chat, or website.
There are tons of opportunities where you can amass a crypto audience to share your affiliate link with. With as little as 1000 followers on Twitter, you can be sure to be accepted into the Phemex affiliate program. For YouTubers, we recommend a size of at least 300-500 subscribers and consistent views of 100+ per video.
Go to the Phemex "Collaborator Program" page. You can find this option in the bottom part of the Phemex website (footer section) under "Services".
Click on "Join our Collaborator Program".
Add your Name, Country, and traffic source link.
Wait for your application to be approved. You can also contact the Phemex business development team with the following email: bd@phemex.com
Phemex Affiliate Commissions
With crypto affiliate programs, you usually get paid with revenue share, also called commissions. Luckily, Phemex has a generous commission structure with a starting commission of 30%. That means you will receive 30% of all generated trading fees from your invitees.
Based on your performance and the trading volume of your invitees, you can unlock a maximum commission of 50%. This makes Phemex one of the most lucrative crypto exchange affiliate programs.
Minimum Commission: 30%
Maximum Commissions: 50%
Sub-affiliate commissions: 10%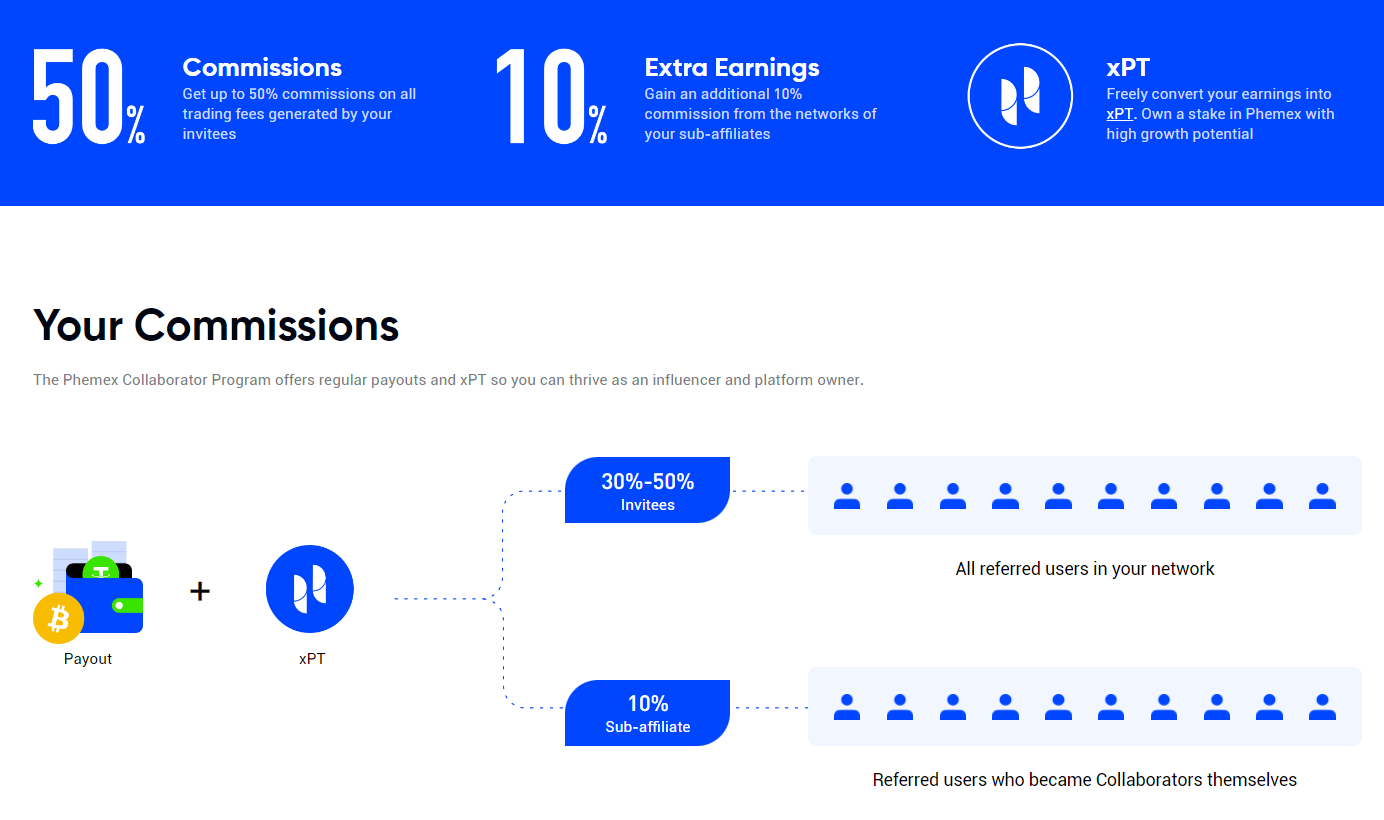 As crypto exchange affiliate marketers earn most of their money from trading fees, having a look at the fee structure is crucial. Overall, Phemex has average fees. The spot fees are 0.1% for makers and takers, which is the industry standard. For futures, Phemex charges 0.01% maker and 0.06% taker, which is slightly cheaper than the industry standard. While the fees sound very low, you must keep in mind that Phemex supports high leverage of up to 100x. That means traders will pay much higher fees when they increase the leverage.
If a futures trader opens a position of $100,000, he will pay $60 in trading fees. Assuming your commission is the minimum of 30%, you will earn $18 when the trader opens the trade. When he closes this position, you will earn around $18 again. A $100,000 can be easily opened with only $1,000 when using 100x leverage. This makes the Phemex affiliate program very powerful.
Phemex Sub-Affiliate Commissions
What we love most about the Phemex affiliate program is the sub-affiliate feature. Sub-affiliates are invitees of your invitees. That means if you have invited a new user to Phemex and he also became an affiliate, you will earn 10% on everything that he (your affiliate invitee) earns himself.
This makes Phemex the perfect affiliate program for scaling networks. If you know other affiliate marketers, make sure to let them register with your affiliate link so you can earn sub-affiliate commissions at no additional costs for your sub-affiliates.
Phemex Affiliate Program Features
The Phemex Collaborator Program is rich in features but, at the same time, very easy to navigate.
Phemex Affiliate Dashboard
Upon opening the affiliate dashboard, you will see a quick overview of all key stats. You can also filter for specific times like the past 7 days, 30 days, 1 year, etc. This makes it super easy to see your overall performance trend. You will see your commissions, payouts, trading volume of invitees, invitees, and number of traders.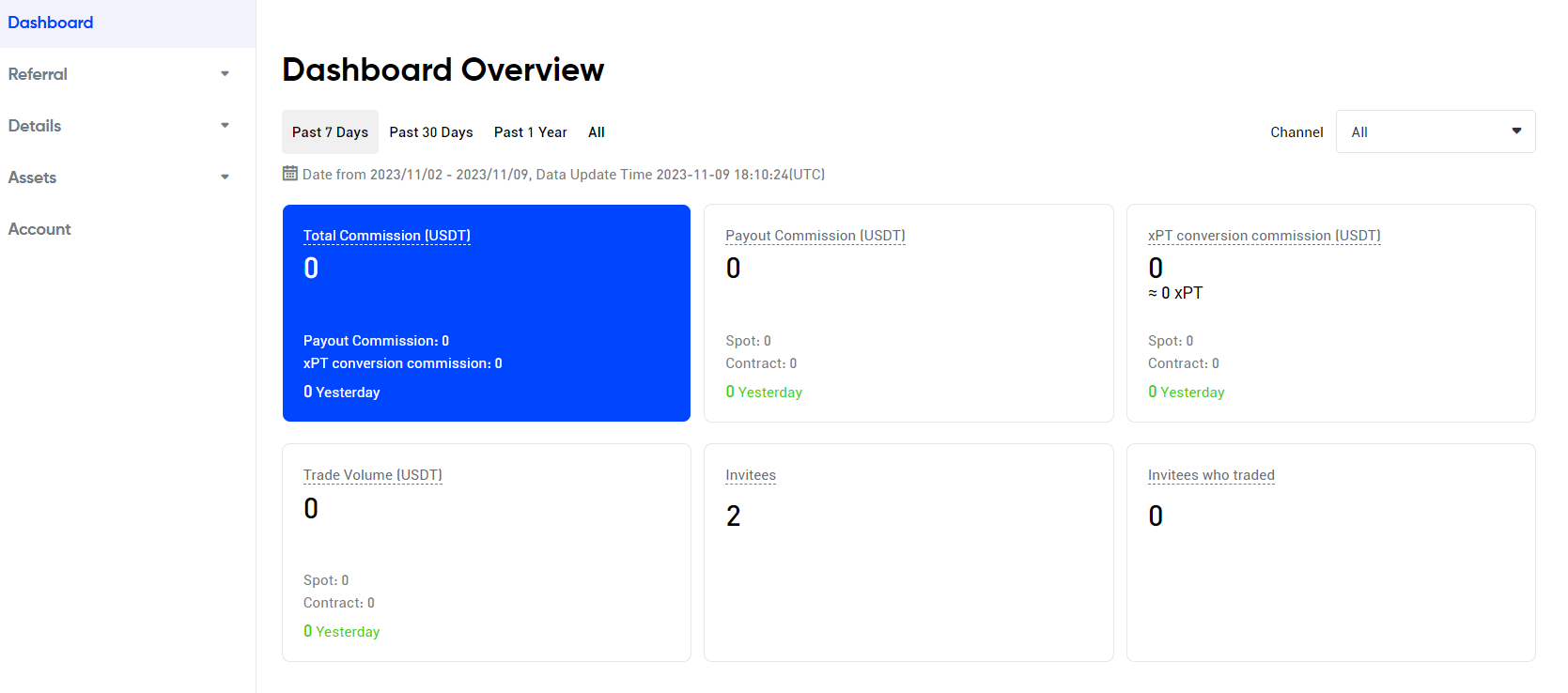 When clicking on a rubric such as "Invitees", Phemex will also show you a graph to visualize your data.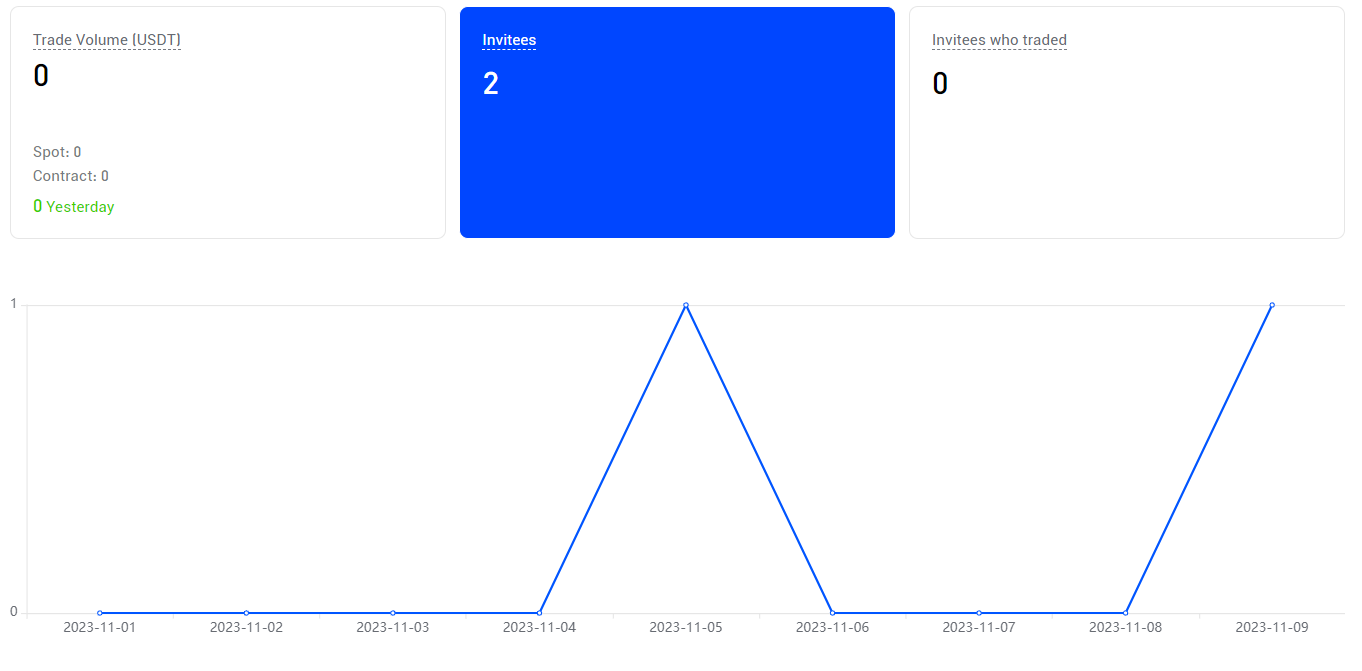 Phemex Referral Codes
In the Phemex "Referral" section, you can see a list of your referral links. You can also add new custom links and specify the landing page. This makes the Phemex affiliate program very customizable and flexible, giving you a lot of freedom.

Phemex Affiliate Program Details
In the "Details" section, you get insights into the commissions, invitees, and sub-affiliates. You will be prompted with a comprehensive table with details about all of your invitees, their deposits, trading volume, fees, commissions, and more.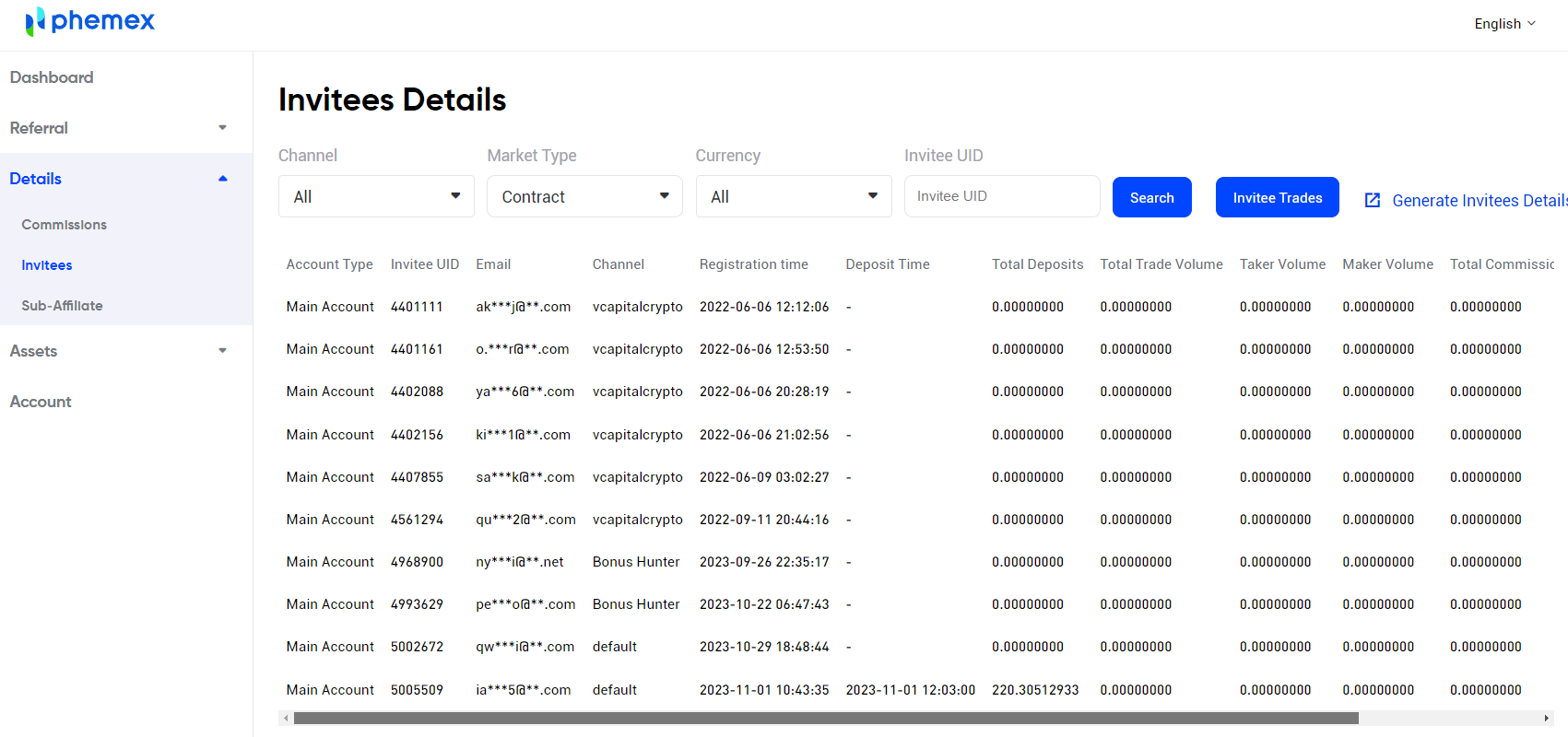 Phemex Affiliate Payouts
In the "Assets" section, you can pay out your funds in real-time. As the Phemex affiliate account is directly integrated into your personal trading account, you will immediately get the funds transferred from your affiliate account into your Phemex trading account.

Phemex Affiliate Program Incentives
In order to increase the conversion rate of signups, Phemex has added generous welcome bonuses for new users. However, these bonuses change from time to time, so make sure to contact your affiliate manager to see which type of bonus is available.
Usually, Phemex offers a $50 welcome reward upon doing some simple tasks. In the reward center, you can also unlock additional bonuses by using an affiliate link to sign up for the Phemex platform.
If you want to learn more about the Phemex bonus system, you can read our full Phemex bonus guide.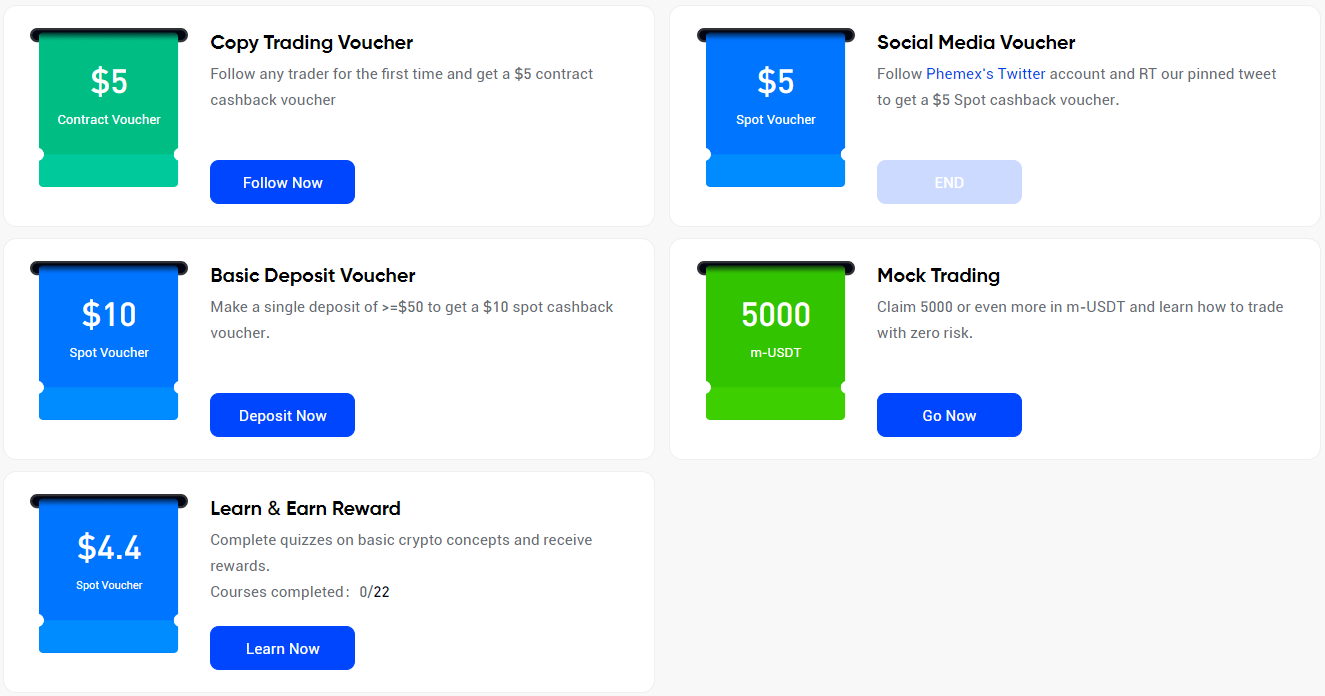 Phemex Affiliate vs Referral Program
You might have noticed that Phemex offers a referral program as well as an affiliate program.
The key difference is that the affiliate program is exclusively reserved for people with an audience. Referral codes, however, are available to every Phemex user. The downside of the Phemex referral program is that it is very limited in terms of features. You can not customize codes or links. Additionally, you can not track your affiliate data or profit from sub-affiliates.
The Phemex affiliate program, on the other hand, is very lucrative, with lifetime commissions on generated trading fees. You get access to exclusive bonus events for your audience; you can track data, create custom links, and earn from sub-affiliate commissions.