The number of cryptocurrency trading platforms available makes it difficult for crypto enthusiasts to make an informed choice. OKX vs Kucoin is a typical example.
To simplify things for crypto traders, we're diving deep into a side-by-side comparison of two popular platforms: OKX and Kucoin. We'll explore everything from their basic features to account sign-up procedures, KYC requirements, trading fees, etc. By the end of our analysis, we aim to give traders a comprehensive understanding of both platforms, enabling them to make the best choice.
OKX vs Kucoin Overview
Founded by John Chen in 2017, OKX is a global cryptocurrency and derivative trading platform. The company has over 16 million users in 180 countries. However, they got a ban in the US, UK, and Canada because of regulatory limitations. With its headquarters in Seychelles, OKX has an employee base of over 1000 people.
OKX has a daily trading volume of $8+ billion, providing everything users need for crypto trading and investing. The OKX mobile app is available on iOS and Android platforms with a rating of 4.8/5.
OKX offers users numerous options to traders, including spot, margin, futures, options, perpetual swaps trading, DeFi, lending, and mining services.
Kucoin was also founded in 2017 by Johnny Lyu, and it is a trading exchange under the subsidiary of Seychelles-registered MEK Global Limited. They also have headquarters in Seychelles, with over 18 million users and 600 employees in 200 countries.
With over 700 digital assets available for trading, Kucoin is the top exchange for altcoins, with a daily trading volume of $1.5 billion. Like every other trading platform, Kucoin has a mobile app available on Android and iOS with a rating of 4.4/5. Judging by the app rating, OKX is superior.
Kucoin offers various passive income options alongside trading, including staking, mining, algorithmic bot trading, and more.
OKX has a higher daily trading volume, but Kucoin has a slightly larger user base.
OKX vs Kucoin: Signup and KYC
OKX
Registering an account on OKX exchange is hassle-free and self-understood. It requires an email address or phone number and a strong password. Then the email address and phone number verification follows, and that's all for the account creation.
Trading without KYC verification is possible on OKX, but there is a deposit and withdrawal limit. To access high deposit and withdrawal limits and other trading options, users should complete the KYC verification process, which requires a selfie and a Government approved Identity card. This includes a driver's license, passport, and certain national ID cards.
Kucoin
The process for account creation on the Kucoin exchange is no different from that of the OKX exchange. The requirements are an email address or phone number and a strong password. Registration takes a few seconds on the Kucoin exchange.
For withdrawal purposes and access to more trading options, Kucoin requires KYC verification. The first step is the level 1 KYC, which needs personal information like name, ID number, and a government-issued ID like a passport or driver's license. It has a daily withdrawal limit of $499.
Users have a higher withdrawal option if they upgrade to Levels 2 and 3; it is set at $1,999 and $999,999, respectively.
OKX allows trading without KYC but with limitations, while Kucoin has tiered KYC levels that offer higher withdrawal limits with increased verification.
OKX vs Kucoin: Products, Services, And Features
Trading Features
Users of OKX Exchange have access to a full range of trading services, including over 320 coins. Additionally, they provide users with a 100x maximum leverage on futures and a 5x maximum leverage on spot margin trading.
OKX offers a high level of liquidity, guaranteeing trading with little slippage. Their daily trading volume is over $8 billion making OKX one of the largest crypto exchanges in the world.
In addition to its primary trading services, OKX also provides several extra services intended to improve user experience. It includes a lend-and-borrow system, a comprehensive copy trading feature, trading bots, staking for yield generation, and an NFT marketplace.
On the other side, Kucoin offers 700 cryptocurrencies on the spot market and 250 cryptocurrencies on the futures market with an average daily volume of $1.5 billion. Kucoin offers more than just spot and margin trading, giving users access to hundreds of altcoins and features like futures trading, leveraged tokens, and trading bots for automated trading strategies.
Kucoin provides 100x leverage for derivatives and a 3–10x margin for the spot market, and they are the best bet for purchasing new altcoins on the spot market. They increased their service offerings to include an NFT marketplace, Windvane, further enhancing its service portfolio in response to the rising demand for digital art and collectibles.
The platform also allows for high-risk, high-reward trading, with futures contracts.
With Kucoin, traders can generate passive income without having to keep an eye on the market thanks to various automated trading bots. The bots are easy to set up, and once they are running, they will generate passive income for traders. However, they don't offer copy trading. While for OKX, lending is the most popular way to earn passive income with around 90 digital assets, followed by KCS bonus and staking.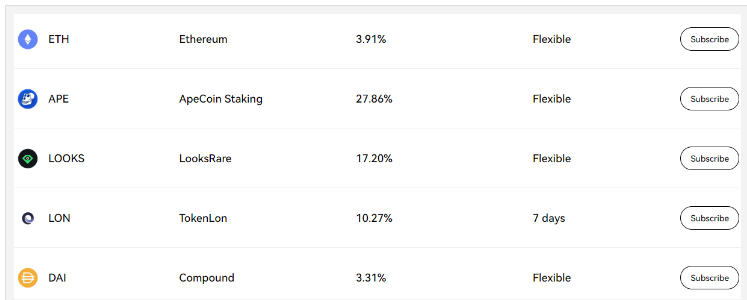 Kucoin also has an earn section for traders with mining, staking, dual investments, savings accounts, and other features.
Kucoin is superior for spot trading and bot trading. While, OKX is preferable for futures trading and copy trading, they even offer options trading to traders. However, both platforms offer staking, mining, dual investing etc.
Trading Interface
Regarding user experience, OKX has a cutting-edge and user-friendly interface that comes in a dark mode. Despite the wide variety of services provided, navigating the exchange is simple. Due to this design strategy, the platform is a popular option for both new and seasoned traders.
Also, different parts of the OKX app and wallet are divided up, making it simple for users with various needs and levels of expertise to navigate the platform.
On the other hand, Kucoin interface is simple to use, and it includes a quick guide and navigation, making it suitable for both experienced traders and newcomers.
Both platforms offer beginner-friendly crypto swap and convert features, easy-to-use navigation, and attractive websites.
OKX vs Kucoin: Trading Fees
Regarding fees, KuCoin and OKX are extremely competitive. They both offers low fees. However, Kucoin has the lowest fee for spot trading and charges a flat fee, a Maker fee of 0.10%, and a Taker fee of 0.10%. The Maker fee on OKX is 0.08%, and the Taker fee is 0.10%, making OKX spot default fees slightly cheaper.
Kucoin charges a Maker fee of 0.02% and a Taker fee of 0.06% for futures trading, compared to OKX's 0.02% and 0.05%. While OKX's lowest fees are -0.015% maker and 0.02% taker, Kucoin's are -0.015% maker and 0.03% taker.
Although there isn't much price difference between OKX and Kucoin, OKX offers the lowest fees.
Based on the user's 30-day trading volume and holdings of KuCoin Shares, Kucoin offers fee discounts. They also provide adjustable USD/USDT futures lending rates in addition to these.
OKX marginally beats Kucoin in offering the lowest fees. Both have competitive rates, making them industry favorites.
Overall, OKX offers better value for money as the default fees are lower for spot and futures trading. Lastly, OKX offers better fee discounts based on trading volume.
OKX vs Kucoin: Deposit Methods
Both Kucoin and OKX allow free cryptocurrency deposits. If you choose OKX, remember that no fiat deposits are permitted on this exchange. With a credit/debit card or a third-party payment processor, traders can purchase cryptocurrency, though the costs are relatively high and can reach 6%, depending on your currency.
On the other hand, Kucoin provides more deposit options with over 20 fiat currencies, such as EUR, GBP, AUD, USD, RUB, SEK, and others. Traders can also make deposits using Visa and Mastercard for a 3.8% fee.
Bank and wire transfers are supported payment methods for Kucoin for fiat onramps. Additionally, they accept credit cards and fiat onramps. The fees range from $1 to $25, depending on your payment method.
Kucoin has an edge here, offering multiple fiat deposit options compared to OKX, which doesn't support fiat deposits.
OKX vs Kucoin: Withdrawal Methods
Similar to deposits, fiat withdrawals are not permitted on OKX. Traders cannot use the OKX service to withdraw their profits into their bank accounts. They must transfer their cryptocurrency to a website that enables FIAT withdrawals.
Meanwhile, Kucoin supports withdrawals in 7 different fiat currencies, and the supported coins include USD, EUR, GBP, RUB, TRY, UAH, and BRL. The fees range from 0% (Advcash) to $80 (Bank Wire) for USD. The fees are set at 1€ or £ per SEPA transaction for currencies like EUR, GBP, etc. Additionally, not all fiat currencies initially deposited into Kucoin can be withdrawn by traders.
Kucoin offers more comprehensive withdrawal methods in various fiat currencies, while OKX lacks fiat withdrawal capabilities.
OKX vs Kucoin: Security
Prioritizing security is one of the key features of exchange companies; it is no different for OKX and Kucoin exchange also. However, Kucoin has a history of its Twitter account being compromised on April 24, 2023. The account's followers sent 22 Bitcoin and Ethereum transactions during the 45-minute hack. Unfortunately, this allowed the hackers to have enough time to make off with $22,628 in total.
They also had another incident in 2020; over $150 million was reported to have been lost. KuCoin acknowledged the security incident and said it had discovered some sizable withdrawals.
KuCoin responded by implementing many security measures, including bank-level asset security and micro-withdrawal wallets for both splits. Also, it protects withdrawals with multi-factor authentication, multilayer encryption, and internal risk control. To ensure strict security standards, the KuCoin team continuously monitors the exchange.
OKX is one of the safest crypto exchanges with many security actions and a platform for private encryption. They use technologies like the cold wallet and core private key encryption algorithm.
They also adopt email verification, phone verification, and two-factor authentication to enable traders to secure their accounts.
OKX and Kucoin made their proof of reserve public. Kucoin publishes with Merkel Tree cryptographic proof of reserves. They also use a Zero-knowledge proof algorithm, zk-STARK, to prove and verify all user assets held on their exchange.
KuCoin also uses cryptographic proofs and ownership verifications of public wallet addresses to demonstrate to the public that its holdings match user deposits.
KuCoin also uses cryptographic proofs and public wallet address ownership verifications to show the public that its holdings match user deposits.
OKX vs Kucoin – Which Exchange Wins?
Given all the parameters, If you prioritize a broader array of altcoins, more passive income options, and flexibility in fiat transactions, Kucoin is the better choice.
If you're looking for high liquidity, marginally better fees, and a slightly superior app experience, OKX would be your go-to.
There has to be a winner, and OKX takes the crown. This is based on the trading services, trading fees, and security history.
Kucoin is best for:
Investing in new projects
Spot Trading
Bot Trading
Staking
FIAT on/offramp support
OKX is best for:
Day Trading
Futures trading
Copy trading
Low fees
Security