CoinEx has gained a significant user base since its launch in December 2017, with over 3 million users across 200 countries.
Despite its popularity and huge user base, various situations may prompt some customers to close their CoinEx accounts. At times like this, you might want to proceed with the account-deleting process without hassle.
To help you with that, this brief guide offers a systematic and insightful step-by-step process for deleting a CoinEx account. Explore how you can smoothly part ways from your CoinEx account.
What to Do Before Deleting Your CoinEx Account
Clear Pending Order and Empty the Account: Make sure there are no pending orders in your account. All transactions are settled, this would ensure a clean closure process.
Zero Liabilities, Settled Assets: Verify that your account reflects zero liabilities and settle any outstanding balances. Confirm the status of your assets to ensure a clean financial slate before proceeding with the deletion process.
Meet the Balance Requirements: Ensure your account balance meets CoinEx's criteria. Your account assets should not exceed $20 before initiating the deletion process, adhering to the platform's specified balance requirements.
No Bonus and Vouchers Should Be Left Unattended: Before deletion, no vouchers or bonuses should be present in your account. Make sure to redeem any outstanding bonuses or vouchers in your CoinEx account. Utilize these perks or promotions as a final step before concluding your association with the platform.
How to Delete CoinEx Account
Wrapping up your connection with your CoinEx account isn't that complex.
All you have to do is follow the steps below for a smooth account deleting experience.
Step 1: Login to Your CoinEx Account
Access the CoinEx account through their official website, enter your login credentials, and click "Log In" to access your account.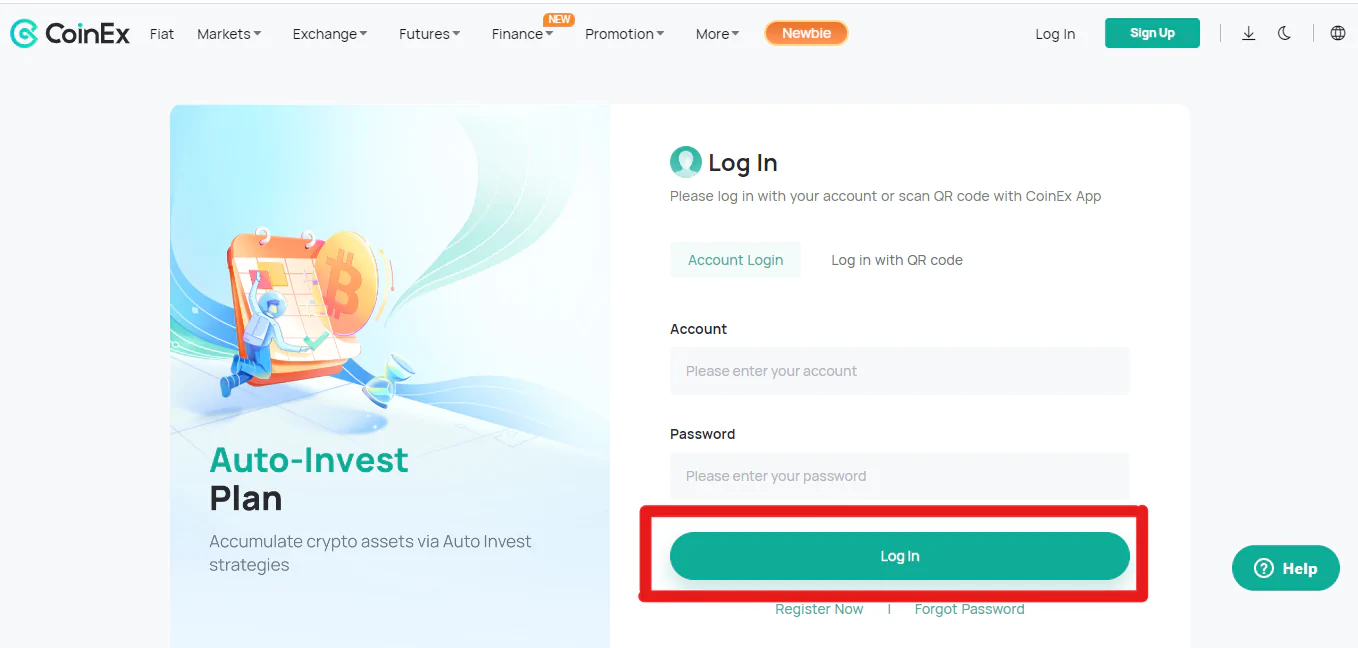 Step 2: Click on the Profile Icon
Locate and select the profile icon, usually represented by a user symbol. This is typically found in the "top right corner" of the interface.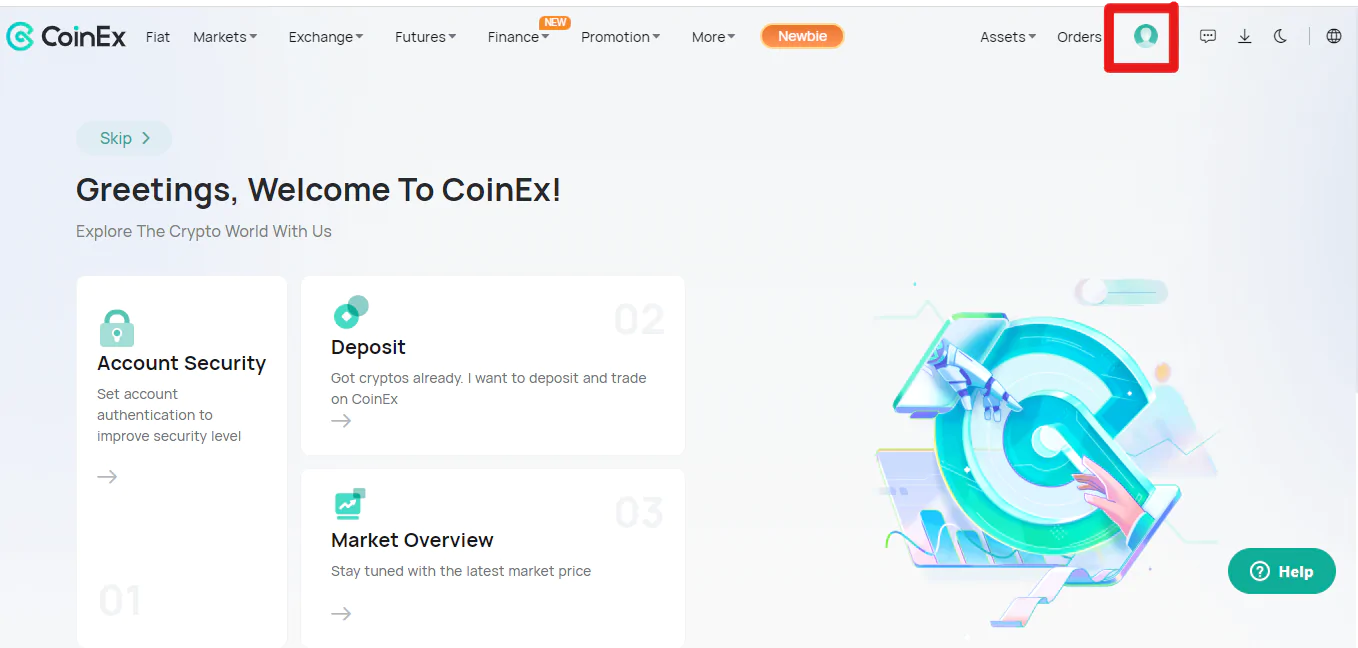 Step 3: Click "Setting" Option
Navigate to the "Settings" section by choosing the corresponding option from the drop-down menu associated with your profile icon.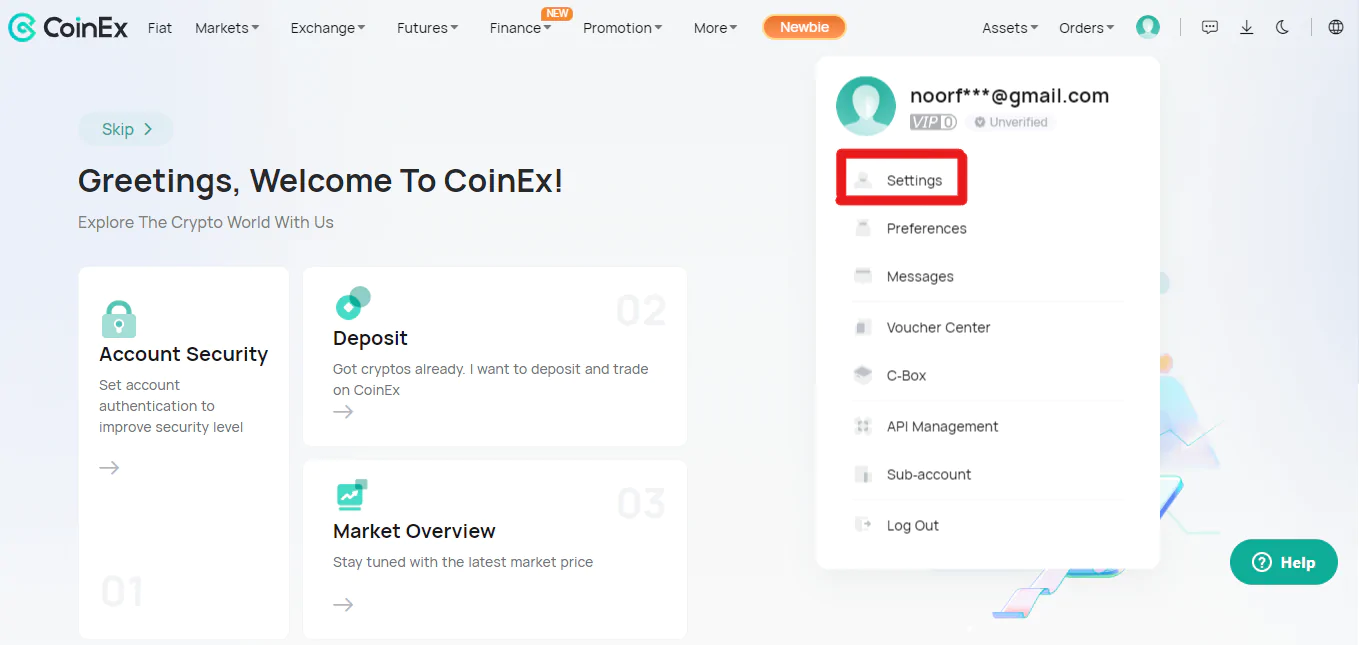 Step 4: Spot the "Advance Setting" Option
Within the account settings, locate and choose the "Advanced Setting" option. This step is crucial as it leads you to more detailed and specific account configurations.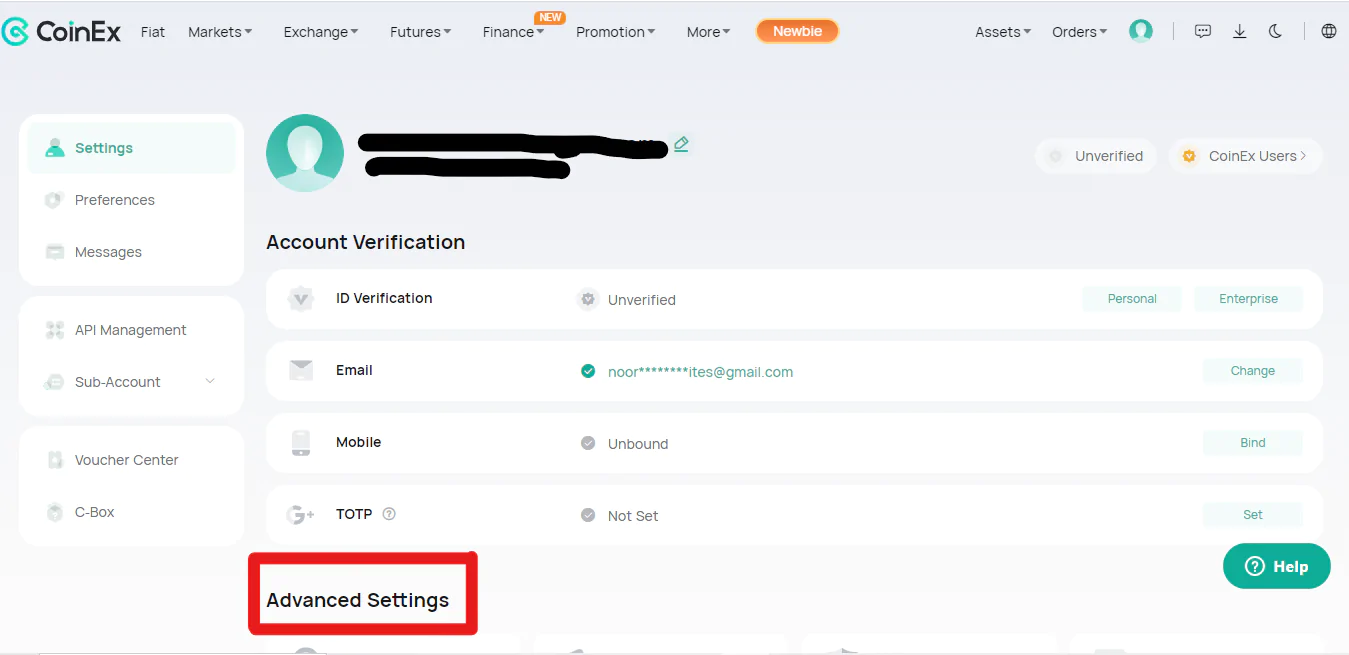 Step 5: Find the "Account Management" Option
Look for the "Account Management" in the "Advanced Setting" section. This is where you can make more intricate changes to your account preferences.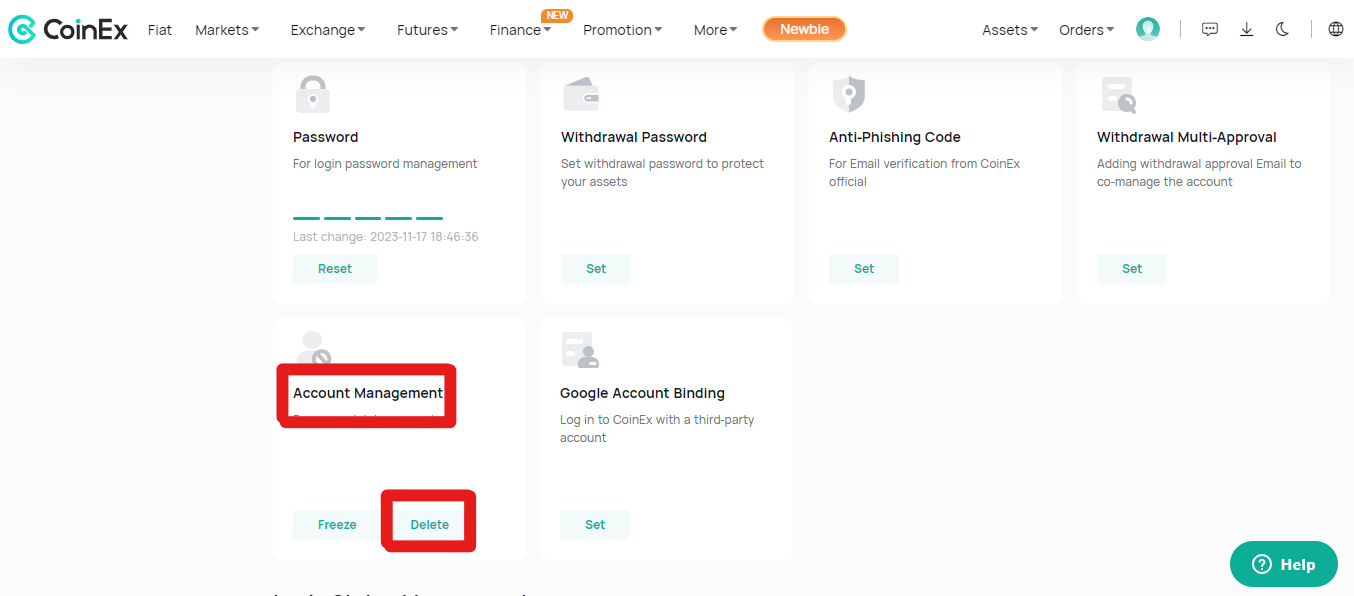 Step 6: Click on Delete Button
Click on the " Delete" button. Confirm that you wish to proceed with the deletion of your account at this stage.
Step 7: Apply for Deletion
After selecting the delete option, you may be prompted to confirm your decision. Follow the on-screen instructions to click on the "apply for deletion" option.

Step 8: Confirm Deletion
Read through and agree to the terms and conditions associated with deleting your Coinex account. Click on the "Confirm Delete" button. This is a standard step to ensure user understanding.

Step 9: Email verification
Verify your identity by following the email verification process. This typically involves entering a code sent to the email associated with your CoinEx account.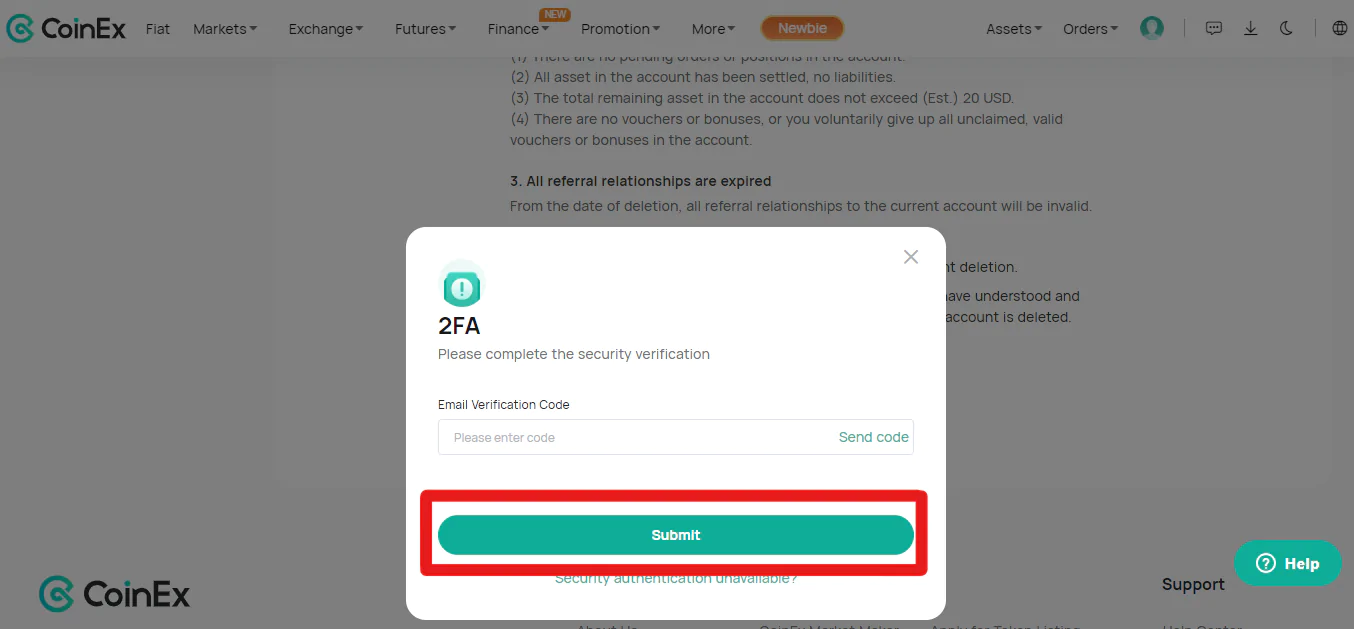 Once the email verification is complete, you should receive a confirmation email indicating that your CoinEx account has been successfully deleted. Double-check to ensure the process is finalized.
Note: This account deletion is irreversible; please proceed with caution.
Best CoinEx Alternatives
Once you delete your CoinEx account, you might need a better alternative to resume your crypto trading activities. Here, we suggest you consider ByBit, a globally renowned exchange that supports 466 coins for trading.
It charges a spot trading fee of 0.1% for both the maker and the taker. Regarding futures trading, the exchange charges a 0.02% maker fee and a 0.055% taker fee, serving as the industry's lowest. Moreover, it features various currency pairs, including Bitcoin/USDT, XRP/USDT, and BTC/USD perpetual contracts.
Renowned for its competitive fee structure, traders in perpetual contracts benefit from a mere 0.06% maker fee and a 0.01% taker fee—remarkably low in the industry.
It also features 125x leverage for perpetual futures contracts and a responsive UI on both desktop and mobile.
You can learn more about Bybit in our comprehensive Bybit review.
Final Thoughts
Ultimately, deleting your CoinEx account demands careful consideration of financial aspects and adherence to a step-by-step guide. Hence, it's important to follow the outlined steps above for a seamless deletion procedure.
As you explore alternatives, Bybit emerges as a strong choice, offering diverse features and prioritizing user security in the dynamic realm of cryptocurrency trading.