Introduction To CoinGate
Crypto adoption is rapidly growing, but even in 2023, there are still many stores that don't accept cryptocurrency payments. Some people even claim that there is no use case for cryptocurrencies as a payment method at all. However, this is a big misconception.
While it is true that most big online retailers don't accept cryptocurrencies as a payment method yet, there is a simple yet effective workaround that enables you to purchase goods on websites such as Amazon, Adidas, eBay, Google Play, Steam, and many more with cryptocurrencies. The answer to that is gift cards.
Coingate is a Lithuania-based company that offers you an easy way to purchase gift cards with cryptocurrencies for over 2000 online stores with just a few clicks. So far, CoinGate has processed over 1,4 million transactions with an average rating of 4,2/5 stars on Trustpilot.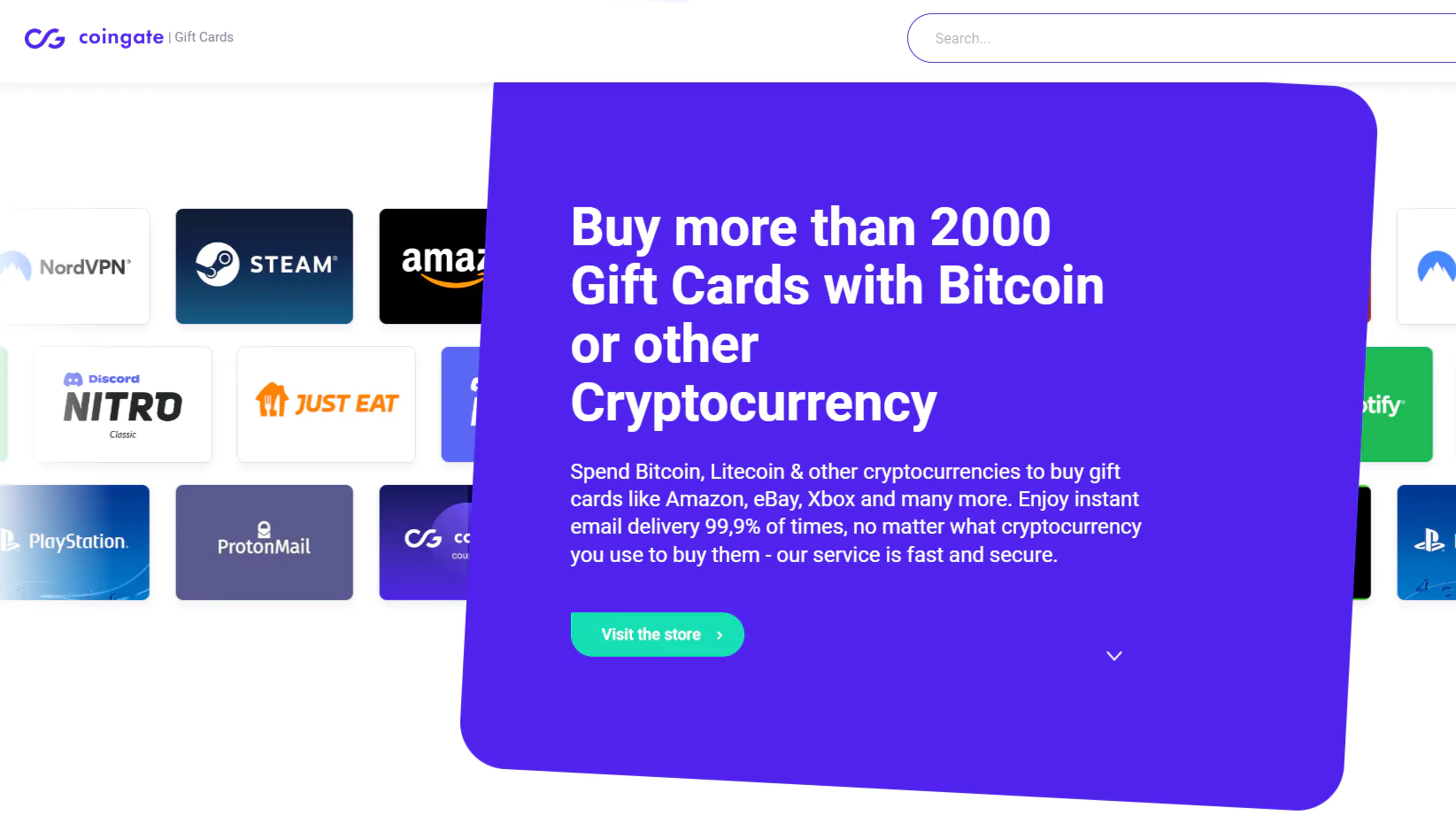 Why Choose CoinGate?
Coingate is a very user-friendly platform with an amazing interface. At the moment, they serve over 100 countries with their gift card and crypto payment services with over 400,0000 customers.
On top of that, CoinGate offers 24/7 customer support which ensures a great shopping experience.
No matter if you want to buy gift cards with cryptocurrency for clothing, gaming, electronics, food delivery, or even traveling. Coingate has you covered with their comprehensive offer of gift cards of all kinds.
CoinGate offers 13 different cryptos to pay with, including Bitcoin, Ethereum, Litecoin, Tron, Dogecoin, Tether, and more. Furthermore, CoinGate has a Binance Pay integration. So if you have cryptos on your Binance account, you can use them to pay for gift cards on CoinGate.
A very popular way of paying with Bitcoin is using the Lightning Network, which is also supported on CoinGates platform.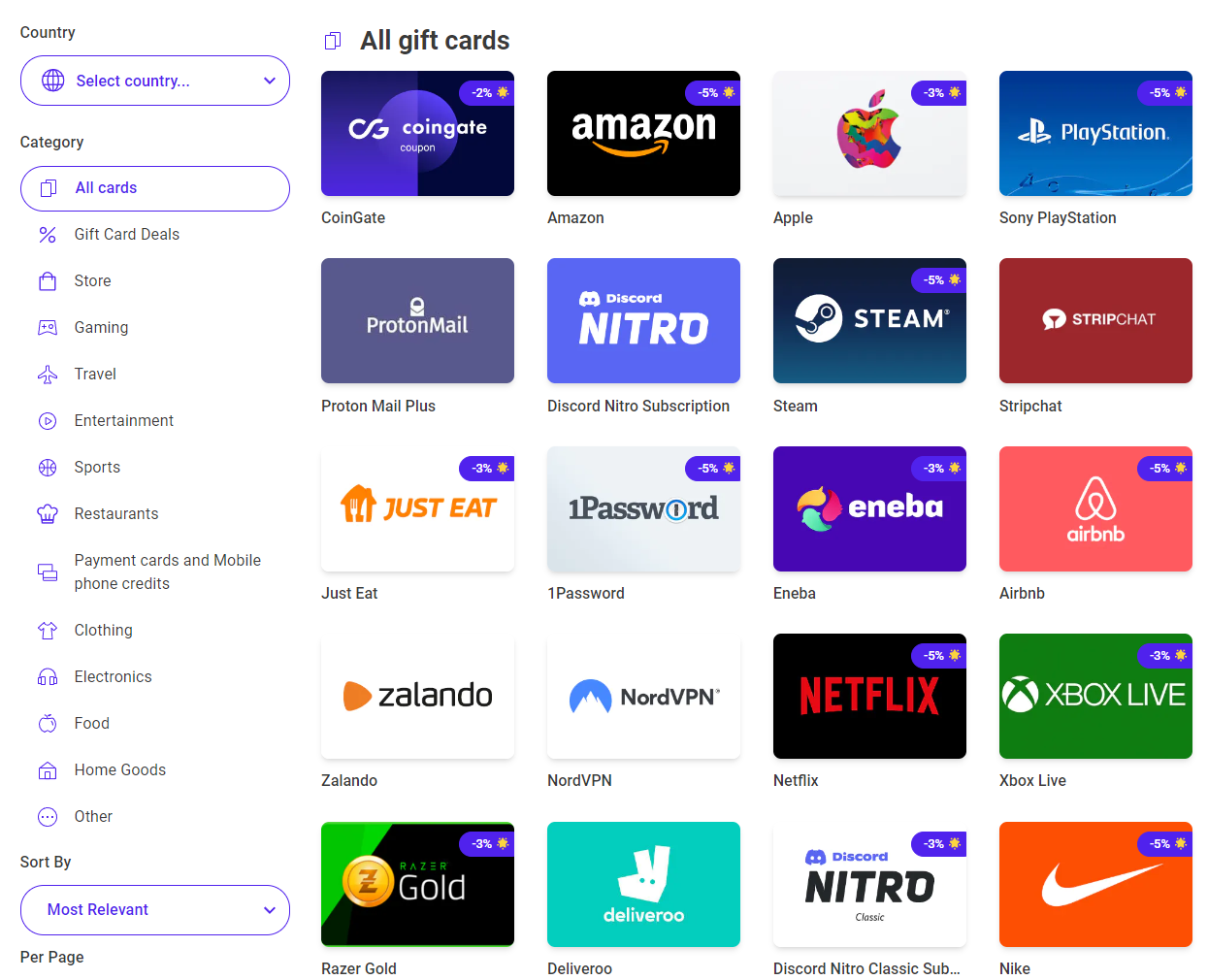 Is CoinGate safe or a scam?
When purchasing gift cards with cryptocurrencies online, it is crucial to make sure that the provider that you choose is honest and reliable. Things like secure payments, delivery time, and customer service are very important.
It is safe to say that CoinGate is a safe and secure platform for purchasing gift cards with cryptocurrencies. For payments, they only accept well known cryptocurrencies that are simple to use, and CoinGate even has an integration with Binance Pay, which is the biggest cryptocurrency trading platform in the world.
Furthermore, CoinGate has hundreds of great reviews that you can read online. And if you happen to experience any issues with CoinGates' service, you can contact their 24/7 customer support service.

Available gift cards on CoinGate
In terms of niches that CoinGate covers, no other gift card supplier can compete with them in the cryptocurrency space.
Services
In 2023, it is totally common to have subscription based services. This can be for entertainment on Netflix or cyber security with NordVPN. Coingate has you covered with the most popular internet services available.
On top of that, you can buy gift cards for mobile phone credits and top-ups, as well as payment cards such as prepaid VISA cards, which you can use in any store.
Gaming
If you are a gamer looking to buy digital goods such as skins or even full games, you can do so in CoinGates gaming section. CoinGate offers gift cards for Google Play, Steam, Playstation, Fortnite, League of Legends, and so much more.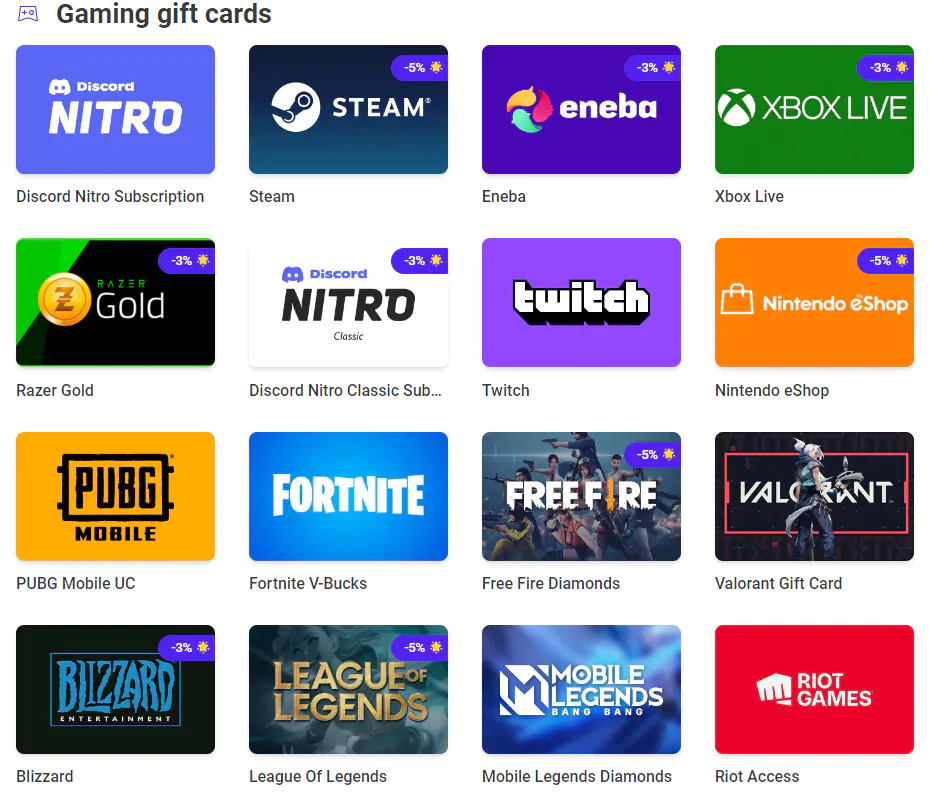 Clothing
Even clothing and apparel are covered by CoinGate. You can purchase gift cards for the biggest brands, such as Adidas, Nike, Zalando, and Calvin Klein.
Food and delivery
Are you hungover on a lazy Sunday evening, thinking about what to eat? CoinGate has you covered with their food and delivery section. You can buy gift cards for Starbucks, LIDL, Instacart, Penny, and so on.
Furthermore, you can get gift cards from delivery companies such as Deliveroo, Wolt, or Just Eat.
Travel
And if all the sections that we covered already are not enough yet, you can book your next vacation with cryptocurrencies via CoinGate with their gift cards for Airbnb, Hotels.com, Lastminute.com, or UTravel.
CoinGate has too many categories to cover one by one. Even Apple, Samsung, Bestbuy, Ikea, and Home Depot gift cards are available. Rest assured that you will find whatever you are looking for. You can see all of their categories here.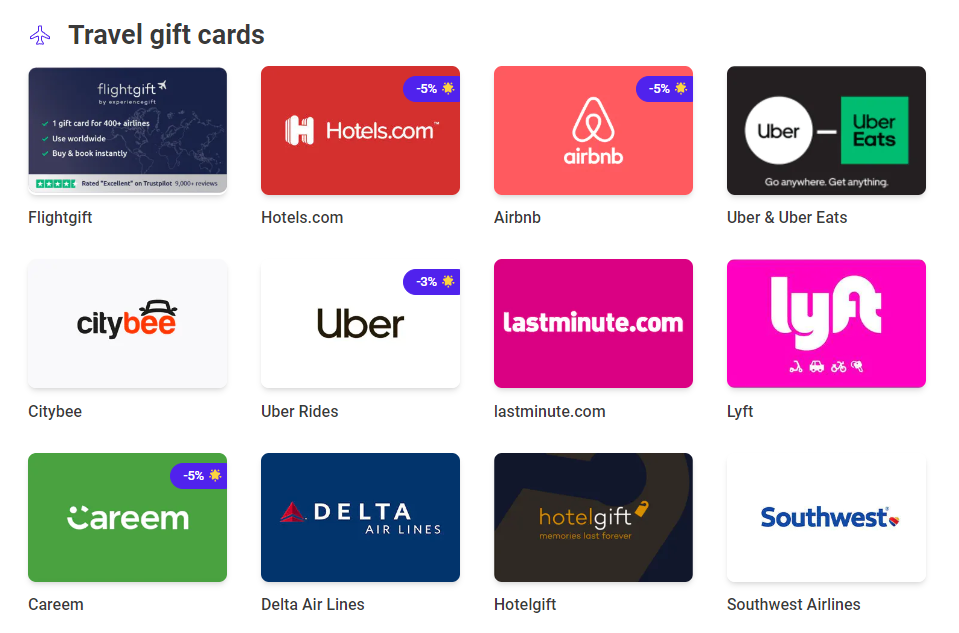 Pros and Cons of CoinGate
Buying gift cards with your cryptos on CoinGate comes with some perks but also a few downsides.
Pros of CoinGate
No account sign up required
Instant email delivery
Reliable and secure with great customer ratings
Largest repertoire of gift cards available
Integration with Binance pay and Lightning Network
Amazing user interface
Cons of CoinGate
Small markup on all prices due to transaction fees
No discounts or loyalty programs for recurring customers
Customer Support
When buying goods online, customer support is a very important factor to consider. The last thing you would want to experience is dead silence when contacting the customer support service about your query.
CoinGate offers you the option to contact them via live chat, email, Facebook, and via other social media channels. They also have a dedicated FAQ and help center section where the most common questions are covered already.
Alternative to purchasing Gift Cards with Cryptos on CoinGate
If you could not find what you were looking for on CoinGate and are still looking for a different provider of gift cards that you can purchase with cryptocurrencies, make sure to check out Bitrefill.
Bitrefill is another great option for purchasing gift cards with cryptos. They have a wide variety of offers, low prices and great ratings. You can also read our full Bitrefill review and guide here.
Summary
Paying for products with cryptocurrencies in 2023 is much easier and much more accessible than most people think. Even in stores that don't offer a direct way to pay with cryptocurrencies, you can now pay with cryptos by using gift cards.
One of the best suppliers of gift cards that you can purchase with cryptocurrencies is CoinGate. The company specializes in cryptocurrency payments and gift cards.
Buying gift cards on CoinGate is super simple and straightforward. You don't even need to sign up for an account. Simply choose the gift card you want to purchase, provide your email for the delivery, and select one of CoinGates' payment methods.
They offer the most popular cryptocurrencies, such as Bitcoin, Ethereum, USDT, Tron, Doge, and more, as well as integrations with Binance Pay and the Lightning Network for even faster payments.
With over 2000 gift cards to choose from, you can be sure to find a fitting solution to what you are looking for. CoinGate is the bridge between online retail stores and crypto payments.
Visit CoinGate now and see for yourself what they have to offer!