With the increase in popularity of Bitcoin, overall crypto adoption is steadily growing. More and more online stores and even some offline stores now accept cryptos as a payment method. While some online stores don't accept cryptocurrencies as a payment method yet, there is a simple but effective way to still buy from these stores indirectly via cryptocurrencies. The answer; Gift Cards.
Buying gift cards with cryptocurrencies is simple, and we're here to show you how!
Bitrefill makes purchasing gift cards a breeze with their user-friendly platform that accepts multiple forms of digital currency. Whether you're looking for the perfect present or just want to treat yourself, this beginner's guide will walk you through everything you need to know about buying gift cards with cryptocurrency on Bitrefill. Read on and discover a whole new world of shopping possibilities!
What is Bitrefill?
Bitrefill is a service that allows you to purchase gift cards with cryptocurrency.
You can use Bitrefill to buy gift cards for popular online retailers such as Amazon, eBay, Google Play, and much more. Bitrefill also offers prepaid phone credits for major carriers such as AT&T, T-Mobile, and Verizon.
If you are a gamer, Bitrefill has you covered with gift cards that you can buy with cryptos for Steam, League of Legends, Runescape, Playstation, Xbox, Blizzard, Nintendo, and more.
You can even buy gift cards with cryptos for subscription services such as NordVPN and Netflix.
And if that is not enough yet, you can even buy gift cards for hotel stays via hotel.com gift cards on Bitrefill!
As you can see, Bitrefill is a comprehensive and convenient way to spend cryptocurrency without having to convert it back to fiat currency. With Bitrefill, you can easily shop at your favorite online stores using cryptocurrency.
The crypto gift card provider also has a great reputation for being honest and reliable. With a 4.8/5 star review on Trustpilot, it is safe to say that Bitrefill strives for customer satisfaction.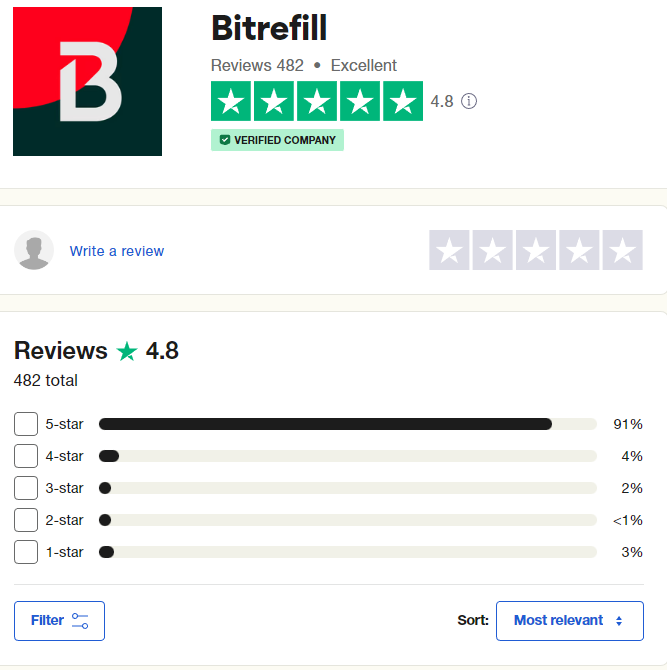 In this guide, we will show you how to use Bitrefill to purchase a gift card with cryptocurrency.
Buying Giftcards with Cryptocurrency on Bitrefill
First, you should create an account on Bitrefill. Once you have created an account, select the "Gift Cards" tab. On this page, you will see a list of all the different types of gift cards that Bitrefill offers. To purchase a gift card, simply select the type of card you would like to buy and then enter the amount of cryptocurrency you would like to spend. Once you have entered this information, click on the "Buy Now" button.
You will then be taken to a page where you can enter your payment information. Bitrefill accepts payments in Bitcoin (BTC), Ethereum (ETH), Litecoin (LTC), and Dash (DASH). If you do not have any of these cryptocurrencies, you can still use Bitrefill by purchasing Bitcoin or Ethereum on an exchange like Coinbase first and then sending it to your Bitrefill wallet. Once you have entered your payment information and confirmed it, click on the "Confirm & Pay" button.
Step-by-Step Guide to Purchasing a Gift Card
Purchasing gift cards with cryptocurrency on Bitrefill is a simple and convenient way to shop for friends and family. Here's a step-by-step guide on how to do it:
Step 1:
To buy a gift card on Bitrefill, you don't need to sign up for an account, that means you can checkout as a guest. However, we still recommend creating an account first, as the details will be sent to your email.
If you check out as a guest and you type in an invalid email, your order will not arrive, and you will have to contact the customer support to wait for a solution.
When you sign up to Bitrefill, you can also get bonuses and discounts, so signing up is not just safer but also cheaper in the long run.
To create your account on the Bitrefill website and click on the "Sign up" button in the top right-hand corner.
Fill out the required information and click on the "Create Account" button. Once your account has been created, you'll be automatically logged in.
On the account sign-up page, you also have the option to connect your Metamask or Coinbase wallet for faster and easier payments. So if you have one of those wallets, click on "Connect wallet."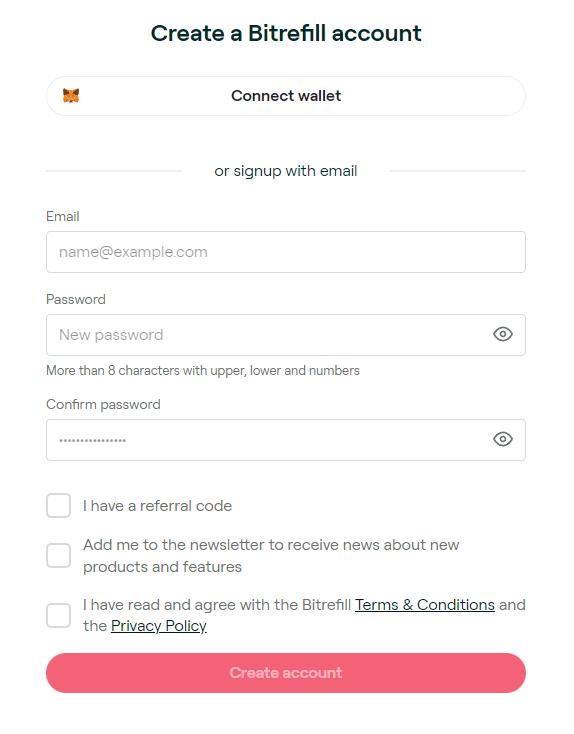 Step 2:
Now that you have set up your account, you can browse through the gift cards that you want to buy. Bitrefill offers many gift cards that you can buy with your cryptos.
You can search manually for specific gift cards in the search bar, or you can browse through their categories ranging from apparel and e-commerce to games and even travel and prepaid phone services.
Choose the gift card you want to purchase, click on "Add to cart," and go to "Check Out."
Step 3:
If you did not create an account, you now must provide your email. Make sure everything is correct to avoid issues with the delivery.

Step 4:
Next, you'll need to choose which cryptocurrency you'd like to use to purchase your gift card. Bitrefill currently accepts Lightning, USDT, Bitcoin, Ethereum, Litecoin, USDC, and more.
If you don't already have any cryptocurrency, you can purchase some with fiat currency (i.e., USD, EUR, etc.) on a reliable crypto exchange like MEXC or Binance. Once you have your cryptocurrency, send it to the wallet address provided by Bitrefill.
If you have your Metamask or Coinbase wallet connected, you can click on "Open your wallet" at the bottom and pay instantly with it.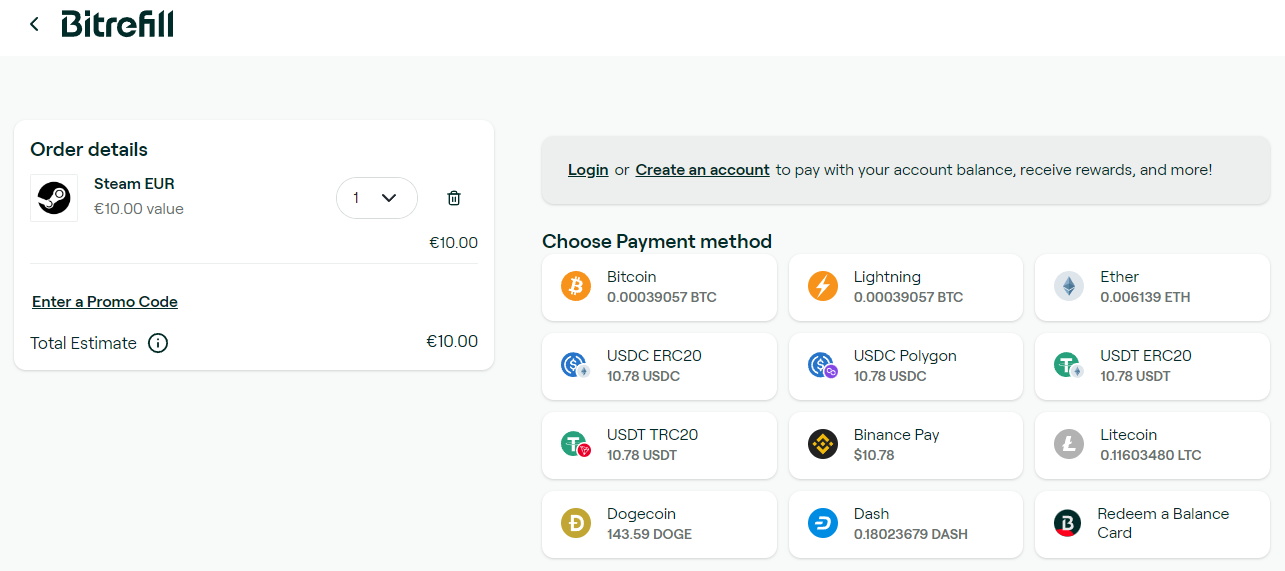 Step 5:
Send the cryptos to the provided wallet and make sure to choose the correct network. In our case, we used USDT via the TRC20 network.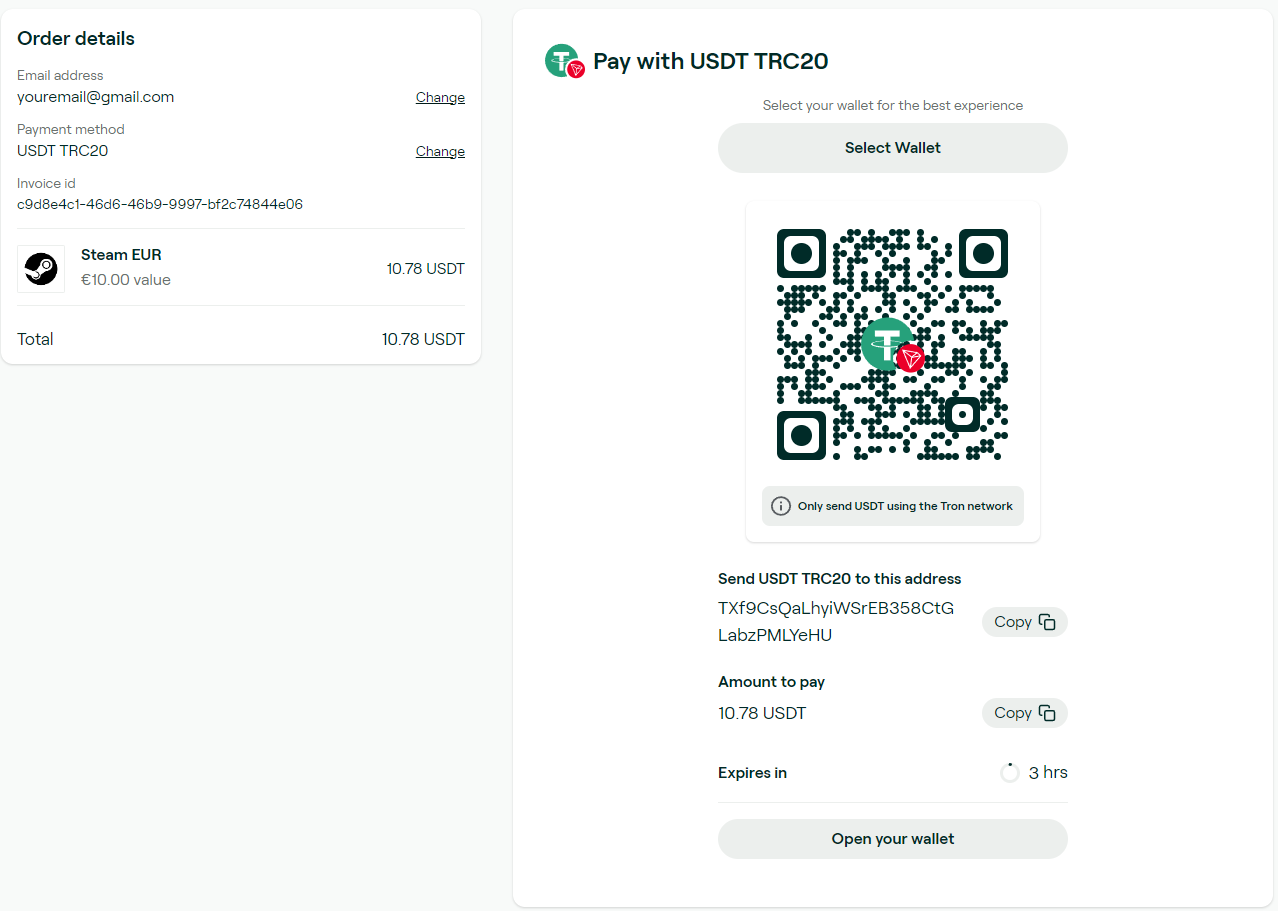 Now we will wait for the transaction to be processed. This varies depending on the cryptocurrency you choose to purchase your gift card. For most cryptos, it does not take longer than 10 minutes.
After the transaction is processed, you will receive an email with the details for your gift card code!
Pros and Cons of Bitrefill
Pros of Bitrefill
When it comes to purchasing gift cards with cryptocurrency, there are a few things you need to take into account. In this article, we will go over the pros and cons of using Bitrefill.com to buy gift cards with crypto.
The first thing you need to know is that Bitrefill.com is a reputable website that has been around for a while with an average rating of 4.8/5 stars out of 480 reviews on https://www.trustpilot.com/review/bitrefill.com
They offer a wide variety of gift cards from different brands and businesses, so you should be able to find what you're looking for. Another pro is that they offer discounts on some of their cards if you pay with certain types of cryptocurrency, so it's worth checking out their site even if you don't have crypto to spend.
Cons of Bitrefill
However, there are a few things to keep in mind before using Bitrefill. First of all, they don't accept every cryptocurrency as a payment method, so if you want to use less-known cryptocurrencies, you'll need to convert them to the supported cryptos on Bitrefill or use another site.
Additionally, the prices on their gift cards can be a slightly higher than on traditional websites due to the fact that most cryptos require a so-called "network fee." These range from $0.5 (e.g., USDT via TRC20) all the way to a few dollars. So it's best to compare which cryptos are cheaper to use and which are more expensive. When using a wallet connection such as Coinbase or Binance Pay, you should get the cheapest rates.
All in all, Bitrefill.com is a great option for buying gift cards with cryptocurrency if you're looking for convenience and reliability. However, make sure you take into account the pros and cons before making your gift card purchase with your cryptocurrencies.
Alternatives to Purchasing Giftcards with Cryptocurrency on Bitrefill.com
If you're not interested in purchasing gift cards with cryptocurrency on Bitrefill.com, there are a few other options available to you. Gift card platforms like coingate, and eGifter accept cryptocurrency as payment, and you can also purchase physical gift cards from websites like Bitcoin Gift Cards.
Coingate is a popular digital gift card platform that accepts cryptocurrencies like USDT, Bitcoin, Ethereum, Litecoin, and Bitcoin Cash as payment. With coingate, you can purchase gift cards for popular retailers like Amazon, Starbucks, Target, and more. You can also buy clothing and apparel gift cards from coingate for brands such as Adidas, American Eagle, Foot Locker, and H&M.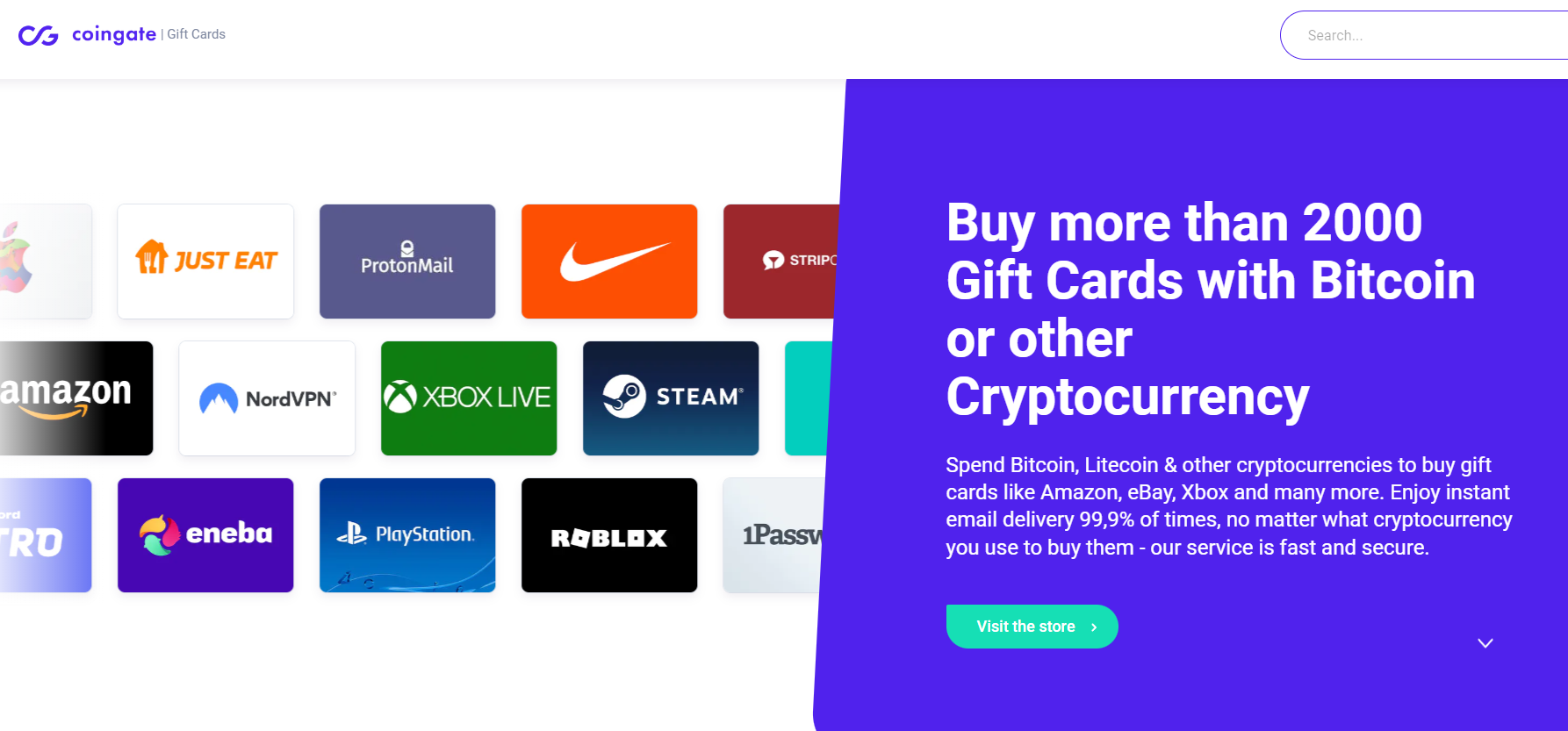 eGifter is another digital gift card platform that accepts cryptocurrency as payment. With eGifter, you can purchase gift cards for popular retailers like Amazon, iTunes, Starbucks, and more. One downside of eGifter is the clumsy design compared to Bitrefill and coingate, as well as worse reviews.
Conclusion
Gift cards are a great way to purchase things online or give someone the gift of choice, and Bitrefill.com makes it easy to purchase them with cryptocurrency. With our beginner's guide, you now know how to get started buying gift cards on Bitrefill.com using your favorite coins or tokens, from Bitcoin to Ethereum and more.
Bitrefill is the perfect option to spend your cryptos on gift cards that you want yourself, or start gifting today to make sure the special people in your life have the perfect present for any occasion!