The first step in trading cryptocurrency is picking a good and reliable trading company. We will compare Bybit vs Etoro, two popular trading platforms.
There are many options to note when picking a crypto trading platform, including sign-up and KYC process, trading interface, supported coins, trading fees, withdrawal method, deposit method, account security methods, and many more.
Bybit and Etoro are one of the many crypto exchange platforms you can pick from. However, to help make you make an informed choice, we are going to make comparisons of both trading platforms. We will begin with an overview of both media and end with an analysis of the winner based on the facts presented.
Bybit vs Etoro Overview
Bybit is one of the new crypto exchange platforms, and it was founded by Ben Zhou in 2018. They have their headquarters in the United Arab Emirates, Dubai. The company has over 16 million registered users in 160 countries and 1200 employees.

Bybit is known to have one of the highest-rated crypto trading apps; it is available in Android and iOS versions with a 4.9/5 rating. They have a daily trading volume of $10+ billion.
As of 2023, Bybit has over 800 trading pairs listed on their platform. However, there are about 400 coins listed on the exchange. They offer advanced trading options for futures, perpetual contracts, and inverse contracts with up to 100x leverage for different cryptocurrencies.
Etoro is an older trading platform founded in 2007 by brothers Yoni Assia and Ronen Assia together with David Ring. With its headquarters in Tel Aviv, Israel, they have over 30 million users in 100 countries, with 1700 employees. They introduced crypto trading in 2014.

Etoro has two mobile apps available in Android and iOS versions, the basic Etoro app and Etoro Money for Money and crypto transfers app. However, their app has a low rating of 3.7/5, making the Bybit app superior. Information regarding their daily trading volume should have been found on their website.
Etoro started as a trading and investing platform before they added cryptocurrencies, commodities, and a wide selection of stocks.
Bybit leads here because of its superior app rating and transparency in daily trading volume.
Bybit vs Etoro: Signup and KYC
Bybit
All one needs to create an account and sign up on the Bybit platform is an email address or phone number and a strong password. It is a simple process and needs a confirmation mail containing a 6-digit code to activate the account.
However, that's not all for trading with your account on Bybit; KYC verification is needed to trade or withdraw funds on the platform. KYC verification for Bybit has two levels; level 1 requires a selfie and a passport or identity. Level 2 verification needs proof of address, either a bank statement or a utility bill. It takes just a few minutes for the process to be completed.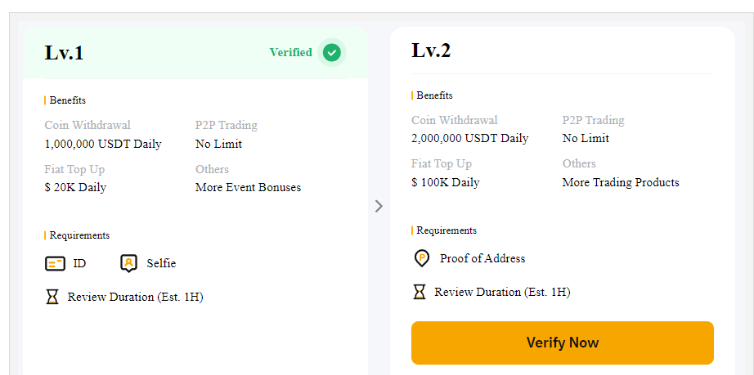 Etoro
The account sign-up on the Etoro trading platform is similar to Bybit. Users will be presented with an electronic form on the web page where they can enter all the personal data required to open a new trading account. There is also an option to log in via Facebook or Gmail details.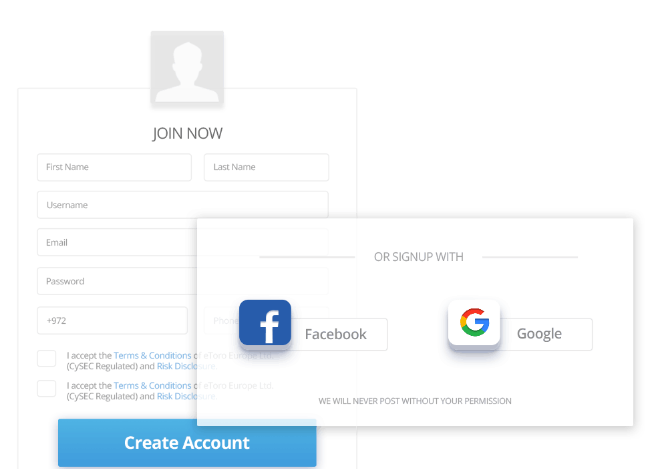 After account creation, KYC verification is required to trade, withdraw, and have access to all the trading tools on the Etoro trading platform. KYC verification takes 1 – 2 business days, and it needs proof of address dated to the last three months, and Proof of Identity, such as a valid passport or another form of Government-issued photo ID.
Because of its fast and simple verification process, Bybit wins over Etoro.
Bybit vs Etoro: Products, Services, And Features
Trading Features
Bybit is a comprehensive trading platform, and they have the most significant supporting coins on their platform and support over 300 cryptocurrencies. Users can access futures, spot trading, margin trading, options, perpetual swaps (perps), and leveraged tokens on Bybit.
The average daily trading volume for Bybit is $10+ billion. Solana, Avalanche, Litecoin, Polkadot, Bitcoin, Ethereum, Bit, Dydx, and Polygon (MATIC) are a few of its well-known cryptocurrencies.
For Etoro, they offer a limited amount of cryptocurrencies on their platform. However, users can access many financial assets, including 80 cryptocurrencies like Ethereum and Bitcoin.
Etoro did not make available the average daily trading volume on their platform for reasons best known to them. Users based in the US can transfer, send and receive cryptocurrencies like Bitcoin, Ethereum, Bitcoin Cash, Tron, Litecoin, and XRP on Etoro.
Bybit offers spot and futures trading options, including bots and a "bot marketplace" where users can compare and copy trading strategies. They also provide an NFT marketplace for buying and selling NFTs. Meanwhile, Etoro does not offer any spot and future trading options. They provide financial products like currencies, stocks, ETFs, indices, commodities, and NFTs.
On Bybit, users can leverage up to 50 times on specific cryptocurrencies and 100 times on Bitcoin, with the leverage used determining the initial margin required; higher leverage means less margin needed. Users of Etoro can use a leverage of up to 2x, while retail clients have access to higher power of 5x on stock trades and 30x on major currency trades.
Bybit has a broader range of passive income products than Etoro.,They include Dual Asset, Bybit Savings, ETH 2.0 Liquid Staking, Liquidity Mining, and Launchpool. For Etoro, they just offer an option for passive income, which is stock dividends.
Trading Interface
Etoro and Bybit offer a user-friendly platform for trading exchanges. Etoro is tailored for beginners, offering user-friendly interfaces and basic trading tools such as live charts and add-on indicators. However, it lacks advanced order types and an order book, making it more suitable for novice traders than experienced ones.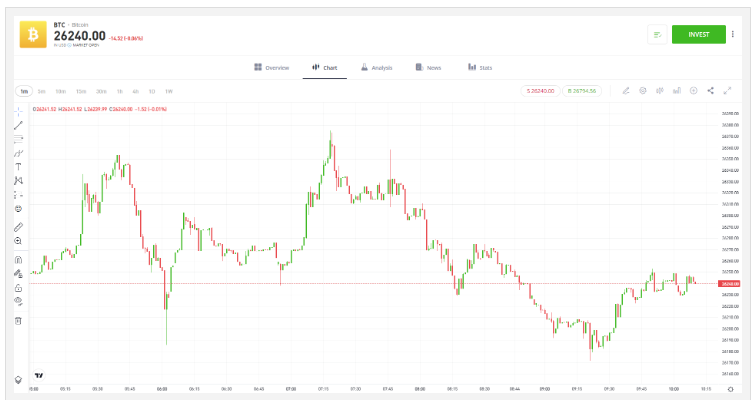 Bybit is mostly targeted at professional traders; the platform's interface is well-designed and user-friendly, with the main screen featuring tabs for indicators, time intervals, order books, and drawings, catering to experts and beginners.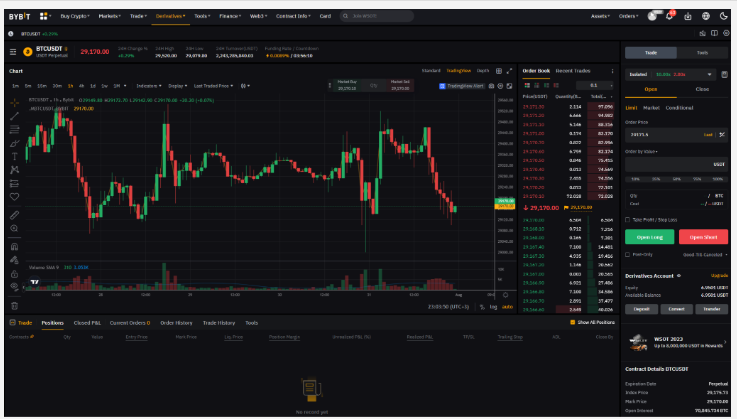 Bybit is far superior for active crypto trading because they offer a broader range of cryptocurrencies, more advanced trading options, lower fees, higher leverage, and diverse passive income opportunities compared to Etoro.
Bybit vs Etoro: Trading Fees
Regarding trading fees, Bybit has a competitive fee, while Etoro has a high, flat fee. Bybit will charge you 0.10% in makers and takers fees when you trade on the spot market with them. In the futures market, they charge 0.02% for makers and 0.055% for takers.

Etoro takes a flat 1% fee for buying and selling cryptocurrencies on their platform and spreads on BTC of $600. This is an expensive option, making day trading on Etoro impossible.

Bybit is the best option because they offer higher value for money with much lower fees than Etoro. Etoro fees are up to 20x higher. Furthermore, Etoro spreads are over 500x higher.
Bybit vs Etoro: Deposit Methods
Bybit offers free deposits for crypto on its platform. The 15 fiat currencies supported by Bybit include USD, RUB, MXN, BRL, ARS, and TRY.
However, Etoro only accepts fiat deposits in 4 currencies; USD, EUR, GBP, and AUD. They do not accept cryptocurrency deposits.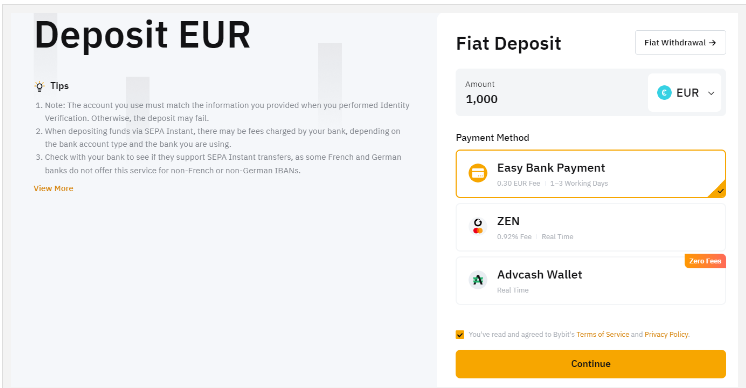 Etoro users can deposit fiat money using Bank Transfer, PayPal, Skrill, Neteller, and Credit/Debit Cards. All fiat deposits on eToro are free is its best feature. Bybit supports Advcash, which clears transactions instantly and charges no fees. Bank transfers cost between 0.30€ and 3%, depending on your currency, and ZEN has fees of 0.92%.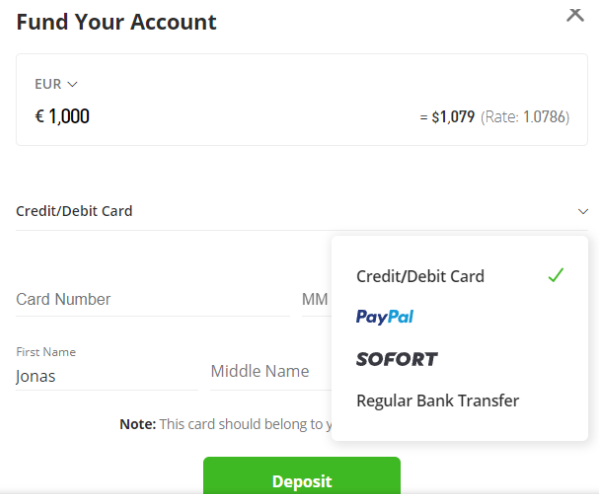 Bybit is a clear winner here; it supports more fiat currencies for deposit and has a broader variety of deposit methods. However, if you like to use popular services like PayPal, eToro is the better option.
Bybit vs Etoro: Withdrawal Methods
Both Bybit and eToro allow cryptocurrency withdrawals. Cryptocurrency withdrawal fees differ based on the coin and network. Bybit charges fees of 0.005 BTC, 0.005 ETH, and 0.01 SOL for Bitcoin, Ethereum, and Solana withdrawals. Etoro has a $5 withdrawal fee and a conversion fee for non-USD currencies, and Bybit charges a $25 fee for USD wire transfers.
Bybit offers FIAT withdrawals in 13 currencies using methods like Advcash, ZEN, and bank or SEPA transfers, with Advcash and ZEN being the most cost-effective due to their 0% fees and instant clearance. On the other hand, Etoro provides fiat withdrawal options through debit cards or bank accounts, along with other methods like Skrill, Neteller, Paypal, and Etoro Money.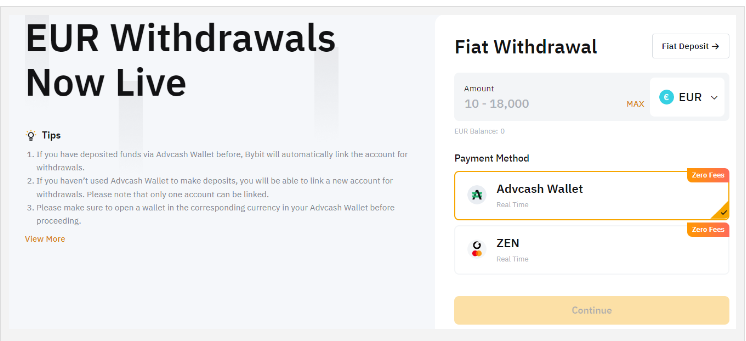 Etoro charges a fixed $5 withdrawal fee and processes withdrawals within 1-5 business days. Unlike other platforms, eToro does not impose any withdrawal limits.

Bybit vs Etoro: Security
For a trading exchange platform to gain users' trust, they have to prioritize the security of their platform. On a brighter note, Bybit and Etoro have developed a strong security system to safeguard clients' assets.
Both platforms, Bybit and Etoro, keep user funds in cold storage to prevent theft by hackers. Etoro provides up to €250.000 in FDIC insurance. Proof of reserves is something else to consider. Bybit exchange made their proof of reserves public. That indicates that the conversation backs all customer funds in a 1:1 ratio.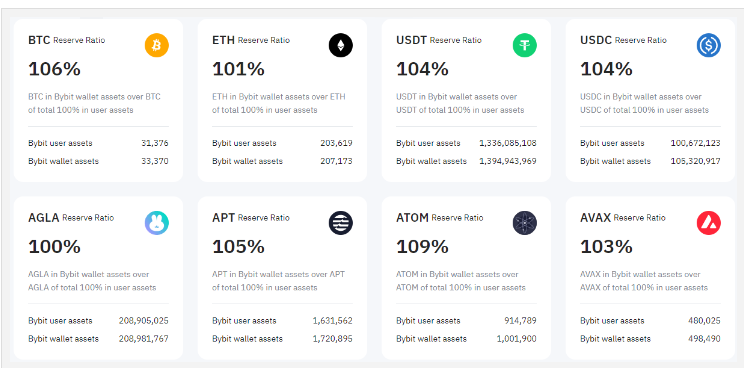 Meanwhile, Etoro still needs to make its proof-of-reserve figures public. As a result, their clients must remain informed of the situation and ensure that their cryptocurrency holdings are appropriately handled.
Also, Bybit offers its users a variety of security measures, such as fund passwords, YubiKey verification, Google Two-Factor Authentication, and phishing protections, among others, to protect their accounts.
Options offered by Etoro exchange include biometric authentication (face/ID), Two Factor Authentication (2FA), strong password, and email verification.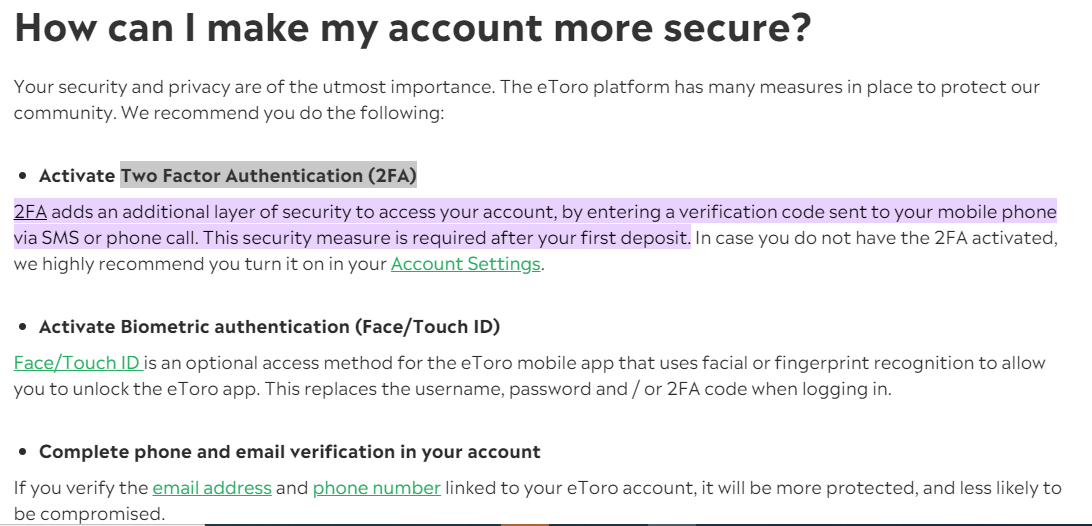 Bybit Vs Etoro- Which Exchange Wins?
With all comparisons above, Bybit is the clear winner even though Etoro is an older crypto exchange platform.
Bybit offers more cryptocurrencies, advanced trading options, passive income opportunities, and higher leverage options. While both platforms offer user-friendly interfaces, Bybit's interface caters to experts and beginners, while Etoro is only tailored for beginners and only provides basic information.
Bybit leads most categories, including products, trading fees, interface, withdrawal methods, and security. While Etoro provides broader financial offerings and might be more suitable for beginners, Bybit's competitive fees, advanced features, and a strong commitment to safety make it a more attractive option for a wide range of traders.
Sign up on Bybit and start trading cryptocurrencies. If you want to learn more about Bybit, you can also read our full Bybit review.
Bybit is best for:
Serious Day Trading
Spot/Futures Trading
Copy Trading
Low Fees
Low Spreads
High Liquidity
330+ Available Cryptos