Phantom Wallet is a software program or "hot wallet" that operates as a non-custodial Web3 wallet. It assists in streamlining transactions between cryptocurrency users. It is well-known for its connection to the Solana blockchain.
More recently, its capabilities grew to include the Ethereum and ERC-20 tokens in early 2022. This flexible digital wallet greatly advanced toward compatibility with the Ethereum Virtual Machine (EVM) by the end of 2023. Phantom has expanded its support for the Polygon network.
In this article, we will closely examine Phantom Wallet. Also, we will look at some of the advantages and disadvantages of the wallet, as well as its key features. So, if you want to know if Phantom Wallet will suit your needs, this piece is for you.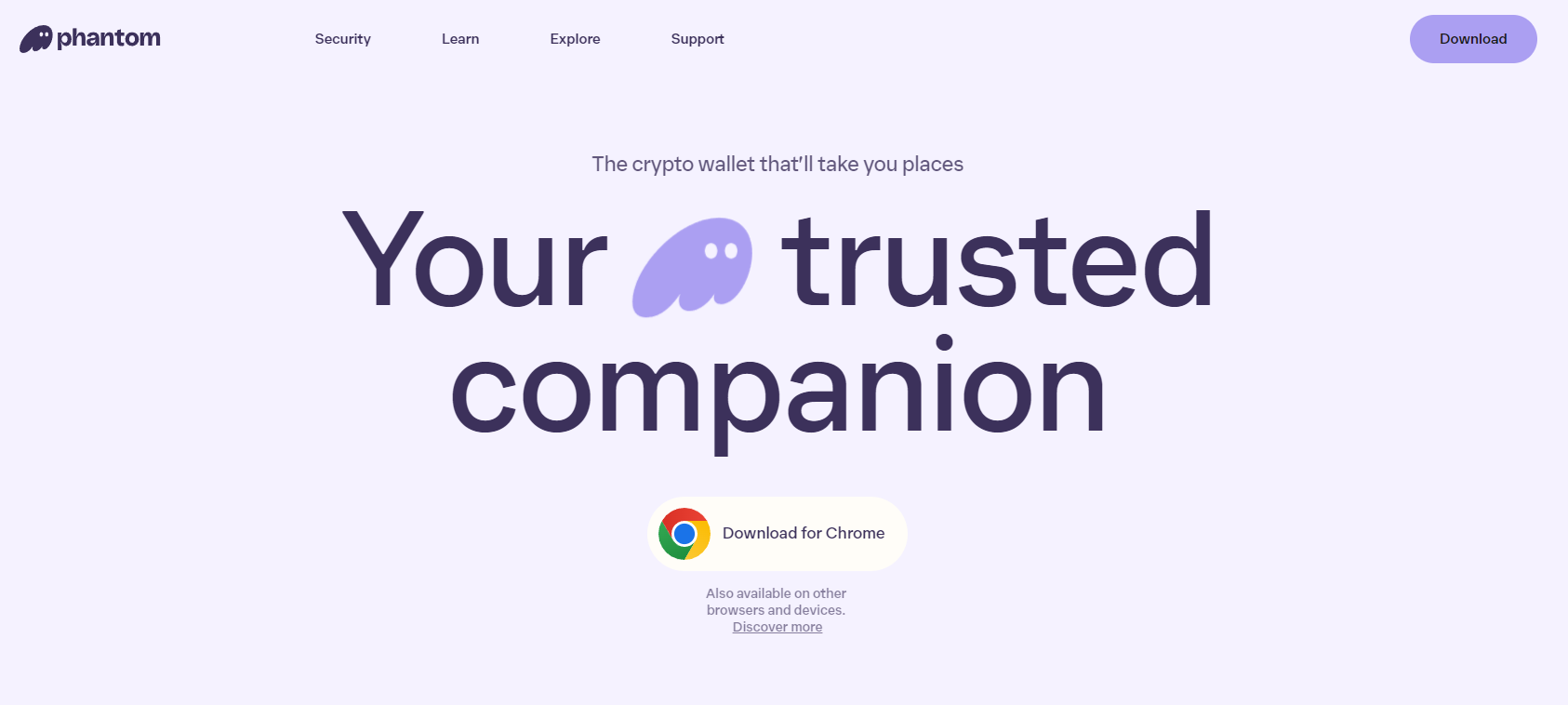 Phantom Wallet Features
Token Swap
Phantom Wallet provides a 'Token Swap' feature to enhance user convenience, allowing users to exchange tokens within the application. This feature streamlines managing digital assets by offering a seamless and all-in-one experience. The interface for the token swap feature resembles that of Metamask. When initiating token swaps, the interface displays essential information such as the exchange rate, slippage tolerance, and estimated fee. This enables users to make informed decisions during the swapping process.
Phantom Wallet Staking‍
Phantom wallet acts as a bridge between token owners and validators; it does not itself provide staking services. The Phantom wallet makes it simple for users to stake their SOL tokens. Users can use the "start earning SOL" option on the wallet UI to stake Solana (SOL) with Phantom. They can then choose a validator to assign their SOL tokens. It is advised to choose a validator with a fair commission rate. The Phantom wallet also allows users to stake Sol tokens and earn incentives. The particular incentives received vary and depend on the validator's selected staking scheme.
Ledger Support
Ledger Nano X is widely recognized as one of the most secure wallets today. As a hardware wallet, it operates in an air-gapped environment, significantly reducing the potential for hacking attempts. Fortunately, it is possible to integrate your Phantom wallet with Ledger Nano X, further enhancing security. This integration can be achieved using Chrome, Edge, and Brave browsers. By connecting your Phantom wallet to Ledger Nano X, you can enjoy the benefits of both the secure hardware wallet and the user-friendly interface of the Phantom wallet, providing a robust and reliable solution for managing your digital assets.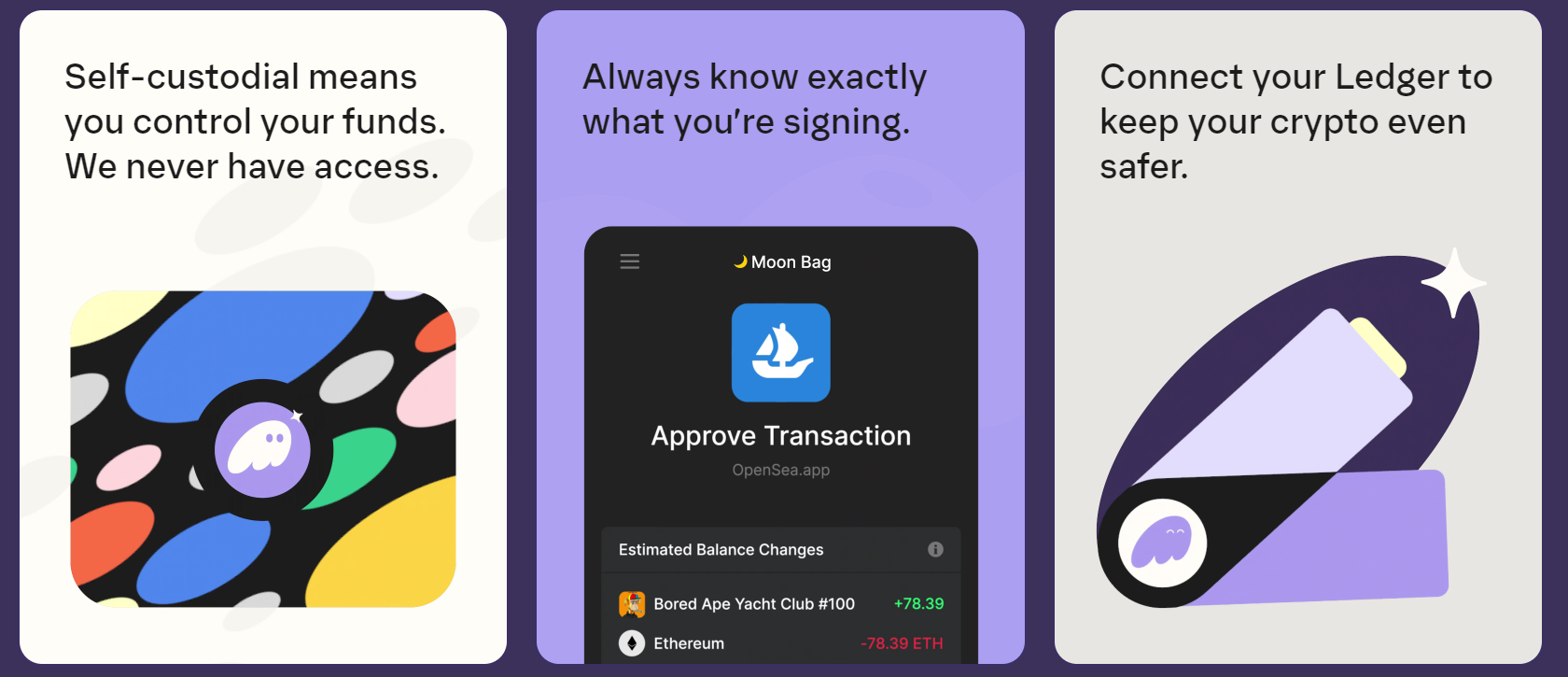 Phantom Cryptocurrencies
The Phantom wallet was designed primarily for the Solana blockchain. It is compatible for all SPL standard tokens, such as SOL, USDC, USDT, and Raydium (RAY). The Phantom team recently planned to incorporate two more blockchains, Ethereum and Polygon, into their wallet's repertoire in the first quarter of 2023.
Phantom Wallet NFTs
Phantom Wallet seamlessly integrates with well-known NFT markets like OpenSea and SuperRare, making it simple for users to interact and connect with these platforms. The wallet's automated grouping functionality for comparable NFTs is a noteworthy benefit. With the help of this function, users can discover certain things without having to spend time and energy manually sifting through many NFTs. Users linked to a marketplace can simply browse NFT libraries, put bids, make purchases, and even offer their NFTs for sale. This extensive and user-friendly experience aims to meet the demands of NFT fans by providing a practical and pleasant platform for researching and maintaining digital treasures.
Phantom Wallet Supported Operating Systems
Users can conveniently access Phantom Wallet across various platforms, including mobile devices such as iOS and Android. Also, you can use it on desktop browsers like Chrome, Firefox, Brave, and Edge through extensions.
The mobile apps and browser extensions offer similar features. However, the ledger support is currently not available on mobile devices. Ledger integration is limited to the browser version of the wallet.
Pros and Cons
Pros
Phantom Wallet offers a user-friendly interface and can be accessed on popular web browsers like Chrome, Brave, Firefox, and Edge.
Another advantage is the low fees associated with transactions on the Solana network, making it cost-effective for users.
It includes a built-in token swap feature, with future support for Ethereum, enabling easy and convenient asset exchange.
Phantom Wallet integrates with hardware wallets like Ledger for enhanced security, protecting private keys and crypto funds.
Additionally, it operates as a non-custodial wallet, granting exclusive access to the user for their private keys and crypto assets.
Phantom Wallet supports NFTs.
Cons
Phantom Wallet is a relatively new wallet. It came out in 2021.
The wallet is available only in browser form, as the mobile app is still under development.
Specifically designed for the Solana blockchain and is limited to that ecosystem.
While the wallet provides convenience and functionality for Solana users, it is worth mentioning that there have been reports of some Phantom wallets being affected by a Solana wallet hack.
Another point to consider is that Phantom Wallet is not open source. This means that the codebase is not publicly available for inspection and audit by the community.
How to Use Phantom Wallet
The Phantom Wallet is an easy-to-use and free browser add-on. The first thing to do is to install the wallet plugin. Once you've installed the plugin on your browser, the wallet will prompt you to choose between creating a new wallet address and importing an existing one. If you decide to create a new wallet, you will be given a 12-word seed phrase and asked to generate and confirm a password after that. Your wallet will be usable after you've finished these procedures.
Simply press ALT + SHIFT + P to open the Phantom wallet on your browser, and the wallet UI will display. Your portfolio balance will be shown on this interface. This provides access to the wallet's other features. Also, it lets you send and receive coins. With the help of this practical shortcut, you can easily manage and access your digital assets from inside your browser.

Conclusion
Phantom Wallet is a unique digital asset wallet with lots of safe features. Users can efficiently store, trade, and safeguard their digital assets. The wallet has features including staking Solana tokens, storing NFTs, interacting with various decentralized apps (dApps), etc. Phantom Wallet is notable for prioritizing security via independent audits, a non-custodial management strategy, and interoperability with Ledger hardware wallets. Overall, Phantom Wallet offers a trustworthy and complete solution for anyone looking for a quick and safe way to interact with the world of digital assets.