When it comes to purchasing digital currencies, Paybis tands out as a trusted and respected platform that has garnered immense popularity since its establishment in 2014.
With a strong commitment to customer satisfaction, Paybis offers a safe and secure trading environment, backed by round-the-clock customer support.
But what sets Paybis apart from the rest? In this review, we delve into the exciting features, advantages of this prominent cryptocurrency exchange.
We'll cover a range of essential topics, including supported payment methods, fees, supported cryptocurrencies, and the reliability of their customer support.
One noteworthy aspect of Paybis is their dedication to transparency, evident through their active presence on various social media platforms.
Join us as we unravel the mysteries of Paybis and discover the unique offerings that make it a go-to platform for crypto enthusiasts worldwide.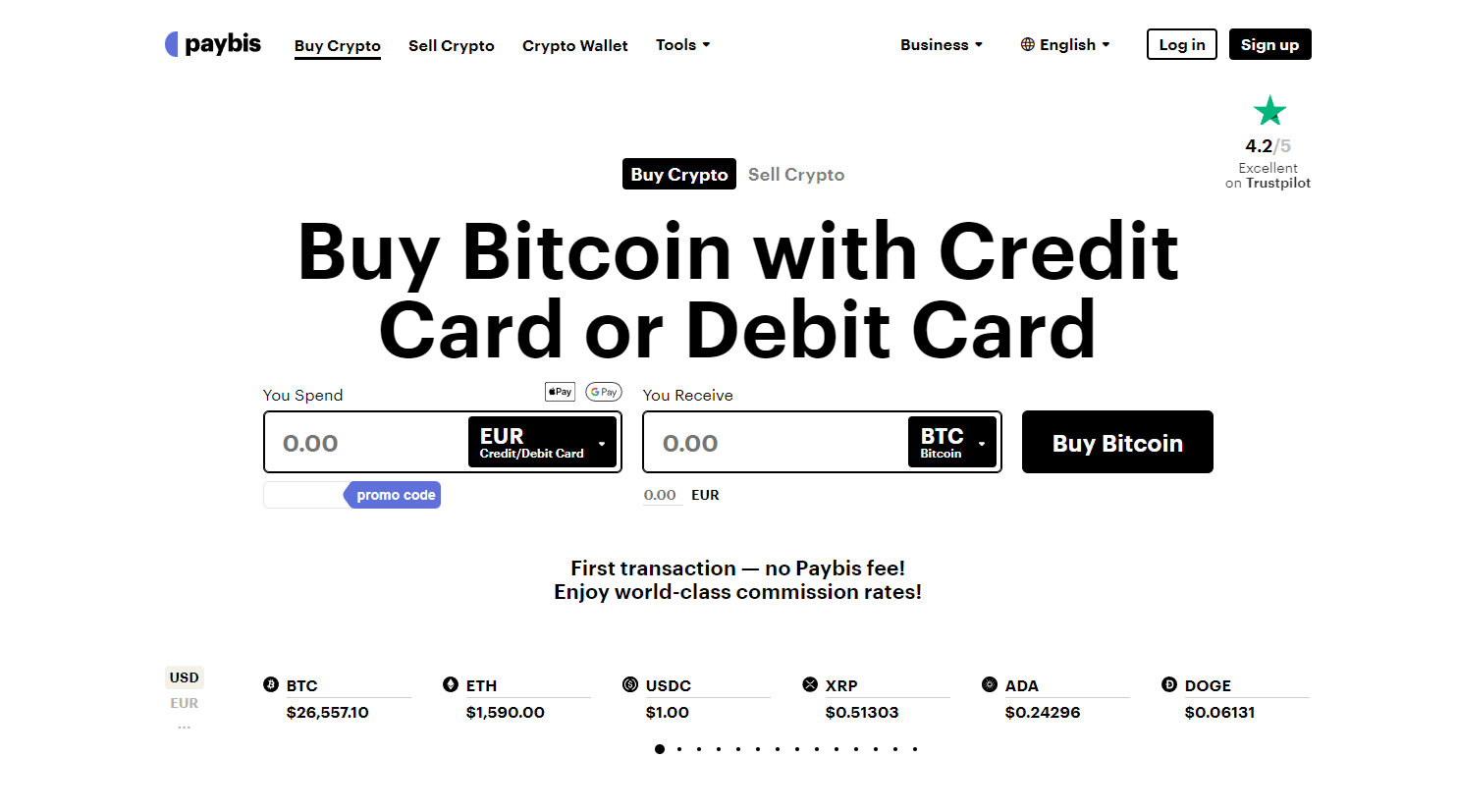 Overall Thoughts on Paybis
Paybis, a UK-based crypto exchange, has firmly established itself as one of Nigeria's most popular and top cryptocurrency exchanges. With its development dating back to 2014, Paybis has evolved into a platform that caters to the needs of experienced traders.
Regulated by the FinCEN (USA) and FinTRAC (Canada), Paybis offers a range of advanced features that set it apart from the competition while having strong regulatory standings.
Noteworthy aspects of Paybis include its highest permitted limits in the world, ensuring ample room for transactions, along with instant payouts and round-the-clock customer support. When it comes to security, Paybis excels, providing above-par security features to safeguard user assets.
As a multi-cryptocurrency trading platform, Paybis enables users to buy and sell major cryptocurrencies like Bitcoin, Ethereum, Litecoin, and more. With support for over 89 digital currencies and the ability to purchase them using 80 different payment methods, Paybis offers a comprehensive and accessible trading experience.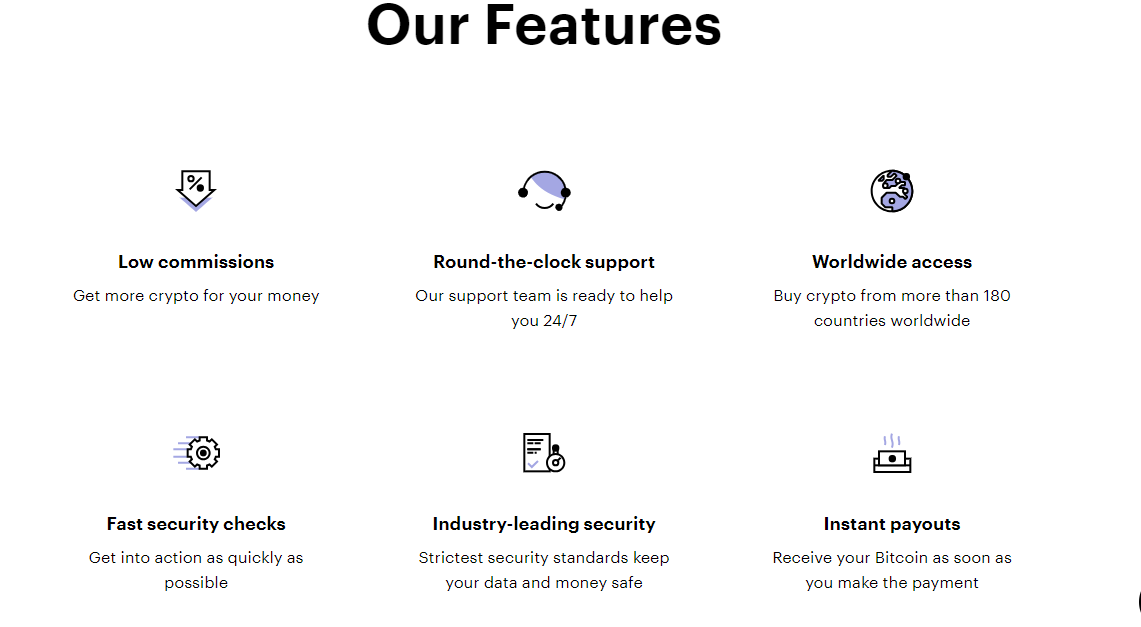 Furthermore, Paybis goes beyond trading by providing liquidity services for fintech businesses, expanding its usefulness within the digital asset ecosystem.
With support for multiple languages and availability in over 180 countries worldwide, Paybis exhibits a truly global reach. It caters to a diverse user base and ensures seamless access to its services for individuals across different regions.
Paybis Pros
Worldwide availability
Security due to KYC and AML compliance
24/7 multilingual customer support
5-star rating on Trustpilot
User-friendly website interface
Fast verification procedure and transactions
Services both for private users and businesses
Transparent fees
Paybis Cons
Support for only 80 crypto coins
Not suitable for day-trading
Paybis Services Offered
Non Custodial

In a world plagued by cryptocurrency exchange hacks, Paybis emerges as a refreshing solution. As a non-custodial exchange, it takes a unique approach by not storing any Bitcoin or digital currency assets.
With Paybis, users have full control and can decide the amount of Bitcoin they want to purchase. Simply choose a payment method, enter your wallet address, and receive the funds directly to your cryptocurrency wallet—no intermediaries involved.
Rest easy knowing that with Paybis, your Bitcoin is secure, protected from the clutches of hackers. Experience hassle-free and risk-free transactions like never before.
Supported Coins
Paybis, the renowned crypto exchange, offers a range of supported digital assets that can be purchased directly using fiat currency. With a touch of wit and charm, let's explore the exciting coins available on the platform.
Among the 10 supported cryptocurrencies, you'll find popular names such as Bitcoin (BTC), Ethereum (ETH), and Doge (DOGE). Binance Coin (BNB), Tether (USDT), Ripple (XRP), Stella (XLM), Tron (TRX), Litecoin (LTC), and Bitcoin Cash (BCH) also make the list.
While the selection may seem limited compared to some competitors, Paybis ensures that the largest cryptos by market capitalization are included.
But that's not all! Crypto investors can sell their Bitcoin for fiat currencies like the US Dollar or Euro using Skrill or Neteller. And if you're in the UK, you can cash out in GBP through a bank transfer on Paybis.
With Paybis, you can step into the world of crypto with ease, benefiting from a user-friendly platform and the opportunity to trade popular cryptocurrencies for fiat currencies. While expanding the selection of altcoins and DeFi tokens could be a future possibility, Paybis ensures that you have access to the most significant cryptocurrencies in the market.
Payment & Limits
Paybis understands that investors around the world need access to a variety of payment methods. Converting your local fiat currency into Bitcoin or other cryptocurrencies has never been easier. A wide range of payment methods are accepted, such as Visa, MasterCard, Skrill, Neteller, and Bitcoin.
For small amounts, credit or debit card purchases are the most common choice. It's instant, safe, and secure, offering convenience for quick transactions. With a limit of up to USD 20,000 per week or a maximum of $50,000 per month, you have flexibility and peace of mind.
When it comes to larger purchases, bank transfers are the recommended method. While it takes between 1 and 3 business days to complete the transfer, it provides a reliable option for significant transactions. You can enjoy a reasonable limit of €200,000 per week or its equivalent in other fiat currencies such as GBP and USD.
It's worth noting that Paybis does not support payment methods like PayPal, or Amazon gift cards for purchasing cryptocurrencies. However, there are still tons of payment options available on Paybis, including but not limited to:
Credit/Debit cards
AstroPay
Apple & Google Pay
Neteller
Skrill
We believe in offering a streamlined experience, and while these methods may have their advantages, we strive to provide a platform that meets the needs of users worldwide, comparable to global platforms like Binance and Kraken.
Fiat-To-Crypto Freedom
When it comes to purchasing cryptocurrencies with fiat currencies, Paybis shines as a true gem in the crypto world. With support for over 40 different types of fiat currencies from around the globe, including EUR, USD, CAD, JPY, and many more, the platform offers unparalleled flexibility.
Investors are granted remarkable freedom in how they utilize their fiat for transactions. Whether it's through a credit or debit card, bank transfer, Skrill, or Neteller, Paybis ensures a seamless and hassle-free experience.
Simple-to-Use Interface
Once you've created an account on Paybis, the path to purchasing cryptocurrency becomes a breeze. The user-friendly interface welcomes you with a straightforward and engaging design, perfect for beginners.
The default page presents a convenient widget, allowing you to select the payment currency, deposit method, desired spending amount, and the cryptocurrency you wish to purchase. Say goodbye to complex menus and distractions, as Paybis streamlines the buying experience for fast and secure transactions.
One remarkable feature on the Paybis website is the transparent display of commission details for each trade. Deposit fees, which may vary depending on the chosen payment method, as well as Paybis trading fees, are clearly presented. This commitment to transparency ensures you have a clear understanding of the costs involved.
Additionally, users can easily access their transaction history, allowing them to review previous orders. With just a glance, you can see the date of the transaction, the purchased coin, and the payment method used. It's a comprehensive overview that keeps you informed every step of the way.
Registration and Verification on Paybis
To embark on your trading journey and unlock the benefits of the Paybis crypto exchange platform, follow these straightforward steps:
Step 1: Visit the Official Website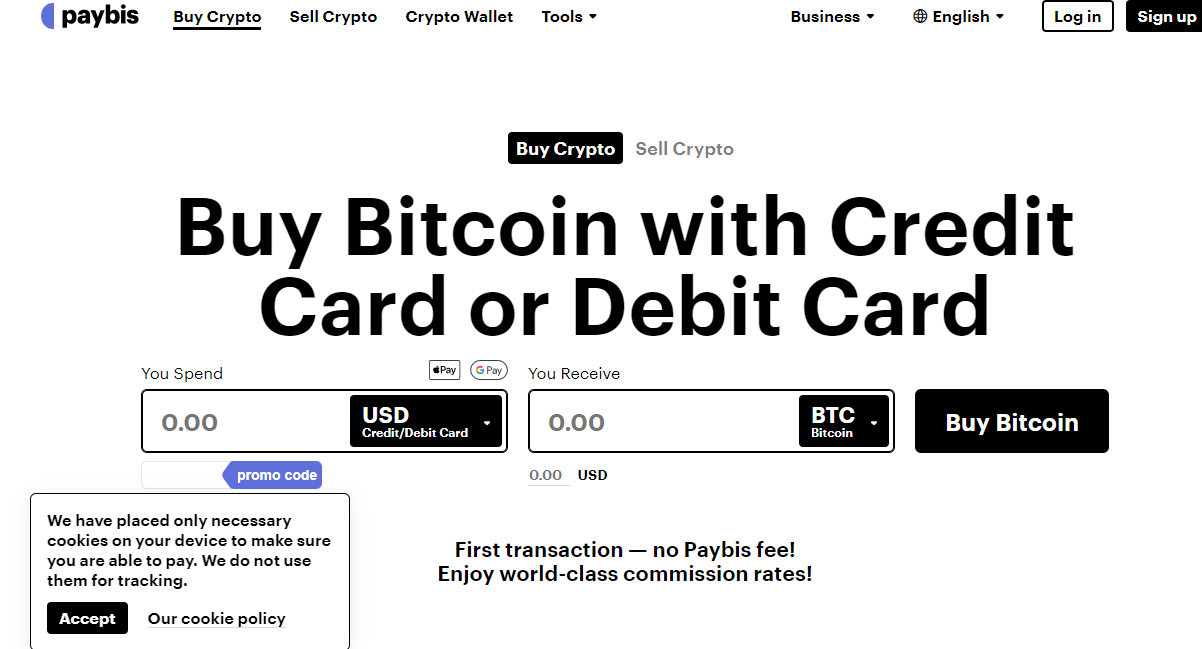 Head over to the official website of Paybis and click on the "Sign up" button.
Step 2: Fill in the Form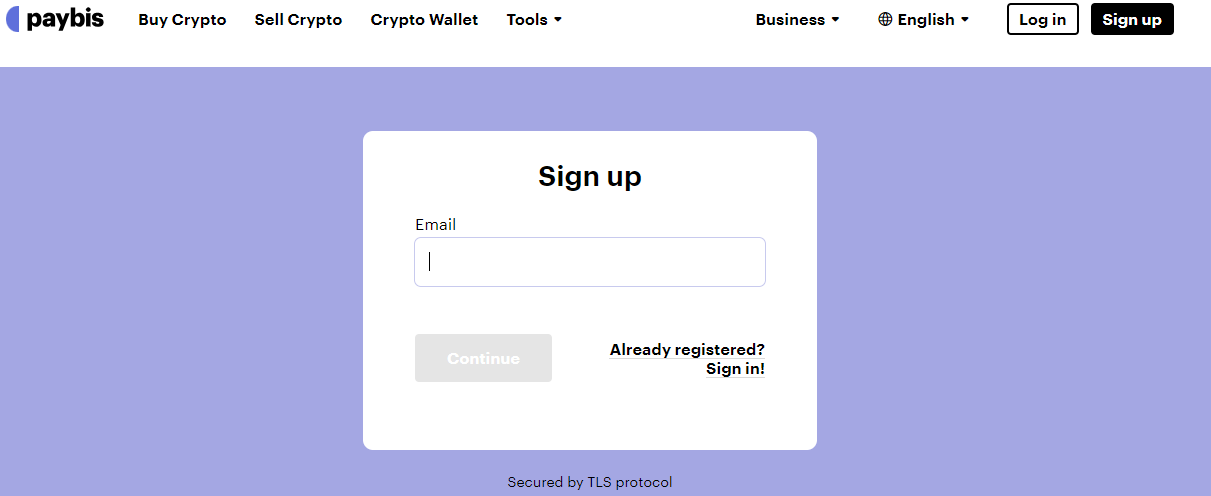 A form will appear, prompting you to enter your email ID and create a secure password. Remember to keep your password confidential for security purposes.
Step 3: Start Buying Cryptocurrencies
After providing your email ID and password, the site will redirect you to the Paybis exchange page, where you can begin purchasing your desired cryptocurrencies. It's as simple as that! Paybis offers one of the fastest registration processes, ensuring you can quickly get started.
While you can buy crypto with options like Bitcoin, Advanced Cash, Perfect Money, and Payeer after signing in, if you wish to expand your options to include Bank Transfer, Credit/Debit Card, and Skrill, additional information will be required.
Mandatory Verification Levels
Please note that Level 1 verification is mandatory to use the platform. This involves providing personal information such as your name, date of birth, address, and ID numbers. You will also need to provide a copy of your documents for verification.
For Level 2 verification, a selfie of your IDs and proof of your address are required.
Additionally, Level 3 verification entails providing further documentation for your bank account and completing a minimum number of transactions on the platform.
By following these simple steps and completing the verification process, you'll gain access to a range of options on the Paybis platform, enabling you to enjoy the benefits of cryptocurrency trading.
Affiliate Program
Ready to turn your network into a source of passive income? PayBis has the perfect solution for you – its enticing affiliate program. Signing up for this referral program opens the door to earning a generous 20% commission on all purchases made by your referrals that meet the required volume. The higher the volume, the higher the commissions.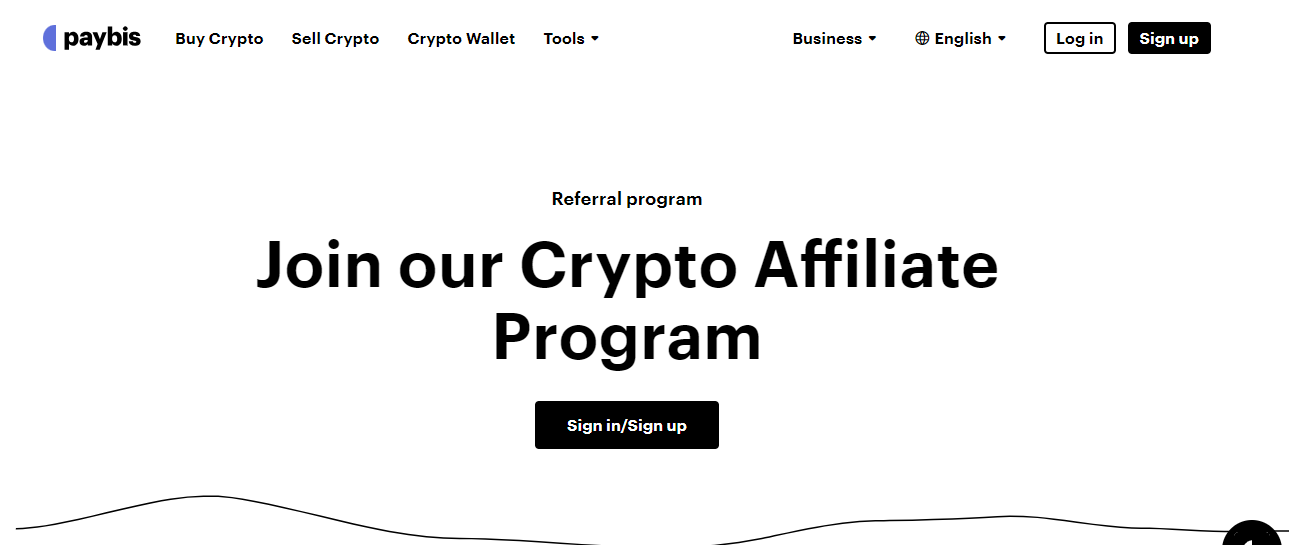 Withdrawals are hassle-free, with monthly payouts available through Bitcoin, USDT and European bank transfers. Once you join the program, you'll receive a personal affiliate link that you can use to promote PayBis services far and wide.

And the best part? The minimum payout amount for all participants is just $50, making it easier than ever to cash in on your earnings.
Educational Resources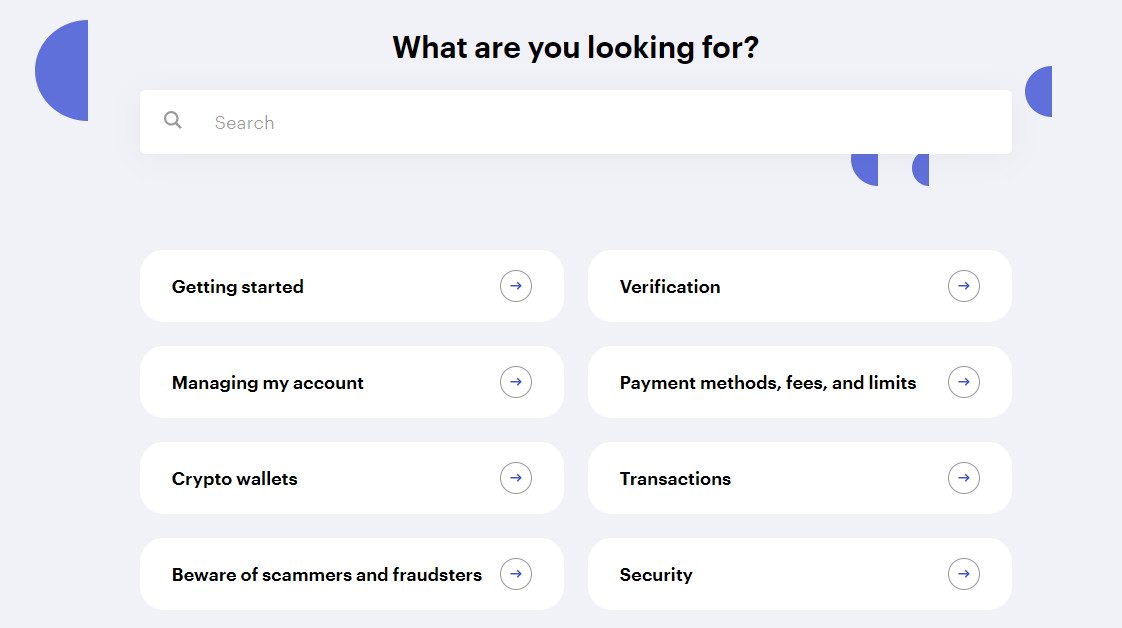 Learning the ins and outs of the crypto space is the key to transitioning from a newbie to a seasoned veteran.
And with Paybis, you have a wealth of educational resources at your fingertips. Dive into their YouTube channel, where engaging videos and tutorials unravel the mysteries of buying cryptocurrencies.
Need more guidance? Head to their support portal, offering a treasure trove of topics like getting started, security measures, and even joining their affiliate program.
Stay updated with their regularly updated blog and browse through their comprehensive FAQ page, which provides valuable insights and news on the exchange and the broader crypto industry.
Paybis Trading Features
When it comes to trading cryptocurrencies, different exchanges offer various trading views. There is no definitive "best" view as it ultimately depends on your personal preferences. You should take the time to determine which trading view suits you best.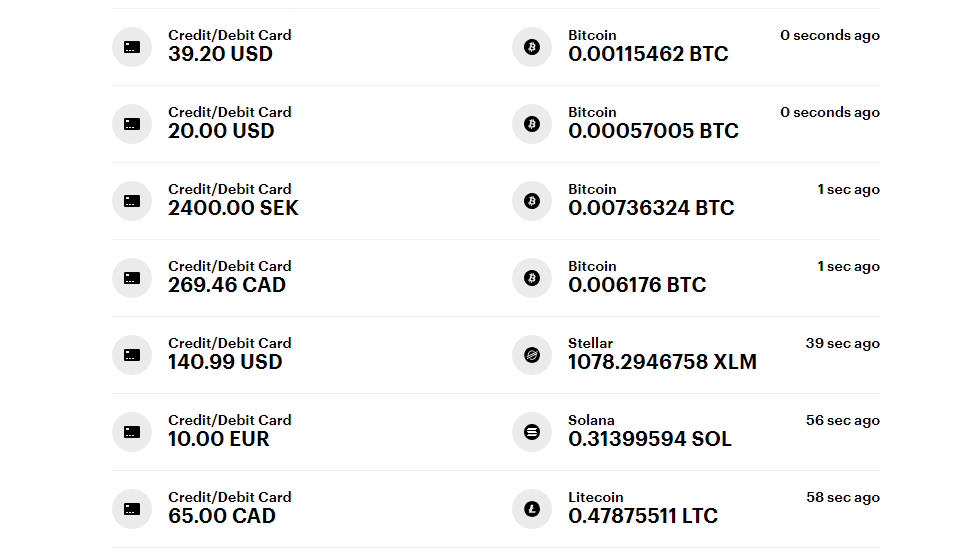 However, what these views commonly share is the display of the order book, a price chart of the chosen cryptocurrency, and order history. They also typically include buy and sell boxes. Before selecting an exchange, it's crucial to explore the trading view and ensure it feels right for you.
At this particular exchange, the trading view is simplified, featuring only an order box. While this may appeal to new crypto investors for its simplicity, it may lack some advanced features sought by experienced traders.
Exchange Fees
Paybis charges a fee that ranges from 0.99% to 4.95%, depending on your chosen payment method. These fees encompass various components, including a service fee, Paybis commissions, spread, and even blockchain network costs. It may sound like a lot, but let's dig deeper.
| TRANSACTION | PURCHASING FEES |
| --- | --- |
| Buy Bitcoin with a credit or debit card | 5% + 5% + 0.1 USD |
| Buy Bitcoin with Skrill | 3.54% + 6.95% + 0.1 USD |
| Buy Bitcoin with Advanced Cash | 3.95% + 0.1 USD |
| Buy Bitcoin with Neteller | 3.54% + 5.95% + 0.1 USD |
| Buy Bitcoin with Payeer | 4.95% + 0.1 USD |
| Buy Bitcoin via bank transfer USD (wire) | 3% + 0.1 USD |
| Buy Bitcoin via bank transfer EUR (SEPA) | 1 EUR + 1.5% + 0.09 EUR |
For those purchasing crypto with a credit card, there's a 2.49% fee along with a payment processing fee of USD 10 (or the equivalent in your currency). Smaller transactions will have a percentage-based fee, ranging from 4.5% for USD, EUR, and GBP payments, up to 6.5% for other currencies.
| Payment Type | Fees |
| --- | --- |
| Credit/debit card | 2.95% |
| Skrill | 4.95% |
| Neteller | 2.95% |
| Bank transfer | 0.99% |
While fees are inevitable, understanding them helps you make informed decisions. So, embrace the world of crypto exchanges, but don't forget to keep an eye on those fees.
Withdrawal Fees:
You don't have to pay additional fees to withdraw coins from Paybis. Cryptocurrency transfers, however, are always subject to network fees.
Paybis Security
When it comes to your hard-earned assets, security is of utmost importance. Luckily, Paybis, a reputable cryptocurrency exchange, has got you covered. As a legal and registered company in the United Kingdom, Paybis holds a FinCen license as a Money Service Business in the US.
Additionally, it is authorized to provide virtual and fiat currency exchange services in various regions, including Estonia.
Here are the features that make Paybis an incredibly safe and secure platform:
Your Funds, Your Control: Paybis does not offer a crypto wallet, meaning they don't take custody of your currency or store your funds. You remain the sole controller, with your private keys in hand. This eliminates the risk of hacking or theft, providing you with peace of mind.
Fortified Account Protection: Paybis implements 2-factor authentication to secure your client accounts. This additional layer of verification ensures that only you can access your account, keeping potential threats at bay.
Stringent AML and KYC Policies: To prevent illegal activities, Paybis has robust anti-money laundering (AML) and know-your-customer (KYC) policies in place. Before engaging in any trades on the platform, users must undergo a mandatory verification process. Furthermore, the Paybis team diligently monitors all transactions to detect and address any signs of criminal activity swiftly.
With Paybis, you can trade cryptocurrencies with confidence, knowing that your assets are protected by top-notch security measures. Enjoy the benefits of a secure platform that prioritizes your safety, so you can focus on making the most of your crypto investments.
Paybis Customer support
At Paybis, customer support is at the heart of their service. Available 24/7, they take pride in their quick response times across all platforms. Need help? The average response time for online chats is a mere ~15 seconds. Even for account verification requests, you can expect a speedy reply within ~60 minutes.
To avoid unnecessary waiting, Paybis encourages users to carefully read the information provided on the website and in subsequent emails.
Excitingly, Paybis has expanded its horizons by translating the site into five new languages in 2019. Now, you can navigate instructions and trade not just in English, but also in Spanish, Italian, French, German, and Portuguese. Stay tuned, as they have plans to add even more translations in the near future.
While the site offers translations, please note that live support is currently available in English, Latvian, and Russian languages only. Rest assured, though, that their support team is committed to providing friendly and helpful assistance regardless of the language you communicate in.
Conclusion
Paybis may not be a flawless platform, but it certainly has numerous positive aspects worth noting. Its user-friendly interface and seamless transaction system make it an excellent choice for newcomers to the world of cryptocurrency.
Additionally, its extensive support for various crypto assets and payment options caters to experienced traders seeking a diverse portfolio. While it's true that Paybis charges higher fees, these costs are justified by the platform's exceptional service quality.
Overall, Paybis is a well-equipped crypto exchange suitable for almost everyone, whether you're a seasoned trader or a recent crypto enthusiast. Regardless of your experience level, there's something to appreciate about this exchange and its offerings.
FAQ
Is Paybis Legit?
Yes, Paybis is a legitimate platform that adheres to all the necessary KYC (Know Your Customer) verification rules. It provides a safe and secure environment for cryptocurrency trading, ensuring that users can purchase crypto quickly and securely.
What Are the Fees Charged by Paybis?
Paybis charges a fee of 2.49% for the second credit card transaction. Additionally, there is a processing fee of 10 USD or an equivalent value in the desired currency for the minimum payment on all debit and credit card transactions.
Is Paybis Safe for Buying Bitcoin?
Absolutely! Paybis is a legitimate platform that is regulated under the Financial Conduct Authority (FCA) and licensed with FinCen in the US as a Money Service Business (MSB). These regulatory measures ensure the platform's compliance with security standards.