Luno, formerly known as Bitx, has emerged as a trusted platform in the cryptocurrency industry since its inception in 2013. With a global reach spanning 44 countries, Luno has experienced remarkable growth and garnered a user base of over 7 million individuals.
Its rebranding to Luno, meaning Moon, signifies the company's ambition to reach new heights in the crypto space. With offices in multiple locations, including Singapore, Cape Town, Australia, Nigeria, and London, Luno has attracted significant investment, raising over 13 million dollars from renowned names in the industry.
Join us as we explore the features and services that make Luno a go-to choice for crypto enthusiasts around the world.
Overall thoughts on Luno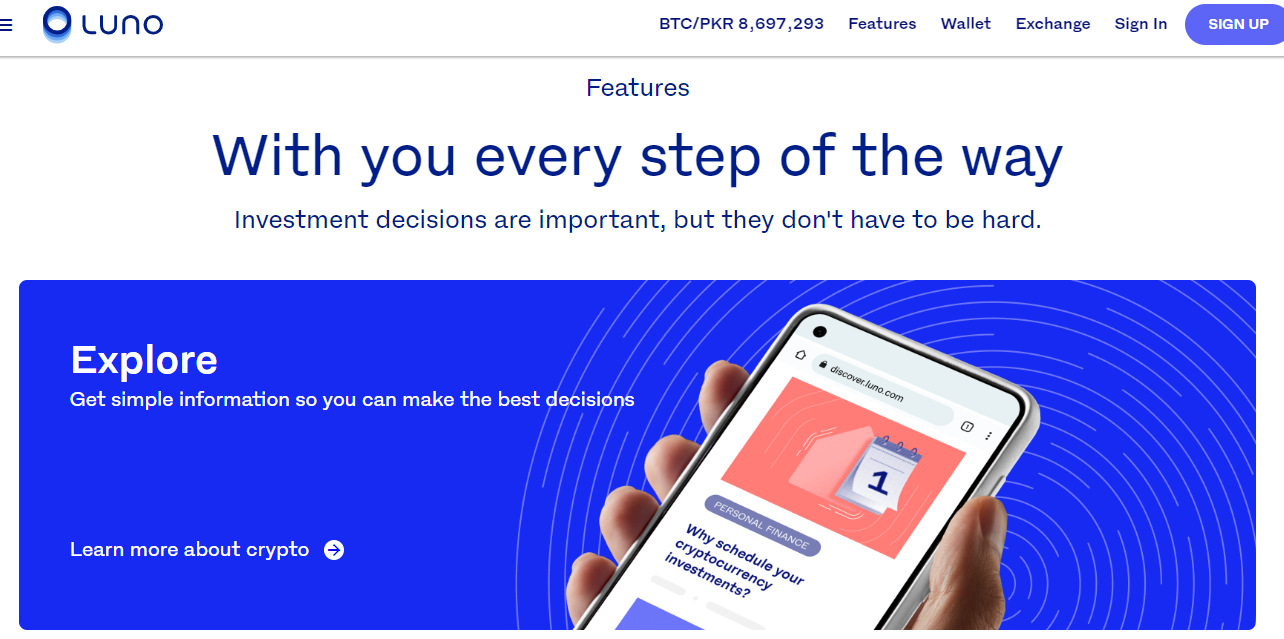 Luno, the renowned UK-based cryptocurrency exchange, has established itself as a trusted platform operating in 40 countries worldwide. With over 8 years of market experience and a staggering 7 million users, Luno has become a household name in the crypto industry.
The recent rebranding and expansion of its operations across various regions highlight the company's commitment to providing a seamless trading experience.
As a fiat/crypto to cryptocurrency trading exchange, Luno connects traders seeking to buy or sell digital assets. Notably, Luno stands out for its competitive fees and extensive support for local currencies, making it a preferred choice for many cryptocurrency enthusiasts.
With a user-friendly interface and a strong emphasis on security, Luno has garnered a reputation for reliability and customer satisfaction. Its presence in multiple countries further demonstrates its global reach and commitment to serving diverse markets.
Whether you're a seasoned trader or just starting your crypto journey, Luno offers a platform that combines simplicity with advanced trading features. The ability to trade with local currencies provides convenience, and its competitive fee structure adds value to users.
Pros
Quick and easy way to trade bitcoin against fiat currencies
Easily convert between crypto and fiat currencies
A high quality API
Secure cryptocurrency storage wallet
Send crypto and fiat email payments for free
both iOS and Android devices.
Cons
Lack of Advanced Features
Only supports 11 cryptocurrencies
Services offered on exchange
Fiat to Crypto Gateway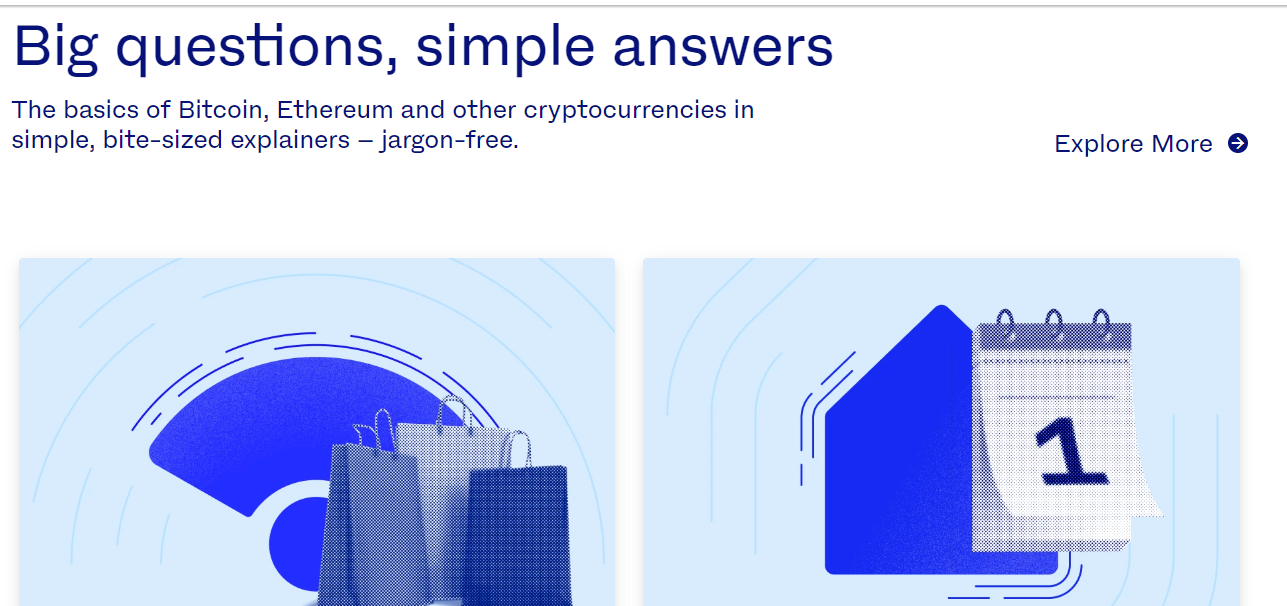 With Luno, accessing the fiat-to-crypto gateway is a breeze. Simply head to the wallet section of the platform and voila! You're ready to embark on your digital asset journey. To make things even easier, Luno provides pre-set purchase prices, ensuring quick and hassle-free transactions. Just select 'Other' and customize your investment to suit your specific needs.
Accessibility is key, and Luno understands that. That's why they allow you to spend funds from both your crypto and local currency wallets. Plus, you can link your credit or debit card to Luno and complete purchases effortlessly using your preferred payment method.
In a time where some exchanges restrict purchases in certain currencies, Luno stands out as an ideal choice for first-time investors looking to build their portfolios. Don't miss out on the crypto wave. Let Luno be your guide as you navigate the fiat-to-crypto gateway and embark on your exciting investment journey.
Supported Cryptocurrencies
When it comes to supported cryptocurrencies, Luno may not have the extensive list of unique assets for direct fiat purchases like some other exchanges. However, what it lacks in quantity, it makes up for in quality and accessibility.
With 11 supported cryptocurrencies, including popular options like Bitcoin, Ethereum, Solana, and XRP, Luno offers a solid foundation for trading.
But that's not all. Luno goes beyond the basics by providing an additional 73 trading pairs denominated in fiat currency, BTC, and USDC. This diverse selection increases the viability of Luno as a trading platform, catering to a wide range of customers that other exchanges may not fully serve.
From BTC/IDR (Indonesian Rupiah) to BTC/ZAR (South African Rand) and even BTC/EUR, Luno embraces the global nature of cryptocurrency trading. This dynamic selection of trading pairs reflects Luno's commitment to serving diverse markets and making the world of cryptocurrency more accessible to all.
Sign Up Process
Visit the Official Luno Site: Begin by heading to the official Luno website. You can easily find us with a quick online search.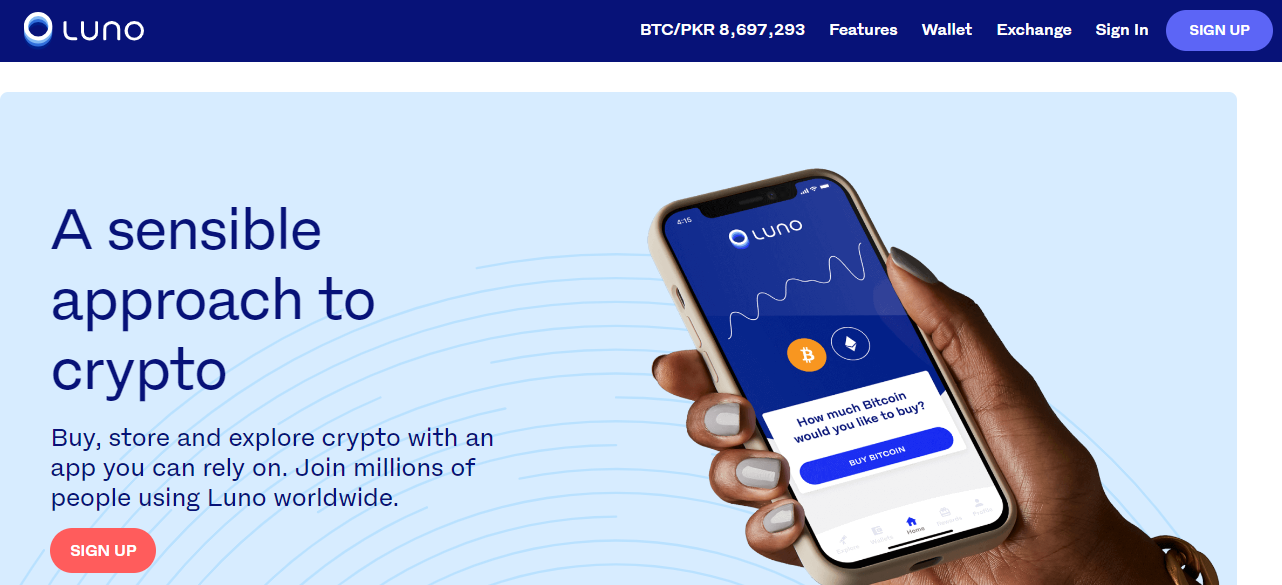 Select "Sign Up": Look for the prominent "sign up" option on the homepage. Clicking on it will take you to the account creation page.
Enter Your Details: Fill in your email address and choose a secure password. Alternatively, you can sign up using your social media accounts like Facebook, Apple, or Google. We've made it convenient for you!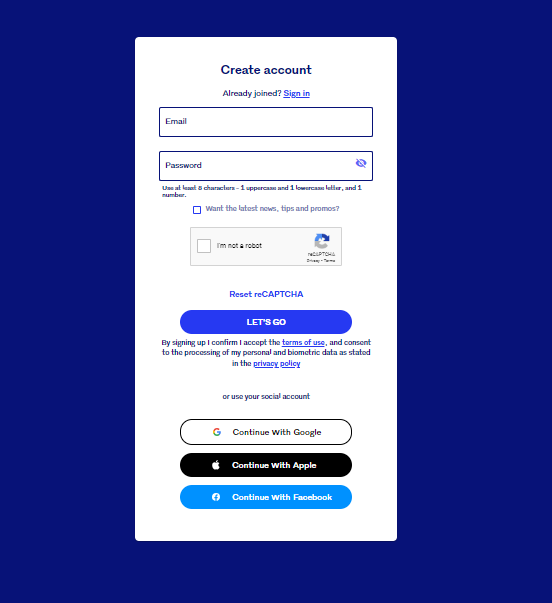 Tap "Sign Up": With your information entered, hit the sign-up button and move on to the next page.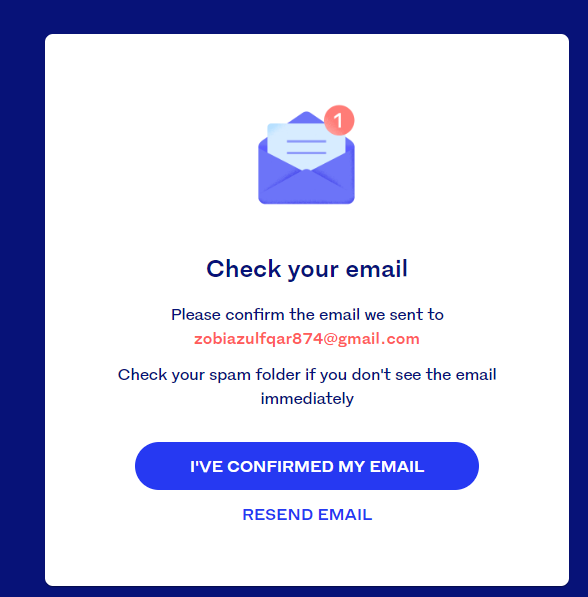 Verify Email: You will receive a confirmation email. Click on the link in the email to confirm the email address.
Access Your Account: Your Luno account is now created. You can access it through the "profile" section located at the bottom right of the screen.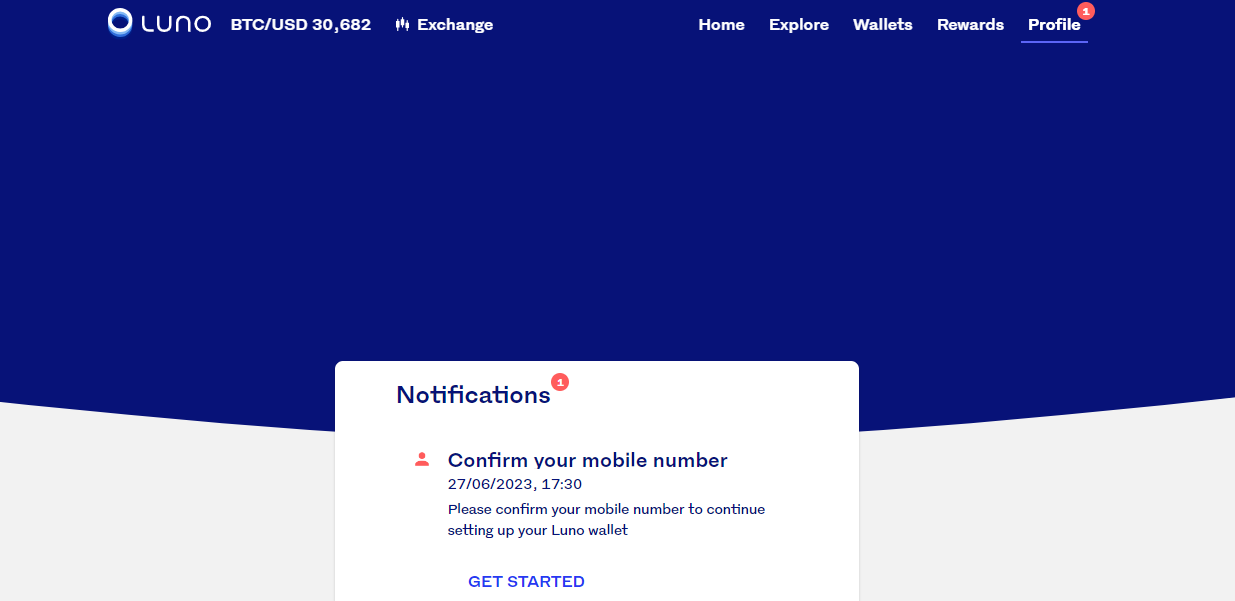 Customize Your Account: Take a moment to explore the options available in your profile. You can choose to enhance the security of your account by setting up phone verification, two-factor authentication, and a strong password.
That's it! The sign-up process is complete, and you're now a part of the Luno community.
Wallet
Knowing which Bitcoin hardware wallet to buy and setting it up can be a daunting task, especially if you're new to the world of cryptocurrency. The responsibility of securely storing your private keys and recovery phrase adds another layer of complexity.
However, with the right wallet, you can have peace of mind and full control over your funds.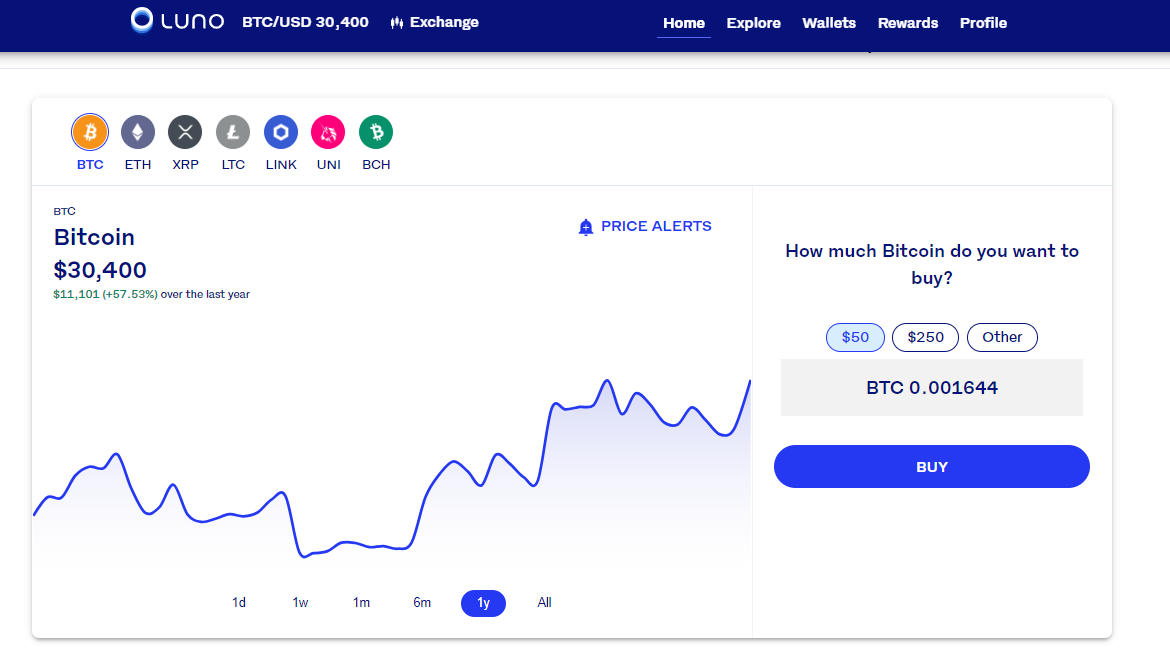 Luno,understand the challenges faced by users, which is why offer a free exchange wallet for every asset tradable on our platform. Built into Luno for convenience, these wallets eliminate the need to lock up any assets.
This feature is particularly beneficial for beginners looking to invest in small fractions of Bitcoin, as compared to other wallets that require a substantial initial investment.
What sets Luno apart is our commitment to security. We prioritize the safety of your assets by storing 95% of user funds in cold storage, with multiple layers of protection. This ensures that your cryptocurrencies are safeguarded from potential threats, providing you with the peace of mind you deserve.
Mobile App
Luno has developed a mobile app available for both Android and iOS devices, offering convenience and accessibility to users on the go. Although the app has received a solid rating of 4.5/5 on the App Store, it lags behind on the Play Store with a rating of 3.8/5, suggesting room for improvement in terms of Android optimization.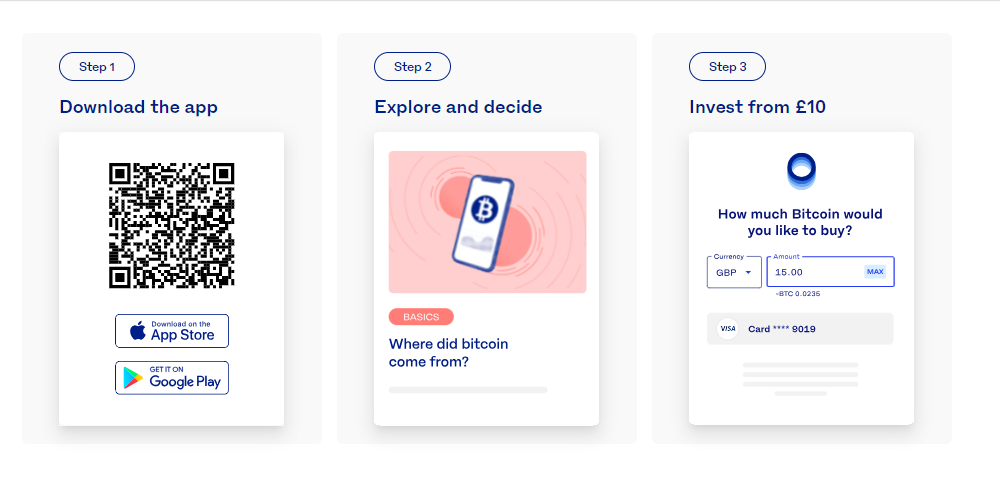 The app features a user-friendly interface with a bottom navigation menu, allowing easy access to each feature. It demonstrates high responsiveness, ensuring quick loading times and a streamlined workflow.
The fiat-to-crypto gateway, like the web platform, is seamlessly integrated into the wallet section, enabling smooth transitions between platforms and effortless crypto purchases with just a few clicks after linking a payment method.
However, the app lacks certain advanced charting tools and fullscreen options for in-depth analysis, which may require users to rely on external charting websites or apps to devise strategies.
Overall, Luno's mobile app provides a convenient means of accessing the platform's functionalities, but there is room for further optimization and improvement to enhance the user experience.
Trading Features
One of the most crucial aspects of any exchange is the speed and efficiency of its trading platform. When it comes to trading features, a user-friendly and intuitive platform is key to ensuring a seamless experience for both novice and experienced traders.
The order forms are conveniently placed below the charts, accompanied by the order book on the left side. Users can easily switch between bar charts, line charts, or market depth, depending on their preference.
It's important to note that the platform lacks a lighter "day version" option, meaning traders are stuck with a black background and darker colors. Some traders have expressed difficulty reading light fonts on dark backgrounds, which may be a slight inconvenience.
Despite these limitations, the Bitcoin order book appears to be relatively healthy for BTC/ZAR trading pairs, allowing for larger transactions with minimal price impact. However, it's worth noting that the liquidity and trading conditions may differ for other pairs such as IDR or MYR.
On the positive side, order placement on this platform is swift, ensuring that your orders are executed almost instantaneously.
Exchange fees
Spot Trading Fees
In response to increasing trading volume, buyers (makers) and sellers (takers) pay lower trading fees.
| Market | Maker Fee | Taker Fee |
| --- | --- | --- |
| BTC/EUR | 0.00% | 0.25% |
| BTC/IDR | 0.00% | 0.20% |
| BTC/MYR | 0.00% | 1.00% >BTC 0.00* 0.75% >BTC 10.00* 0.50% >BTC 100.00* |
| BTC/NGN | 0.00% | 1.00% >BTC 0.00 0.75% >BTC 10.00 0.50% >BTC 100.00 |
| BTC/ZAR | 0.00% | 1.00% >BTC 0.00 0.75% >BTC 10.00 0.50% >BTC 100.00 |
| ETH/BTC | 0.00% | 0.25% |
Withdrawal Fees (Crypto)
Depending on the fiat currency and the traffic on the network, the fee will vary.
Withdrawal Fees (FIAT)
Australia – Free ($1.30 for amounts below $50.00).
‍Europe – €0.30.
‍Indonesia – Rp 15,000.00.
‍Malaysia – RM 0.10.
‍Nigeria – Withdrawals are not supported in Nigeria.
‍Singapore – $2 on Bank Transfers and free for StraitsX transfers.
‍South Africa – Free.
‍Uganda – Sh 2,000.00.
‍United Kingdom – Free.
‍United States – Free.
Security
To ensure the safety of its users, Luno has implemented various security measures. Client funds are stored in cold storage, minimizing the risk of unauthorized access. Luno also follows a strict data protection policy, storing minimal customer data.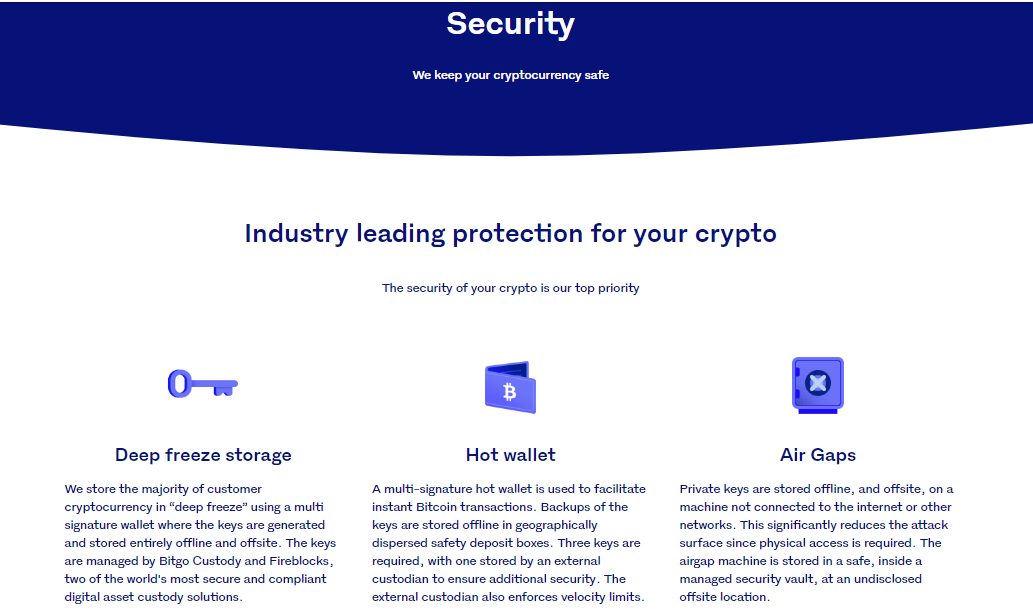 To add an extra layer of protection, users are required to set up Two-Factor Authentication (2FA) for their accounts. When logging in from a new device, additional verification steps, such as email and text confirmations, are required to establish trust.
Customer Support
When it comes to customer support, Luno understands the importance of a friendly and engaging approach. Their virtual assistant, Toshi, is designed to direct you to relevant articles from the help center, offering quick and convenient solutions to your problems.
If you prefer a more hands-on approach, you can browse the help center's articles, which often include short video guides. Additionally, Luno offers live chat support, where you can request assistance from an advisor through the virtual assistant.
Conclusion
Luno manages to stand out in the crowded world of crypto exchanges with its unique persona and range of features. Despite occasional malfunctions during cryptocurrency withdrawals and the absence of email support, Luno offers support for less popular fiat currencies, operates in 44 countries, and supports multiple cryptocurrencies.
The platform's user-friendly interface, instant buy-sell functionality, bank account transfers, and business account options contribute to a quality user experience. Luno's attention to detail, such as personalized charges based on user details, adds to its appeal.
With a responsive customer support system and a seamless mobile app, Luno proves to be an ideal choice for both beginners and experienced traders in the crypto market.
FAQ
How reliable is Luno as a cryptocurrency exchange?
Luno is highly regarded as one of the most popular exchanges, known for its compatibility with multiple cryptocurrencies and fiat currencies.
Is it possible to experience financial losses on the Luno exchange?
Luno has a reputation for not being involved in scams or fraudulent activities, which adds to its credibility and reliability as an exchange.
Is Luno a legitimate platform or a fake exchange?
Luno is a legitimate and reputable cryptocurrency exchange. It offers a secure environment for trading cryptocurrencies and has gained the trust of many users.
Does Luno require KYC?
Yes, Luno requires KYC verification. All users must verify their identity in order to use Lunos services