Although inspired by Dogecoin, Shiba Inu is an entirely different crypto coin that offers various investment perks. Originally, starting from the "Doge" meme, Shiba Inu got attention due to its different framework and Proof-of-Stake structure as well as a burning mechanism.
So, considering this crypto coin's reward and passive income potential, you may want to start investing in it soon. But the problem is, where to buy Shiba Inu? This guide will take you through the complete process, from the best marketplace for purchasing to step-by-step methods of buying. So, let's get into it!
Shiba Inu: Overview
Shiba Inu is a cryptocurrency based on the Ethereum Blockchain Network. It is mostly confused with Dogecoin as both are meme coins originating from the Doge meme "Shiba Inu" (Japanese hunting dog's breed). But the Shiba Inu coin is different from its Dogecoin counterpart, as the former works on a Proof-of-Stake structure, while the latter requires mining. Below is a short overview of Shiba Inu:
| Symbol | $SHIB |
| --- | --- |
| Founded | 2020 |
| Structure | Proof-of-Stake (PoS) |
| Network | Ethereum Blockchain Network |
| Token Built | ERC-20 |
| Available Tokens | 589, 735, 030, 408, 323 SHIB |
| Shiba Inu NFTs | Available |
| Transaction Time | 10-15 Minutes |
| Average Trading Fee | 0.01% – 0.06% |
A Brief History
Shiba Inu was recently created in 2020 when the crypto market was booming. But its founder is an anonymous Ryoshi. Initially, it was launched with a massive supply volume of 1 quadrillion. But later, the coin's founder decided to send half of the total supply to Vitalik Buterin (Ethereum co-founder).
Ryoshi stated about the transfer, "there is no greatness without a vulnerable point," which can be nothing less than a publicity stunt to get attention. But its true popularity surge came in May 2021. So due to immediate success, Ryoshi started ShibaSwap in July 2021 (its decentralized exchange platform). It also reached its highest value that year (1 SHIB = $0.00008845) but dropped more than 75% soon.
What is the Best Place to Buy SHIB?
Shiba Inu is available on various exchange platforms, but the best place to buy SHIB is MEXC. The platform started in 2018 and currently serves more than 170 countries. Since millions of people trust the security and efficiency of MEXC, there are more than 10 million users of the platform (and counting).
Other than Shiba Inu, you will have 1100+ supported cryptocurrencies to buy, sell, exchange, and invest in. And with the powerful servers and trading engines for such a vast number of crypto coins, the exchange can hold up to 1.4 million transactions per second. Below are the major reasons why you should choose MEXC to buy SHIB.
1. Lowest Fees
Unlike other platforms that charge high fees for each transaction, MEXC offers an average of 0.02% transaction fee. The platform works on a cost-effective maker-taker model, which rewards liquidity providers with lower fees than takers. There are no trading fees for makers, while the taker fee is 0.01% for spot traders and 0.02% for future traders.
2. High Volume & Liquidity
The platform offers high trade volumes for Shiba Inu investors to grab the maximum tokens. It is due to the user-friendly interface and easy investment monitoring tools. Also, the speedy trading engines make high SHIB market trades.
Another factor is the high liquidity of the crypto coin, which reflects the large availability of buyers and sellers on the exchange. It ensures that the traders can execute transactions quickly and at fair prices.
3. Secure & Private
MEXC has multiple layers to protect your Shiba Inu coins from malicious attacks. First, you get two-factor authentication, where your account is inaccessible unless you verify the generated code from your device. Next, the platform has SSL certification and industrial-standard encryptions to prevent penetration.
Moreover, the platform stores its data in cold wallets that are offline and not connected to the internet. This makes it virtually impossible for hackers to steal your assets remotely.
4. Easily Accessible
Although hackers will have difficulty accessing your data, it is easier for you to log in to your account from anywhere and buy Shiba Inu coins. The platform's mobile application is available on Play Store and App Store. Also, you can log in through their website on your PC.
How to Purchase SHIB?
Step #1: Create an Account
If you want to purchase Shiba Inu through MEXC, you must create an account and provide Know Your Customer (KYC) verification.
Use MEXC mobile application to register.
Sign up through your email address.
Create an account by using your mobile number.
Verify your account (KYC) for additional security
Once you create the account, you will two main options to purchase SHIB. If you already have cryptocurrencies like USDT, you can send them to MEXC and buy SHIB on the spot market.
Step #2: Select Your Purchase Method
At MEXC, you will have multiple methods to purchase SHIB, but the most convenient method is depositing USDT beforehand or buy it from MEXC direclty. You can easily deposit USDT into your MEXC account and use it to buy SHIB whenever needed. Just follow the steps below:
Log in to your account through the application or website.
Click on the "Wallet" section at the bottom right.
Search for USDT to depoist
Once selected the token, select "Click to Generate Address" to get the recharge address.
Once you get it, send the USDT to your address
Enter the account address in the pop-up window and follow the prompts to deposit funds.
Go to MEXCs spot page and search for "SHIB"
Buy Shiba Inu
If you dont own any USDT yet, you can buy them from MEXC directly with your local FIAT currency like $ or €. MEXC supports most currencies.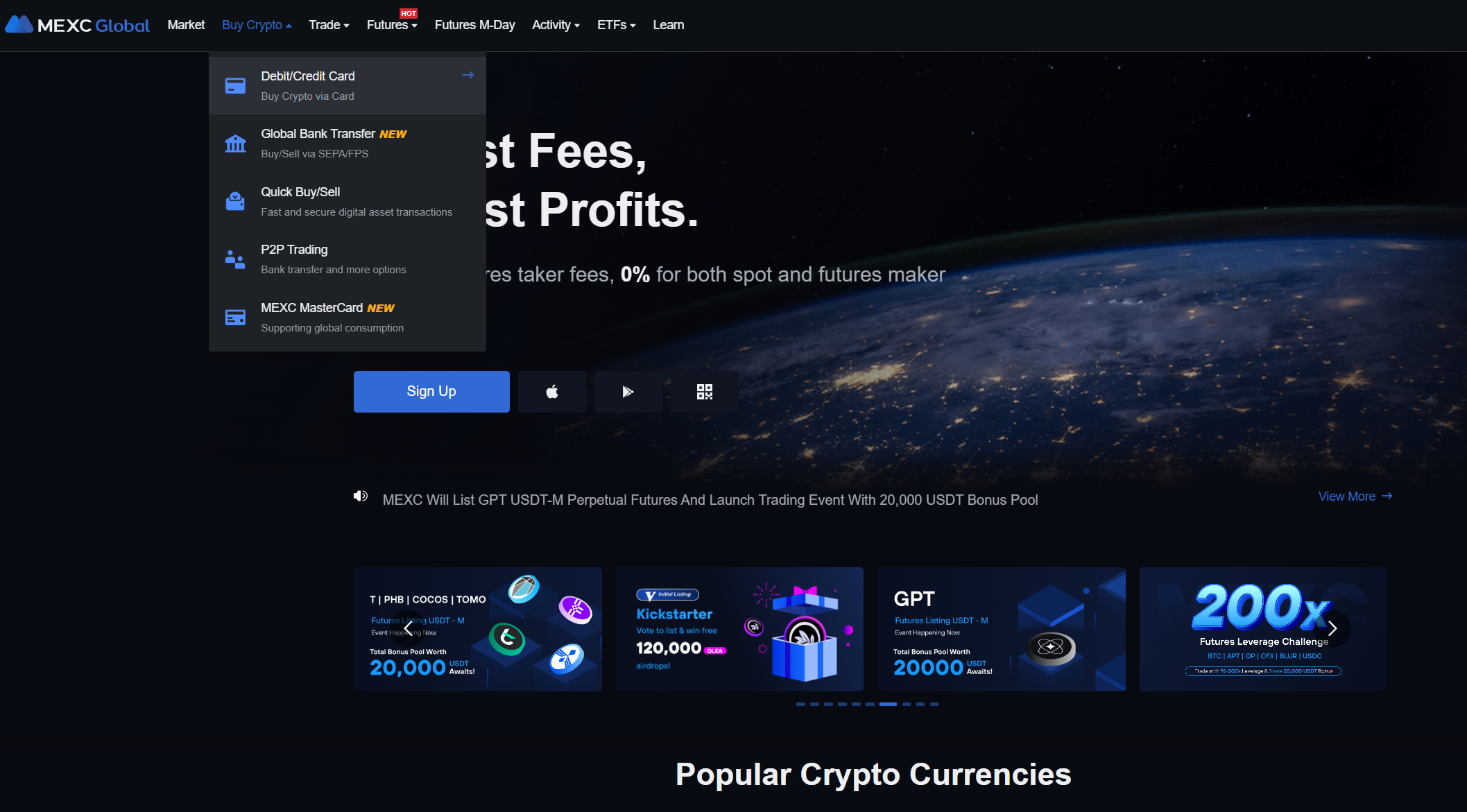 Click on the "Buy Crypto" button in the top left corner and select one of the payment methods described below:
You can use a credit/debit card to make the purchase.
You can buy the coin from other Shiba Inu users due to peer-to-peer trading.
You can pay for your crypto coin directly through a bank transfer via SEPA and FPS.
You can purchase with a third-party payment service, like Banxa, Simplex, or Mercuryo.
After purchasing the coin, store and hold your SHIB on your MEXC Wallet or transfer it to a different platform via blockchain transaction. However, the best practice will be holding onto your coin for staking rewards and passive income.
Conclusion
Shiba Inu might be confused with Dogecoin, but it is better due to its PoS nature. Despite its low market value, you can get numerous benefits like rewards and passive income by investing in it.
The best place to buy SHIB is MEXC, which offers low trading fees, high security, volume, and liquidity. Just create a MEXC account, select Shiba Inu and your payment method, and get your SHIB coin in no time.