Delta Exchange is a well-known online coin derivatives trading platform that has become a hot topic in the cryptocurrency community. In recent years, the growing demand for derivative platforms for short and long positions has made Delta quite relevant.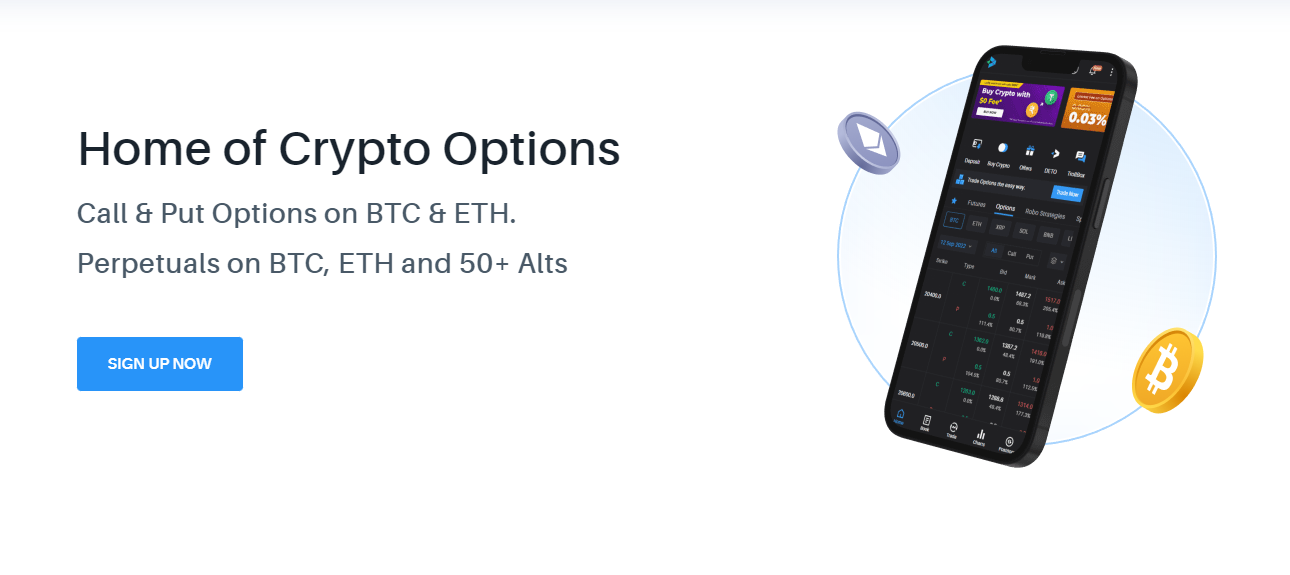 In this comprehensive review, we look at Delta, a popular cryptocurrency exchange that caters to traders of all skill levels. Discover its simple mobile app, user-friendly interface, diverse selection of cryptocurrencies, sophisticated trading tools, stringent security measures, and simple mobile app. Learn why Delta is a popular choice among cryptocurrency traders seeking a smooth trading experience.
History of Delta Exchange
Delta Exchange is a cryptocurrency derivatives exchange that was founded in 2018. Pankaj Balani, Jitender Tokas, and Saurabh Goyal initially founded the platform to provide professional-grade trading tools and other products to the cryptocurrency community.
While headquartered in Singapore, the exchange serves traders from all over the world. Due to its commitment to innovation and user-centric approach, it has quickly gained traction in the cryptocurrency sector.
Delta Exchange has earned a reputation for its solid infrastructure and sophisticated trading features. The exchange team is made up of experienced professionals from finance and technology backgrounds who bring a wealth of knowledge to the platform. Over the years, Delta Exchange has established partnerships and collaborations with prominent players in the cryptocurrency space, increasing its credibility and user base.
Trading: What can I do with Delta Exchange?
Delta Exchange provides cryptocurrency traders with a variety of trading options and features.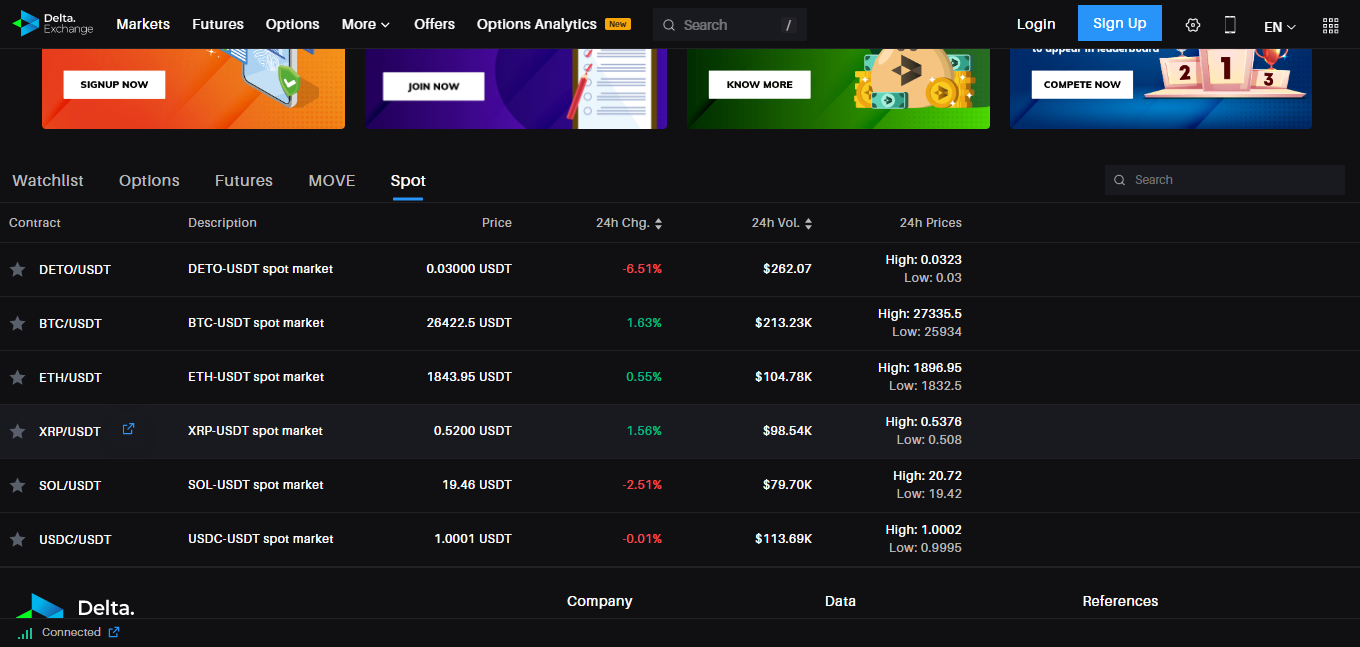 Here are some of the activities available on Delta Exchange:
Spot Trading: You can trade various cryptocurrencies on Delta Exchange in the spot market. Directly from the exchange, you can buy or sell cryptocurrencies such as Bitcoin (BTC), Ethereum (ETH), Ripple (XRP), and others.
Futures Trading: Delta Exchange specializes in trading cryptocurrency futures. You can engage in leveraged trading by entering into futures contracts, which allow you to speculate on future cryptocurrency price movements. Futures trading on Delta Exchange allows you to use leverage to go long (profit from price increases) or short (profit from price decreases). The exchange offers over 50 different Futures trading pairs.
Perpetual Swaps: Delta Exchange offers perpetual swaps. Like futures contracts, perpetual swaps allow you to leverage trading positions but don't expire. Perpetual swaps allow you to trade cryptocurrencies with leverage and throw other features into the mix such as funding rates and premium indexes.
Options Trading: Delta Exchange is largely marketed as an Options trading platform. With options, you have the right, but not the obligation, to buy or sell a specific amount of cryptocurrency at a predetermined price (strike price) within a specified timeframe. Options trading can be helpful in hedging strategies or capitalizing on market volatility.
Margin Trading: Delta Exchange allows you to trade with leverage, meaning you can open positions with a higher value than your available capital. This increases potential profits while also increasing risk. Margin trading on Delta Exchange necessitates effective risk management strategies.
Demo Trading: Delta Exchange provides a demo trading feature that allows you to practice trading strategies and become acquainted with the platform's functionality without using real money. This is a useful feature for new traders to gain experience before trading with real money.
Supported Cryptocurrencies
Delata exchange supports over 100 digital assets. You can trade 80 different cryptocurrency pairs on the platform's futures market. The diverse exchange offers 80 different trading pairs There are some of the most commonly traded cryptocurrencies available on Delta Exchange:
Bitcoin (BTC)
Ethereum (ETH)
Ripple (XRP)
Litecoin (LTC)
Bitcoin Cash (BCH)
Cardano (ADA)
Polkadot (DOT)
Chainlink (LINK)
Stellar (XLM)
EOS (EOS)
Tezos (XTZ)
Uniswap (UNI)
Aave (AAVE)
Yearn. finance (YFI)
Compound (COMP)
Synthetix (SNX)
Maker (MKR)
Options Trading
In 2020, Delta rolled out MOVE Options which allows traders to turn profits by speculating the volatility of crypto assets. Traders can leverage this feature to bet on future changes in the price volume of popular digital assets. Currently, Delta supports only two Options products: BTC and ETH.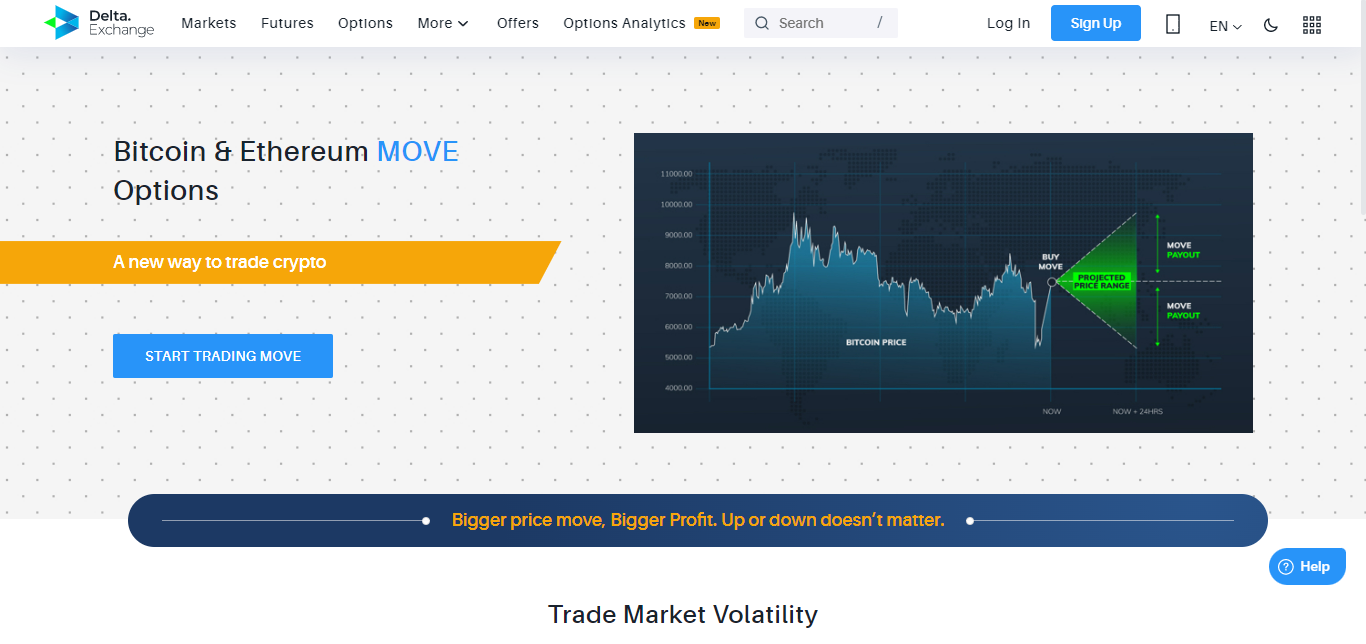 Here's an in-depth discussion on options trading and why it stands out as one of Delta Exchange's most attractive features:
What are Options: Options are financial derivatives that give traders the right, but not the obligation, to buy (call option) or sell (put option) a specific asset (in this case, cryptocurrencies) at a predetermined price (strike price) within a specified timeframe (expiration date).
Flexibility and Risk Management: Options trading offers traders a wide range of strategies to suit their risk tolerance and objectives. With options, you can protect your portfolio against potential downside risks (hedging), generate income from existing positions (covered calls), or speculate on price movements in a cost-effective manner.
Leverage and Limited Risk: Options trading on Delta Exchange allows you to trade with leverage, amplifying your potential returns. However, one significant advantage is that options have limited risk. The most you can lose is the premium you paid to purchase the option, unlike futures trading, where losses can be unlimited.
Buying and Selling Options: Delta Exchange enables both buying and selling (writing) options. Buying options provides the opportunity to profit from market movements while limiting downside risk. Selling options, on the other hand, allow you to collect premiums from buyers and benefit from time decay and favorable market conditions.
Option Types: Delta Exchange offers various types of options, including European options (can only be exercised at expiration) and American options (can be exercised at any time before expiration). They also provide options with different expiration dates, allowing traders to select options with suitable time horizons.
Option Pricing and Volatility: Options are priced based on factors such as the underlying asset's price, strike price, time remaining until expiration, volatility, and interest rates. Delta Exchange provides real-time options pricing and volatility information, allowing traders to make informed decisions.
Futures Trading
Delta Exchange futures trading provides leverage, risk management tools, and market access. It is important to note, however, that futures trading entails inherent risks, and traders should have a thorough understanding of the market and use appropriate risk management strategies.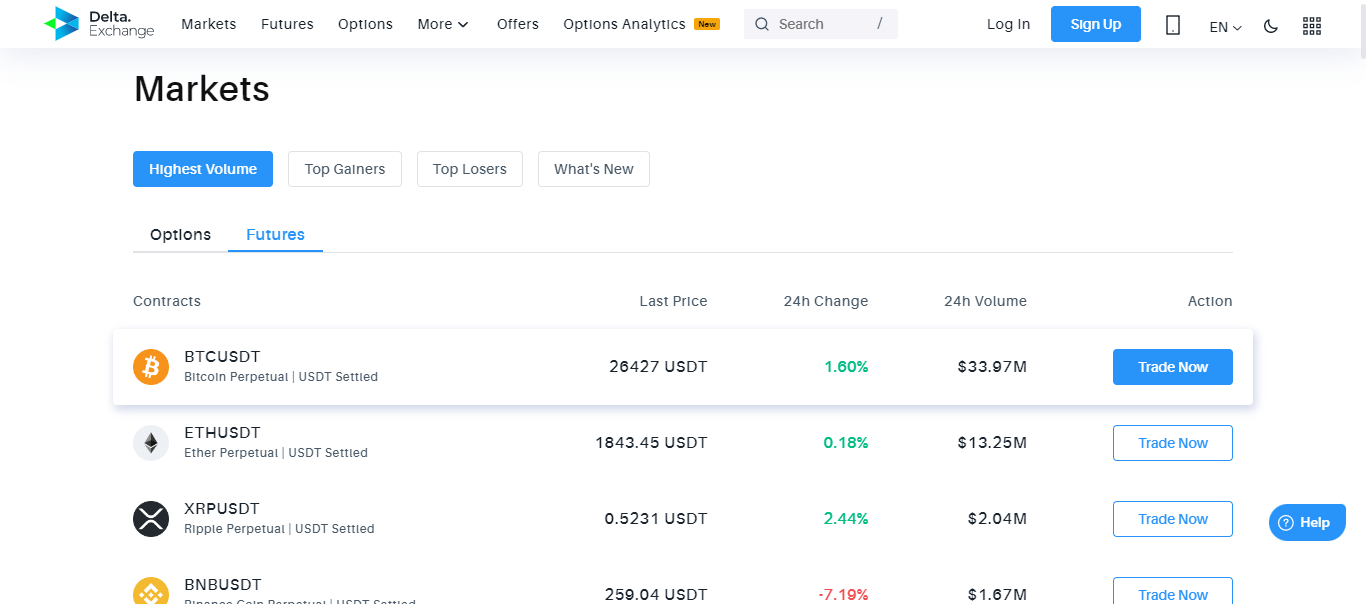 Delta Exchange Account Funding
Currently, the only accepted payment method on Delta Exchange is Bitcoin wallet transfers. Other payment methods or currencies are not accepted.
Cashout Policy
To close any open position on the Delta Exchange, locate the relevant trade in your order book and proceed to complete your position. If you want to withdraw your funds, simply provide the relevant wallet address, and Delta will process your withdrawal within 24 hours.
Delta Exchange Fees: Is Delta Exchange Affordable?
Delta Exchange does not charge a fee for crypto deposits. The standard spot and options trading fee for takers and makers is 0.05% and 0.03% respectively. While the platform does not charge withdrawal fees, you must pay the network fee for the dedicated cryptocurrency used to pull out funds. You can withdraw in the Delta's native token, DETO, as well as other popular cryptocurrencies such as: USDT, BTC, ETH, and more.
Security: Is Delta Exchange Safe?
Delta Exchange implements advanced security measures across its trading platform. Although the platform is not regulated, an experienced team of cybersecurity engineers provides secure network solutions to prevent data theft. So far, the platform has never been the victim of a successful cyberattack, which gives both new and existing users confidence.
After creating an account with Delta, you must provide a strong password containing characters, symbols, and numbers. Before you create an account, the platform will display the strength of your chosen password.
In addition, Delta uses two-factor authentication (2FA) to provide an extra layer of security on top of your password. That way, an unauthorized user cannot gain access to your account even if they got a hold of your password. 2FA is a popular security feature in banks and other online platforms.
Licensing and Support: Is Delta Exchange Legit?
The Delta Exchange, like many other crypto trading exchanges, is unregulated. Many find this feature attractive since, in that way, the trading platform is free from third-party interference. In other words, Delta operates more like a decentralized entity. Though certain deposit methods require identity verification, the delta exchange does not report to any regulatory body. Delta Exchange is one of the most secure places to purchase futures and other derivatives at a fixed price.
Special Features: Why Should I Choose Delta Exchange?
The primary goal of this exchange is to make users' crypto derivatives accessible to new and experienced traders. It also provides Bitcoin and altcoin derivatives. Within a short period, this exchange has become a well-known and established platform as a secure crypto derivatives exchange with a large customer base. One of the primary differences between this exchange and others is the many altcoin options in its derivative product offerings. This platform offers traders a diverse selection of perpetual contracts to choose from. It also includes products based on Tezos, ATOM, BAT, and RVN, a few cryptos that are only available on this platform.
Liquidity Pool
Liquidity pools are collections of funds supplied by users and locked into smart contracts on decentralized platforms. These liquidity pools support various trading pairs or lending protocols. Users receive fees or interest on their deposited funds in exchange for providing liquidity.
The very first advantage the liquidity pool model has over traditional order books is the uninterrupted supply of liquidity for traders on decentralized exchange platforms. You can make passive income on Delta by adding funds to its liquidity pool.
User Guide
Since Delta Exchange was founded not too long ago, it is yet to establish a strong reputation founded so recently. The early signs are encouraging, with the majority of online users applauding its efforts to provide a seamless Bitcoin futures trading experience.
Those seeking assistance from Delta Exchange have several convenient options. The live chat option, which is available to both new and registered users, is the quickest way to contact a Delta representative.
In some cases, such as requesting the reset of the 2FA, users would be required to send an email to Delta's customer service team.
Furthermore, the platform provides a comprehensive Support Centre and Platform User Guide. Using these resources, users can obtain immediate answers to common questions.
Delta Exchange

Pros and Cons
| Pros | Cone |
| --- | --- |
| Several innovative futures products are available. | Does not allow for altcoin or fiat currency deposits and withdrawals |
| Great design and functional UX | Low liquidity |
| Favorable trading fees | A limited selection of products |
| Available in different languages | |
KYC and Verification: How Do You Create a Delta Exchange Account?
A Delta Exchange account can be opened in a short time and with ease. Here's a step-by-step approach to registering and completing the KYC (Know Your Customer) verification:
Visit the Delta Exchange website: Go to the official Delta Exchange website using your preferred web browser.
Select "Sign Up": To start the account creation process, look for the "Sign Up" or "Register" button on the homepage and click on it.
Provide your email and password: Enter your email address and create a strong password for your Delta Exchange account.
Agree to Terms of Service: Read and agree to the platform's Terms of Service and any other relevant policies.
Verification email: After submitting the sign-up form, check your email inbox for a verification email from Delta Exchange.
Click on the verification link provided in the email to proceed.
Complete the KYC process: Once your email is verified, you'll be directed to the KYC verification process.
Delta Exchange requires users to complete KYC to comply with regulatory requirements and ensure the security of the platform.
Personal information: Provide the necessary personal information as requested during the KYC process.
Identity verification: Delta Exchange may require you to upload scanned copies or clear photographs of identification documents.
These documents can include your passport, driver's license, or government-issued identification card.
Make sure to follow the instructions and guidelines provided by Delta Exchange for document submission.
Submit verification documents: Upload the required documents through the secure interface provided by Delta Exchange.
Ensure that the documents are clear, legible, and meet the platform's specifications.
Wait for verification: After submitting the documents, you will need to wait for the verification process to be completed.
Delta Exchange's team will review the information and documents provided to confirm your identity.
Account activation: Once the verification process is complete, you will receive an email saying your Delta Exchange account is active.
KYC Policy
Delta Exchange set up a KYC (Know Your Customer) policy to ensure regulatory compliance and a secure trading environment. This procedure aids in the prevention of fraudulent activities, money laundering, and other illegal activities within the cryptocurrency ecosystem.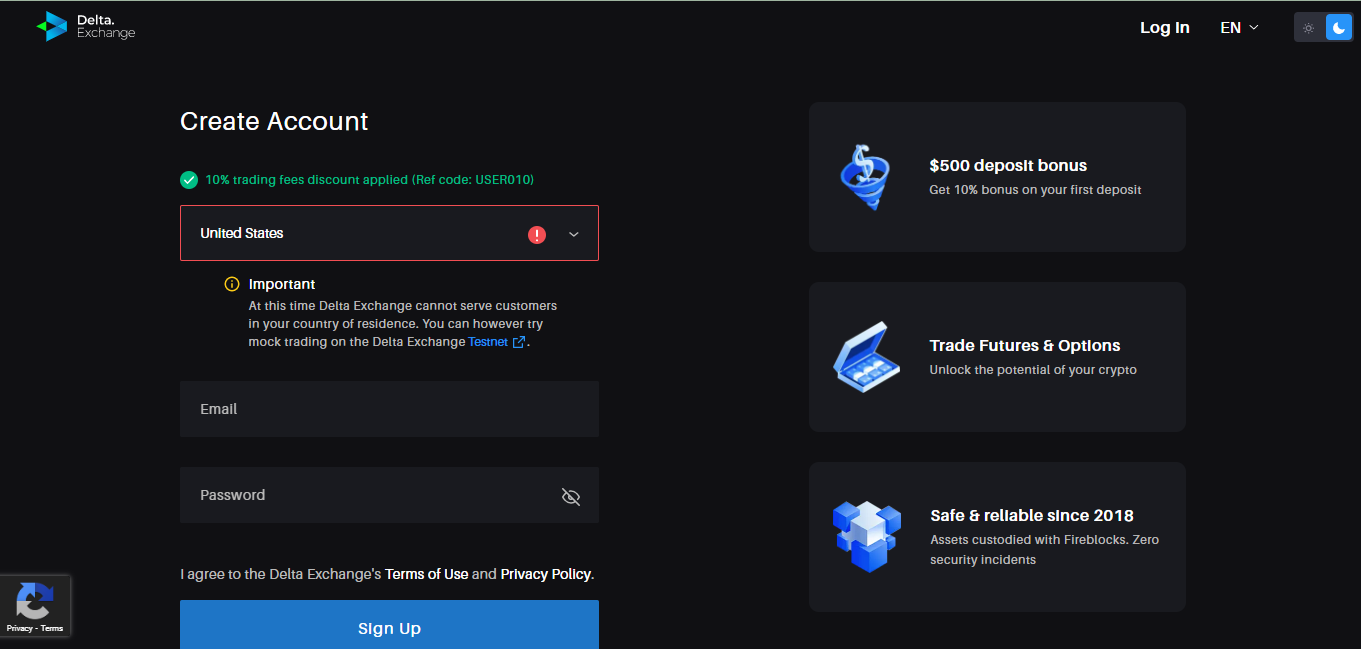 New users cannot access the platform until they have completed the bare minimum of KYC required by their country. They do not allow users under 18 years old to use their services.
Delta Exchange

Verification Requirements
Delta Exchange expects users to comply with the verification requirements to ensure a smooth operation. Here are some of Delta Exchange's verification requirements:
Delta Exchange requires basic personal information, such as your full name, date of birth, and residential address.
Identity Verification: Delta Exchange frequently requests that users submit scanned copies or clear photographs of identification documents. A valid passport, driver's license, government-issued identification card, or any other recognized form of identification may be required.
Proof of Address: Delta Exchange requires proof of address. This can be provided through documents like utility bills, bank statements, or government-issued documents that display your name and address.
Additional Documentation: Depending on the jurisdiction and specific requirements of Delta Exchange, additional documentation may be requested during the verification process. This could include proof of funds, employment verification, or other documentation to prove the legitimacy of your account.
Sign up and Login
Please follow these general steps to register for and log into Delta Exchange:
Sign up
Visit the official Delta Exchange website using a web browser.
On the homepage, find and click on the "Sign Up" or "Register" button..
Include your email address and a strong password in the appropriate fields.
The Terms of Service and other applicable policies should be read and accepted.
Click the "Sign Up" or "Create Account" button to continue.
Check your email inbox for a Delta Exchange verification email.
To verify your email address, open the email and click on the verification link provided.
After your email has been verified, you can log in to your Delta Exchange account.
Log In:
Navigate to the Delta Exchange site.
Look for the "Log In" or "Sign In" button on the homepage and click it.
Fill in the blanks with your registered email address and password.
Completing additional security verification steps, such as solving a captcha or using two-factor authentication (2FA), is required.
To access your Delta Exchange account, click the "Log In" or "Sign In" button.
Final Thoughts
Delta Exchange is an excellent platform for trading cryptocurrency futures, with a well-designed and functional interface. Even though the exchange is unregulated, it is managed by a team of experienced professionals from various global banks and institutions. The platform is very simple to use and works well even during periods of high market volatility.
In addition, users get access to extensive charts and helpful resources to help them develop a successful trading strategy. Whilst the platform's range of assets and supported currencies are fairly limited, it is continually developing and improving, making it a growing contender for the world's best Bitcoin derivative and Altcoin futures trading platform.