The world of investing should be empowering, yet for many Robinhood users, it has become a source of frustration. Are you tired of feeling limited by a platform that's meant to set you free financially?
The struggle is real – navigating a user interface that's more confusing than clarifying, dealing with delayed updates that could cost you, and facing restricted access to customer support when you need it the most.
If this sounds all too familiar, you're not alone. In this article, we'll discuss how to delete Robinhood Account and what should be the alternative to this.
It's time to take control of your investments and your peace of mind by learning how to bid farewell to your Robinhood account for good.
Step By Step Guide on How to Delete Robinhood Account
Go to Your Account
Start by visiting the Robinhood website or opening the Robinhood app. Proceed to log in using your account credentials. This will give you access to your account.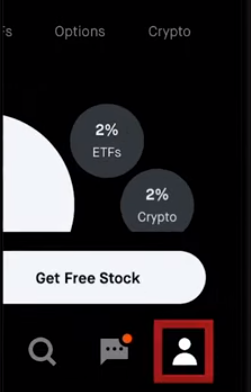 Navigate to Account Settings
Once logged in, locate and select the icon or button that represents your account. This is usually represented by a person's silhouette or initials. It's typically found in the bottom right corner of the app or the top right corner of the website.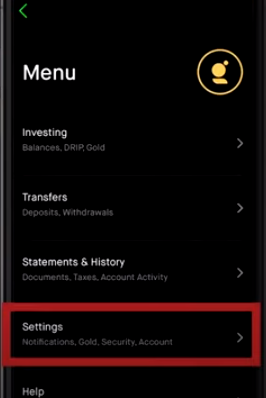 Access Account Information
Within the account menu, you'll need to find an option called "Account Information." This might be labeled as "Account Settings" or something similar. Tap or click on this option to proceed.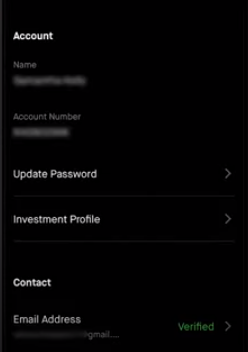 Deactivate Account
Inside the Account Information or Account Settings section, there should be an option to "Deactivate Account." This is the option you're looking for to start the process of closing your account. Click or tap on this option.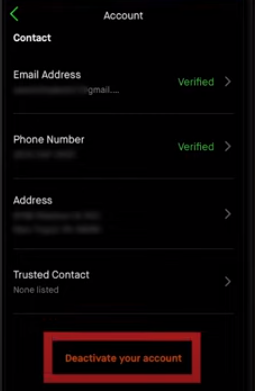 Closing Positions and Withdrawing Balance
Before you can proceed with deactivating your account, Robinhood requires you to close all your brokerage positions and withdraw your outstanding balance. This is a crucial step to ensure that you've settled all your financial transactions.
a. Sell or Transfer Holdings:
You'll need to sell or transfer out all the stocks, ETFs, and other securities you hold in your Robinhood account. This involves navigating to your portfolio and initiating sell orders or transfers for each holding.
b. Withdraw Funds:
Make sure to withdraw any remaining cash balance from your Robinhood account. This involves going to your account's cash balance section and initiating a withdrawal to your linked bank account.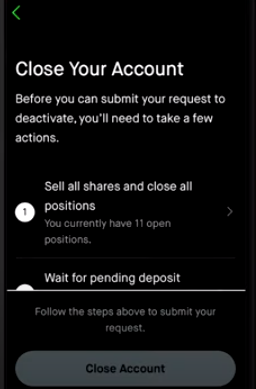 Confirm Deactivation Request
After you have closed all your positions and withdrawn your balance, return to the "Deactivate Account" section. At this point, your account balance should be $0, and you should not hold any positions.
a. Review Information: Robinhood will likely provide a summary of your account, indicating that your positions are closed and your balance is withdrawn.
b. Confirm Deactivation: To proceed with closing your account, you will need to confirm your deactivation request. This might involve clicking a button that says "Confirm Deactivation" or something similar.
Follow Additional Instructions
Robinhood may provide additional instructions or information about the deactivation process. Be sure to read through any messages or prompts that appear on the screen to ensure you're completing the process correctly.
Account Closure Confirmation
After confirming the deactivation, Robinhood will likely provide you with a confirmation message that your account has been deactivated. You might receive an email confirming the closure as well.
Additionally, exploring alternatives to Robinhood opens a world of diverse investment platforms like Bybit. Bybit, known for its focus on cryptocurrency derivatives trading, offers users a different avenue to engage with the markets. If you want to learn more about the exchange, you can read our comprehensvie Bybit review.
With features tailored to the crypto landscape, it provides an option for those seeking specialized trading experiences beyond traditional stock investing.
How Long Does It Take to Delete a Robinhood Account?
Once you initiate the account deletion process, Robinhood typically takes about 5 business days to review your request. During this period, you won't be able to access your account. After approval, it might take a few additional days to finalize the closure.
Can I Delete My Robinhood Account Before Approval?
Yes, you can start the account deletion process even before your application for approval is accepted. This can be useful if you want to ensure your account is closed as soon as possible. However, any pending transactions or unsettled account matters will need to be resolved before the deletion can proceed.
Is There A Penalty for Closing Robinhood Account?
No, there is no penalty for closing your Robinhood account. Robinhood does not charge users any fees for account closure.
However, keep in mind that there might be certain considerations to address before closing your account, such as settling any pending transactions, withdrawing funds, and ensuring that your account is in good standing.
It's always a good practice to review the terms and conditions or contact Robinhood's customer support to clarify any potential impacts before proceeding with the account closure process.
How Do I Transfer Assets to Another Brokerage on Robinhood?
Transferring assets from Robinhood to another brokerage involves a process called ACATS (Automated Customer Account Transfer Service). Here's a step-by-step guide on how to do it:
Choose a New Brokerage: Open an account with the brokerage where you want to transfer your assets. Make sure this brokerage accepts incoming transfers and supports the types of assets you currently hold in Robinhood.
Contact Your New Brokerage: Get in touch with your new brokerage's customer support or visit their website to initiate the transfer process. They will guide you through the necessary steps and provide you with any required forms.
Complete Transfer Forms: Your new brokerage will provide you with an ACATS transfer form. Fill out the form with accurate information about your Robinhood account and the assets you wish to transfer. This form might include details like your Robinhood account number, account type, and asset information.
Submit Transfer Form to New Brokerage: Once you've completed the transfer form, submit it to your new brokerage. You can typically do this electronically through their website or by mailing in a physical form.
Wait for the Transfer: After submitting the transfer form, your new brokerage will initiate the transfer process. This process usually takes around 5 to 7 business days, but the exact timeline can vary.
What happens if your Robinhood account is negative?
If your Robinhood account balance goes negative, it means that you owe the platform money due to unsettled transactions or other outstanding obligations. Here's what you can expect if your Robinhood account goes negative:
Obligation to Repay: When your account goes negative, you are obligated to cover the deficit. This could be the result of unsettled trades or other fees that were charged to your account.
Restrictions: Robinhood might restrict certain activities on your account until the negative balance is resolved. This could include limiting your ability to trade or withdraw funds until the deficit is cleared.
Automatic Liquidation: In some cases, if your account remains in a negative balance for an extended period, Robinhood might initiate the process of liquidating your assets to cover the debt. This is done to prevent further losses and to bring your account back to a positive balance.
Communication from Robinhood: You should expect communication from Robinhood regarding the negative balance. They will likely provide information about the reasons for the negative balance and instructions on how to resolve it.
Summing Up!
In a financial world that should empower, the frustration of navigating an unsuitable platform like Robinhood can be overwhelming. Fortunately, by following the steps to delete your Robinhood account, you're taking back control of your financial journey.
Don't let the hassle deter you; breaking free from the grip of a mismatched tool is liberating. Remember, your financial well-being deserves a platform that aligns with your goals.
As you bid farewell to Robinhood, you're opening the door to new possibilities and a more tailored approach to managing your investments. Your journey to financial empowerment starts with the decision to make a change.