CEX.IO stands out as a regulated crypto exchange, providing many features for traders and investors. With its user-friendly interface and regulatory compliance, it offers a secure platform for buying, selling, and earning yield on crypto assets. The exchange's extensive selection of 100+ cryptocurrencies provides ample options for diversification.
However, some users may find the deposit and withdrawal fees complex and potentially frustrating. To delve deeper into the platform's pros and cons, our comprehensive CEX.IO Review 2023 reveals all you need to know.
CEX.IO Overview
| | |
| --- | --- |
| Website: | https://cex.io/ |
| Exchange Owner: | CEX.IO Corp., CEX.IO Limited, and CEX Overseas Ltd |
| Headquarters Country: | United Kingdom |
| Foundation Year: | 2013 |
| Mobile App Trading: | Available |
| Minimum Deposit: | $20/€20/£20 for fiat deposits; it depends for crypto deposits |
| Deposit/Withdrawal Fees: | Fees vary |
| Supported Crypto Assets: | 100+ ( BTC, USDT, ETH, BNB, XRP, and more) |
| Trading Pairs: | 80+ |
| Maximum Leverage: | 500x |
| Accepts US clients: | Yes |
CEX.io Pros
As we begin this CEX.IO Review 2023, let's look at what makes the platform unique and different from others in the industry.
Holds a license and is subject to regulations: CEX.IO operates as a regulated and licensed crypto exchange, providing users with confidence and trust in its operations.
Wide range of crypto assets: The platform supports over 100+ crypto assets, offering users a diverse selection to trade and invest in.
Various earning opportunities: CEX.IO allows users to earn crypto through staking and other methods, allowing them to increase their holdings potentially.
Crypto-collateralized loans: Users can use crypto-collateralized loans, leveraging their crypto holdings to access funds for various purposes.
Multiple payment methods: The exchange offers a variety of payment methods, making it convenient for users to deposit and withdraw funds in their preferred way.
Strong security measures: CEX.IO prioritizes the security of user funds and personal information, implementing robust security measures to ensure a safe trading environment.
CEX.io Cons
While CEX.IO has numerous advantages, it is essential to acknowledge that every platform is flawed.
Complex fee structure: CEX.IO's funding and withdrawal process involves various methods that can incur substantial fees.
Overwhelming product offerings: The platform's extensive features and services may overwhelm novice users, especially those new to cryptocurrency.

Trading on CEX.io
CEX.IO offers diverse trading interfaces catering to traders of all skill levels, ensuring a seamless user experience.
Spot Trading
CEX.IO offers an advanced trading platform with high liquidity and advanced charting tools for spot trading. Traders can place limit and market orders for a range of cryptocurrency pairs, including popular options like:
1INCHBTC
AAVEUSDT
APEUSDT
BATUSDT
BCHUSDT
BNTUSDT
BTCUSDC
ETHBTC
XRPBTC
TRXUSDT
Furthermore, according to data from CoinMarketCap, CEX.IO boasts a significant spot trading volume of $3,624,428.12. This impressive trading volume reflects the platform's popularity and active user base in the cryptocurrency market.
Futures Trading
On CEX.IO's margin platform, traders can take advantage of the leverage of up to 500x. This market allows users to trade Contracts for Differences (CFDs). With 500 times the average amount of leverage, even a one percent adverse move in the market can lead to liquidating your entire position.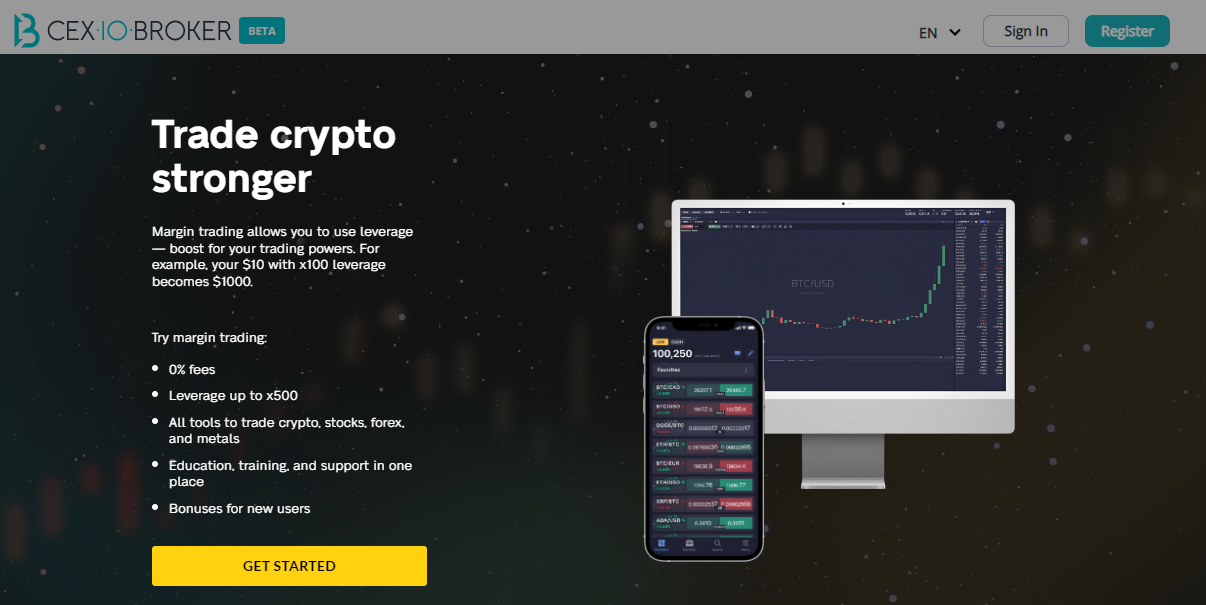 The trading interface has become more sophisticated, so getting used to it may take some time. You can also engage in cross-currency trading on CEX.IO. Some of it is listed below:
USDMXN
GBPUSD
USDCNH
USDJPY
EURGBP
Instant Buy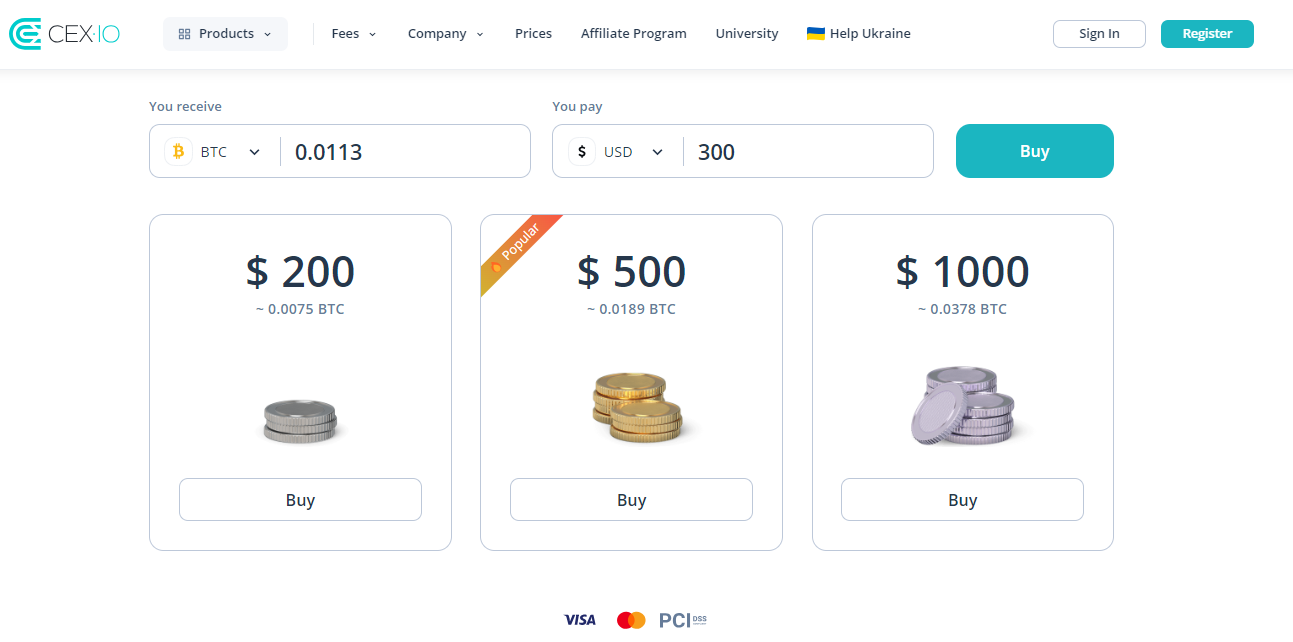 CEX.IO offers a convenient option to buy cryptocurrency using a credit or debit card. Users can access a wide range of cryptocurrencies purchased directly on the platform. Some of the supported cryptocurrencies available for purchase on CEX.IO include:
Bitcoin (BTC)
Ethereum (ETH)
Bitcoin Cash (BCH)
Bitcoin Gold (BTG)
Dash (DASH)
Litecoin (LTC)
Ripple (XRP)
Stellar (XLM)
TRON (TRX)
CEX.io Fees
When utilizing CEX.IO, there are several fees to consider for various actions. These include trading fees and money transfer fees. It's essential to be aware of these fees and factor them into your overall trading strategy and budget.
Trading Fees
CEX.IO implements a dynamic fee structure, where trading fees can vary based on user activity and specific transactions. The exchange charges a maker fee of 0.15% and a taker fee of 0.25%.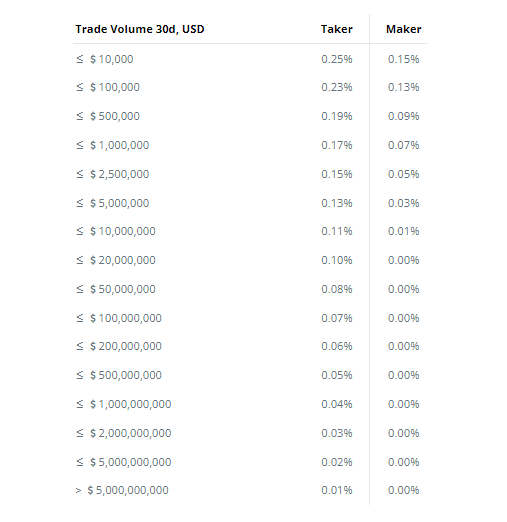 However, participants in the CEX.IO loyalty program have the opportunity to lower their trading fees while enjoying the advantages of trading on the platform. This program incentivizes users to engage in more trading activity, leading to potential fee reductions and enhanced trading benefits.
Deposit and Withdrawal Fees
CEX.IO maintains a clear and transparent fee structure for depositing and withdrawing fiat currencies and cryptocurrencies on its platform. While the specific fees for fiat and cryptocurrency transactions may vary, users can easily access detailed information by visiting the dedicated Fee page on the CEX.IO website.
CEX.io Services and Products
CEX.IO offers a comprehensive suite of services designed to meet the needs of cryptocurrency enthusiasts and traders. Here's an overview of them:
Earn
CEX.IO offers lucrative saving and staking features that allow users to earn monthly incentives without actively trading.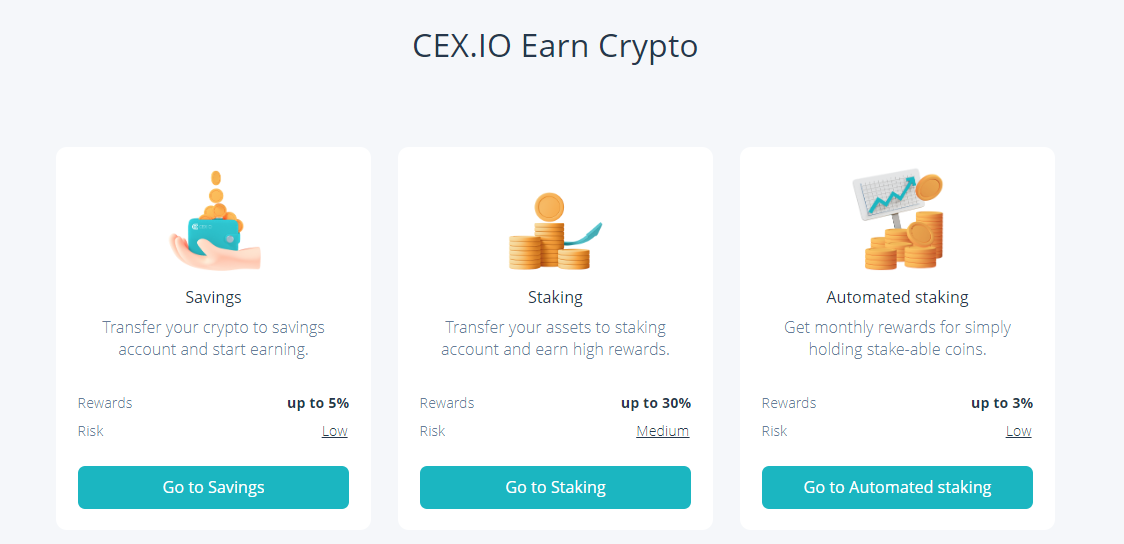 By utilizing CEX.IO's savings accounts, users can enjoy higher interest rates than traditional financial institutions. With interest rates of approximately 12% per year on select cryptocurrencies, CEX.IO surpasses the average 1% interest rate on US Dollar savings.
Many traders convert fiat currency into cryptocurrency to maximize returns and explore the CEX.IO Staking option, which offers the highest potential return rates. By leveraging a CEX.IO savings account, investors can earn around 4% per year on Bitcoin and approximately 6% per year on Ethereum.
Loan
CEX.IO is a valuable resource for users new to the cryptocurrency market. One of its standout features is the ability to provide cryptocurrency-backed loans, allowing users to leverage their digital assets as collateral. However, it's essential to be aware of the potential risks associated with crypto-backed loans, such as the possibility of defaults and the impact of price volatility on the value of crypto assets.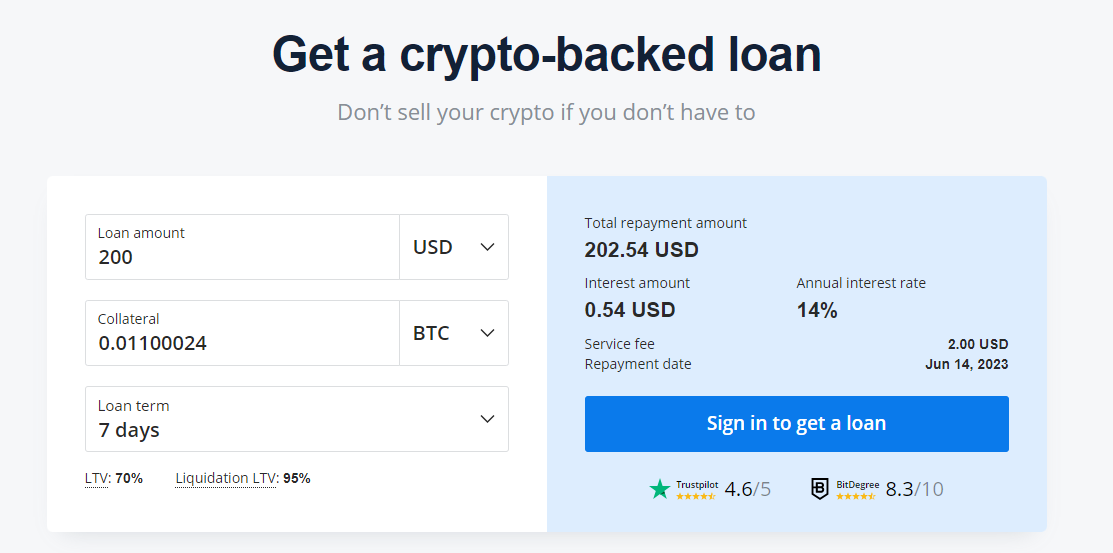 Additionally, users should note that in CEX.IO platform downtime or crashes, borrowers may face limitations in finalizing crypto loan operations or accessing their accounts. Considering these factors and exercising caution when engaging in cryptocurrency-backed lending on the CEX.IO platform is crucial.
Wallet
The CEX.IO wallet offers convenient accessibility through both the website and mobile app, supporting a wide range of cryptocurrencies in addition to Bitcoin (BTC), Ethereum (ETH), and Ripple (XRP). Monitoring and managing your holdings is effortless, with easy access from any computer or mobile device.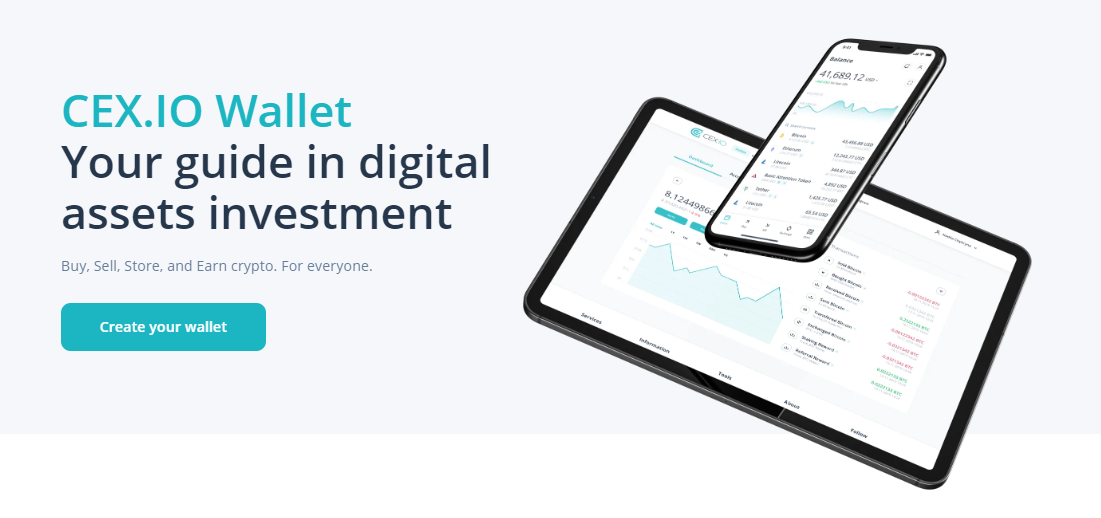 Transferring your cryptocurrency holdings to an external wallet is straightforward: visiting the "Finance" page and selecting "Withdrawal" for the desired currency. To add cryptocurrency to your account, click "Deposit" next to your preferred coin on the same page, where you can also find your cryptocurrency wallet address. Seamlessly manage your crypto assets with CEX.IO's user-friendly wallet solution.
Desktop Version
The platform's intuitive and user-friendly interface makes it accessible to beginners and experienced traders. Users can easily navigate the platform and take advantage of features like setting price alerts and receiving real-time notifications for order completion or cancellation. Users can buy, sell, and trade cryptocurrency effortlessly with just a few clicks.
Mobile App
IOS and Android users can conveniently access the platform through CEX.IO's mobile apps, providing seamless cryptocurrency trading on the go while offering all the features on the website. The mobile app even includes an alarm feature, alerting users when their desired cryptocurrency reaches a specific price level.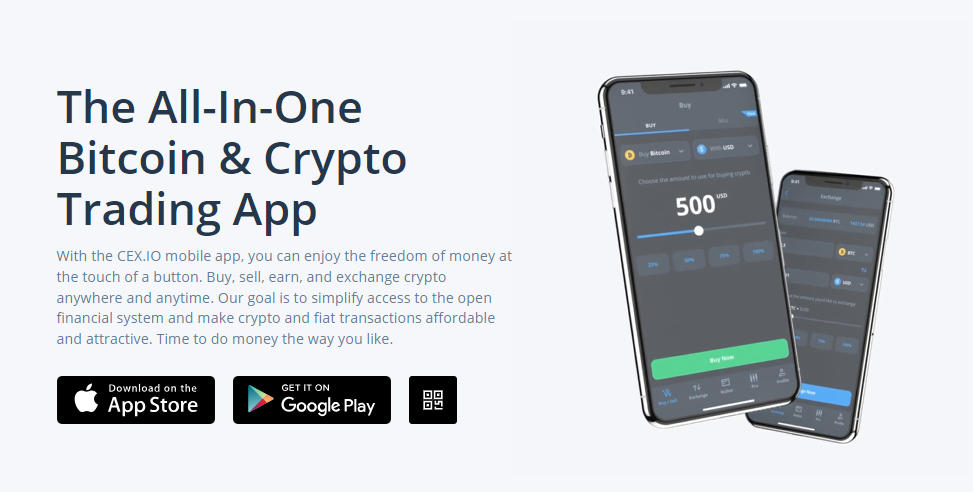 With 24/7 customer support available through various communication channels, users can always seek assistance. You can enjoy the flexibility and accessibility of trading cryptocurrencies anytime, anywhere, with the CEX.IO mobile app.
CEX.IO API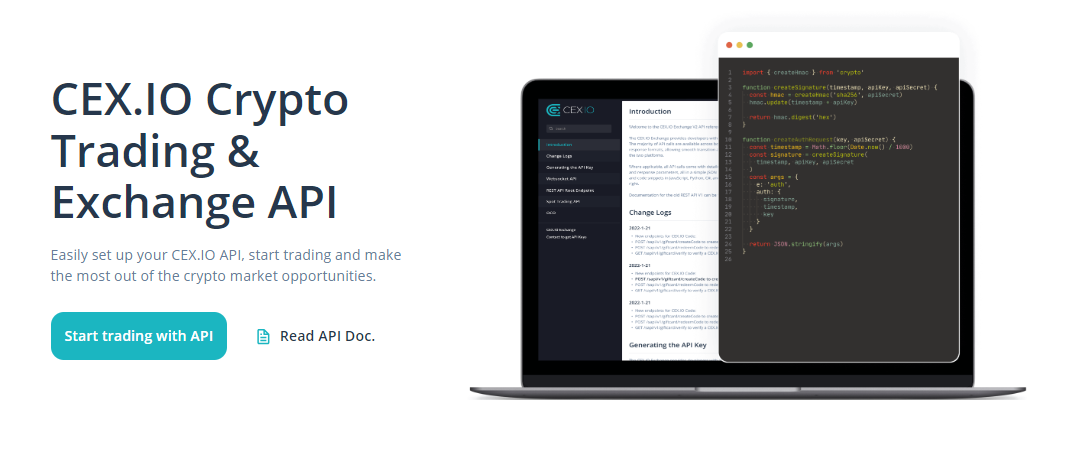 CEX.IO offers free crypto API channels (WebSocket, REST API, FIX API) to enable traders to automate techniques, access market data, receive alerts, and integrate with third-party terminals and trading bots for seamless and efficient trading while ensuring 24/7 availability through cold storage solutions.
University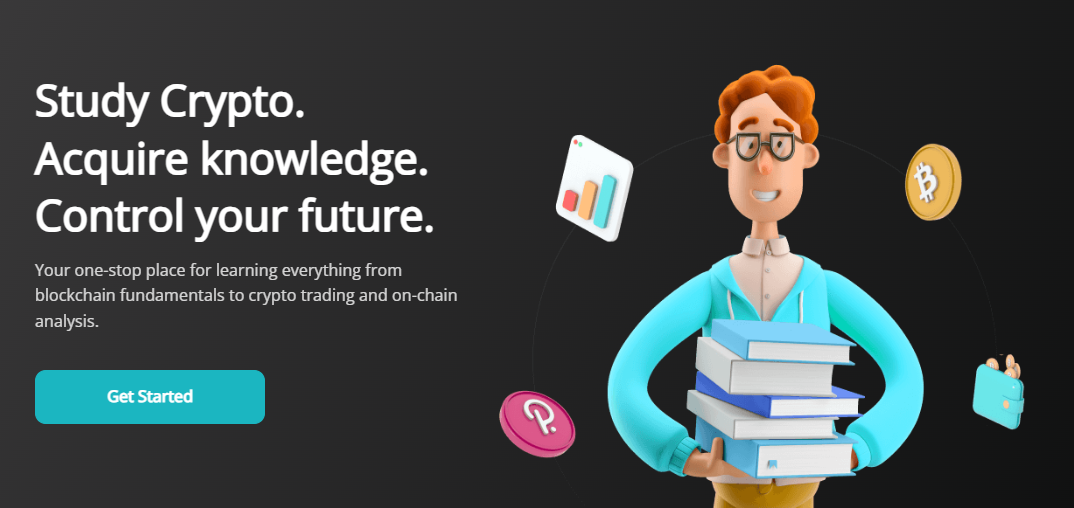 CEX.IO provides a comprehensive educational platform that covers a wide range of topics in blockchain, cryptocurrency trading, and on-chain analysis. With over 15+ topics and 3 difficulty levels, including Beginner, Intermediate, and Advanced, users can access valuable resources to enhance their knowledge and skills in the crypto space.
Debit Card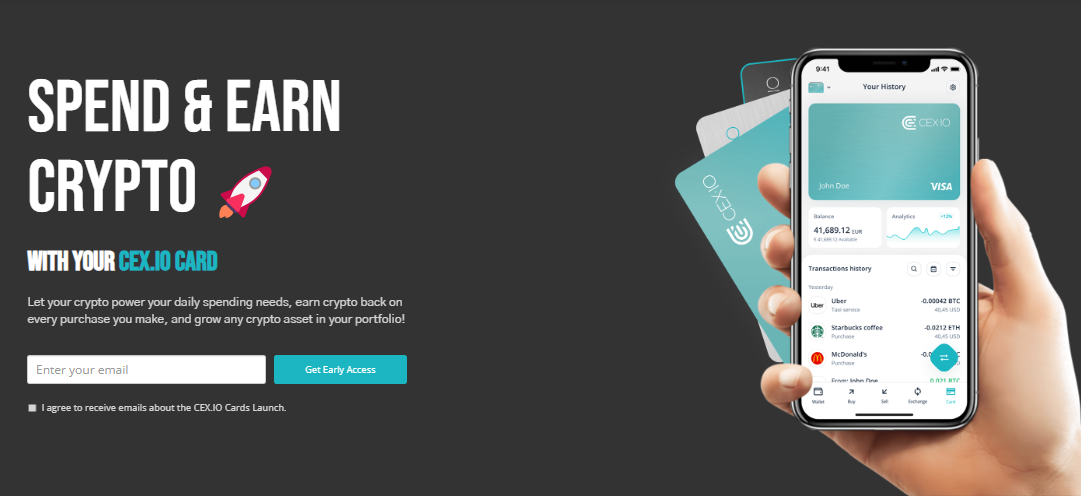 CEX.IO Card is a versatile Visa debit card that allows you to spend crypto seamlessly at any location, accepting Visa debit cards, both online and in-store. Using the card, you can earn up to 5% cashback in cash or bitcoin on all purchases. It offers the convenience of paying with traditional currency or cryptocurrency, acting as a digital wallet and bitcoin trading service alongside its debit card functionality.
CEXDirect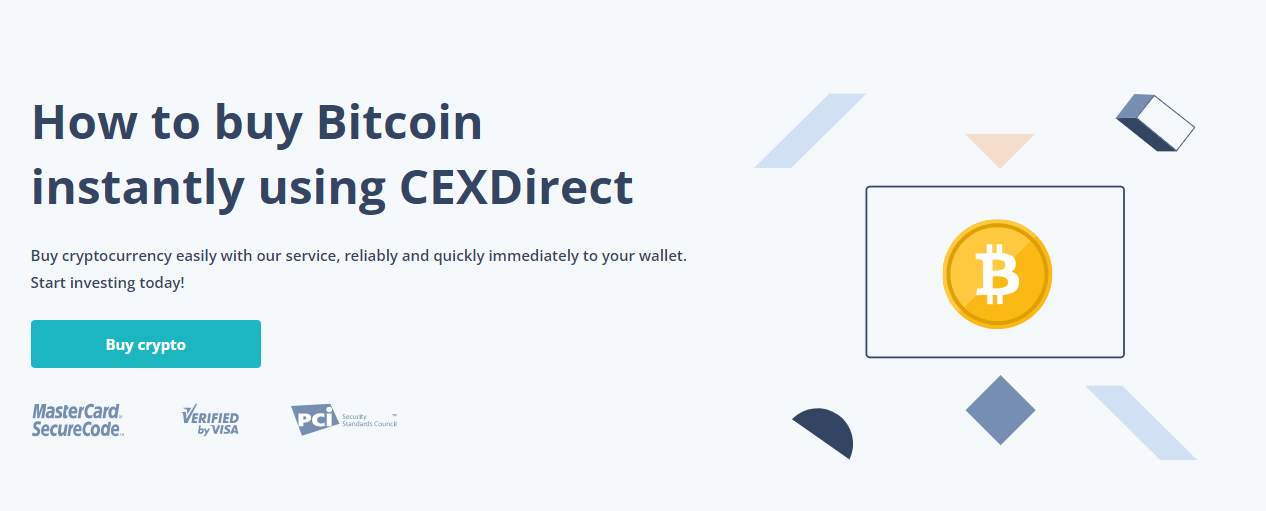 CEX.IO's 'CEX Direct' is designed for seasoned users, providing them with advanced features. With the help of money service providers, account verification, trading, depositing, Bitcoin withdrawals, gold transactions, and other trades become seamless for investors. This specialized service ensures that experienced users have access to the tools and capabilities they need to make the most out of their trading and investment activities on CEX.IO.
Affiliate Program
CEX.IO provides users a lucrative opportunity to enhance their financial standing through its affiliate program. Individuals and businesses can earn rewards with minimal effort by joining crypto affiliate networks, similar to staking cryptocurrency. Upon registration, each user receives a unique affiliate link, which they can promote to attract referrals.

For every purchase made by their referred users, the affiliate earns a generous 30% commission. The earning potential is unlimited as the commission rate increases with the volume of generated traffic. After the affiliate cookies have been active for a month, users can enjoy a full return on their investment, ensuring a profitable affiliate experience.
CEX.io Security
CEX.IO prioritizes user privacy and implements robust security measures to safeguard funds and data. Essential precautions include mandatory 2FA for enhanced protection, SSL encryption for secure information and financial transactions, extensive cold storage to keep most funds offline and inaccessible to hackers, and compliance with stringent regulations in the UK, US, and EU regulations to ensure strict safety standards are met.
CEX.io Customer Support
CEX.IO takes pride in its exceptional customer support team, which is available 24/7 to assist users with any concerns they may have. Whether it's through email, phone, or real-time messaging, users can rely on prompt and helpful assistance from the platform's dedicated support staff.
Moreover, CEX.IO offers a comprehensive FAQ section that addresses common inquiries, providing users with quick access to valuable information. With a commitment to delivering top-notch customer service, CEX.IO ensures that users receive the support they need to navigate the platform smoothly and effectively.
Conclusion
Our comprehensive CEX.IO Review 2023 concludes that CEX.IO is a reputable and versatile cryptocurrency exchange that offers a wide range of trading and investment options. With its user-friendly interface, responsive customer service, and competitive rates, it provides a seamless experience for users.
Furthermore, CEX.IO goes above and beyond by providing additional features such as a mobile app, debit card, staking services, and margin trading. However, it is essential for users to exercise caution when participating in margin trading due to its inherent risks. Additionally, the availability of payment options may vary depending on the user's location.
If you are still uncertain about whether CEX.IO is the perfect platform for your cryptocurrency needs, we recommend exploring our other reviews to discover the best-suited cryptocurrency exchange that aligns with your specific requirements.
FAQ
Where is CEX.IO located?
CEX.IO's headquarters is located in London, UK.
Does CEX.IO accept debit cards?
Yes! CEX.IO accepts debit cards, specifically those with a linked credit card aspect, such as a Visa debit card.
Is CEX.IO regulated?
Yes, CEX.IO is a regulated global cryptocurrency exchange platform. It has obtained licenses to facilitate secure and seamless crypto trading with digital assets.
How to contact CEX.IO?
CEX.IO can be contacted through various channels, including email, telephone, and mail. You can reach out to their customer support team using any of these methods.