Summary: Buying cryptos such as Bitcoin, Ethereum, Ripple, or more is very simple and straightforward using Bancontact. The best crypto exchange to purchase digital assets using Bancontact is Kucoin. With direct Bancontact integration for Euro payments, Kucoin allows users to purchase over 100 cryptos with low fees using Bancontact.
Can I buy Cryptos With Bancontact?
Yes, buying cryptocurrencies with Bancontact is legal and very simple to do. Buying Bitcoin or other cryptos with Bancontact is not only a simple way to get your desired digital assets, but it is also cheap and convenient.
Bancontact is one of the largest payment providers in Belgium, facilitating fast and secure purchases with the Euro. Not only can you buy physical goods with Bancontact, but also digital assets such as Bitcoin, Ethereum, USDT, and more.
If you want to buy cryptos with Bancontact, you have come to the right place. In this guide, we will show you step-by-step how to buy cryptocurrencies using Bancontact.
Buy Crypto With Bancontact on Kucoin
If you are ready to expand your crypto portfolio with Bancontact, we highly recommend Kucoin. The crypto exchange stands out with an extensive range of over 700 cryptos, a dedicated spot and futures market with up to 100x leverage, and low trading fees. As Kucoin is a legitimate crypto platform that complies with local laws and regulations such as AML, identity verification is required.
Follow our simple step-by-step guide on how to buy cryptocurrencies using Bancontact.
Step 1: Registration & Verification
Sign up on the Kucoin crypto exchange and verify your identity. The signup process is simple and requires only an email and password. To verify your Kucoin account, you must provide personal information such as your name and a government-issued ID or passport.
Step 2: Go to "Buy Crypto"
Navigate to the "Buy Crypto" dropdown in the top left corner. In order to see Bancontact as the payment option, select "Third-Party."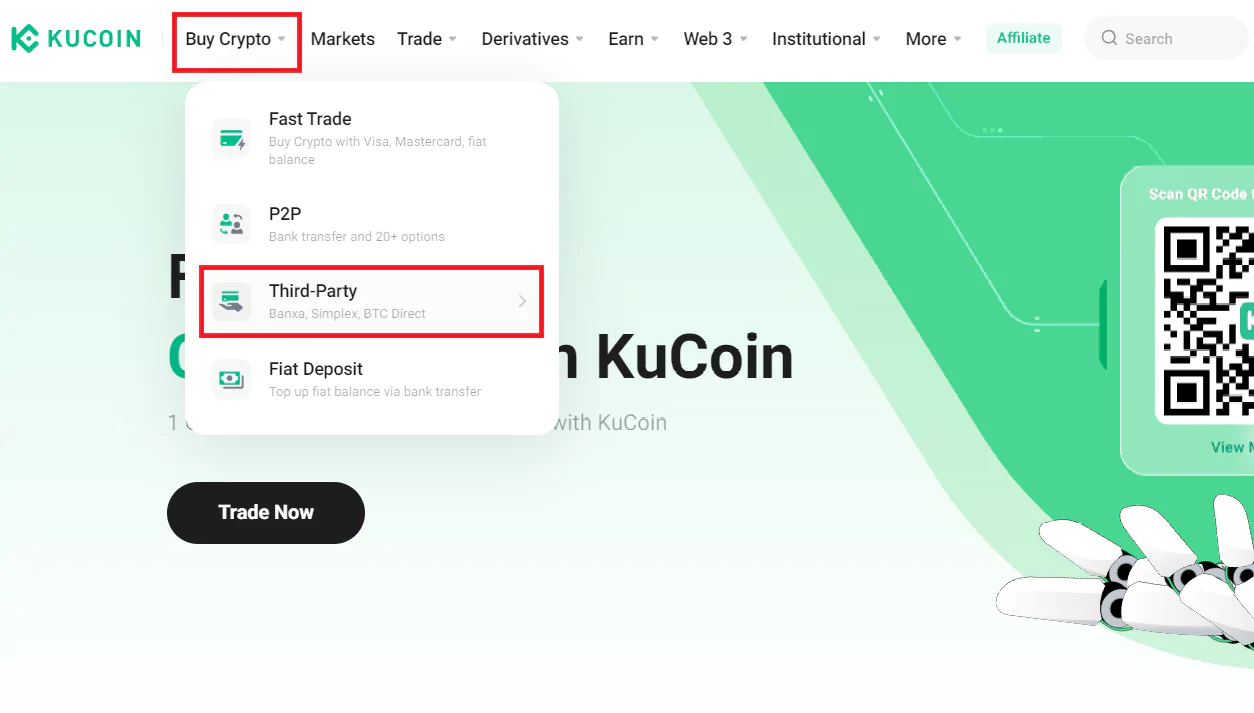 Step 3: Select FIAT Currency, Quantity, Crypto, & Bancontact
This step is crucial, and we recommend you take your time to get everything right.
First and foremost, you must select "EUR" (€) as the payment method.
After that, you can choose the amount of cryptos (valued in Euro) you wish to purchase.
On the right-hand side, you can choose your desired crypto. By default, USDT is selected.
Lastly, you must click on "Bancontact" in the left payment method section.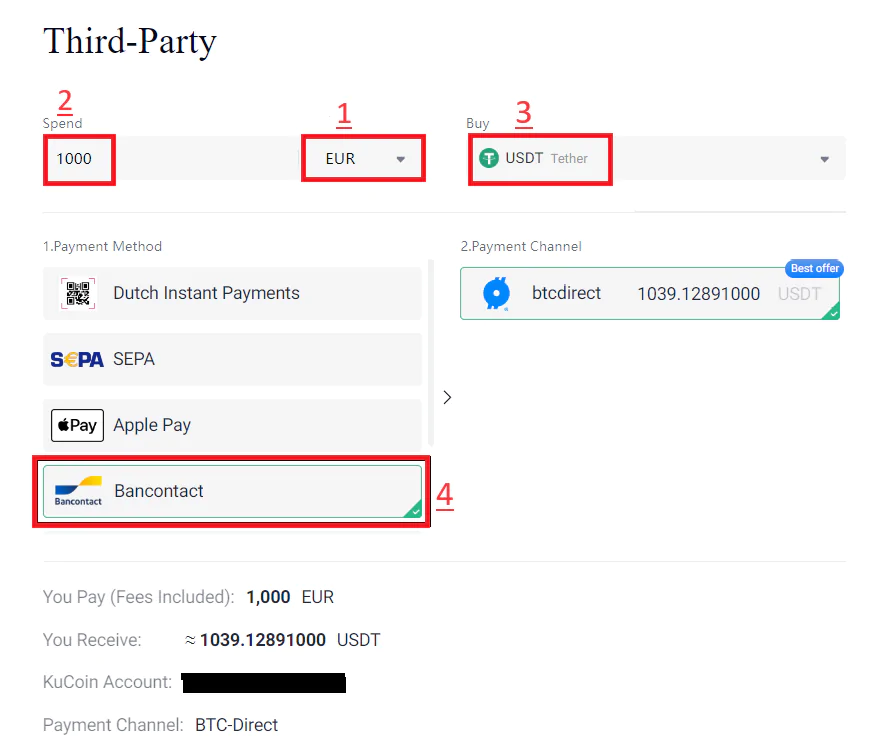 Step 4: Verify Details & Confirm
Make sure that all details from Step 3 are correct. If everything seems good to you, accept the disclaimer at the bottom of the page and click on "confirm.

Step 5: Log In or Create a BTCDirect Account
In order to finalize the transaction, you must use your BTCDirect account. If you don't have one yet, you must create it first. This requires a name, email, nationality, and a password.
You also must verify your BTCDirect account due to European law and legislation. To verify your account, you must provide an ID Card, Passport, or Driver's license.
Verification usually just takes a few minutes.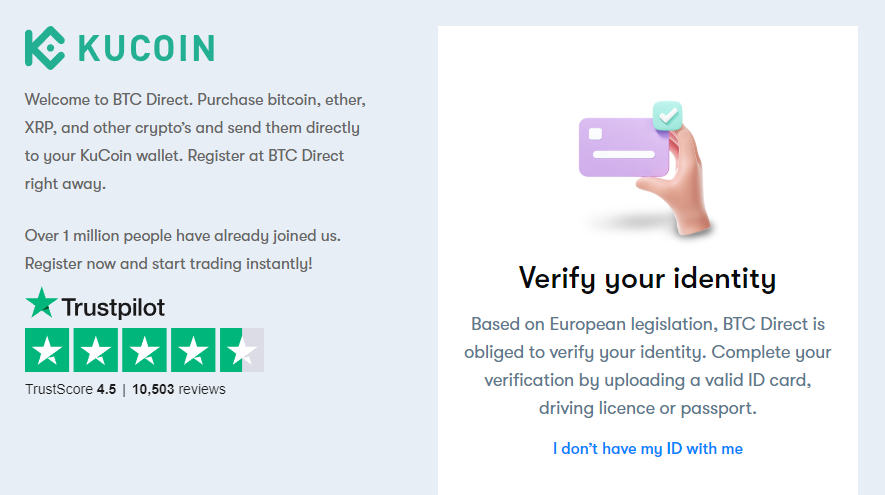 Step 6: Finalize your transaction
After your account is verified, you can purchase cryptocurrencies using Bancontact. Fill in all the details, confirm that everything is correct, and finalize the transaction.
What are the Fees?
The fees involved when purchasing cryptos with Bancontact on Kucoin are fairly low. Based on your currency, the fees are between 1-3%. The transaction is cheap, fast, and secure and ensures a perfect crypto experience.
In terms of trading, Kucoin charges a 0.1% fee for makers and takers on the spot market. Futures traders will be pleased that the fees are only 0.02% maker and 0.06% taker. This makes Kucoin one of the most affordable cryptocurrency exchanges out there.
With hundreds of cryptos, dozens of payment methods, including Bancontact, high leverage, and low fees, Kucoin is a one-stop shop for all crypto enthusiasts.
Bottom Line
Purchasing cryptos using Bancontact can be tricky as only very few platforms support the Belgium payment method. The most reputable crypto exchange supporting Bancontact for buying cryptos is Kucoin. Not only does Kucoin support several payment methods for buying cryptos, but the exchange is also an excellent trading platform for a diverse range of digital assets.
If you are a Bancontact user, Kucoin will be the perfect crypto exchange for you.