BITFLEX is a brand-new cryptocurrency exchange based in Seychelles. Launched in 2022, the exchange's primary goal is to make trading and investments in digital tokens more attainable and rewarding for exchange users worldwide.
BITFLEX provides a platform that supports both spot and derivative trading of many cryptocurrencies. The technology-centric company is recognized for its highly responsive and user-friendly interface.
Overview: What is BITFLEX
BITFLEX, as a crypto exchange, features an easy-to-use interface, which is its most excellent appeal to users. The platform's design allows even beginners to trade easily while maintaining advanced tools for the more seasoned traders. Their focus on giving users a more seamless experience means BITFLEX wants to make buying, selling, and trading cryptocurrencies easy, regardless of their level of expertise.
Under the guidance of CEO Bryan Wui Yang, the team at BITFLEX has put in the work to make a trustworthy and reliable trading platform. They've made this possible by adhering to standard industry practices for security, which ensures the safety of user data and funds—protecting traders from cyberattacks and other potential security breaches.
BITFLEX is a breath of fresh air in the exchange ecosystem, offering a new and exciting platform that gets more popular by the day amongst cryptocurrency traders. BITFLEX provides something for a diverse audience, whether your interest is its advanced trading tools or affiliate programs–beginners and pro-traders will get the most out of this exchange.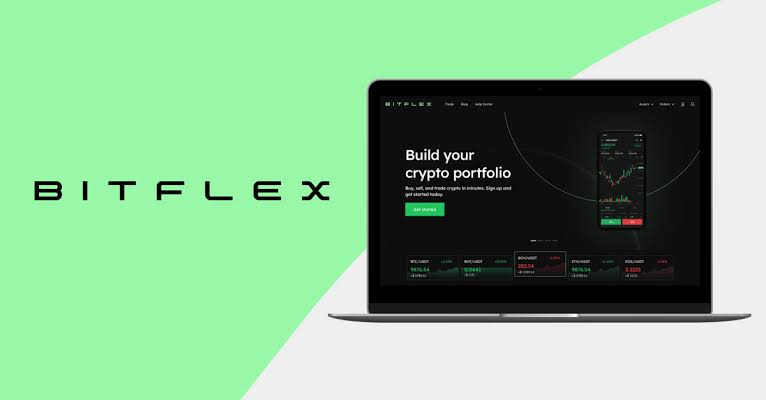 Bitflex: How does it work?
BITFLEX offers its users both derivatives and spot trading for a wide range of cryptocurrencies. Even though this cryptocurrency exchange is considerably new, it has already been able to set itself apart for its user-friendly interface. This interface makes signing up hassle-free for new users who want to start trading immediately.
An affiliate program is also available on this exchange, allowing users to earn various rewards by simply steering other new users to the platform with referrals.
BITFLEX engages users with different tournaments and campaigns, allowing them to win rewards and prizes. Users can use one of the multiple campaigns simultaneously available on the platform—earning thousands of dollars.
Yet another unique feature BITFLEX offers is its 24/7 global support, which is available whenever users have issues or questions they need to be answered. That ensures that users can always trade, regardless of where they are, no matter the time–as they don't have to worry about getting stuck with an unsolvable issue.
Moreover, BITFLEX makes trading affordable and all-inclusive for all traders with its low trading fees. Whether you're green in trading or an experienced trader, BITFLEX is a solid choice for anyone seeking a user-friendly cryptocurrency exchange they can rely on.
Bitflex Pros
KYC is not required
100x leverage on cryptocurrency trading
The Intuitive and user-friendly trading interface
Spot and Derivatives trading are both available
Mobile app for both iOS and Android
Advanced tools for expert traders
Bitflex Cons
Not available to US traders
Crypto pairs for trading are limited
Still new for a cryptocurrency exchange

Bitflex Sign Up & KYC
As mentioned earlier, signing up and using BITFLEX is straightforward and almost instant. Below is a play-by-play to guide you in getting started:
Go to the BITFLEX official website and tap on "Sign Up".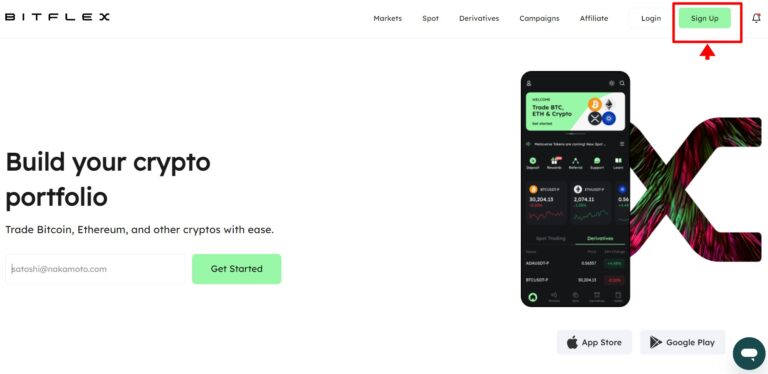 Enter your email address and make a password on the signup page. You can also use your phone number instead of an email address to create your account. After entering all relevant information, click "Create Account" to move to the next step.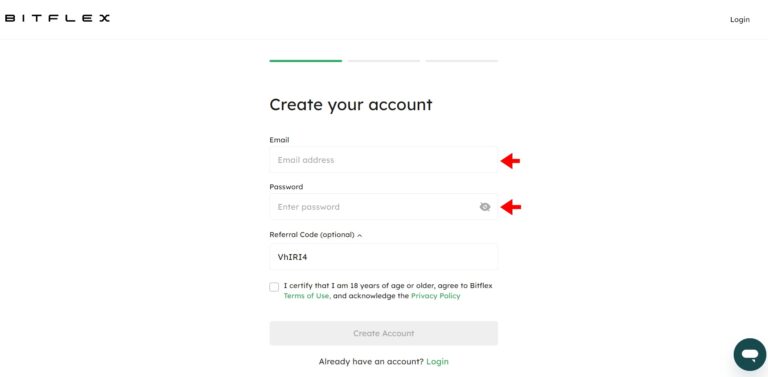 The next page requires basic information about you, including your first and last names and country of residence. Fill out this section with the necessary knowledge and click "Continue" to get started.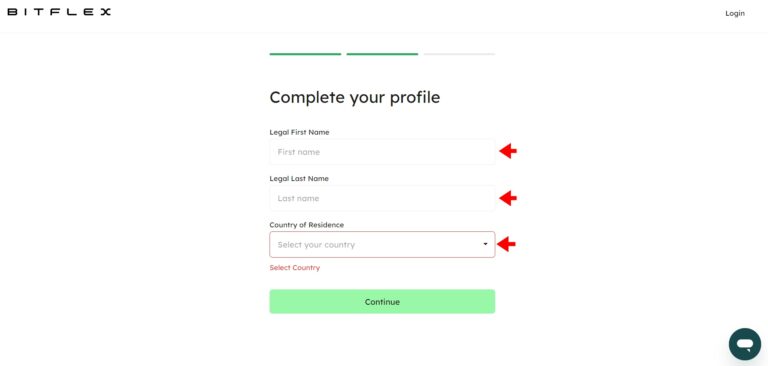 Now your BITFLEX account is ready for action, KYC isn't required–so all that's left to do is deposit funds and start your trading adventure immediately, with this fresh cryptocurrency exchange.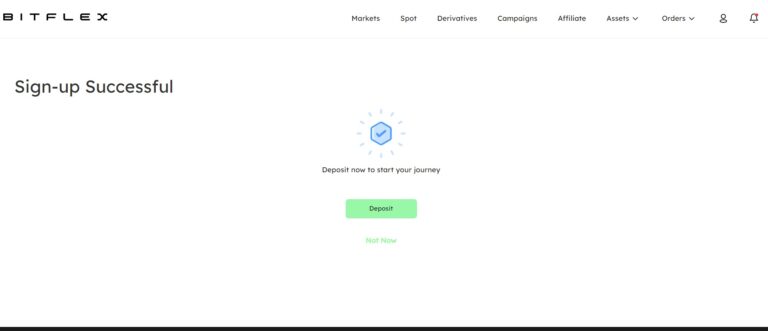 Bitflex KYC
Although KYC isn't mandatory at BITFLEX, users can choose between different levels of KYC verification for other withdrawal limits. That brings a new dimension to KYC checks, as BITFLEX is one of the only cryptocurrency exchanges that don't make KYC checks compulsory.
So users can select what level of verification they're comfortable with and suits their withdrawal needs. BITFLEX also integrates renowned security providers like Jumio, Coincover, and Fireblocks. These providers ensure an added layer of security for your data and assets.
KYC will only be required if you want to withdraw upward of $20,000 daily and $500,000 monthly. I am affording users convenience and flexibility while maintaining adequate compliance with necessary regulations.
Bitflex Trading
There are primarily two types of trading available on BITFLEX for those looking to get started: Spot trading and Derivatives trading. Read on to learn more about these two options.
Spot Trading on BITFLEX
The BITFLEX interface is user-friendly and easy to use. It's not jam-packed with information. Exactly ten trading pairs are available on the playlist for traders, including ETH, BTC, TRON, ADA, BNB, MATIC, SOL, DOT, ATOM, and XRP. These can all be paired with USDT.
Spot trading on BITFLEX is easy to implement and get started with. Go to the homepage and choose the "Spot" option. On getting in, you'll be guided to the spot market screen. That is where trading cryptocurrencies begins for you.
On the upper left side of the screen, you'll see a dropdown BTC/USDT menu you can click on to switch between cryptocurrencies.
Let's say you choose Bitcoin as your buy option in the spot market.
To start buying Bitcoin on BITFLEX, find the button labelled "Place Order" on the right side of your screen. Then click on the "Buy" tab on that button. After this, you can place just one limit order and buy Bitcoin at your selected price.
Just input the price you want to buy BTC and the USDT you want to spend here. Click "Buy," and the transaction is completed.
Selling on BITFLEX will also follow the same pattern.
Derivatives and Futures Trading on BITFLEX
The derivatives market is also accessible for traders to access on BUYFLEX. First, you must transfer funds to your derivatives account from your spot wallet. To do this, navigate to your spot wallet and select the digital asset you wish to share. Then click on the transfer option.
Input the amount of USDT you want to transfer and click confirm.
After you have completed the transfer of your funds, you can go on to derivatives trading. Just click on "Derivatives," located at the very top of this page. That gives access to the perpetual contract markets of BITFLEX.
To start trading a perpetual contract, select the one you want by clicking the top left tab, where the contract name is typed out—for example, BTCUSDT-P. For the sake of our review, let's take ETHUSDT-P as an instance.
You can open a long or short trade position by finding a large box button on the right side of the screen.
For a long position, enter the order price you desire in the relevant field (for your limit order); after this, choose a desired leverage ratio. It's important to remember that more significant risks are attached to increased leverage ratios. BITFLEX also allows users to select between a 2x to 100x leverage ratio. After choosing your leverage, input the USDT or ETH amount you wish to allot for this position. Select "Open Log" to open your work and carry out the trade.
A confirmation window will be visible on your screen, requesting that you verify the values stated. When you're done reviewing and confirming the details, select the "Confirm" option and continue with your long position—which should now be open.
Monitor your position live in the box underneath the Trading View chart. You can determine from here if it generates a loss or a profit.
Finally, to close your position, click "Limit," found just under the section labeled "Close By." Enter your preferred price for completing your post and click "Confirm." That will cause your position to close once the prices automatically reach the limit order price.
You can also set a desired "Take Profit" or "Stop Loss" price by tapping on "Add" under the section for TP/SL. You can input prices where you want to limit your loss or take profits. You can also view your possible gains or losses.
Shorting Ethereum's price or any other digital asset will require you to repeat the process listed above in the "Short" section and within the "Place Order" box. Just remember that when you short an asset's price, you'll gain a profit on it decreasing, and then the reverse will be the case if the price increases.
Bitflex Fees
BITFLEX boasts low trading fees that appeal to its professional or casual users. The crypto exchange provides a starting fee rate of 0.06% for takers and 0.015% for makers. That is a very competitive rate when comparing BITFLEX with exchanges within this industry. The higher a user's membership level, the lower their trading fees. That added incentive boosts trading on the exchange. Here's a breakdown of the fee structure.
| Membership Level | Maker Fees | Taker Fees |
| --- | --- | --- |
| Level #0 | 0.015% | 0.060% |
| Level #1 | 0.012% | 0.050% |
| Level #2 | 0.009% | 0.045% |
| Level #3 | 0.006% | 0.0425% |
| Level #4 | 0.003% | 0.040% |
| Level #5 | 0.000% | 0.035% |
| Level #6 | 0.000% | 0.035% |
BITFLEX Membership levels are gotten after reviewing your 30-day trading volume. That means that the more you trade, the higher your membership level will go.
BITFLEX offers zero deposit fees to its traders on all assets. For withdrawals, however, traders will be charged based on the network they use. Withdrawal fees and rates will also fluctuate depending on the network congestion on a blockchain network. The table is as follows:
| Coin | Deposit Fee | Withdrawal Fee |
| --- | --- | --- |
| USDT (ERC-20) | Free | 10 USDT |
| USDT (TRC-20) | Free | 1 USDT |
| USDT (Omni) | Free | 10 USDT |
| Bitcoin (BTC) | Free | 0.0004 BTC |
| ETH (ERC20) | Free | 0.01 ETH |
| ADA (Cardano) | Free | 0.25 ADA |
| BNB (BEP20) | Free | 0.01 BNB |
| TRX (TRC 20) | Free | 1 TRX |
| XRP (Ripple) | Free | 0.25 XRP |
| DOT (Polkadot) | Free | 0.10 DOT |
| SOL (Solana) | Free | 0.01 SOL |
| MATIC (Polygon) | Free | 0.60 MATIC |
| ATOM (Cosmos) | Free | 0.01 ATOM |
Bitflex Offers and Services
As Bitflex is a relatively new platform, it presently offers three service options. They are:
Spot Trading
Derivatives Trading
Affiliate Programs
Spot Trading
Spot trading is one of the kinds of cryptocurrency trading where current market prices dictate the buying and selling of digital assets by users. It's a to-the-point method of trading cryptocurrencies popular with beginners and seasoned traders.
Up to five trading pairs are available for spot trading on BITFLEX, including Ethereum (ETH), Bitcoin (BTC), Binance Coin (BNB), Cardano (ADA), and Tron (TRX). The spot trading widget BITFLEX provides is easy to use, allowing new users to trade cryptocurrencies at the prevalent market prices comfortably.

Derivatives Trading
Derivatives trading allows users to buy and sell financial instruments which derive their value from the value of an underlying asset. The most common financial instruments traded on exchanges like BITFLX are contracts. The platform offers USDT perpetual contracts for more popular cryptocurrencies like Bitcoin and Cardano. Leverage trading is also provided on BITFLEX, which allows users to overdraw their accounts and trade–even if they don't have the funds available.
The maximum leverage for BTC and ETH is 100x, while the influence varies for other derivative pairs. Users can make higher profits thanks to the BITFLEX overdraft feature, allowing trading with more funds than they have available. It's important to remember that leverage trading comes with an inherently higher risk. With BITFLEX's derivates trading feature, experienced traders can increase their profit margins via leverage trading. New users can also use this trading feature to discover a world of cryptocurrency trading with derivatives that they can learn so much about.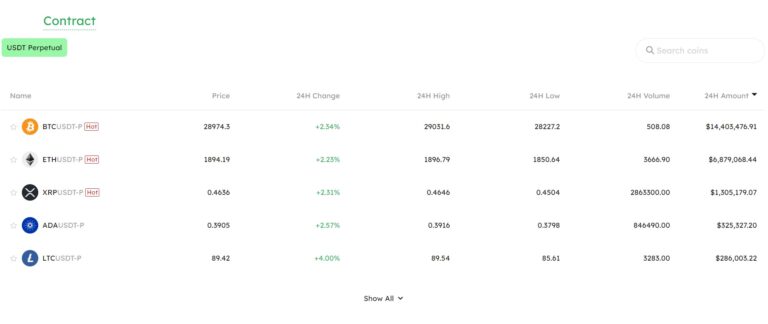 Affiliate Program
Like the one BITFLEX offers, an affiliate program is a marketing strategy that rewards users for bringing in new clients or customers. BITFLEX crypto exchange provides this program to incentivize its users with commissions to bring new people into the platform. Users can earn a maximum of 50% commission on the total trading fees generated by referrals. Also, users can obtain unrestricted access to view their campaign's performance, earnings, and invitees in real-time, meaning they can track progress and change strategies based on results. BITFLEX further increases the potential of making revenue by offering partnership options with sub-affiliates. Aside from cash rewards, the affiliate program offers exclusive bonuses to top performers. BITFLEX's "affiliate manager" has tools for users to manage their campaigns more effectively–and get the most value with potential earnings.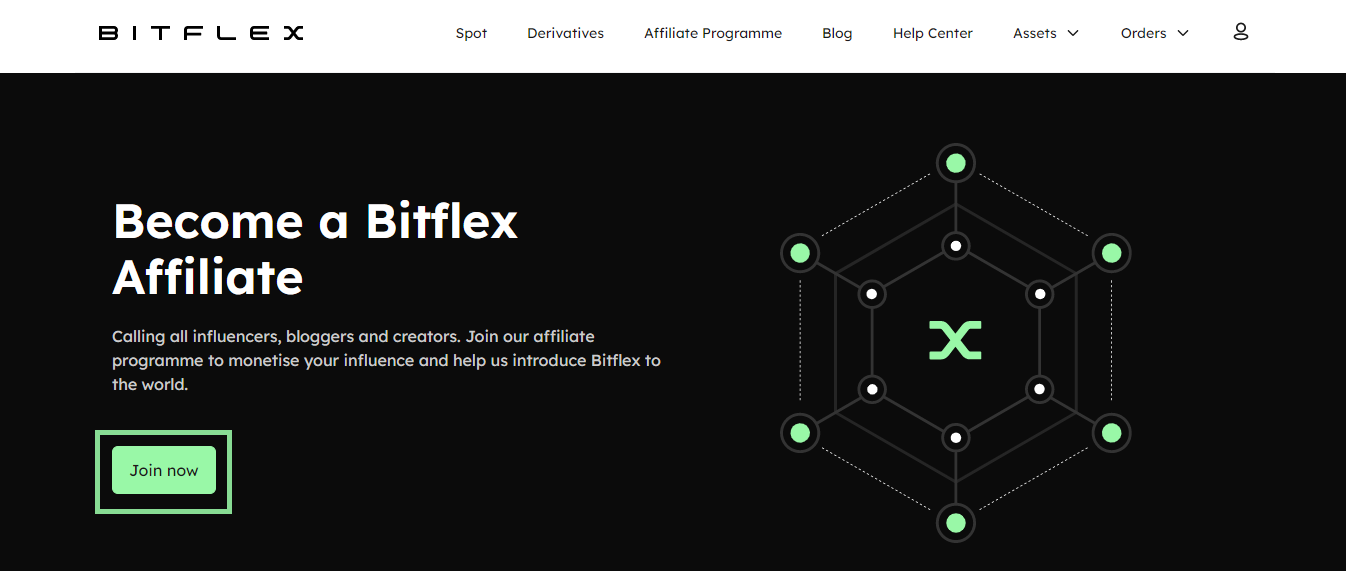 Bitflex Deposit Funds
BITFLEX makes the process of depositing funds straightforward. To start, head to the homepage and click "Assets." After this, choose "Wallet" from the list of dropdown options; this will take you to the deposits page. From here, you can select the cryptocurrencies you want to deposit into your wallet and proceed with the deposit process.
To deposit a cryptocurrency like USDT or any other, click the deposit option found next to the corresponding currency within that BITFLEX wallet page. At this point, you'll be directed to a page for generating your one-of-a-kind wallet address. For USDT, you have two options—the ERC20 or the TRC20 networks—based on your preference. When selecting your preferred network, copy your just-generated wallet address before pasting it into the wallet where your funds will be transferred.
Once you've successfully transferred funds into your wallet, you can start trading with BITFLEX. Additionally, transfer funds into your product wallet if you want to participate in margin trading that utilizes derivatives. Do this by tapping the "Transfer" button beside the funds.
Bitflex Security
Security on BITFLEX is a top priority. The crypto exchange uses the latest technologies to ensure users experience a safe trading environment. Apart from the HTTPS encryption that secures the website, different security features have been set to safeguard against hacking attempts and illegally gaining access to users' accounts. The security of user accounts is bolstered by two-factor authentication, adding that extra bit of calm and safety. Mobile-based authentication and Google Authenticator are both methods users can choose from to secure their accounts.
Assets can be secured separately with an "asset password" feature that BITFLEX provides. This feature secures assets in users' wallets, ensuring that any attempts made to withdraw or transfer assets need the user to input a unique password; this prevents unauthorized asset access.
Moreover, BITFLEX, in partnership with the foremost security solution provider—Fireblocks, has enhanced its already solid security measures. BITFLEX has used this partnership to implement advanced security measures that ensure funds and user data stay secure and safe.
Overall, BITFLEX has shown capability as a secure exchange that takes users' data protection seriously. The different partnerships and security measures show how committed the business is to assuring users of a particular trading platform.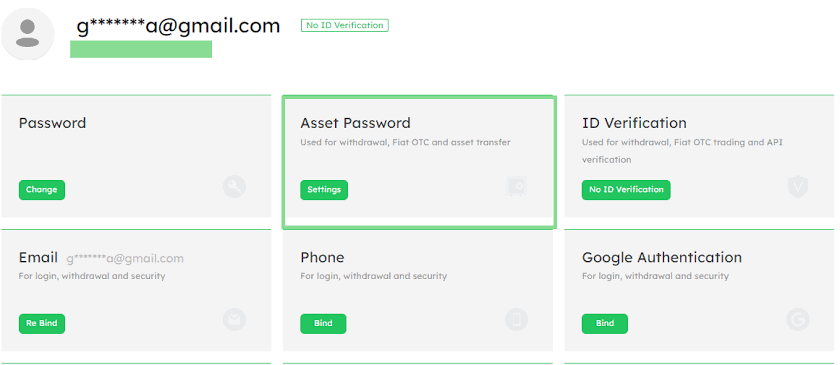 Bitflex Customer Support
The customer support offered to its users by BITFLEX is first-in-class, making it stand out from all its counterparts. The team at BITFLEX is constantly and consistently available to help users with any issues. Whether users have a query about a specific trading pair or a technical problem, the customer support team never sleeps and is there to give immediate and professional assistance. Taking support up to this level exemplifies BITFLEX's commitment to offering customers a unique trading experience filled with seamless actions. It also shows just how much they care about customers. BITFLEX and its dynamic and intuitive team ensure that any user who needs assistance isn't left hanging—and also shines a light on trading for users who may be confused. The exchange provides different communication channels for users, including social media channels, a live chat feature for their website, and an email address. All this is to make it easier to connect with users wherever they need support.
Final Thoughts: What Do We Think of BITFLEX
BITFLEX is a fast-growing cryptocurrency exchange offering various trading options to people newer to trading and expert traders. The exchange platform is easy to use, and its user-friendly and interactive interface is excellent for buying and selling cryptocurrencies. The security measures this exchange has executed are robust, including asset password protection, two-factor authentication, and KYC processes—all to safeguard users' finances and funds.
An appealing feature of BITFLEX is the minuscule trading fees, starting from as low as 0.06% for takers and 0.015% for makers. These already low fees decrease the higher a user's trading volume gets. A membership program is also available on BITFLEX with added benefits like priority customer care, lowered trading fees, and exclusive access to select features.
The incentives and varying campaigns offered by BITFLEX keep its community engaged and encouraged to keep using the platform. From trading competitions to referral programs and token airdrops, traders have many chances to earn rewards in addition to trading with this platform.
Lastly, BITFLEX is a solid choice for onlookers who wish to immerse themselves in a world of cryptocurrency trading. The platform is user-friendly and secure. It offers low fees, making it appealing to novices and seasoned vets in trading. Ultimately, BITFLEX is an excellent exchange for people interested in cryptocurrency trading.
Bitflex FAQ
Is BITFLEX a Public Company?
BITFLEX isn't presently considered a publicly traded company.
Where is BITFLEX located?
BITFLEX is located in Seychelles, specifically in Victoria.
Is BITFLEX a Safe Cryptocurrency Exchange
BITFLEX prioritizes security by partnering with significant security services providers like Fireblocks, Jumio, and Coincover to protect against fraudulent activities. The platform also adheres to all regulations concerning compliance, insurance, and KYC solutions.