Bisq Review
Decentralized Exchanges are now critical in the crypto world, providing a trustless and level playing field for all. What distinguishes these platforms is their emphasis on putting everyone on an equal playing field, regardless of the user's location, status, or background, with no time-consuming KYC account formation required and no limitations.
One such exchange platform that ideally stands in this description is Bisq, formerly known as Bitsquare and established in 2014 by Manfred Karrer. Since its launch, Bisq has garnered appeal among crypto enthusiasts for its peer-to-peer trading model, emphasis on security and anonymity, and servers distributed worldwide.
But is it the ideal exchange platform for you? Join us as we explore everything about Bisq Exchange – from its features to its security approach, payment model, wallet, customer support, and more.
So without further ado, let's dive into the details!
Overall Thoughts on Bisq
Bisq or Bitsquare is a leading decentralized exchange that takes a unique approach to ensure security and minimize server downtime. Instead of relying on a single server, Bisq scatters its servers worldwide, making it difficult for hackers to exploit the entire exchange.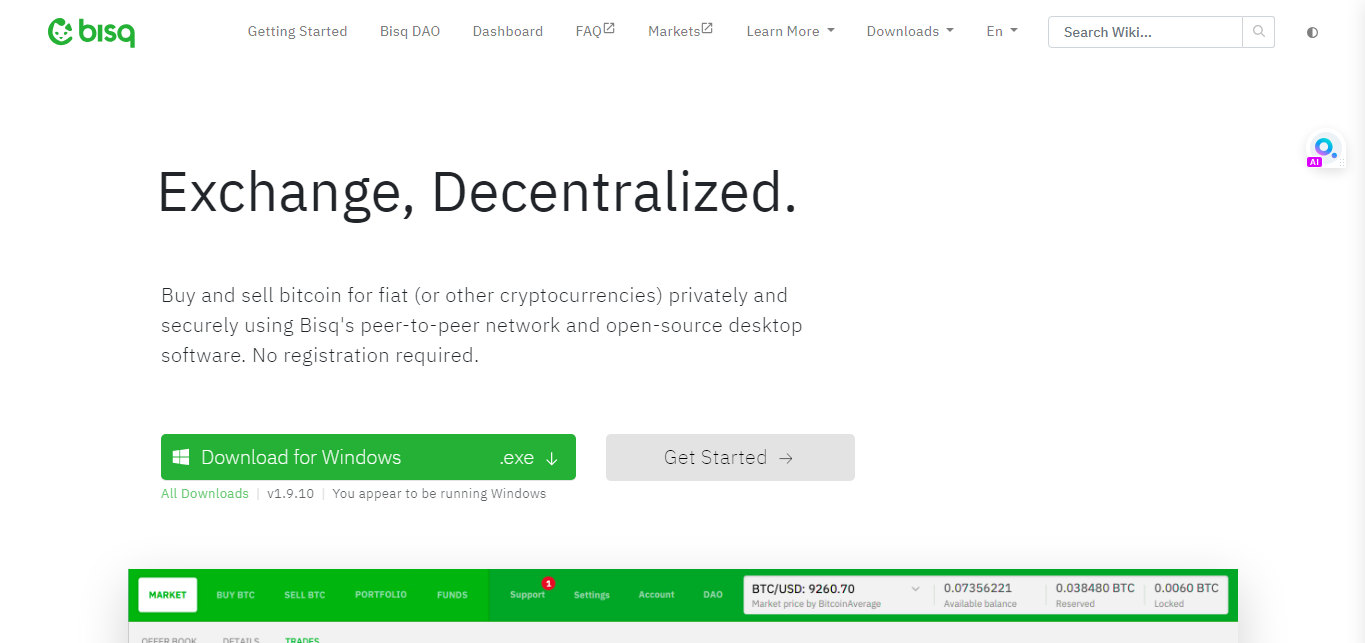 Founded in 2014 by Manfred Karrer, a well-known cryptocurrency expert from Austria, Bisq aims to eliminate the need for third parties in monetary transactions.
The exchange operates as a peer-to-peer (P2P) exchange, embracing the core principles of Bitcoin and blockchain technology, including decentralization, transparency, and anonymity.
Unlike most crypto exchanges, Bisq operates without a central authority, eliminating the risk of a single point of failure. It's a peer-to-peer network where traders can directly exchange assets.
Plus, Bisq is 100% transparent as everything is open-source. You can trade Bitcoin and other major cryptocurrencies on Bisq using various currencies or coins, as long as both parties agree.
Bisq Pros
No KYC required to begin trading
No geo restriction
Works on a P2P network
Increased privacy and anonymity
Open-source and driven by the community
Solid security measures in place
Bisq Cons
Basic application
All transactions on the exchange require Bitcoin
Customer support services are limited
Services Offered on Bisq
Supported Coins
Bisq gives you the opportunity to trade a whopping 120 cryptocurrencies, which is more than what many other exchanges offer. Here are just a few examples of the cryptocurrencies you can find on the platform:
Monero (XMR)
BSQ (BSQ)
Ether (ETH)
Dogecoin (DOGE)
Doichain (DOI)
Dash (DASH)
Keep in mind that every transaction on Bisq involves Bitcoin. When you trade on the platform, you're actually exchanging Bitcoin for another cryptocurrency or fiat currency. So, if you want to get your hands on other cryptocurrencies, you'll need to trade your Bitcoin for them.
Now even though you can purchase Bitcoin directly on Bisq, trading is the way to go if you want to expand your crypto portfolio beyond Bitcoin.
Bisq Token
The Bisq token is not meant for trading outside of the Bisq exchange. It serves as fuel for the network and rewards core contributors. Developers and contributors are attracted to earning Bisq tokens because it leads to lower fees on the exchange.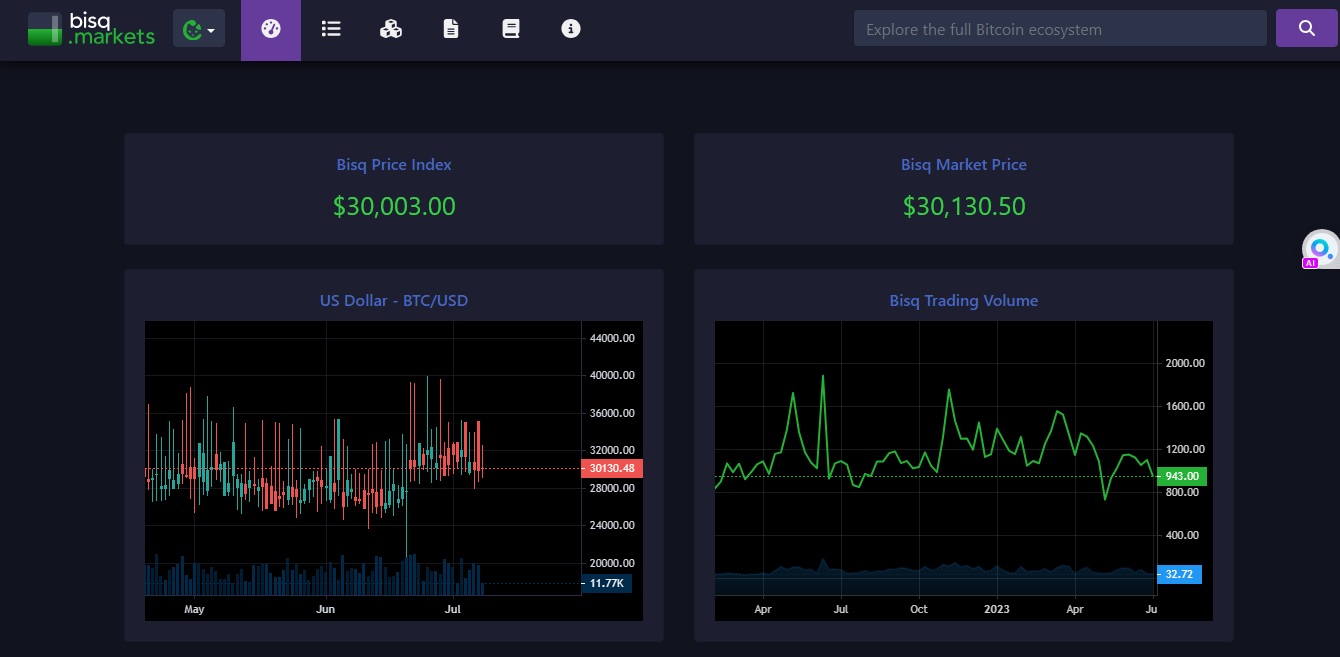 Source: Bisq Markets
Technically, BSQ is a bitcoin marked with a 'B' prefix in the wallet address and kept separate. So BSQ token owners serve as stakeholders who actively participate in the platform's governance.
BSQ Wallet
The Bisq wallet is unique because it allows you to do something special: interact with a different type of transaction called a Bisq trading protocol transaction. This transaction happens on the Bitcoin blockchain, and it's designed to be simple and lightweight.
Furthermore, the Bisq wallet is based on BIP 44, which is a standard for organizing Bitcoin wallets. BSQ wallets have a specific path called m/44'/142'/0'. Here's the cool part: the same seed phrase is used for both BTC and BSQ wallets. It's like having one key for two different wallets.
Mobile App
Bisq also has a mobile app for iOS and Android that lets you track your trades and receive notifications on your phone. But, here's the thing: this app isn't for full Bisq trading. Instead, its more like a handy tool to stay updated on your trades while on the go.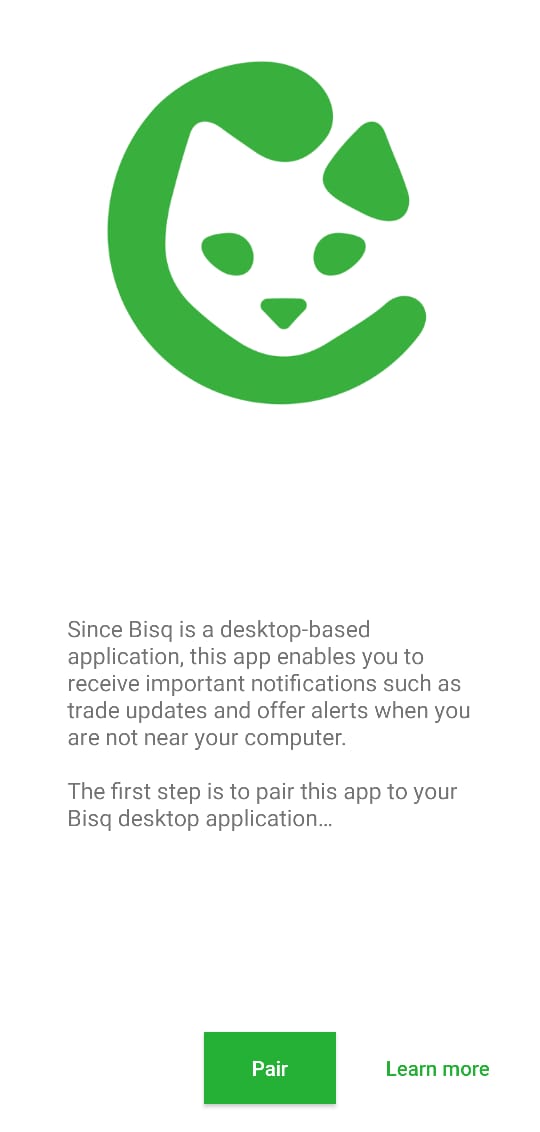 Source: Bisq Notification Android App
The app allows you to check trade status, get transaction notifications, and stay connected with the Bisq community. Simply put, it's all about convenience and keeping you informed wherever you are – further enhancing your trading experience on Bisq.
Usage Ease
Getting started with trading on Bisq is a breeze and won't take you more than 10 minutes. Unlike many other decentralized exchanges with complicated designs, Bisq stands out as user-friendly. This feature, primarily, is one of the main reasons why some traders stick to centralized exchanges instead of making the switch to decentralized ones.
Considering the same, the clever developers behind Bisq have tackled this challenge head-on. They've created a comfortable and easy-to-use interface, so traders can enjoy all the perks of decentralized exchanges without the headache of a confusing platform. It's all about simplicity and convenience!
Availability in Different Countries
Bisq is a trading software that prioritizes user anonymity and utilizes the Tor protocol to safeguard privacy. It's designed to be used globally, enabling traders from anywhere in the world to participate.
However, it's important to be cautious when trading bitcoin on Bisq in regions where it may be illegal. Therefore, Bisq warns about the potential risk of undercover agents posing as traders. Engaging in bitcoin trading under such circumstances could lead to severe penalties.
So, make sure to exercise caution, be aware of the legal implications, and understand the restrictions in your jurisdiction before trading bitcoin on Bisq.
Bisq DAO
Another appealing feature of the exchange is its DAO. The Bisq DAO allows decision-making to happen in a decentralized way, without being tied down by traditional organizational structures. No more legal and jurisdictional limitations holding things back. Plus, it's way less vulnerable to single points of failure risks, which is a win-win!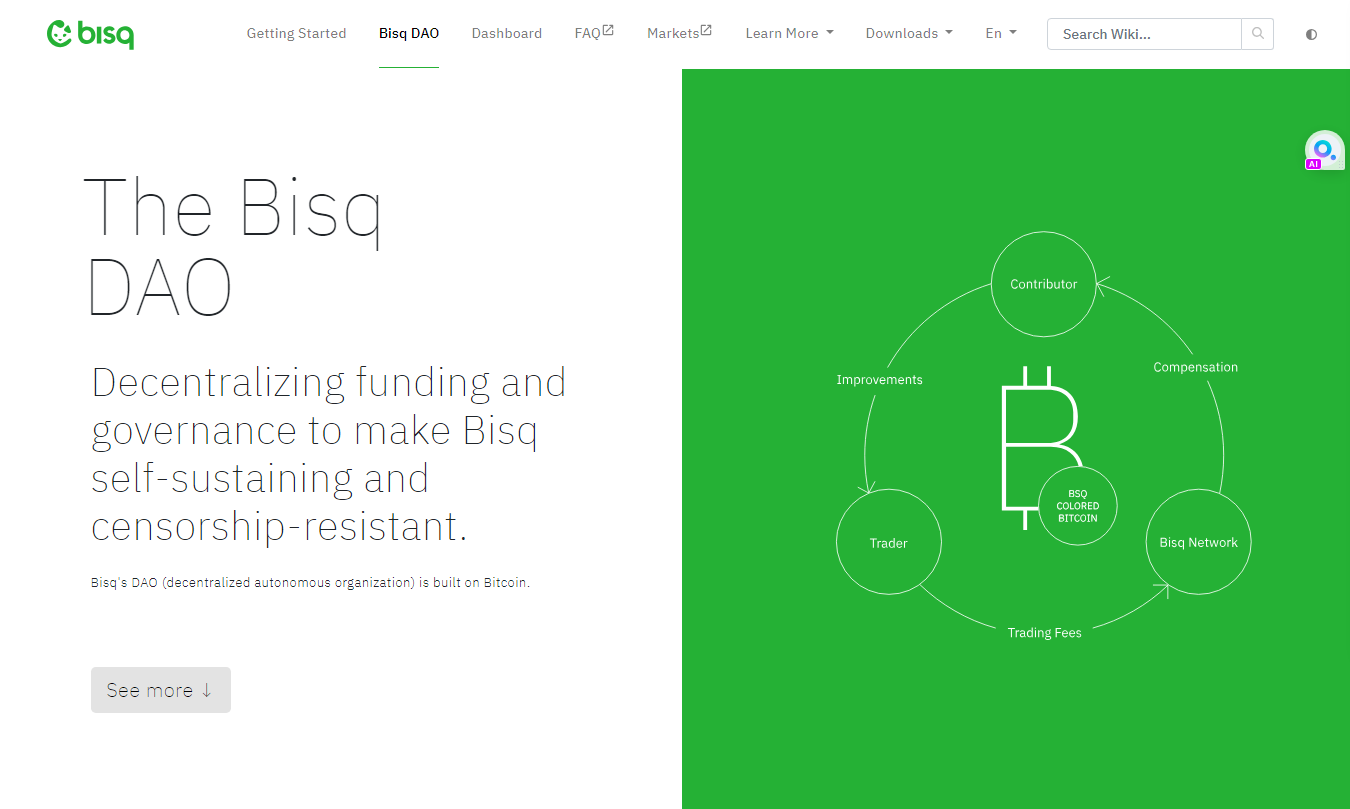 Source: Bisq Website
Since its launch in 2019, the Bisq DAO has been seamlessly operating on the Bitcoin network. It's been rock-solid in maintaining governance over the platform, ensuring stability and uninterrupted service. That's right, the exchange has so far witnessed no major risks or disruptions.
At the heart of the Bisq DAO is the BSQ token. This little gem allows traders to directly transfer value to project contributors. No middlemen like banks or corporations are involved! It's an innovative way for Bisq to distribute trading fees and ensure fair compensation without any complicated legal stuff.
Various Payment Options
Once you're all set up on Bisq, it's time to fund your account. To buy cryptocurrency using fiat currency, you must add funds from an external source.
Bisq supports various third-party options like
Advanced Cash
Perfect Money
National Bank Transfer
SEPA
Western Union, Zelle
Face-to-Face (F2F).
You can use your existing cryptocurrency balance on Bisq.
It's worth noting that Bisq doesn't directly integrate with banks or other national currency payment systems. Instead, Bisq's trading protocol allows buyers and sellers to settle fiat payments outside of the Bisq application. This means you can complete transactions like bank transfers separately from the Bisq platform.
Bisq Wiki and Blog
Bisq Wiki and Blog are valuable resources that provide helpful information and support for Bisq exchange users. The Bisq Wiki is a comprehensive knowledge base that offers all the information you need to get started with the exchange. It serves as a go-to resource for users seeking answers to their questions or looking for guidance on using Bisq effectively.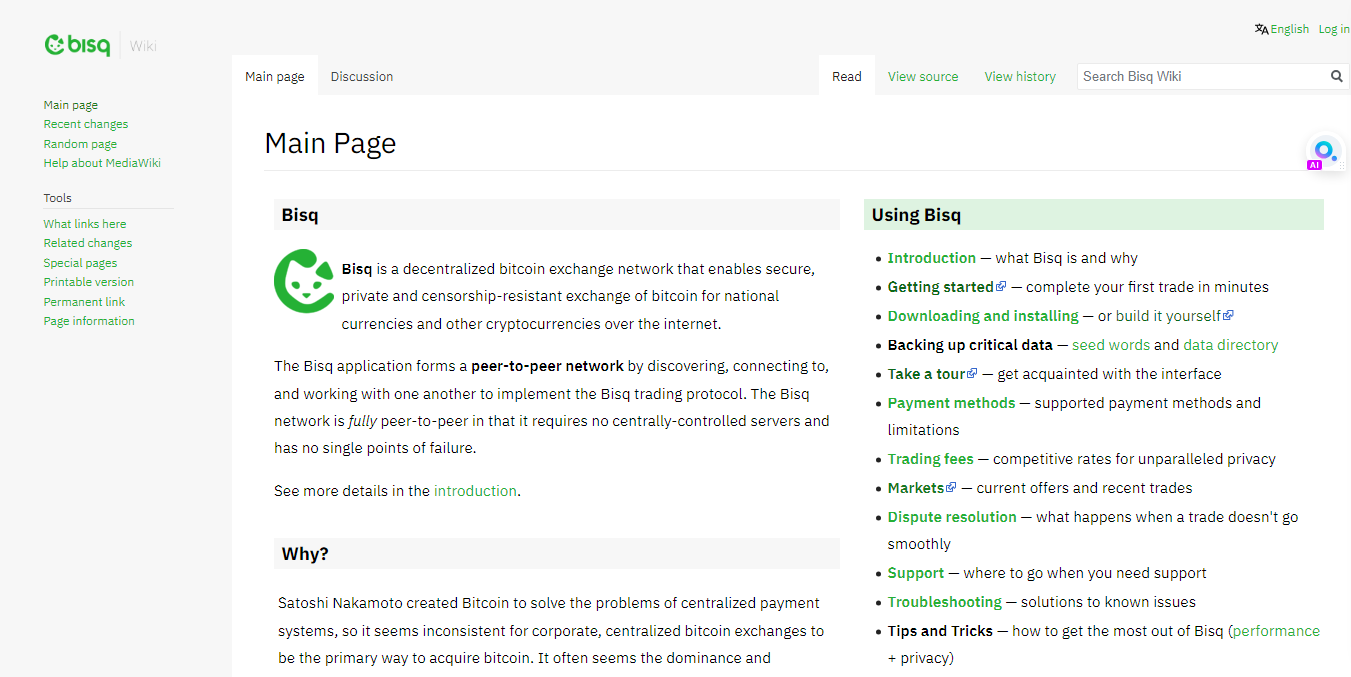 Source: Bisq Wiki
On the other hand, the Bisq Blog offers updates and informative articles related to Bisq and decentralized trading. It informs users about the latest developments, feature releases, and important news within the Bisq community.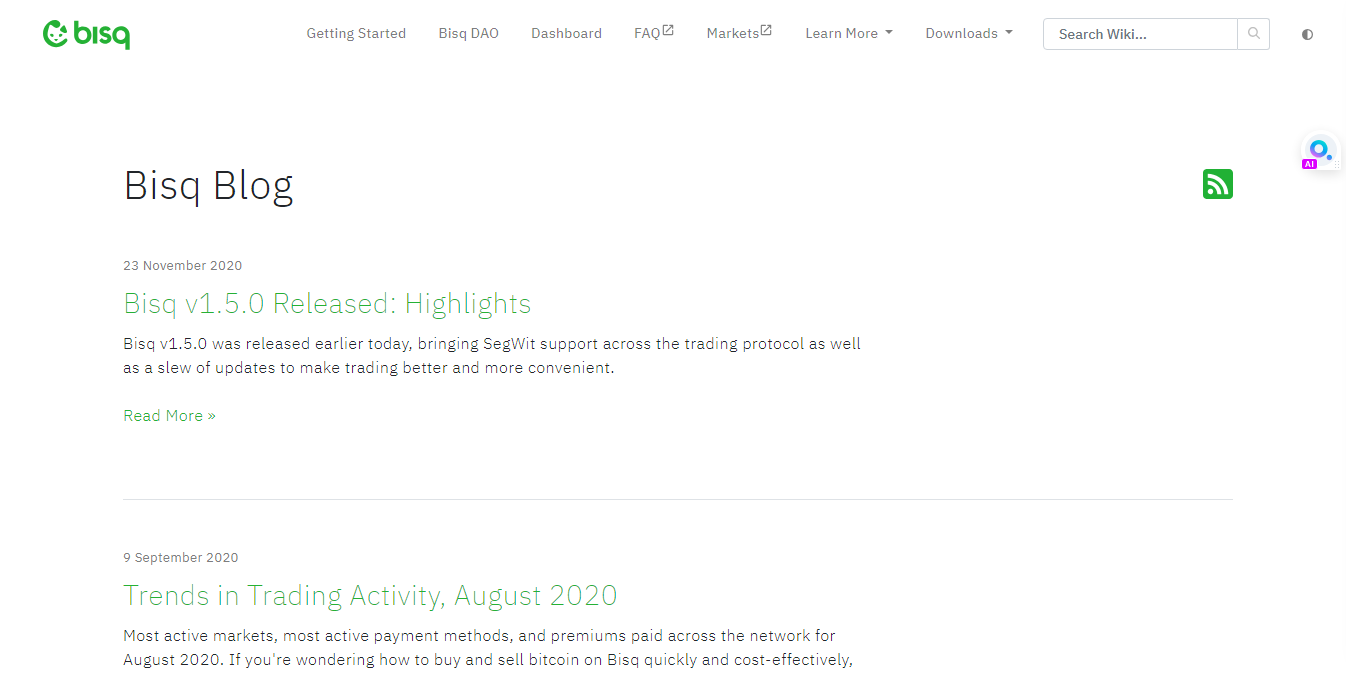 Source: Bisq Blog
Create an Account on Bisq
Bisq is a desktop application you must install on your computer. While you can download a mobile app to receive trade notifications, you can't actually trade on the go. Trading on Bisq happens through your desktop, and your computer needs to be online for your offer to be active.
Now comes the best part about trading on Bisq: You don't have to share any private information when creating an account on the exchange. Unlike centralized exchanges that require photo IDs and approvals, you can start trading on Bisq in less than 10 minutes.
Here's how it works:
Download: Download the Bisq app on your desktop. It creates a network where users can directly exchange cryptocurrencies.
Security Set-Up: You are the sole owner of your Bisq account, so there's no "forgot password" option. Encrypt your wallet and choose a backup location. You'll receive a set of seed words; write them down along with the date. Keep them safe because you'll need them for system restoration, just in case.
Set a Payment Method: You don't need to deposit funds, but you have to decide how you'll pay.
Trade: You can either create an offer and wait for someone to accept it or choose from existing offers. Both parties need to place a deposit as a precaution. Bisq requires Bitcoin for this, and their help page suggests ways to obtain it.
Transfer Your Money: Every step is tracked and supported on the Bisq platform. Once the seller receives your payment, they release the coins, and you both get your security deposit back.
Now, transferring your money to a stranger online might sound daunting. It's only natural to be cautious. However, Bisq has safeguards in place, such as the deposit and a dispute resolution process. This approach has enabled the exchange to limit its customer complaints, which indicates that the system works well.
Bisq Trading
As was previously indicated, trading on this platform requires consumers to launch an app rather than visit a website. It's a desktop app, so users will need to download it and run it on their personal PCs.
Afterward, traders can start trading immediately after adding their payment information or choosing a bank account to the platform. As there is no central server, there is no need to validate any information on the platform, and no data is stored on their servers either. Furthermore, trading on the exchange is quite straightforward, with no room for advanced trading features like spot trading or futures trading.
Bisq Exchange Fees
You can pay exchange fees in Bitcoin (BTC) or Bisq's native coin, BSQ. It is worth noting, however, that if you pay with BSQ, you will receive an approximately 50% discount. Furthermore, because the values of both coins fluctuate, the fees alter on a regular basis.
Trading Fees
The trading fee structure of the exchange, per 1BTC, is as following:
| Fees | BTC | BSQ |
| --- | --- | --- |
| Maker | 0.0015 | 25.66 |
| Taker | 0.0115 | 196.69 |
Mining Fees
The mining fees of Bisq, per 1 BTC, is as following:
| Fees | BSQ | Fee According to % of 1 BTC Trade Size |
| --- | --- | --- |
| Maker | 8.74 | 0.05% |
| Taker | 61.21 | 0.35% |
Bisq Security
This exchange platform also emphasizes the trader's safety, both in terms of information and functionality. They don't collect, store, or use any trader information, and no centralized servers hold your trading history. This means your identity stays safe from hackers and data breaches, ensuring anonymity.
Moreover, Bisq doesn't handle or control any funds. It's not a company but simply software connecting two parties for transactions. So, there's no risk of a central point of failure or the company running away with your funds.
Hence, trading on Bisq is super secure thanks to its highly encrypted protocol and TOR network. Plus, they don't rely on third-party websites, adding an extra layer of safety. To minimize fraud, each trade on the exchange requires a refundable Bitcoin security deposit. This discourages thieves and those with malicious intent from engaging in P2P trading.
Note: Remember, like with any self-custodial crypto solutions, the responsibility for security lies with you. So users must use strong passwords and ensure their computer is virus and malware-free to keep the crypto funds safe and sound.
Bisq Customer Support
Regarding contacting Bisq, things work a little differently. You won't find direct contact details on their website, making it a bit uncertain how to reach out for queries or issues. But fear not!
Bisq, however, does have a vibrant and active community spread across different social media platforms. You can connect with them and stay in the loop through platforms like:
Twitter
YouTube
WeChat
Reddit
Keybase
GitHub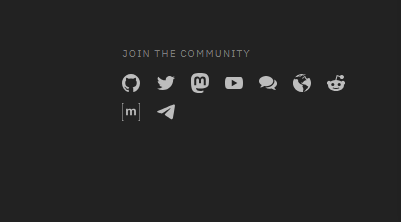 Source: Bisq Website
Apart from these options, Bisq also helps you to connect with the team through Matrix; an open network for secure and decentralized conversation with the team. Matrix directs you to multiple downloadable web applications, that direct you to the exchange's support service.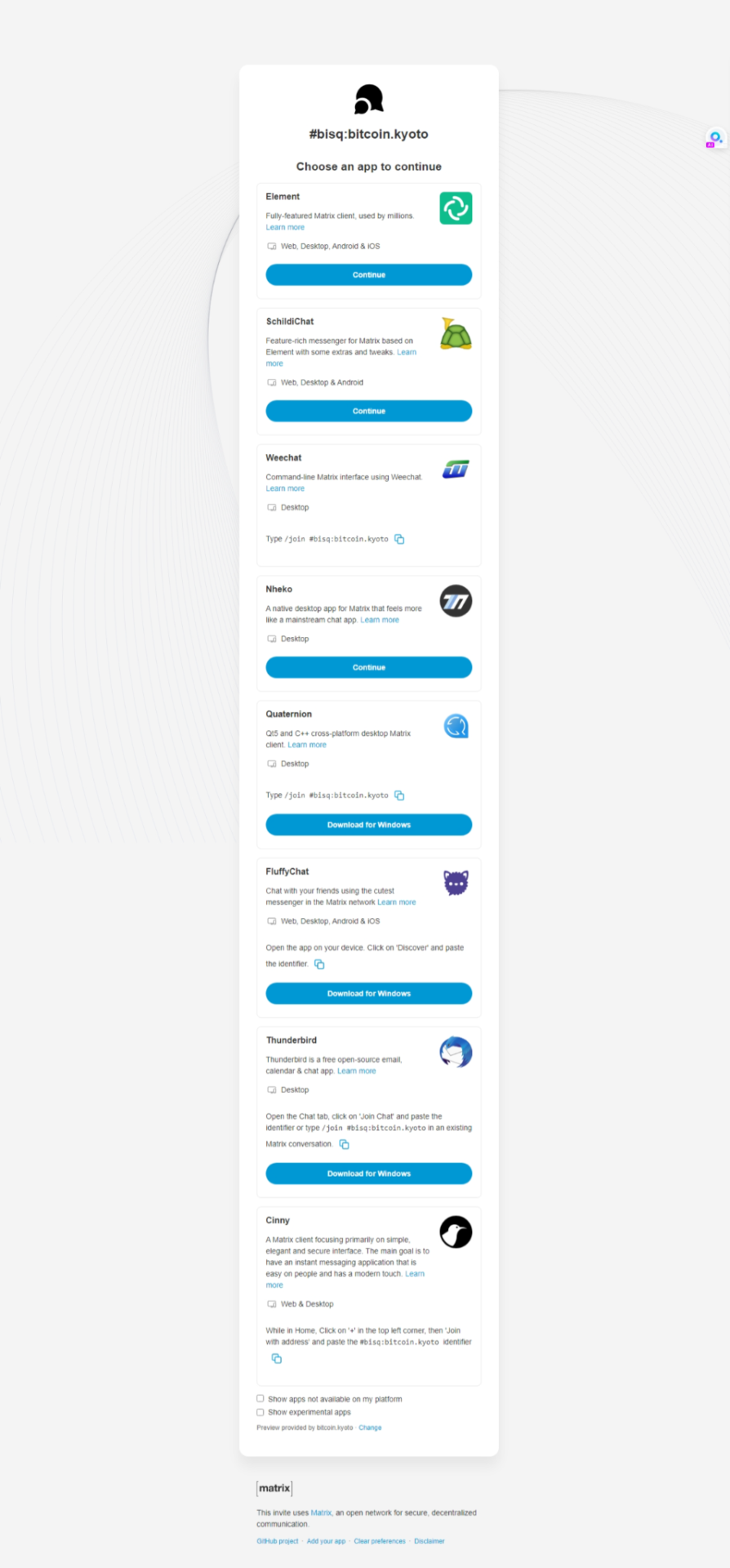 Source: Matrix Support
Conclusion
Bisq upholds the true spirit of Bitcoin and cryptocurrencies. It's safe, secure, and decentralized, allowing you to trade Bitcoin and other cryptos directly with others. So, setting up Bisq may feel a bit odd at first, but once you're up and running, it's user-friendly and great for private transactions.
Simply put, this exchange is a popular choice for crypto enthusiasts who value financial privacy and censorship resistance. However, it might not be the ideal exchange for you if you are an active day trader or rely heavily on technical analysis.
FAQ
Is Bisq legit?
Absolutely! Bisq being a DAO makes it a legitimate and trustworthy platform.
Is Bisq user-friendly?
Yes, Bisq is a user-friendly platform that lets you trade your favorite cryptocurrencies with ease.
Is Bisq a wallet?
Bisq is a decentralized, open-source software that you can download. It lets you trade and sell Bitcoin directly with others, without any central authority or risk of censorship. Plus, it comes with a built-in Bitcoin wallet that works smoothly with the platform, allowing you to enjoy the freedom and security of peer-to-peer trading with Bisq.
What coins can you buy on Bisq?
In addition to purchasing Bitcoin, Bisq supports a wide range of national fiat currencies and numerous other cryptocurrencies or tokens.