ZenGo Wallet is an innovative mobile cryptocurrency wallet that offers a non-custodial approach. Instead of relying on traditional private keys, ZenGo uses threshold signatures, generating two separate "mathematical secret shares." One share is securely stored on the user's mobile device, while the other is kept on ZenGo's servers.
The parent company, KZen Networks, is an Israel-based company. KZen Networks specializes in developing blockchain products with a strong emphasis on user interface (UI) and security. Founded in 2018 by Gary Benattar, Ouriel Ohayon, Omer Shlomovits, and Tal Be'ery, their collective expertise in security, engineering, and cryptography facilitated the ZenGo project in securing $20 million in series A investment.
The ZenGo team strived to simplify and enhance the security of the crypto economy for everyday users. They worked on trying to eliminate technical barriers to entry while upholding the highest standards of safety.
ZenGo Pros & Cons
Pros
Friendly User Interface: ZenGo Wallet offers a streamlined user interface. Users can conveniently buy and sell cryptocurrencies within the app, simplifying the trading process.
Customer Service: ZenGo prioritizes strong customer service and provides live 24/7 support to assist users. Customers can reach out to the ZenGo's support team through live chat, live chat, or social media platforms.
Security: Security is a top priority for ZenGo Wallet. The wallet incorporates three security factors (3FA) to protect user accounts and transactions. This multi-factor authentication approach significantly reduces the risk of unauthorized access and enhances overall security.
No Private Keys: ZenGo Wallet eliminated the need for private keys. By removing the reliance on private keys, ZenGo mitigates the risks associated with single points of failure, key hacking, and phishing attacks. Moreover, all actions performed within the wallet are executed on-chain.
Cons
Keyless Recovery Backup: ZenGo Wallet offers a unique feature called Keyless Recovery Backup. This unique feature requires users to store their backup data on iCloud or Google Drive. This means that while ZenGo employs a non-custodial approach for most aspects, the Keyless Recovery Backup feature introduces a level of custodial reliance on these third-party cloud storage platforms.
Features are Location Specific: Although ZenGo is available in 188 countries, it is important to note that certain features may be limited to specific locations. This implies that some functionalities within the wallet may not be accessible to users in certain countries or regions.
For users who prefer full control and responsibility over managing and storing their private keys, ZenGo's approach may not align with their requirements. These users typically seek wallets that allow them to manage their private keys without custodial involvement independently.
ZenGo Wallet Features
ZenGo Wallet offers a notable advantage by eliminating the need for users to write down a seed phrase for wallet recovery. Instead, they utilize an encrypted secret key share system. This system stores one key on the user's device and another on ZenGo's server. With this setup, the wallet can be conveniently unlocked and used through a face scan, providing a secure and user-friendly experience.
Another feature of ZenGo is the ability to buy and sell supported cryptocurrencies directly within the app. This feature allows them to manage their investments and trade without external platforms.
Furthermore, ZenGo Wallet provides comprehensive support for non-fungible tokens (NFTs), enabling users to securely store and view their Web3 assets directly within the wallet. This feature allows users to manage and interact with their NFT collections conveniently. Additionally, ZenGo now supports the Polygon chain, allowing users to store Polygon assets and utilize Polygon Web3 apps securely.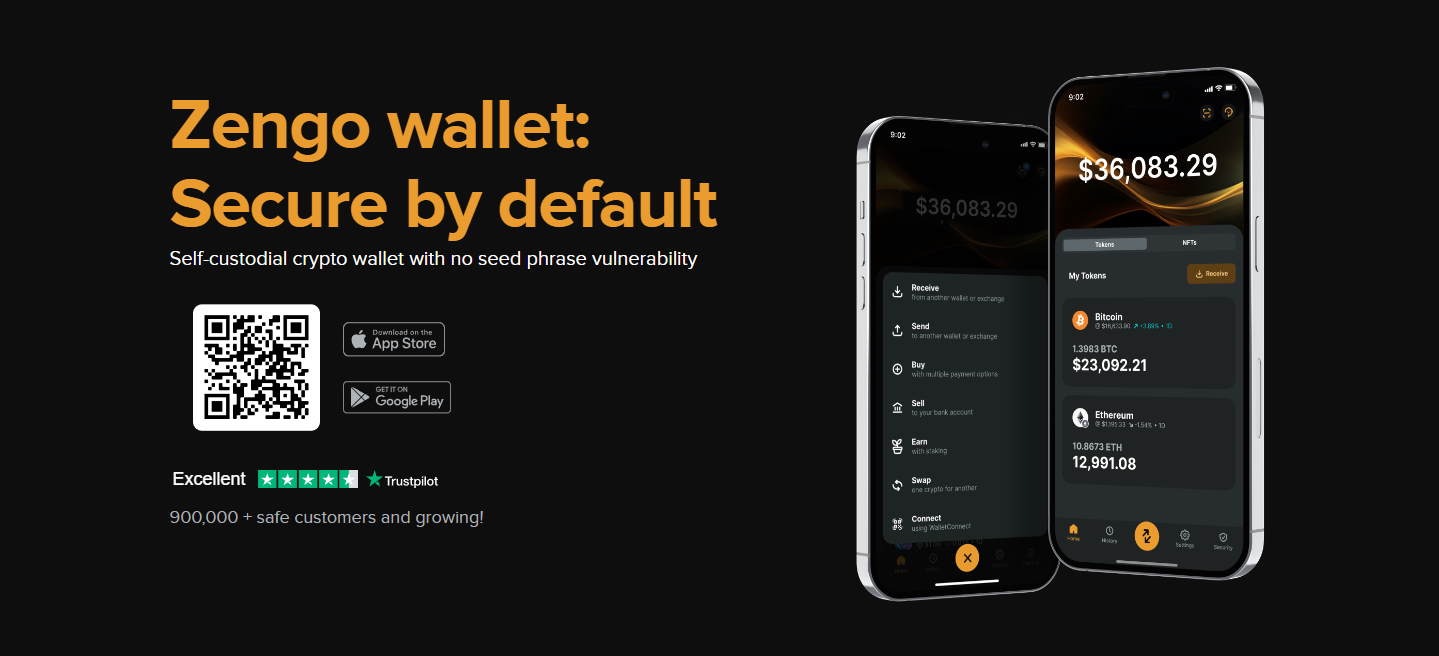 ZenGo 3FA
ZenGo's security strategy supports three-factor authentication (3FA). This makes the wallet a bit advanced, as many cryptocurrency wallets only provide two-factor authentication (2FA). The three elements listed below ensure user safety:
Email: During signup, users need to click a link to confirm their email.
File used for recovery: Saves a decryption key connected to your account in your private cloud service.
Face scan: ZenGo saves a mathematical representation of your face on their servers in a securely encrypted format. Your account can be restored even if you remove the app or change devices.
Last, ZenGo also boasts an above-average support staff accessible around the clock, which is particularly helpful for inexperienced cryptocurrency users.
ZenGo Cryptocurrencies Supported
ZenGo Wallet supports a diverse range of cryptocurrencies, allowing users to manage and trade over 70 coins and tokens. Some supported cryptocurrencies include Ethereum, Tether, Binance Coin, Dogecoin, Polygon (MATIC), etc.
ZenGo Wallet users can easily trade cryptocurrencies for other supported coins and tokens within the platform. Additionally, the wallet supports the option to purchase cryptocurrencies with fiat currency using various payment methods, including credit or debit cards, SEPA and Swift bank transfers (limited to customers in the EU and UK), Apple Pay, MoonPay, Coinmama, and Banxa.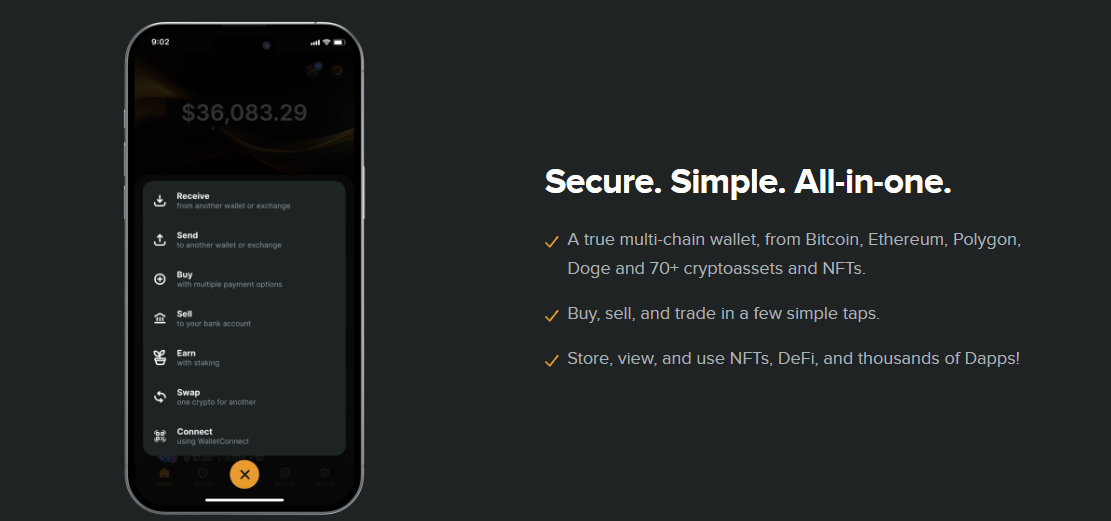 ZenGo Customer Service
ZenGo Wallet users enjoy instant help from the wallet's 24/7 support specialists directly within the app. Hence, users can receive prompt assistance whenever they need it. Additionally, ZenGo offers a comprehensive library of high-quality content, including articles, videos, blog posts, and a podcast. This content is designed to empower and educate newcomers interested in getting started with cryptocurrencies.
ZenGo has a strong online presence and frequently engages with Twitter users and the cryptocurrency community. The team uses its Twitter account as a community participation, update, and communication channel. Also, ZenGo's website includes a well-maintained support center and blog.
ZenGo Fees
ZenGo Wallet comes with various fees, such as:
Network Fee: These fees are paid to the operators of the blockchain network, not to ZenGo. For example, when using the Ethereum network to send Ether (ETH), the fees are paid in Ether. ZenGo allows users to choose from three network fee modes: economy, regular, and fast. These fees are applicable for BTC, ETH, and ERC20 assets.
Trade Fee: ZenGo supports cryptocurrency trading. So, users can exchange one cryptocurrency for another. For instance, you can change Bitcoin into USDC. ZenGo only charges a trading fee of 0.75% for these kinds of transactions.
Local Currency Conversion Fee: When purchasing cryptocurrencies in a currency other than USD, AUD, CAD, EUR, or GBP, a fee of this kind is charged. The service's operators get it as payment. For non-USD, CAD, AUD, EUR, or GBP currencies, there is an additional conversion charge of 5.99% when buying cryptocurrency using a credit or debit card. There is a 1.99% fee and the same local currency conversion fee when purchasing cryptocurrency using a bank transfer if you live in the EU or the UK.
Zengo Crypto Card
ZenGo recently introduced a crypto card. These cardholders can spend their owned cryptocurrencies in physical stores just like a regular Visa debit card. However, it has a unique aspect due to ZenGo's non-custodial nature.
Since ZenGo does not have control or knowledge of the cryptocurrencies users own, you will need to convert your crypto to USD first. Within the mobile app, you can convert some of your funds to fiat currency, such as USD, and deposit that amount onto your card. For regular card usage, you can convert a fixed amount every week.
Is ZenGo Wallet Safe?
ZenGo wallet is safe and you can learn more about ZenGos security methods here. They use Zoom's facial recognition software and even provide a test within the application for those thinking someone could just use a photo of their face to get into their wallet (it does not work with ZenGo). This is incredibly important because to use the wallet's functionality, all that is required is a scan of your face, so if it were easy to circumvent this, the wallet would be pretty useless.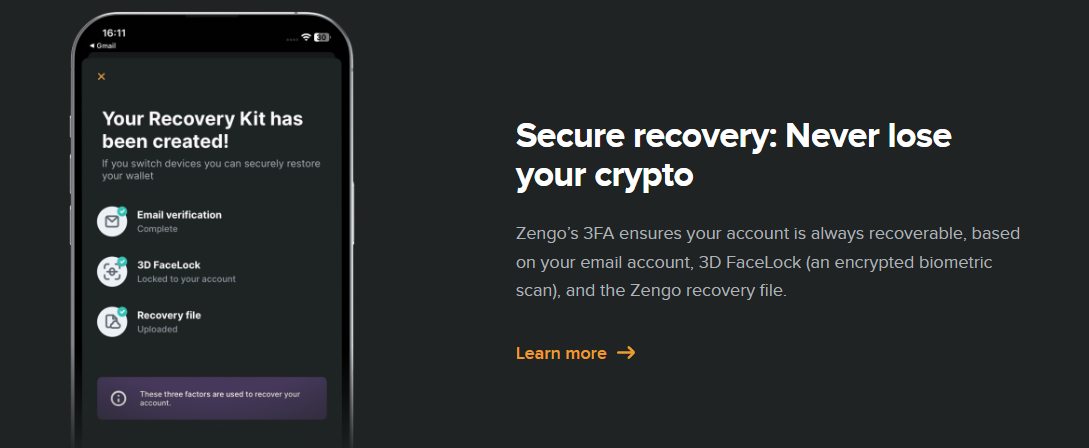 Conclusion
ZenGo Wallet stands out in the crypto wallet industry by successfully catering to the demand for simplicity and security. Its user-friendly interface and intuitive design appeal to users seeking a hassle-free experience. Moreover, the wallet offers additional features such as interest and easy coin staking, providing added value and setting it apart from competitors.
While the list of supported coins may not be as extensive as some other platforms, ZenGo's strength lies in its ability to remove the complexities associated with storing cryptocurrencies. This makes it an excellent choice for intermediate to advanced traders who value convenience and ease of use.
Ultimately, if you prefer using a mobile crypto wallet and prioritize simplicity and security, ZenGo Wallet emerges as a top contender in the industry. Its combination of user-friendly features, unique offerings like interest and coin staking, and commitment to removing technical complexities make it a compelling choice for cryptocurrency enthusiasts.