If you are a daytrader and you would like to see your performance, it can be tricky to properly monitor your stats. What is your win-rate? Where do you perform better? What is your biggest drawdown? What is your biggest win?
There should be a way to track your crypto trading efficiently. So, here is the full guide for your assistance, about the top 7 crypto trading trackers and journals.
We will go over the best crypto trading trackers and journals that will help you in crypto trading automatically. Moreover, we'll also share some factors to select the right tracker so that you can easily choose the best for yourself.
Especially if you have separate accounts for different trading styles (scalp, intraday and swing), having an automated journal with API integration for each account in hand is a lifesaver. It will help you to track your trades, investments and analyze different metrics to make profitable decisions. But which tracker will suit you the best? Let's find out!
Top 7 Crypto Trading Trackers/Journals
1. Coin Market Manager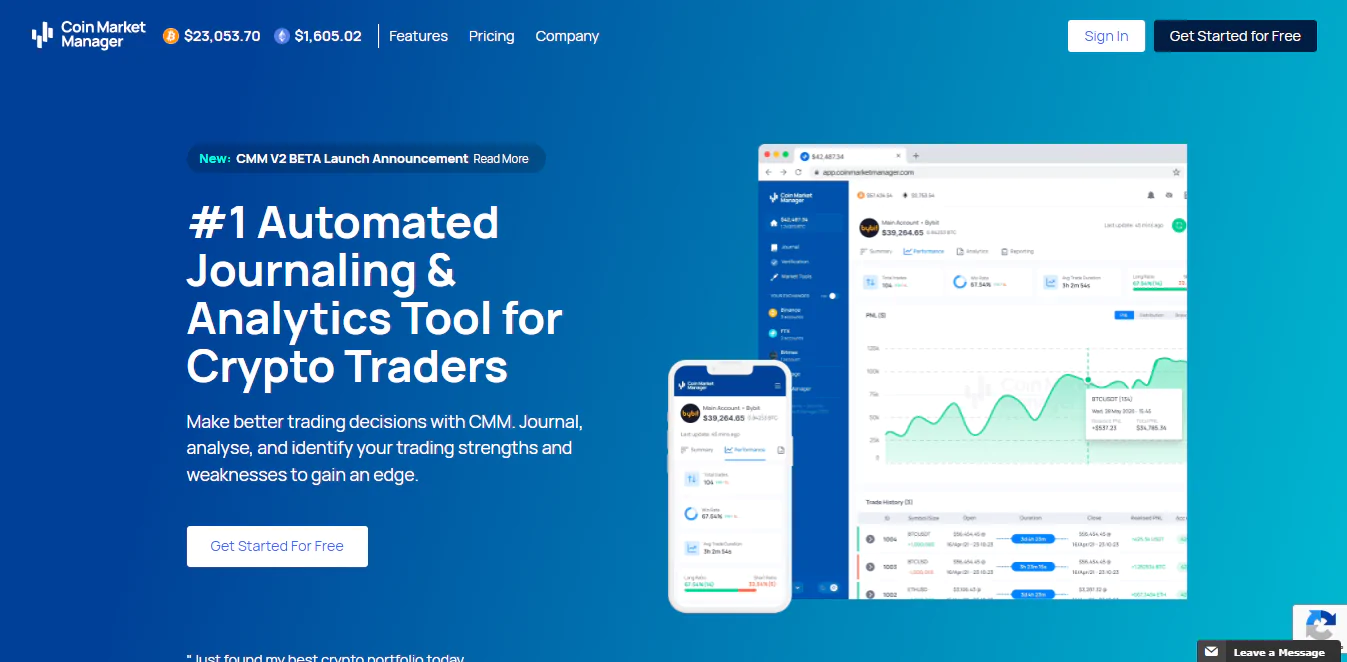 Coin market manager (CMM) is a popular crypto trading tracker with amazing journal and analytical tools. It provides a single platform for multiple operations, like investment tracking, live exchange prices, saving crypto assets, and monitoring your trading habits.
CMM has been serving traders since 2018 and has more than 50 million synced user trades. 51,000 users (increasing daily) have tricked their assets worth $200+ million. It signals Coin Market Manager is a legit company assisting traders in their everyday exchanges.
Key Features
Auto Syncing Exchanges: CMM allows you to import all your exchange data to the platform in one click. So, you can inspect your crypto assets in a single place. CMM currently supports six exchanges: Binance, Coinbase, BitMex, Deribit, Bybit, and Bittrex.
Live Crypto Tracking: The platform instantly updates any changes in the prices of cryptocurrencies and fiat money. So you can track any price fluctuations and can make decisions on time.
Easy Journalling: The integrated journal helps you to view and manage your crypto portfolio in one place. You can conveniently make notes, view your crypto coins, and analyze balance, profits and losses. Moreover, you can also convert the crypto values to fiat currencies to estimate how much money you are holding.
In-Depth Advanced Analysis: CMM has advanced analytics tools that provide in-depth and insightful data with various detailed reports. It helps in reducing losses and making mistakes.
Complete Trade History: You can also get the entire trade history as soon as you connect your wallets. It consists of all essential metrics, including deposits, withdrawals, progress, and trade durations.
Pros
Provide Real-Time Values
Instantly Imports Data from Crypto Exchanges
One-Stop Solution to Many Crypto Trading Activities
Integrated Journal
Insightful Reports & Complete Trade History
Portfolio Balance, Profits, & Losses Monitoring
Cons
Have no mobile application
Fewer supported exchanges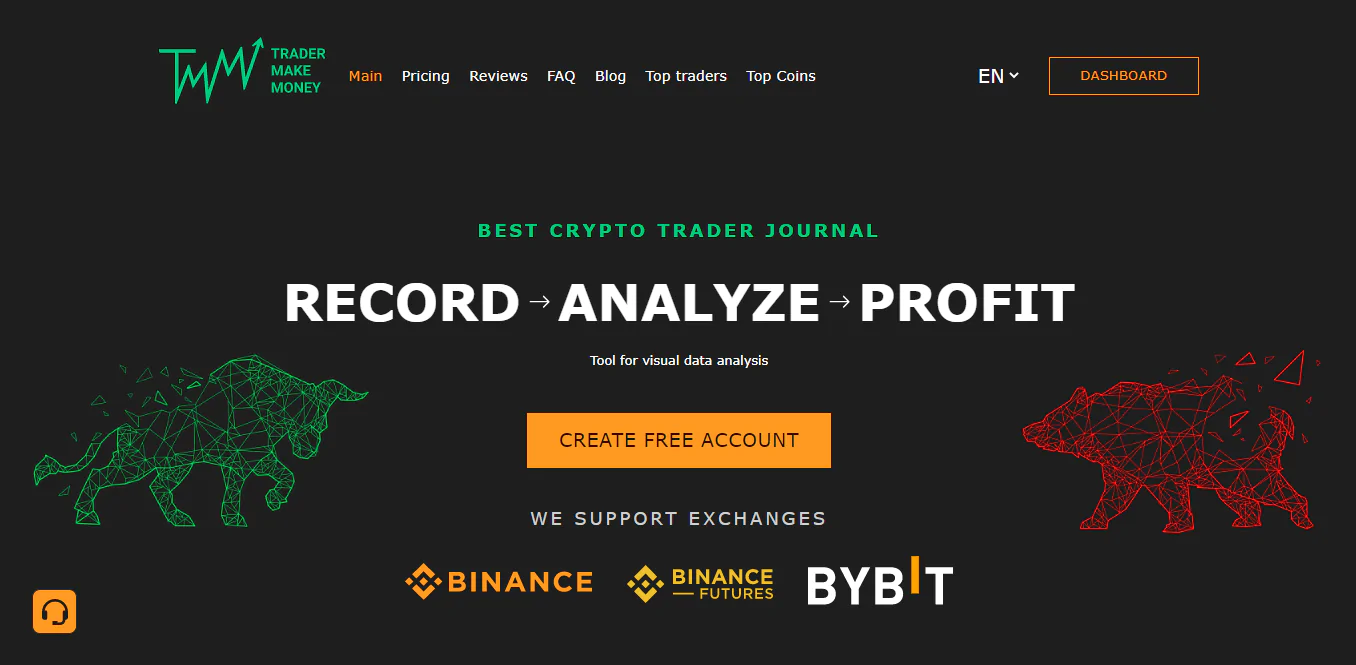 The next crypto tracking journal is Trader Make Money, which is (as the name suggests) designed for crypto traders to make more money. The platform has many useful tools that people can utilize to increase their profits and get valuable data.
TMM offers three pricing plans, in which the Novice account is free with basic features. The Trader subscription charges $12 per month, while the Trader Pro plan costs nearly $25 monthly. A great thing is that they accept payments in USD Tether as it remains around $1.
Key Features
Useful Widgets: Trader Make Money provides more than 70 widgets to traders for obtaining insightful data. These range from showing basic metrics like net profit or loss, commission, volume, and balance to some advanced ones like leverages, Maximum Favorable Excursion (MFE) percentages, and spot balance.
Personalized Diary: You will get a personalized diary to note down your daily, weekly, and monthly trading habits to analyze later. The diary can also filter many actions automatically and integrate necessary widgets for convenience.
Risk Management: Risk management helps you to detect when you make a loss above a dedicated percentage, so you can avoid it in the future. For this purpose, you connect your Twitter account to the extension and set a loss percentage. So, whenever you lose above that value, the log will notify you.
Mentor Group: Mentorship in TMM allows you to excel in a crypto community. You can either join a group to learn from experts or guide people to success if you are a master.
Twitter Notification: TMM has different APIs to connect, but the best one is its connectivity with your Twitter account. The platform regularly updates you about every detail on your portfolio via Twitter, so you can make wise decisions quickly.
Pros
Loaded with Utility Widgets
Easy to Use
APIs Connectivity
Free for Beginners
Risk Management
Regular Updates
Cons
3. Trade Tracker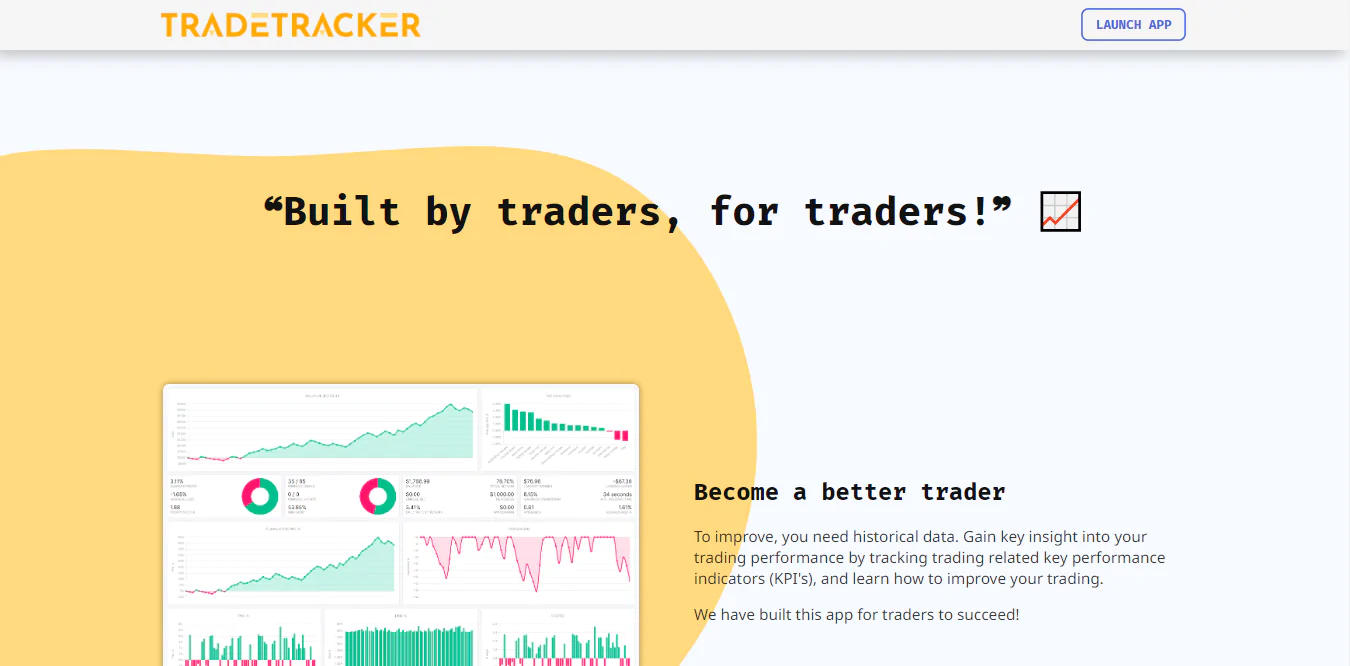 Trade Tracker is a newly built website for traders to monitor, analyze, and manage their trades and portfolios. The project is in its beta stage, but it appears to be a functional platform that can assist you right away.
The account setup is also straightforward and only requires an email. You will get a demo account after signing up, so you can understand the platform very well. Once you are comfortable, you can proceed to integrate different exchanges.
Key Features
Well-Populated Dashboard: The website features a detailed dashboard with all the necessary metrics. So you can take a quick look over vital information on the go. It shows you the balance, various profit and loss charts, different ratios, risk percentages, and much other information.
Export Trade History: Trade Tracker also lets you download your trade history in CSV format. Many other crypto trackers offer this feature in their paid variants, whereas you get it free on this platform.
Risk/Reward Ratio: Besides tracking, you will also get in-depth charts on the risk/reward ratio. The page will show you different comparisons of your profit and loss with an estimated and actual ratio so that you can make profitable decisions.
Safe Encryption: When you create an account, it gets a personal encryption key. That encryption protects your vital data from breaches. So, even if malicious activity happens, no one can ever read the data, and the system can roll back to a safe backup when security is restored.
Equity Simulator: The Equity Simulator is the latest addition to the platform, which simulated up to 200 trades on a given strategy. The tool will help you to estimate how well a method can perform and modify it to make it beneficial.
Pros
In-Depth Trackers
Trade History Export
Simple UI & Easy UX
Demo Account for Training
Secure Data Encryption
200 Trades Simulation
Cons
No mobile application
Don't have much authority being new
4. Trader Sync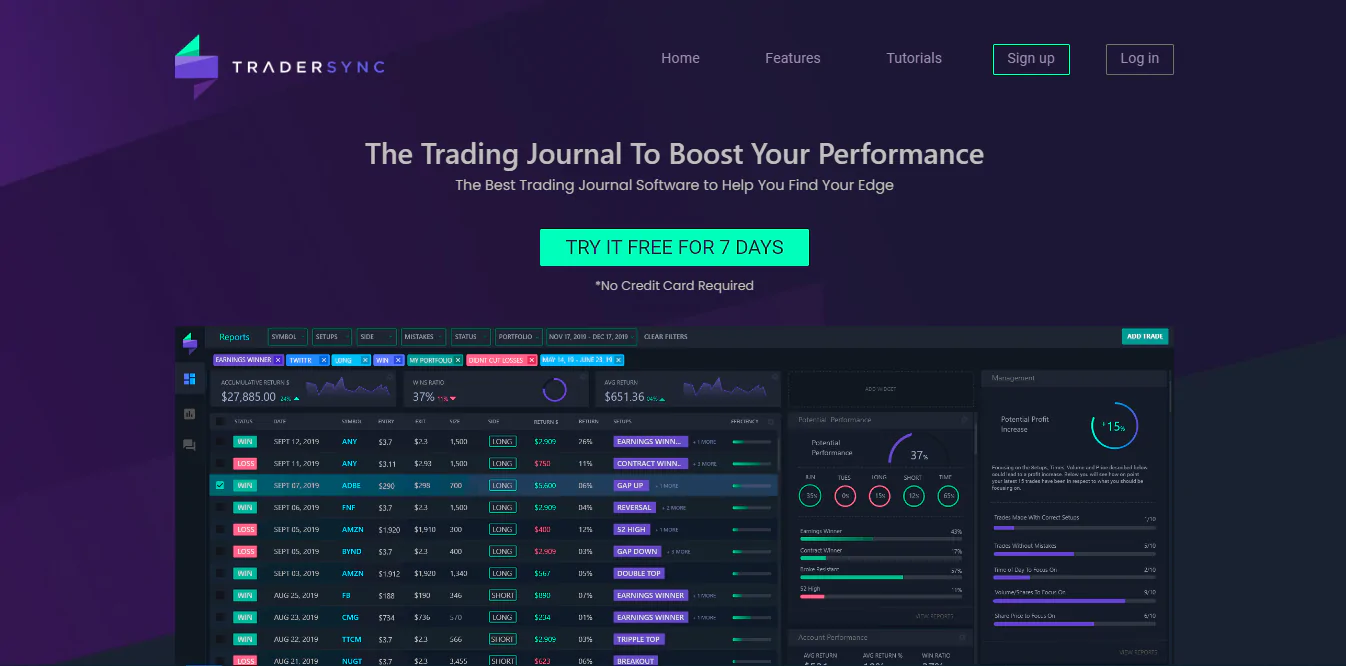 Trader Sync, one of the most exciting crypto trading journals, offers metrics and data more than just trading assistance. The website is designed for experts and professional traders who exchange assets frequently and are active in the market.
Trader Sync is excellent if you require additional assistance in maintaining your crypto accounts, preventing mistakes, and making good progress on different exchanges.
Key Features
Advanced Analytics: Trader Sync provides various modern analytics tools to make your trading more efficient. These tools offer information like returns per share, overall risks, calenders reporting, journal assistance, and more.
Insightful Reports: You get ten different styled reports on various metrics for a detailed analysis. The platform reports range from tracking your commissions and fees to providing interactive charts. You can even filter different information to point out the smallest detail.
AI Feedback: The AI-powered feedback mechanism is probably the best highlight of Trader Sync. Its powerful engines analyze your trade habits, calculate your patterns, and present that information in much simpler feedback.
Setup & Mistakes Tabs: These two tabs distinguish Trader Sync from other crypto journals. The Setup tab allows you to enter tags and recall your aims when you start that trade. The mistakes tab lets you note down all the wrong decisions in that loss so that you can avoid it later.
Interesting Layout & User Interface(UI): The platform has a pleasing and intriguing layout, so you can properly focus on the tools and charts without getting lost in navigation. The simple and decent UI also provides a great experience and assists in reading information and reports.
Pros
Experts-Oriented Platform
Detailed & Insightful Reports
Simple & Impressive UI
Setup & Mistakes Tabs
Assists in Evaluations
Auto-Import Data from 100+ Brokers
Cons
Track only one account in the free plan
Expensive paid plans
5. Tradiry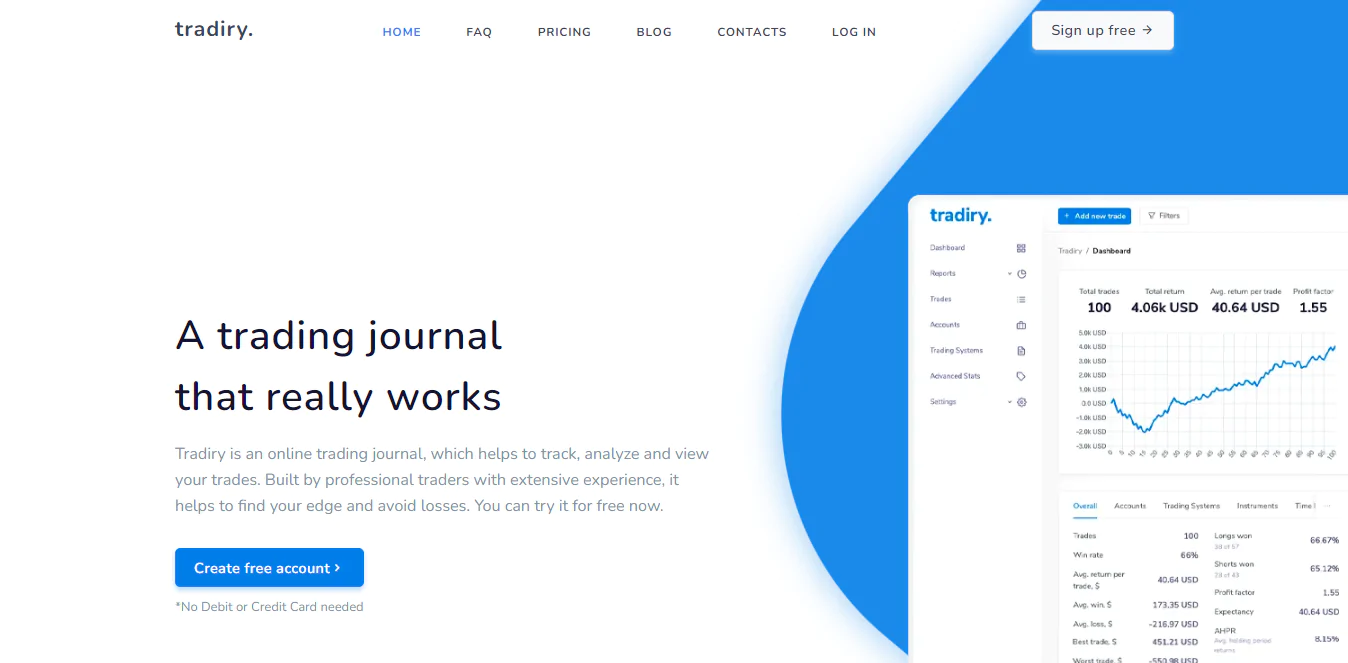 Another great crypto trading journal is Tradiry, which offers a free plan and a premium plan. The free plan isn't worth it, but the premium plan, which costs $20 per month, offers various perks to assist your trading.
The platform has more than 5000 active users, which include traders from crypto, forex, stocks, options, and futures. Moreover, since the developer's team also has experienced traders, the platform addresses many overlooked issues that other traders face.
Key Features
Multiple Accounts: Tradiry offers you to create multiple trading accounts, apart from cryptos like forex and stocks. So, you can use the platform for diversified purposes and manage your different portfolios from a single place.
Strategies Assistance: You will also get a strategies manager to assist you in developing, experimenting, and implementing various trading strategies. It will guide you to make your exchanges more accurate and perform lesser mistakes.
Flexible Filters: The platform offers supportive and flexible filters to easily distinguish between numerous metrics, charts, and reports. You can set different ranges for convenience or develop your own filters for a more customized approach. It will help you to sort out data accurately.
Share Trades: The platform allows you to share your trades in your friend's circle or with your mentor. It helps you to engage with a community within a single platform. You can also export your data in a CVS file for later use or send it to others.
Data Security: According to DNSFilter, Tradiry is a safe website with SSL certification, while FlashStart also doesn't report any malware or phishing. Moreover, the data on the platform is backed up in different regions, so your information is safe on the website.
Pros
Multiple Accounts Creation
Advanced & Customizable Filters
Strategies Manager Support
Secure Data
Detailed Reports
Elegant User Interface
Cons
The free plan isn't much useful
W3 Tools' trustworthiness is unknown
7. Edgewonk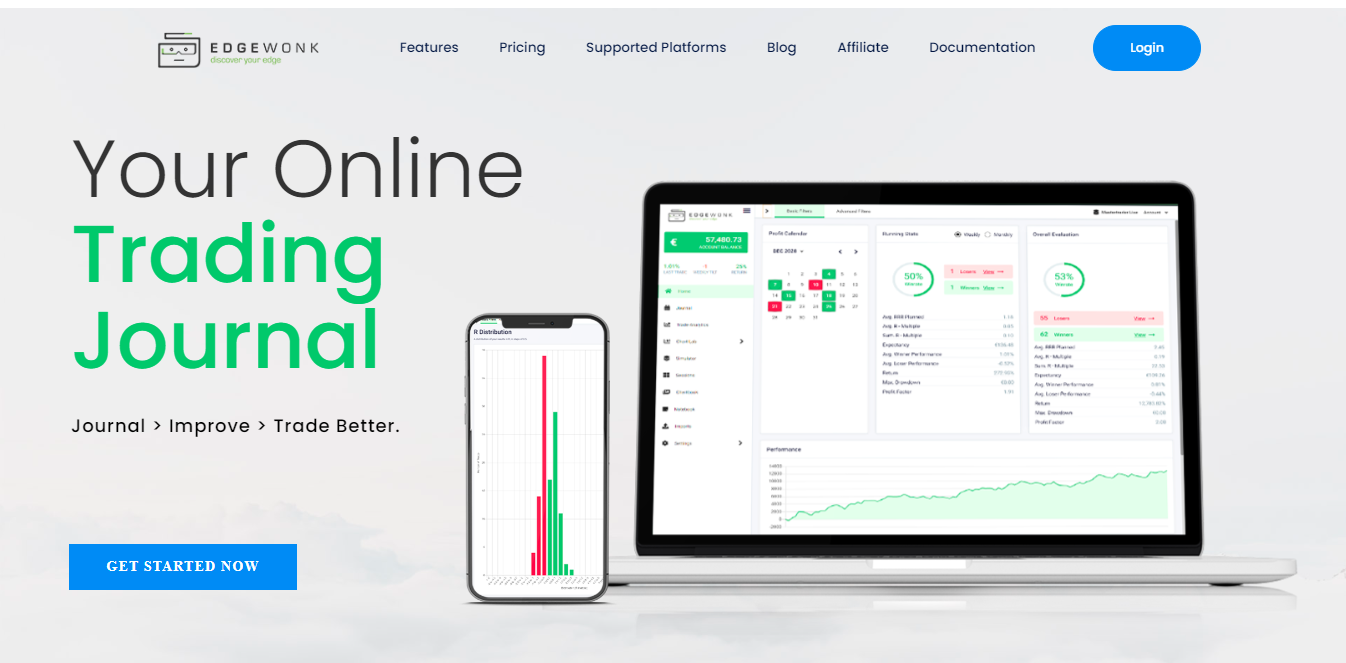 Edgewonk is also a versatile crypto trading journal that was established in 2014. The platform is great for many trading operations besides crypto, like forex, stocks, futures, and contract for differences (CFDs).
Before March 2021, Edgewonk was only available for download. But in March, developers released Edgewonk 3.0, an online web-based solution. However, it is only available with a single subscription plan of $169.
Key Features
Trade Planner: Edgewonk allows you to plan your trades, make time notes, and utilize the calendar to make exchanges on time. It not only improves your performance and helps you make more profit but also saves time and reduces effort.
Valuable Metrics: After subscribing, you get 12 useful metrics to analyze deeply and get a clearer picture of your profits and loss. The most notable metrics are holding time, win rate, drawdown, system quality number (SQN), and equity fluctuation.
Trade Simulator: Trade simulator is a prominent highlight that enables you to test and experiment with different techniques and strategies without fear of loss. The feature simulates your strategy according to the market behavior and estimates the success or failure of that trade.
Psychological Advises: You can also input your mood or prior condition into the system for more personalized psychological advice. You can tell the platform in which state you are entering or exiting the trade, so it can offer you trade decisions free from emotional influence.
Equity Graph: The equity graph visually shows your previous performance and all the rise and fall of your balance. It assists in analyzing your trade habits and your decision outcomes around a particular time.
Pros
12 Valuable Metrics
Helps in Emotionless Trading
Simulates Trade Strategies
Improves Trading Habits
Easily Accessible
Allows Multiple Journals Creation
Cons
No free plan
Not beginners-friendly
8. Kubera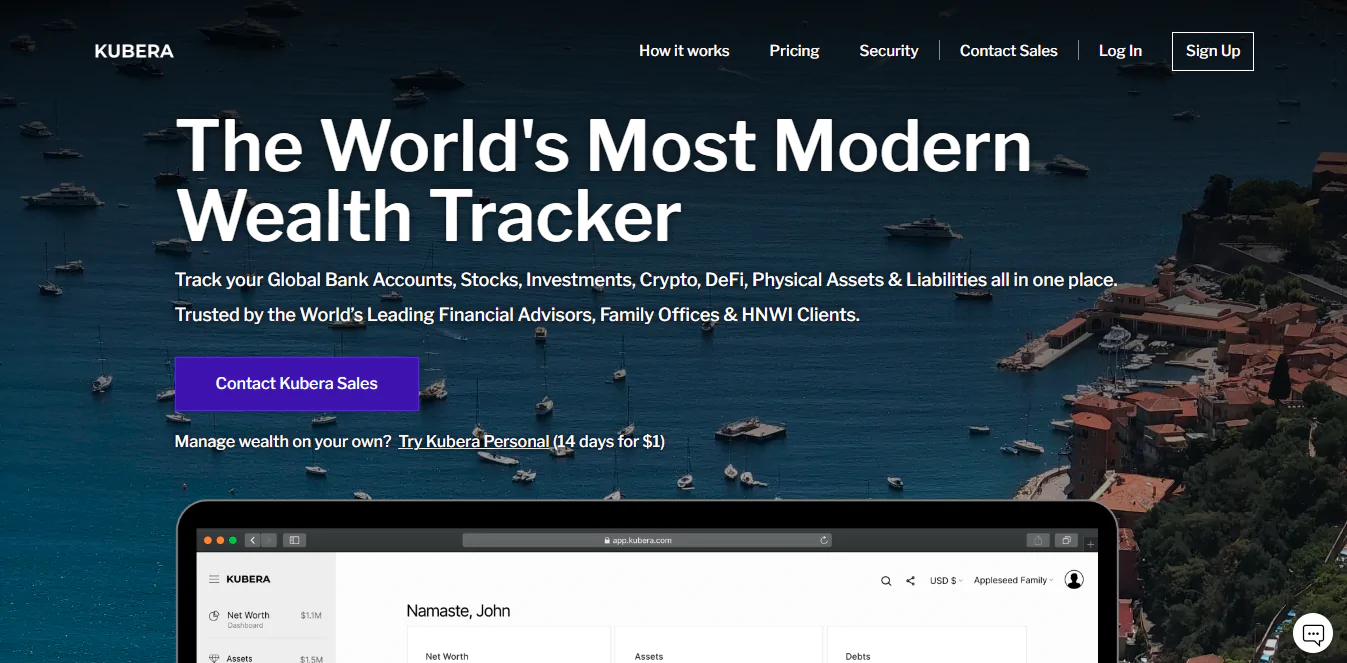 Kubera is an excellent crypto trading tracker with numerous integrated features and analytical tools. The platform started small, but soon it gained popularity, and now thousands of people track their $20.5 billion assets on Kubera.
It has two pricing plans, one for offices, companies, and managers, that costs $150 per month. But you can also sign into a $150 per year program if you personally manage your portfolio.
Key Features
Trusted Users: Many reputable companies, brands, and businesses use Kubera for effective portfolio tracking. Some of them are HSBC, ANZ, Royal Bank of Scotland, Barclays, and Well Fargo.
Support Other Crypto Assets: Besides crypto coins and fiat currencies, Kubera also supports other assets like DeFi assets of Ethereum, BSC, Polygon, and Solana. You can also track and manage your NFTs.
Dead Man's Switch: It is the platform's great security feature which triggers if you don't log in to your account or respond to reminders for 45 days. In such case, Kubera will send your assets and information download link to your registered beneficiary to secure your assets and other data.
Secured Data: The platform has at-rest and in-transit encryption for customers' data security. All the data is stored on the Amazon (AWS) server, which requires a special encryption key to decrypt. Also, the website won't connect to a browser without HSTS (HTTP Strict Transport Security).
Instant Customer Support: It's funny Kubera has customer support via only email addresses (no phone no. or live chat option). But the support service is 24/7, and it's highly possible you will get a response email within a few minutes.
Pros
Trusted & Reputable Platform
Supports Numerous Cryptocurrencies, NFTs & DeFi Asssets
Connects to 20,000 Banks Globally
Highly Secure & Encrypted
Data Send to Beneficiary in Case of Mishap to Owner
24/7 Customer Support
Cons
Doesn't have a free plan
No mobile application
Factors to Consider Before Choosing Crypto Trading Tracker
Managing multiple crypto trading accounts is hard, but it becomes even more challenging if you select the wrong tracker for assistance. Here is a short list of factors that you must consider before choosing a crypto trading tracker.
Intriguing Design & Excellent User Experience: It should be simple and enable easy navigation to view required information quickly. You shouldn't get a headache after using the platform.
Cross-Platform Compatibility: It should be operable on multiple devices, i.e., desktop, tablet, or mobile. It will allow you to access your account anywhere, anytime, and from any device.
Supports Numerous Crypto Currencies: It should support numerous cryptocurrencies, especially those you invested in. So, you can track how well that coin is performing and its value in your portfolio.
Active Syncing & Auto-Updating: The platform should actively sync with the exchange and wallet as soon as you connect them. Moreover, it should auto-update the prices of your assets so you don't miss any vital trading moments.
Diverse Integration: It should allow third-party integrations and APIs so that you can connect any other valuable plugin or your digital wallet or import data easily.
Security & Backup: It should have strong encryption and secure servers to protect your data. Moreover, there should be a safe backup option in case of a breach or data loss.
Takeaway
When you have multiple trading accounts or crypto assets, their tracking and managing become complicated. That's when a crypto trading tracker or journal becomes handy.
Now you know the 7 best trading trackers and journals to assist you in monitoring, analyzing, and managing your portfolio accounts in one place. So, select the one which suits you the best and start making progressive decisions on your trades.