When it comes to cryptocurrency trading, there is no room for security lapses. Choosing the right crypto exchange can mean safeguarding your digital assets or becoming vulnerable to hacks, so selecting a secure platform should be a top priority. Here are some of the best crypto exchanges that offer robust safety measures, regulatory compliance, and user-friendly interfaces: ones you can trust to protect your investments and enable smooth trades.
Key Takeaways
This article evaluates the top safest crypto exchanges for secure cryptocurrency trading, including Binance, Kraken, Coinbase, and Gemini.
It explores security measures such as two-factor authentication and encryption to protect digital assets from malicious actors.
Tips are also provided on personal security measures and hardware wallets for safe crypto trading.
Evaluating the Safest Crypto Exchanges
As we plunge into the realm of cryptocurrency trading with heightened safety measures, it becomes imperative to consider all aspects that bolster an exchange's security. The most trusted crypto exchanges prioritize user experience and compliance regulations as essential features for their platform's success. Weighing out these components will enable you to pick a suitable portal that caters best to your investment needs in digital assets.
Security Features
When it comes to cryptocurrency exchanges, security features are a fundamental aspect that guarantees your digital resources remain safe from cybercriminals. A solid system of protection should include:
Cold storage – where the bulk of your assets stay offline, beyond the reach of hackers
Two-factor authentication – adds an extra layer that requires more than just a password for access to user holdings.
Encryption – scramble data so only authorized people have access.
For additional peace of mind when selecting centralized exchanges, ensuring that they use these precautionary measures will confirm all investments and property are safeguarded adequately.
Regulatory Compliance
The security of user funds is strongly related to regulatory compliance by crypto exchanges, especially in the US. Being compliant with laws set out by such authorities as FinCEN and CFTC not only protects investors from fraud but also helps secure their money. That's why it's crucial when picking an exchange to check its observance of regulations pertinent to that kind of business operation.
Crypto trading venues that adhere to legislative requirements create a higher level guarantee, ensuring users' safety while carrying out transactions through these platforms.
User Experience
When deciding on a crypto exchange, it is important to factor in user experience. Quality customer support and positive reviews are indicative of the security level that an exchange offers. Those focusing heavily on this aspect Prioritize safety for their users when they buy or sell cryptocurrencies. Taking into account all these elements can help you ensure your choice is secure in the long run.
1. Binance
Binance stands out from the competition as a secure crypto exchange, with its renowned $1 billion SAFU security fund and variety of trading products. This has solidified Binance's reputation among global traders in cryptocurrencies. What is it that precisely makes Binance so safe? To get to the bottom of this question, we need to take an inside look into their protective protocols and list of services available for users.
Security Measures
Binance ensures the safety of its users through various protective measures such as a multi-level defense system, an insurance fund worth $1 billion (SAFU) to give emergency help in extreme cases, and proof that they have enough funds for all user deposits.
Additionally, Binance uses multisig cold storage wallets to safeguard user funds.
Another key factor of Binance is the proof of reserves data. Binance provides full proof of reserves. That means that all customer funds are backed 1:1 on the exchange. This data is publicly available and underlines Binance's commitment to honesty and transparency.
Trading Products
Binance is a well-known crypto exchange, providing traders with the confidence they need to explore and engage in cryptocurrency trading. They have advanced tools for spot trading, margin trading, futures trading, and options trading. All of these combined create a comprehensive collection of services that both novices and veterans can take advantage of. With low fees and a high leverage of 125x, Binance ensures a great cryptocurrency trading experience.
The diverse selection offers numerous opportunities when it comes to cryptocurrencies being traded on the platform, with over 300 legitimate coins listed! This makes Binance one of the most dependable platforms available as far as security goes, yet it still offers a wide variety of tools so users are able to gain profits from their investment decisions.
Its safety measures make sure you're always engaged in secure trades while having access to powerful resources like Advanced Trading Tools allows each individual trader to optimize their performance in order to generate consistent growth potential throughout the market conditions regularly encountered by investors around the world.
2. Kraken
Launched in 2011, Kraken is renowned in the crypto trading world for its robust security features and high-quality customer service. Its well-deserved status as a trustworthy source of buying and selling digital currencies owes to its reliable protocols, secure infrastructure, responsive technical assistance team, and impressive history without any major safety breaches.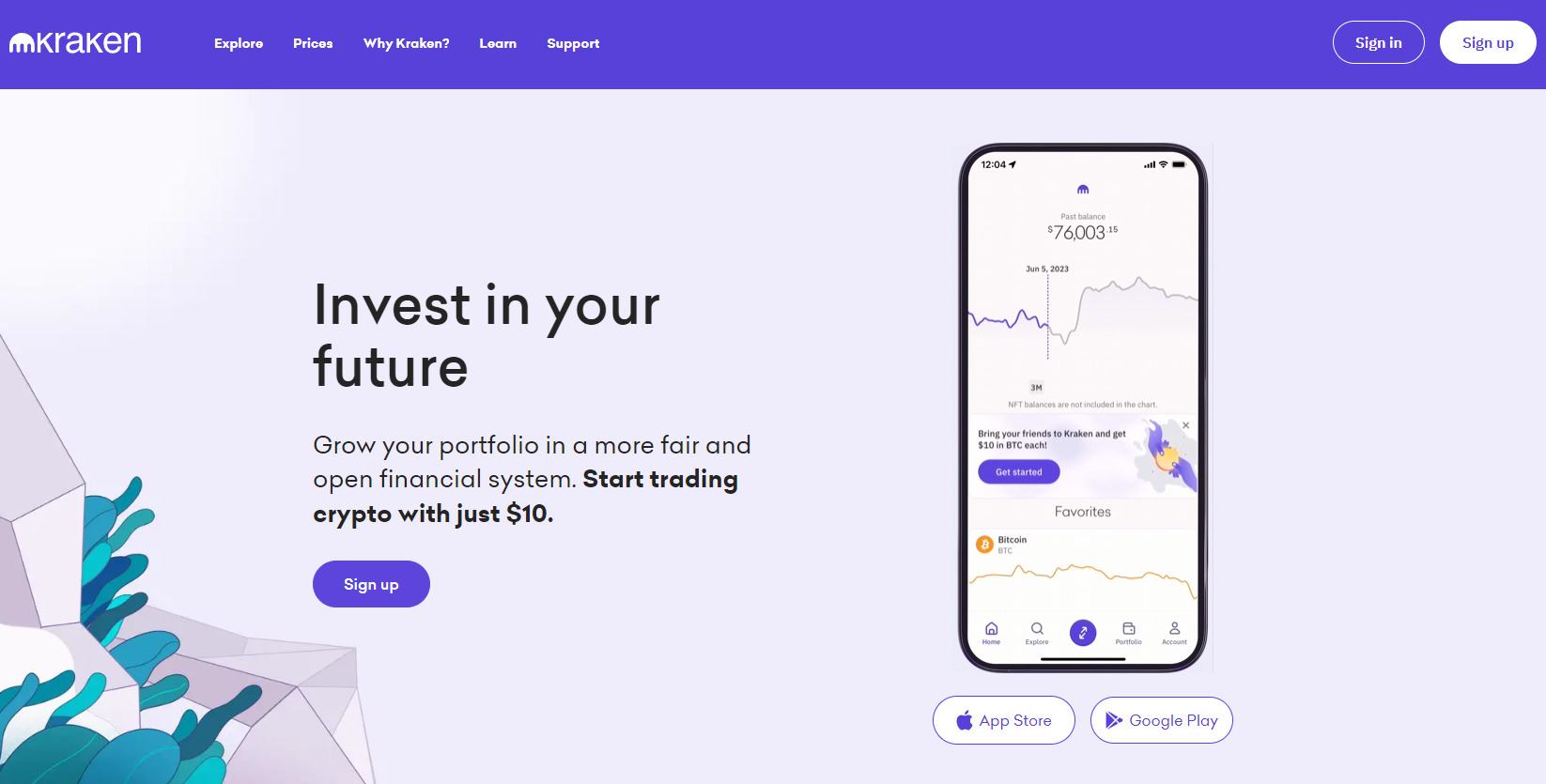 Security Measures
Kraken has quickly become a go-to platform for crypto traders due to its robust security systems. Features such as two-factor authentication, encryption, and regular Deloitte audits provide assurance that accounts are safeguarded and funds protected. The service is ISO/IEC 27001:2013 certified – indicating their commitment to protecting customers' data and resources at all times.
Security remains Kraken's priority, offering peace of mind for those investing in digital currencies through the site. This is an advantage valued by many when selecting an exchange platform suitable for them.
Customer Support
Kraken is committed to protecting its users not just through technical security measures but also by providing helpful customer support. To ensure that people have assistance whenever they need it, Kraken offers a variety of options, such as a Support Center chatroom and telephone guidance. Users can email their inquiries for resolution, too.
Though individuals may occasionally run into issues when working with Kraken's customer service team, the platform's overall efforts toward user satisfaction make them one of the most respected crypto exchanges in operation today. This dedication ensures that customers receive quick responses and reliable help if needed while navigating around the site or dealing with any problems that arise during use.
3. Coinbase
Coinbase is an acclaimed and licensed crypto exchange well-known for its secure trading. It has gained the confidence of many users around the world due to its stringent security protocols and substantial regulatory compliance commitment. Coinbase enables traders to easily make cryptocurrency transactions on a safe platform, earning it a high reputation in this area as one of the top chosen crypto exchanges worldwide.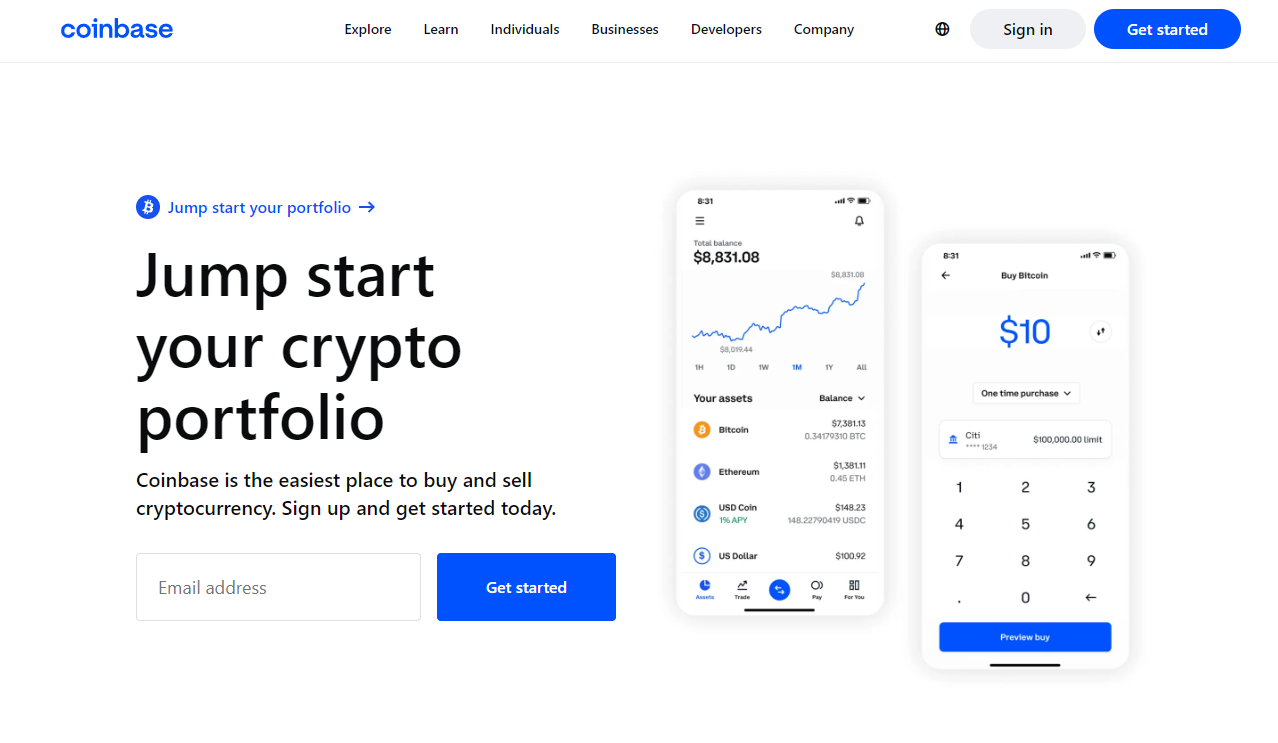 Security Measures
Coinbase has established exceptional security protocols, including cold storage and two-factor authentication, which ensure that user funds are kept safe. They have chosen to work with Deloitte on annual audits as proof of their commitment to being transparent. With these measures in place, users can feel secure knowing their money and personal information are well protected from any malicious activities.
Regulatory Compliance
Coinbase is a well-known platform for cryptocurrency trading that stands out due to its commitment to regulatory compliance and security, as evidenced by the increased oversight from the SEC. This extra layer of protection allows users who are looking for trustworthy and secure options when it comes to conducting digital asset trades in America to rest assured that Coinbase meets all necessary regulations. Through comprehensive adherence to pertinent rules and lawfulness protocols, Coinbase has been established as an ideal choice for US citizens searching for reliable sources of crypto investment opportunities.
4. Gemini
Gemini, a crypto exchange based in the US, is widely known for its security protocols and regulatory compliance. It was founded by the Winklevoss twins with the aim to provide traders with a secure environment when trading cryptocurrencies. Gemini has robust safety measures, which makes it trustworthy among those looking for such platforms, as well as close cooperation between its team and regulators involved. These features make this platform one of the best choices among other available options when selecting a reliable digital currency trading site.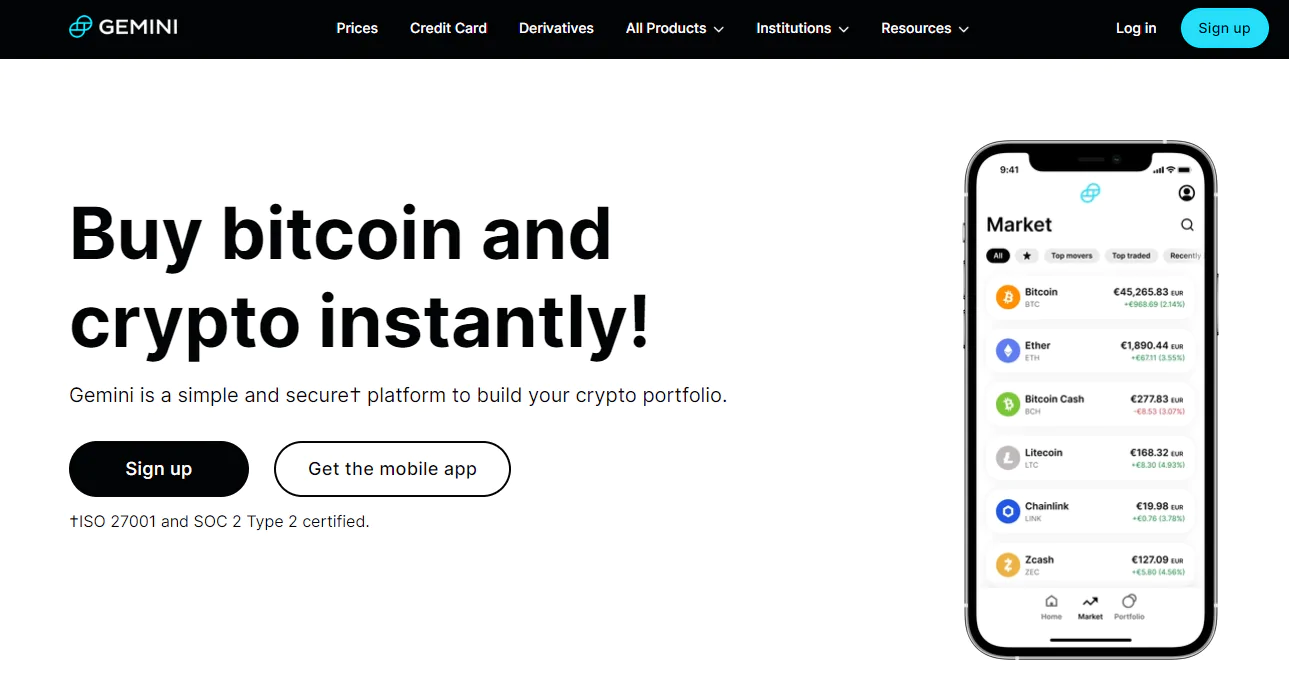 Security Measures
Gemini takes multiple steps to safeguard user data and funds, such as two-factor authentication, address whitelisting, and remote storage of private keys. With these secure measures in place, users can rest assured that their assets are safeguarded against potential cyber threats. To the security protocols, Gemini adopts a transparent approach with authorities, which allows its customers to have greater confidence when trading on the platform.
Regulatory Compliance
Gemini's dedication to following strict regulations and partnering with regulatory bodies creates a safe trading atmosphere. This, along with FDIC insurance for USD deposits, allows institutional traders confidence in their secure investment capabilities on Gemini's platform.
The team behind Gemini is committed to providing a reliable experience backed by security protocols that prioritize the protection of assets when it comes to large-scale trades, making them an attractive choice among investors seeking safety first.
Crypto.com, a Singapore-based cryptocurrency exchange platform, applies zero trust protocols for increased security and secure asset storage, factors that have made it popular among traders looking to purchase or sell cryptocurrencies in an account with this crypto trading system. As millions of users around the world rely on Crypto.com's safe and secure approach to cryptocurrency transactions every day, we will review its safety measures as well as features related to storing digital assets here so that everyone can see why they are deemed reliable for exchanging virtual currency safely.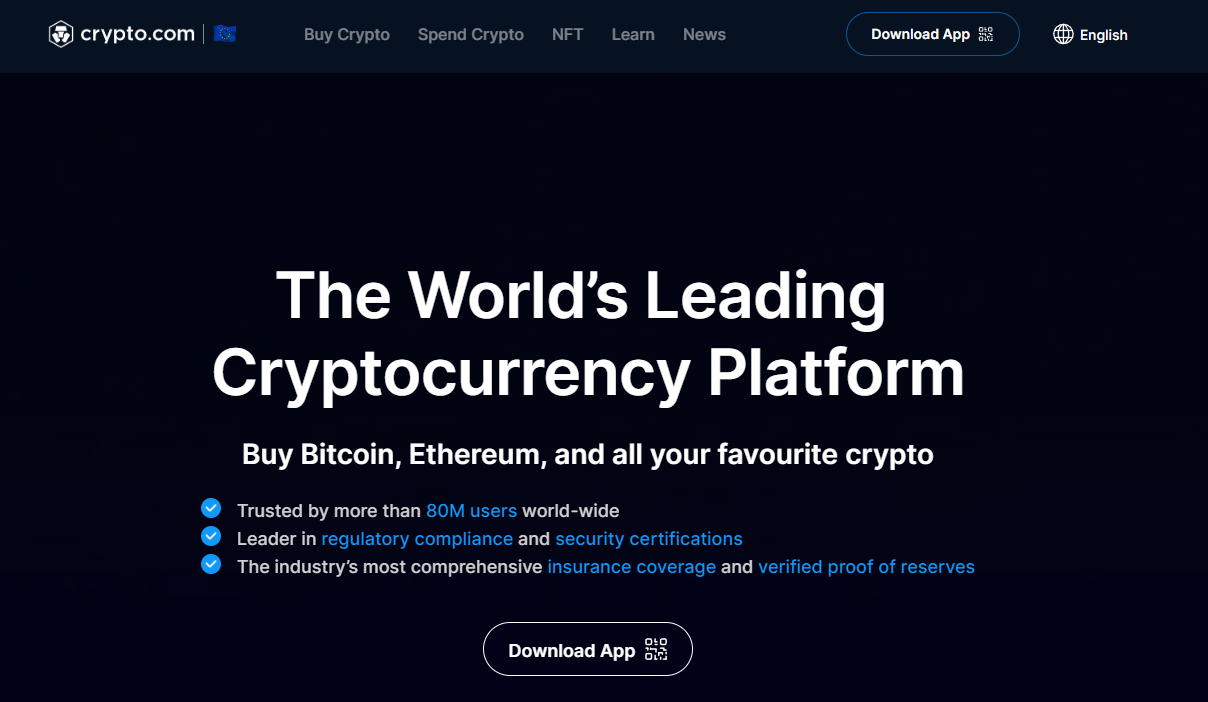 Security Measures
Crypto.com has put a zero-trust protocol in place, with authentication and authorization required for all personnel connected to its network, regardless of their whereabouts, eliminating trust from any parties within the cryptographic system so as to ensure increased safety measures surrounding crypto assets. Also providing additional security is real-time risk detection technology along with firewalls and multi-factor authentication (MFA) systems that Crypto.com uses on an ongoing basis for protecting users' accounts at high levels.
Asset Storage
Crypto.com provides a secure solution to store user funds, with an extra layer of protection via offline storage and reserves that can be verified for transparency. Assets are safeguarded from potential threats thanks to their use of cold wallets, making Crypto.com a trustworthy choice for cryptocurrency traders who want the highest level of security possible when conducting transactions in digital currency markets.
Comparing the Safest Crypto Exchanges
Now that we've evaluated the security protocols, regulatory adherence, and user experience of top secure crypto exchanges, it is time to make a direct comparison. Herein lies an in-depth analysis highlighting each platform's advantages and disadvantages so you can choose which exchange best fits your specifications without compromising safety or reliability.
With this valuable information at hand, selecting the appropriate venue for trading needs should be much simpler, all while ensuring maximum levels of protection!
Pros and Cons
Crypto exchanges have various advantages and disadvantages with respect to security. Coinbase, for instance, is popular among users due to its user-friendly interface as well as firm safety measures but often receives criticism from traders concerning costly crypto exchange fees and confusing fee structures. Contrastingly, Kraken provides sound security while also having a broad selection of cryptocurrencies at low trading charges yet incurs comparatively high flat charge amounts, making it more suitable for seasoned investors. Customer service could be limited in this case, too.
Binance prides itself on offering an attentive, secure environment aided by the $1 billion SAFU fund plus diverse product lines. Gemini may offer compliance reliability involving considerable sums when dealing with transactions, although focused primarily on supplying their facility around the cryptocurrency market rather than utilizing fiat currency options; then there's Crypto com that similarly underwent security attack Relies heavily upon zero-trust protocol seeing to improved protection all in all each centralized Exchange has distinguishing aspects whether they're providing higher lows or increased levels thus based off your individual desires one can make informed decisions before investing including exploring decentralized Exchanges away from relying simply upon conventional fiat money.
Final Verdict
The research process of studying the security features, regulatory adherence, and user experience for top-rated crypto exchanges concludes that Coinbase is one of the most secure platforms across the globe. It has an esteemed reputation in terms of safety protocols, along with being highly compliant with regulations while also providing diverse experiences for users. Thus, it can be said that traders looking for a safe and dependable platform should certainly consider using Coinbase.
It's essential to assess your own prerequisites before choosing any particular exchange, as well as going through specialist reviews and comparisons to determine which service provider matches those needs best.
Tips for Safe Crypto Trading
Ultimately, selecting a secure crypto exchange is key to trading digital currencies with peace of mind. To this, It's equally important to also take appropriate security steps when investing in cryptocurrency. Creating strong passwords, utilizing two-factor authentication, and avoiding public Wi-Fi networks can help keep you safe within the realm of virtual coins.
Hardware wallets provide a greater level of safety compared to custodial wallets provided by exchanges. Considering their use may be beneficial when storing your cryptocurrencies securely. By following these tips and taking care of which exchange one chooses from, they'll have no problem remaining confident whilst engaging in cryptocurrency transactions safely.
Personal Security Measures
To ensure the safety of your trading activities in cryptocurrencies, you should adopt strong and unique passwords for all accounts and enable two-factor authentication when possible. This extra layer of defense prevents any unauthorized access to your data.
When using public Wi-Fi networks, be aware that they are prone to cyber attackers who can compromise personal information. Thus, it is important to practice caution while online. These preventive measures allow users greater assurance as well as an improved crypto exchange experience overall.
Hardware Wallets
Hardware wallets are widely recommended for securely storing cryptocurrencies, as they provide an elevated level of protection compared to those offered by exchanges. This is due to the fact that your private keys remain offline with hardware wallets, making it more difficult for hackers to gain access to your funds.
Notable examples include Ledger Nano X, Trezor Model T, and ELLIPAL Titan. By investing in a reliable hardware wallet, you can safeguard your digital assets while trading online without any anxiety or apprehension.
Summary
It is essential to always prioritize safety and security when engaging in cryptocurrency trading. To ensure your assets are safe, it's recommended that you use reliable exchanges like Binance, Coinbase, Kraken, Gemini, or Bitstamp for purchasing and selling crypto, along with secure passwords and hardware wallets as additional personal measures of protection. Keep alert at all times while enjoying the rewards of being a part of this thrilling journey called crypto trading!
Frequently Asked Questions
What is the most secure crypto exchange?
When it comes to finding the most secure crypto exchange, Top Crypto Exchanges such as Binance or Kraken are highly recommended. This is due to their commitment to providing an unbeatable level of security for users.
What is the number 1 crypto exchange?
Rated by both users and experts in the top ten, Binance is a renowned cryptocurrency exchange that dominates as number one globally.
What is the safest crypto to hold?
When it comes to the safety of long-term investments, Bitcoin is often regarded as a wise choice due to its established reputation and market dominance. This digital asset utilizes proof-of-work technology, which makes sure that any holdings are kept secure at all times.
What factors contribute to the safety of a crypto exchange?
The security of a crypto exchange is mostly reliant on features that guarantee safety, meet regulatory standards, and have an easy-to-navigate platform. These key elements play a major role in ensuring the protection of users when