Does OKX Require KYC?
OKX is a cutting-edge platform offering many opportunities for crypto enthusiasts. The best part? You can get started right away; no KYC is required (well, mainly).
Level 0 KYC: Trade Crypto-to-Crypto
With OKX, you can unleash your trading prowess without the hassle of identity verification. Even without completing KYC, you have access to an array of features.
Trade cryptocurrencies with other digital assets, deposit and withdraw your favorite coins, and embrace the freedom of a decentralized marketplace. You can enjoy these functionalities with a maximum limit of 10 BTC per 24-hour period.
Embrace the Full Potential: Complete Your KYC
While OKX offers plenty of excitement without KYC, there's a whole world waiting to be unlocked. You'll need to complete the identity verification process to access Level 1, 2, and 3 verification and advanced functionalities like P2P trading, buying crypto with fiat currency, or investing in ICOs through OKX Jumpstart.
What Documents are Required for KYC Verification on OKX?
There are different types of document requirements for KYC verification on OKX:
Level 1
Users must provide their nationality, full name, and document identification number during level one verification.
Level 2
For level two verification, users must submit a photo identification document to verify their identity further. Additionally, they need to undergo facial verification using the Netverify feature.
Level 3
Upon completing the first two levels, users can proceed to the third level of identity verification. This involves reading and acknowledging the disclaimer on OKX's mobile app or web page.
How to Complete KYC in OKX?
This step-by-step guide will help you verify KYC in OKX:
Identity Verification of Level 1 – On Computer
To increase your daily withdrawal limit to 200 BTC, you must complete Identity Verification Level 1. Follow these steps to proceed on PC:
For Individual Account Verification
1. Access your account profile by clicking on the account profile icon in the top navigation bar.
2. From the dropdown menu, select Verification.

3. Choose the Individual account option if you are trading for personal purposes.
4. Provide the necessary information based on your country, which may include: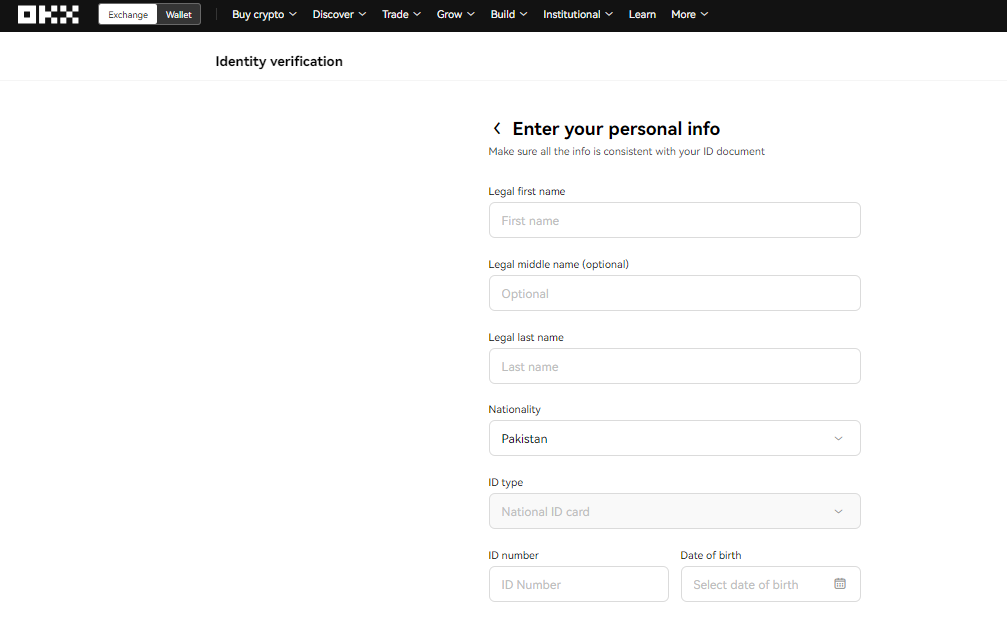 Nationality
Type of identification (ID)
ID number
Legal first, middle, and last name
Ensure that you input valid and accurate information.
5. Once submitted, the verification process should be completed immediately.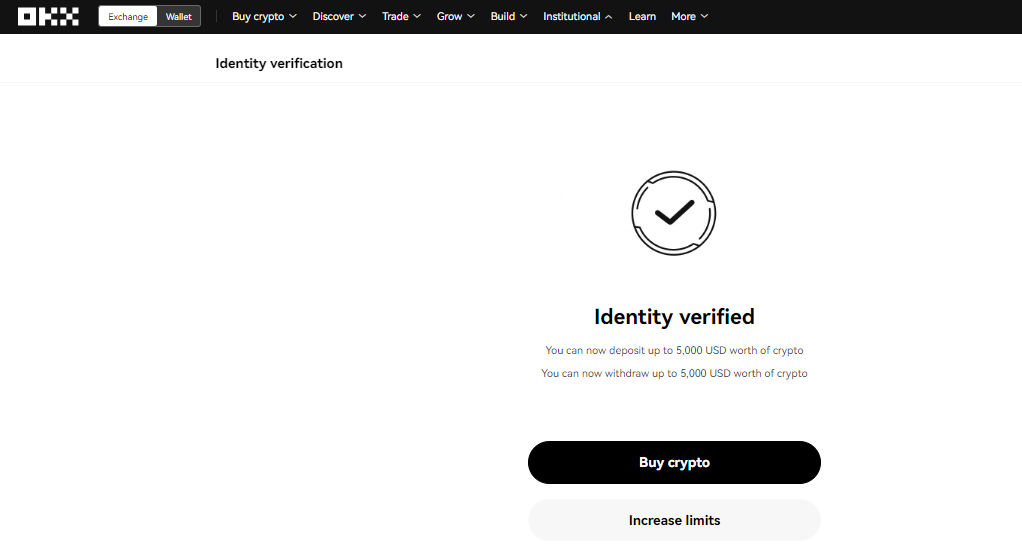 For Corporate Account Verification
1. Access your account profile.
2. Select Verification from the dropdown menu.
3. Choose the Corporate account option if you are trading on behalf of a company or organization.

4. Provide the required information, which may include:
Nationality
Company name
Company registration number
Date of incorporation
Address and postal code
Consent documentation
Information about legal representation, controller(s), and authorized account users.
5. Double-check that all the information provided is accurate and up to date. After submission, the verification process will be initiated.
Identity Verification of Level 1 – On Mobile App
To verify your account in the OKX mobile app, follow these steps:
Step 1: Locate the Profile Icon
Open the OKX app and look for the profile icon in the app header. A person's silhouette or initials usually represent it.
Step 2: Access Verification Menu
Tap on the profile icon, and a menu will appear. From the menu, select "Identity Verification."
Step 3: Initiate the Verification Process

Within the Verification section, you will find a "Verify Now" button. Tap on it to start the verification process.
Step 4: Provide Required Information
Depending on your country, you will be prompted to provide specific information. This may include nationality, ID type, ID number, and legal first, middle, and last name.
Step 5: Submit Verification Information
Enter the requested information accurately and thoroughly. Ensure that all details are correct before proceeding.
Step 6: Await Approval Notification
The verification process will be initiated once you have provided the necessary information. The verification should be processed instantly if all the information is input correctly.
Identity Verification for Level 2 – On Computer
Here's a step-by-step guide on completing Identity Verification of Level 2 on PC.
1. Click on the account profile icon in the platform's top navigation bar.
2. From the dropdown menu that appears, select the Verification option.

3. Ensure that you have a "Verified" status next to Level 1. If not, complete Level 1 verification first before proceeding to Level 2.
4. You will be prompted to submit specific photos for Level 2 verification. These include:
Photos of the front and back of your ID document.
A clear photo of your face.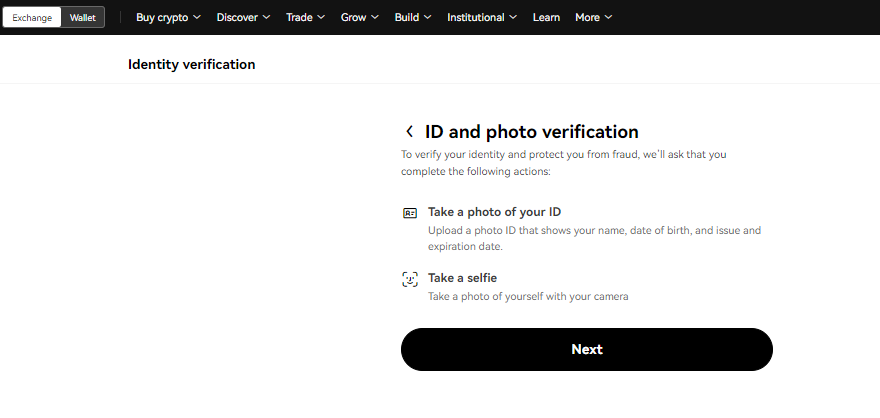 5. During verification, you must take the required photos using your webcam or mobile phone. Uploading existing photos is not permitted.
6. Follow the instructions to capture and submit the necessary photos in real time. Ensure that the photos are clear and meet the specified requirements.
7. After submitting the photos, you'll receive the email that your OKX KYC is verified, and now your daily withdrawal limit will increase to the equivalent of 500 BTC.
Identity Verification for Level 2 – On Mobile App
To complete the verification process at Level 2 on the OKX mobile app, follow these steps:
Step 1: Open the OKX app and locate the profile icon. It is usually located in the app header.
Step 2: Select the "Identity Verification" option from the menu. This will initiate the verification process.

Step 3: On the verification screen, you will see a prompt to verify at Level 2. Tap on the "Verify Now " button corresponding to Level 2.

Step 4: Your phone may request permission for the OKX app to access your camera. Tap "Allow" to proceed.

Step 5: The verification process will require you to take photos of specific documents and yourself.
Front and back of your ID document: Position your ID document within the frame and take a clear photo of the front side. Then, flip the ID document and capture a photo of the backside.
Your face: Position your face within the frame and take a clear selfie.
Step 6: All photos must be taken during the verification process using your mobile phone. Uploading existing photos is not allowed.
What Caused KYC Verification to Fail on OKX Exchange?
There is a possibility that KYC verification fails in OKX. Let's unravel this mystery and explore the possible reasons behind this setback.
1. Non-Compliant ID Proofs
One reason for KYC failure could be using ID proofs other than those specified by OKX. It's crucial to double-check the accepted documents and ensure that you've provided the correct ones.
A mismatch between the ID proof you submitted and the data you provided might have caused the verification process to fail.
2. Corners and Completeness Matter
Another potential pitfall lies in the quality of the ID-proof image you submitted. The verification process may have stumbled if it didn't display all four corners or if any part needed to be included. Ensure your ID proof is complete, with all necessary details visible.
Importance of KYC
KYC (Know Your Customer) is paramount in various industries, especially the financial sector. It refers to the process of verifying the identity of customers to mitigate the risk of fraud, money laundering, and other illicit activities. Here are a few reasons highlighting the importance of KYC:
KYC reduces legal disputes by verifying customers and assessing financial activities.
Conducting KYC helps businesses proactively identify risks and prevent dubious activities.
It increases customer trust and transparency, fostering strong relationships.
KYC demonstrates a commitment to ethical standards and compliance.
Customers feel reassured about data protection and fraud prevention.
KYC mitigates money laundering risks through identity verification and transaction monitoring. Also, it acts as a shield against financial crimes, promoting vigilance.
Summing Up
OKX allows users to trade cryptocurrencies without undergoing KYC (Know Your Customer) verification. This allows for basic functionality, enabling users to trade crypto-to-crypto and deposit and withdraw their cryptocurrencies.
Howecompleting the identity verification process is necessary to unlock the full range of features and services.
KYC serves as a means to ensure compliance with regulatory requirements and enhances security measures. So, while OKX allows for limited functionality without KYC, completing the verification process is essential for a comprehensive and seamless trading experience on the platform.
FAQs
What Should You Do If Your National Id Is Not Supported by OKX?
If OKX doesn't support your national ID, it may be due to missing user images, dates of birth, or addresses in English. However, you can opt for instant verification using a passport or driving license instead.
Ensure the captured image is clear, displaying all four corners and legible text and images for successful verification.
How Many Cumulative P2P Transactions Can OKX Users Make?
OKX enables users to purchase cryptocurrency through peer-to-peer channels. Cumulative P2P transaction limits vary based on user levels.
Level one users have a limit of $500, level two users can transact up to $10,000, and level three users enjoy a higher limit of $100,000. These limits ensure secure and controlled P2P transactions.
How Long Will It Take to Verify My OKX Identity?
The verification process for your identity depends on the level you are at. For Level 1, results are usually instant if your information is entered correctly. Level 2 and Level 3 verifications may take up to 3 days.
Ensure to provide valid, unexpired documents and follow on-screen instructions for smooth processing.