Ripple, or in short XRP, is one of the most popular cryptocurrencies in the world, and its potential for growth has attracted investors from all walks of life. If you're looking to join them and benefit from XRP's success, then this guide is for you. We'll cover everything you need to know about buying XRP, from understanding what it is and why it might be worth investing in, step by step guide to buying XRP from a reputable crypto exchange. With this guide, soon enough, you, too, could start benefiting from the potential of XRP with confidence.
1. What is XRP, and why invest in it?
The digital asset XRP has many potential use cases, making it an attractive investment for many. With its focus on improving international payments, XRP is an attractive option for investors looking to capitalize on the growth of the global financial system. Additionally, XRP has the potential to be used by other companies and applications. It's currently the only cryptocurrency token that is supported by major banks, making it a potentially attractive asset for those looking to invest in digital assets. Finally, there is the potential that XRP could become part of a larger financial system or be adopted by other businesses, which would further increase its value
Now that you know the use case of XRP, the next question is where to do it. There are many exchanges that support XRP, but we recommend using Binance. Binance is the world's leading cryptocurrency exchange and offers the most secure and user-friendly platform for buying and trading XRP. The exchange also offers one of the lowest fees on the market, so you'll be able to save money when buying XRP. If Binance is restricted in your country, we recommend using MEXC which is a global exchange. Here is the guide to buying XRP from Binance:
Create an account on Binance
Deposit funds using your preferred payment method (credit/debit card, bank transfer, P2P trading, and Third Party Payment)
Go to the "Spot" section and select the XRP asset from the list of currencies
Place a buy order on XRP
Store or use your XRP in a secure wallet
With these steps, you'll be able to buy and store XRP on Binance with ease. You can also Buy XRP from these exchanges if Binance is not available in your country:
If you're ready to start investing in XRP, then here are the steps you need to take:
1. Choose the right crypto exchange
The first step is to choose an exchange where you can buy XRP. Make sure the exchange is reputable and secure such as Binance, MEXC, or Bitget, etc., and that it supports the currency pair you want to buy. Moreover, you should also check the fees associated with the exchange to make sure you're getting a good deal. All mentioned exchanges offer 0% maker fees for spot trading and relatively low FIAT onramp fees. They also support most currencies which is why we like to use them for buying crypto ourselves.
2. Sign up for an account:
Now that you've chosen an exchange, the next step is to sign up for an account. Most exchanges will require you to verify your identity with some kind of documentation and may also ask you to link your bank account or a credit/debit card. And if you want to trade XRP for other currencies, make sure the exchange supports those pairs.
After you set up your account, the next step is to fund it. You can do this by transferring funds from a bank account or credit/debit card. Make sure you check the exchange's fees before you transfer funds, as these can vary from exchange to exchange. Furthermore, you should also check the exchange's withdrawal policies to know when and how you can access your funds.

Once your account is funded, you're ready to buy XRP. Navigate to the Spot trading section where you can choose which currency pair you want to trade and how much of that currency you want to buy. You can also set up a limit order, which will allow you to buy XRP at a certain price or better. Once you've placed your order, the exchange will process it, and you'll have XRP in your account.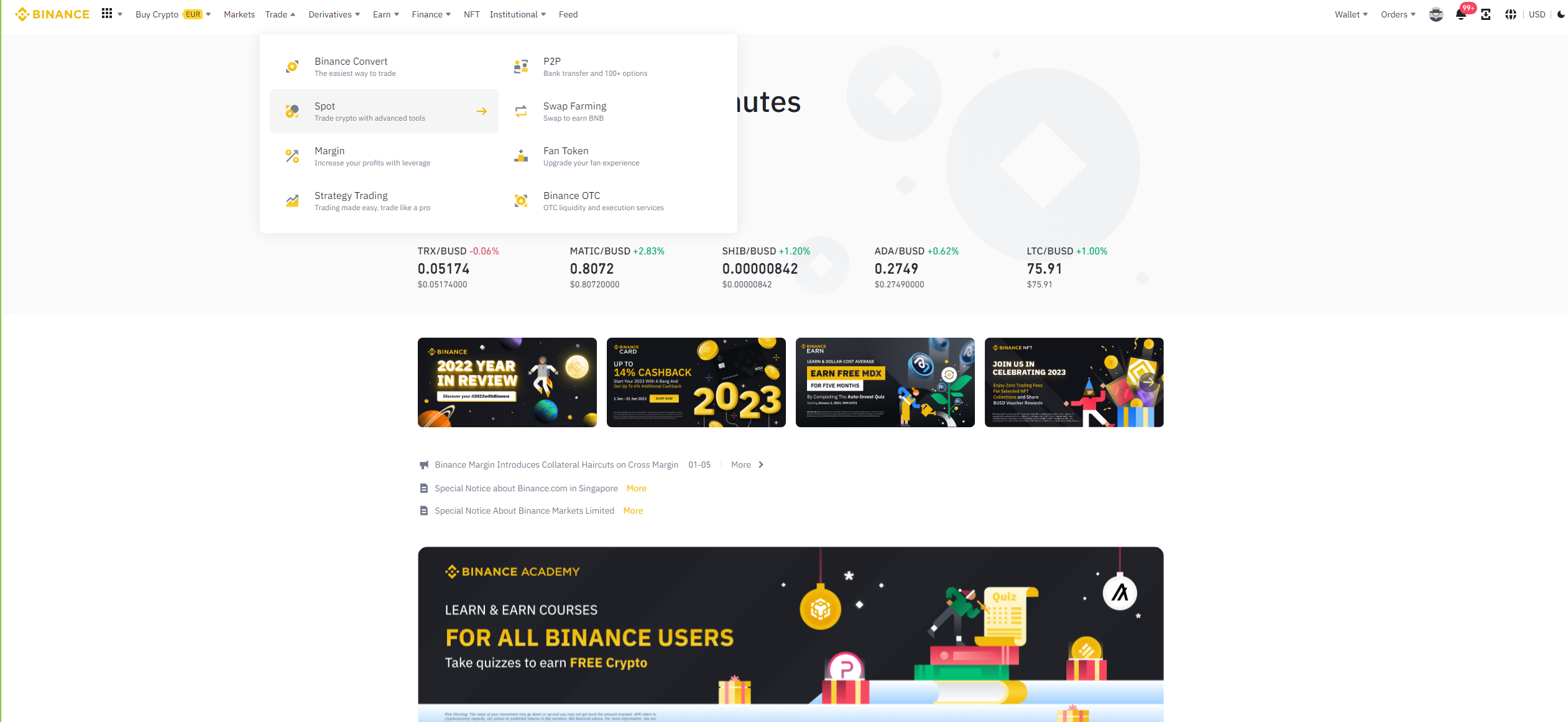 Lastly, when you have purchased XRP, the next step is to make sure it's secure. You should always store your XRP in a secure wallet, such as a hardware wallet or an online wallet with two-factor authentication. In this regard, Binance is one of the best exchanges as it's secure and also offers a wide variety of wallets to choose from.
4. Tips for investing in XRP securely
As mentioned above, after you've bought XRP, it's important to take extra steps to ensure your investment is kept safe. Here are a few tips for investing in XRP securely:
Use a secure wallet: As mentioned above, storing your XRP in a secure wallet is important. This can be done through a Ledger Nano X.
Use two-factor authentication: If you're using an online wallet, make sure to enable two-factor authentication (2FA) for added security.
Be aware of scams: Be wary of any investment schemes or offers that are too good to be true. Doing your research and staying informed is the best way to protect yourself from scams. Never share your crypto keys with anyone.
Have an exit plan: Last but not least, make sure you have an exit plan for when it's time to cash out of your investment. This can help ensure you get a good return on your investment.
5. Final thoughts about investing in XRP
XRP is one of the most popular cryptocurrencies in the world, and many investors are turning to XRP as a way to benefit from its potential growth. With its high liquidity and low fees, it's easy to see why XRP has become so attractive to investors. By following this guide, you should now better understand how to buy XRP and invest in it securely. CryptoWinrate can give you the latest Crypto news, analysis, and insights about the crypto world. So if you're ready to start investing in XRP, please visit our website (cryptowinrate.com)