As the fascination with cryptocurrencies continues to surge, Coinbase has emerged as a prominent player in the world of digital assets. With a remarkable threefold increase in verified users between 2018 and 2021, it's evident that Coinbase holds a significant position in the crypto industry.
But here's the burning question: Does Coinbase require KYC? Known as "Know Your Customer," KYC plays a vital role in financial transactions, ensuring compliance, and combating illicit activities.
In this blog post, we embark on a journey to unravel the truth about Coinbase's KYC requirements. Join us as we unravel the mysteries and gain a deeper understanding of the Coinbase KYC experience.
Is KYC required on Coinbase?
Well, the answer is a resounding yes! KYC is an essential step in the Coinbase account validation process. Think of it as a way for Coinbase to ensure that you are who you claim to be. It's like the bouncer at a fancy club asking for your ID – they want to verify your identity and make sure you're not an imposter.
By implementing this multi-step process, Coinbase is taking a proactive stance against fraudulent accounts, safeguarding both their platform and their users.
How Long Does Coinbase ID Verification Take?
Coinbase, one of the leading platforms in the crypto realm, accepts various levels of ID verification. But how long does it take to complete this crucial process?
Let's dive in and uncover the timeframe involved at each level.
Level 1: Basic Account Verification
To kickstart your Coinbase experience, you'll need to provide essential details such as your full name, email address, phone number, and date of birth. Fortunately, this initial verification usually takes just a few minutes to complete.
Level 2 or 3: Higher Levels of ID Verification
For those seeking advanced features and higher transaction limits, additional documentation is required. This includes providing your residential address, a valid photo ID (such as a driver's license or passport), and proof of residence (e.g., utility bill or credit card statement). These comprehensive verifications can take up to 24 to 48 hours to process, depending on the complexity of the verification and other factors.
Once your information has been verified, you'll receive a notification, granting you access to the exciting services offered by Coinbase.
How Does Coinbase KYC Verification Work?
Here's a step-by-step guide to the Coinbase verification process:
1. Begin by registering for a new Coinbase account if you haven't done so already. Once registered, log in to your account.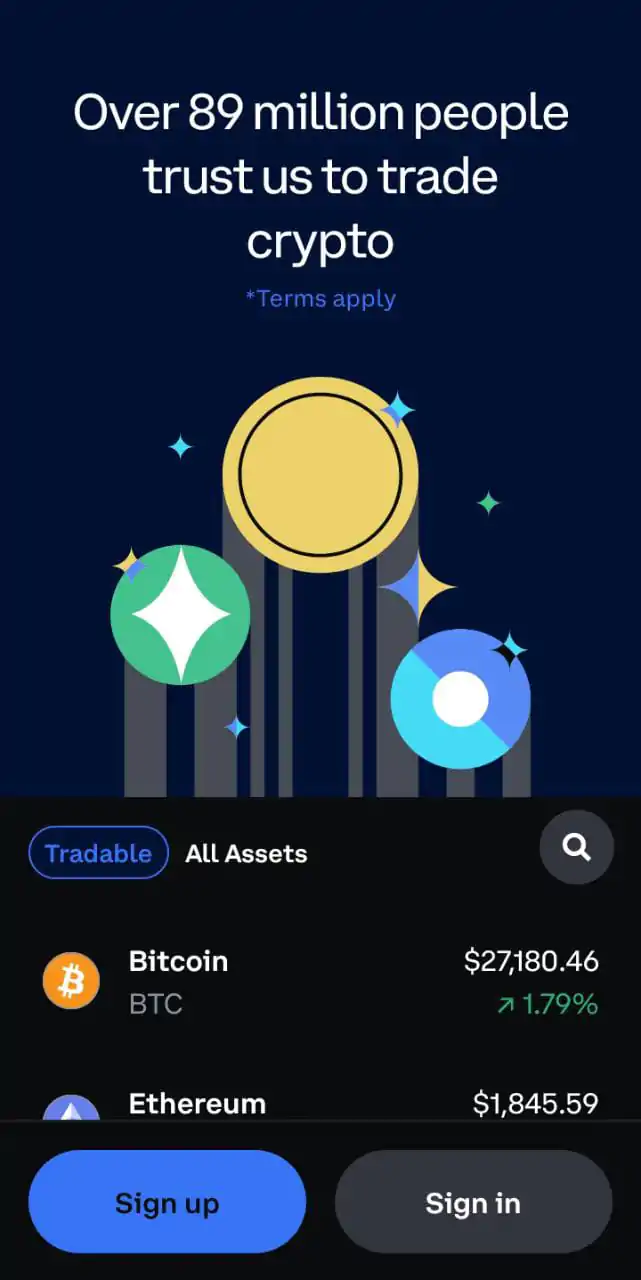 2. On the Coinbase home page, locate the settings button in the top right corner and click on it.
3. From the account settings menu, choose "Limits and Features" (refer to the picture below for guidance).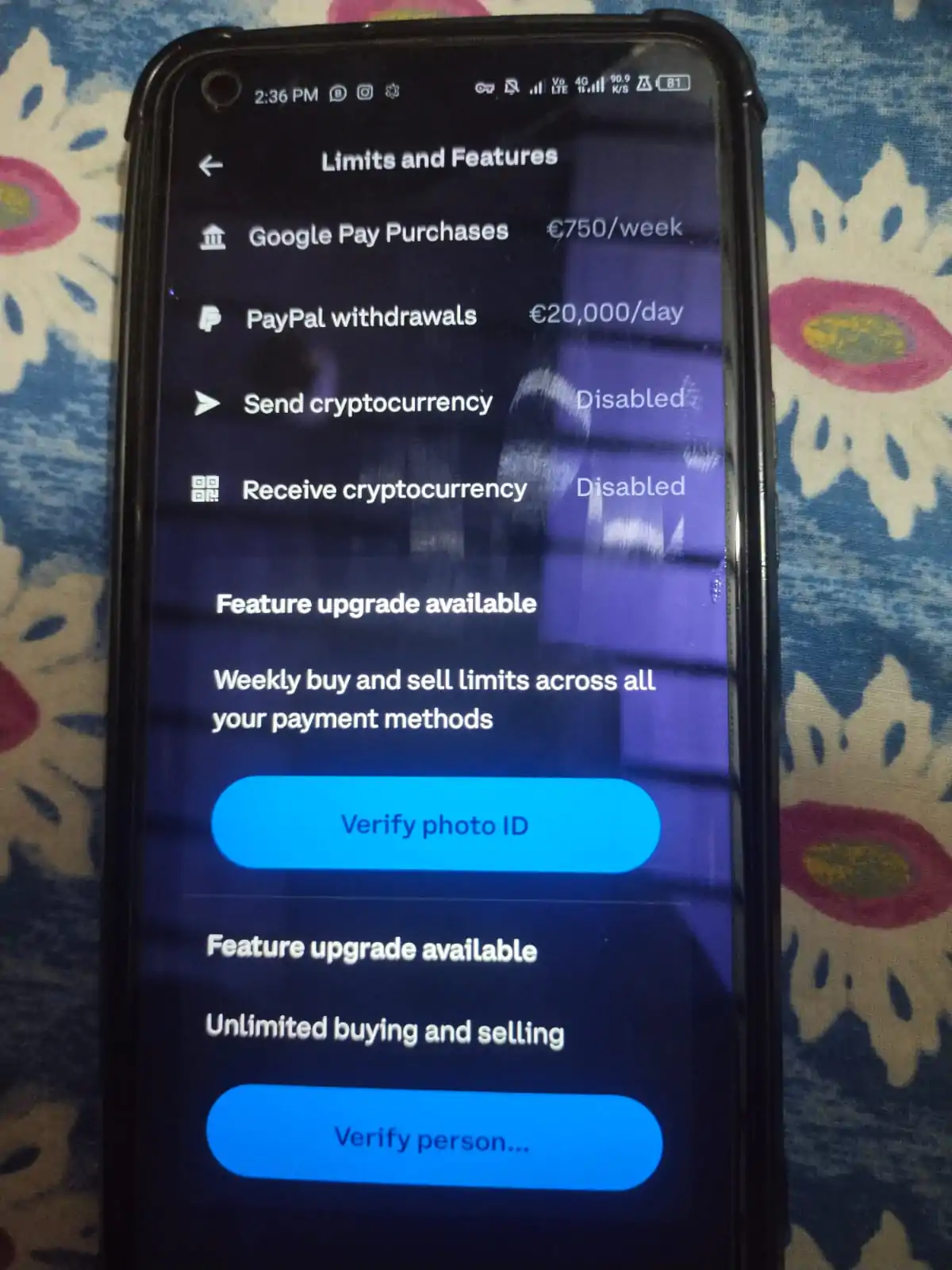 4. Upon entering the Limits and Features section, you'll have the option to upgrade your account's functionality. You can choose between two feature upgrades: verify photo ID or verify personal information.Select the verification option that aligns with your desired level of access and features.
Verify Personal Information
To verify personal information,follow these steps.
Step 1: Proceed to the "Verify personal information" page and provide your legal first and last name, date of birth, country of residence, and identification number.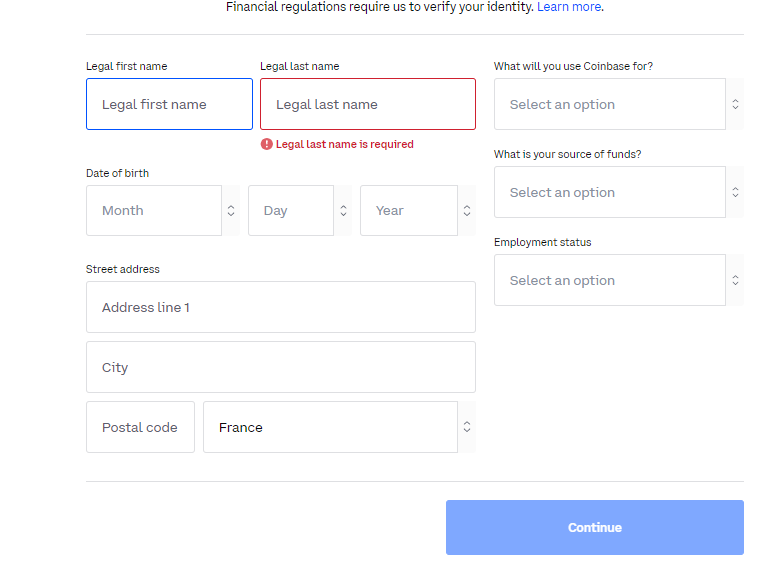 Step 2: Enter your primary residence address, including your house number, street name, city or town, and postcode. Click "continue" to move on.
Step 3: Answer the questions related to federal regulations, stating the purpose for using Coinbase and your current job status.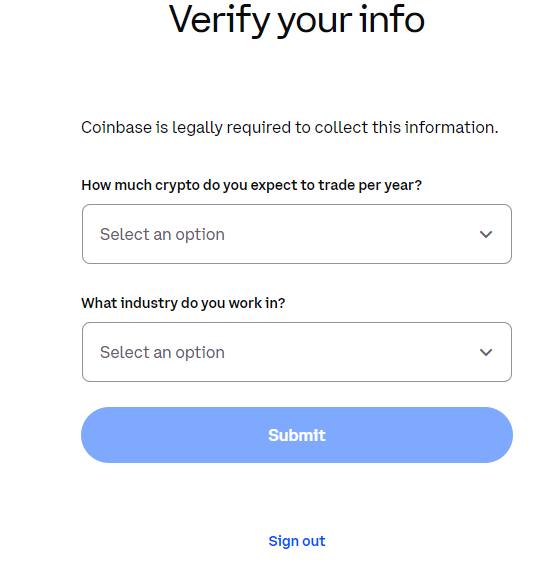 Step 4: After completing the previous steps, patiently wait for Coinbase to validate your identity. This verification process ensures fraud prevention, identity protection, and compliance with federal laws.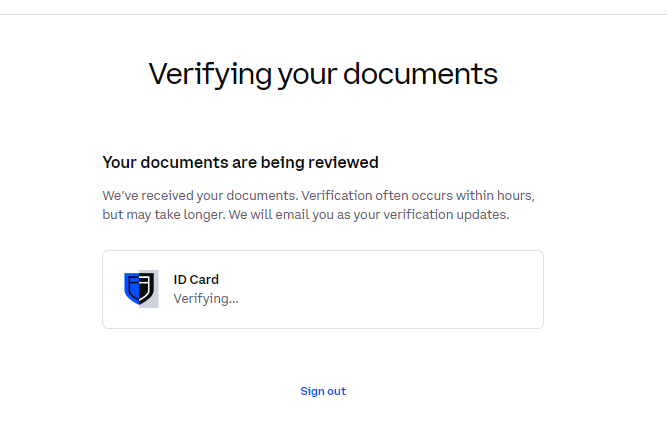 Photo ID verification
Here's a step-by-step guide to the Coinbase Photo ID verification process:
Step 1: Before starting the verification process, make sure your ID is valid, not expired, and does not have any hole punches or alterations. It's crucial not to redact, watermark, or conceal any part of your ID.
Step 2: When you reach the ID verification stage, choose the type of ID you possess. Coinbase accepts specific documents based on your location:
US: State-issued IDs like a Driver License or Identification Card.
Outside of US: Government-issued photo ID, National Identity Card, or Passport.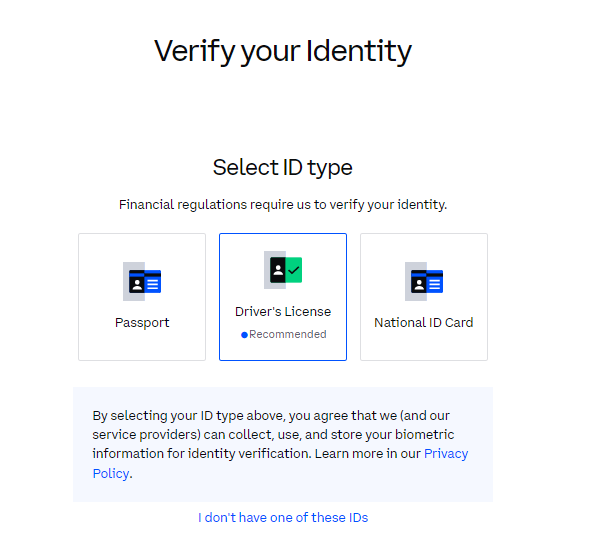 Step 3: Use the Coinbase app for the easiest account creation process. Follow the steps to upload photos of both the front and back of your ID.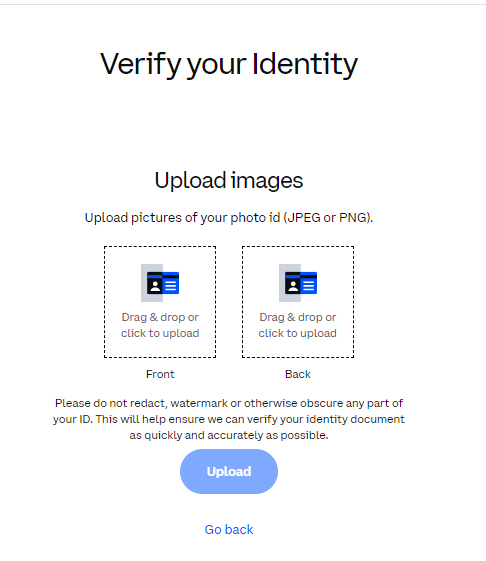 Step 4: Coinbase will send a text message to your confirmed phone number. Open the message and click on the provided link. Follow the prompts to submit the front and back photos of your ID.
Step 5: Once you've successfully completed these steps, the Coinbase identity verification process is finished. You can now begin trading cryptocurrency on the Coinbase platform.
By following these step-by-step instructions, you'll smoothly navigate through the Coinbase Photo ID verification process and gain access to the exciting world of cryptocurrency trading.
Wrap Up!
Coinbase places great importance on identity verification to ensure compliance with KYC requirements in the regions it operates. The use of their Coinbase mobile app can assist users who encounter difficulties authenticating their ID, with a majority of users finding success through this method.
So, whether you're a beginner or an experienced trader, embracing the KYC process on Coinbase is a necessary step to unlock the full potential of their platform while ensuring regulatory compliance and the protection of your assets.