Coinomi was launched in 2014 and has one of the earliest multichain wallets. The best part is that it's free to use, has a large selection of fiat currency and language and options, and can hold more than 1,770 different digital currencies. German and Portuguese are two of the 25 languages the privacy-focused wallet offers. The platform also supports 125 different blockchains. The Coinomi team says it will convert its software and services into more languages to reach more people. As one of the earliest multichain wallets, Coinomi allows users to transfer, receive, and trade several cryptocurrencies for free.
Keep reading our review to learn more about Coinomi's features and choose whether it's perfect.
Overview of Coinomi Wallet
| Type of wallet | Desktop and Mobile |
| --- | --- |
| Supports Ethereum and Bitcoin | Yes |
| Price | Free |
| Fee structure | Gas fee only |
| Number of supported cryptocurrencies | 1,770+ |
| Customer service | Customer service is available 24 hours a day, seven days a week, via live chat. |
| Earn | Customers may get interest in selected crypto assets. |
| In-App Features | Purchase, sell, trade, and exchange assets. |
| Hardware Compatible | No |
| Mobile App support | Yes, android and iOS |
| SPV or Full Node | Simplified Payment Verification (SPV) |
| Best for | Investors seeking a versatile digital wallet for storing, trading, and storing cryptocurrencies. |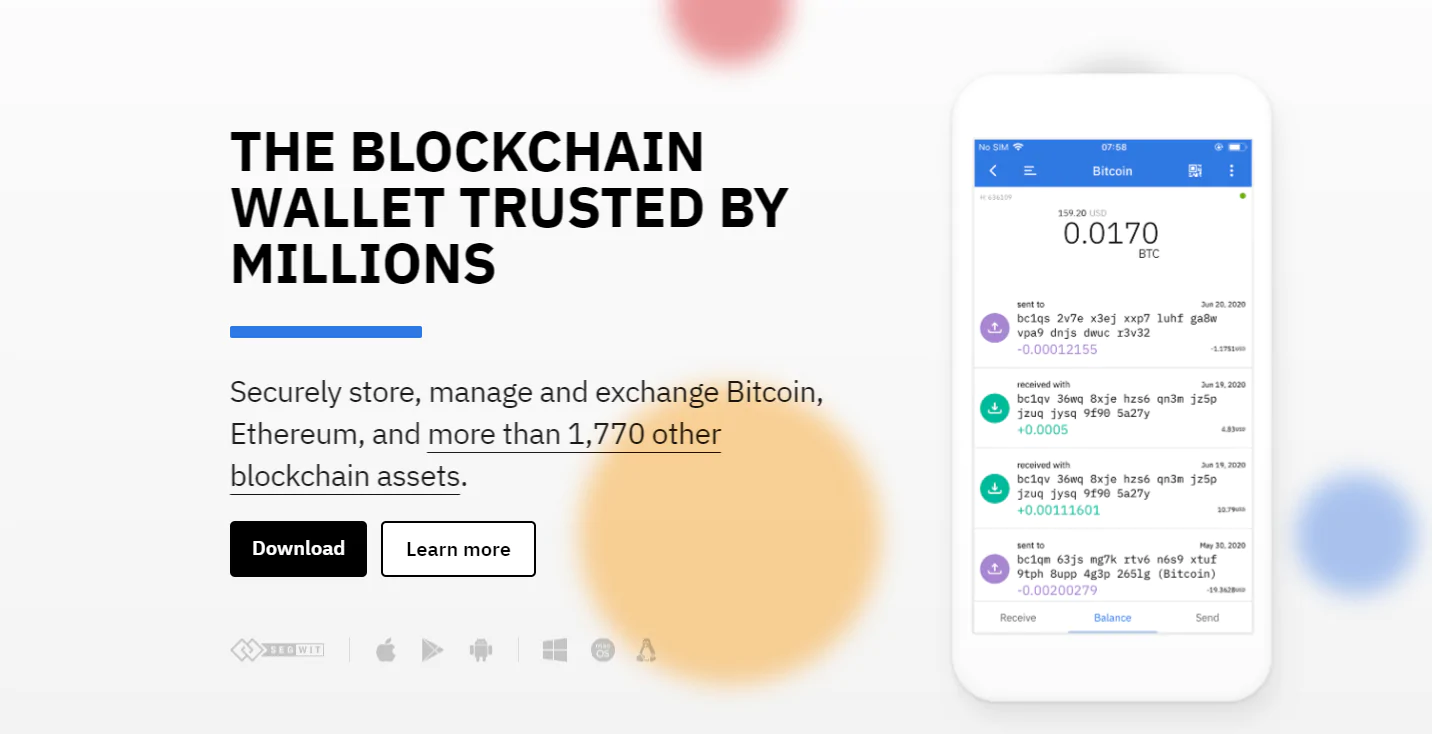 What is Coinomi?
Coinomi was founded in 2014 by George Kiminois to allow customers to access their digital currencies safely. Coinomi, which has its corporate office in the Virgin Islands, has over one million users. Coinomi teamed with BTC Direct in July 2020 to target a European audience.
The wallet has maintained its status as a very secure wallet since its introduction and has never been compromised. Since it is a non-custodial wallet, users have total control over their digital currencies. This stops the wallet from exploiting user funds, as FTX did in 2022.
Coinomi is a multilingual wallet that caters to users in various countries and is perfect for both novices and professionals. Its tight privacy and security features compensate for its lack of finesse and appearance. The wallet contains several security mechanisms that collectively safeguard a user's funds.
Coinomi Wallet Features
The hot wallet Coinomi app is perfect for people wanting to maintain anonymity. According to Coinomi, it doesn't collect or keep your personal information. The account will be permanently deleted if you remove the program on your desktop or mobile device.
Following recent FTX-related incidents, many people now favour private wallets like Coinomi. Coinomi guarantees a secure and satisfying experience by offering robust security and the resources required for evaluating results.
Users may contact the provided online chat or ticketed customer service whenever they have problems. Ultimately, Coinomi has made a name for itself as a multi-chain wallet that encourages ease of use, confidentiality, and security.
Some other top features of the platform are explained next.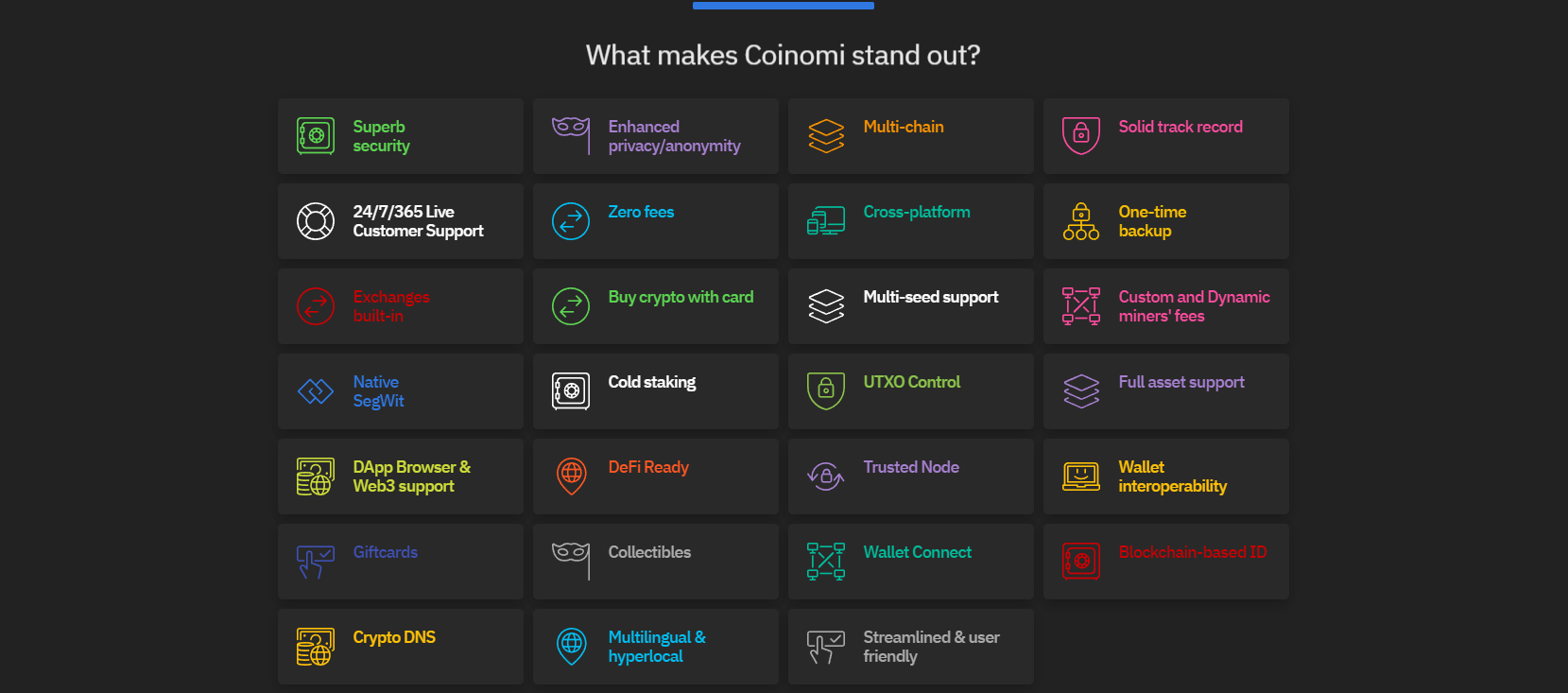 Provides Support For More Than 1,770 Coins
Finding a wallet compatible with a wide range of tokens is crucial because many different kinds of cryptocurrencies are available. This is where Coinomi stands out, as it supports over 1,770 coins. In addition, it supports over 125 blockchains and is the most in the non-custodial wallet sector! On Coinomi, you can store most or all of your cryptocurrency assets.

24/7 Customer Service
On its official site and via the app, Coinomi provides live chat customer service 24 hours a day, 365 days a year. When utilising crypto wallets for the first time, they might appear a little confusing, so it's helpful to have support close at hand, particularly if you're unfamiliar.
Buy cryptocurrency and use built-in exchanges.
Thanks to partnerships and connections with decentralised exchanges, you can exchange tens of thousands of coins with Coinomi. Additionally, it accepts card payments for cryptocurrency transactions thanks to a collaboration with Simplex. Although this is helpful, the costs are high. Therefore, I suggest using a reputable exchange for trading and purchasing cryptocurrency.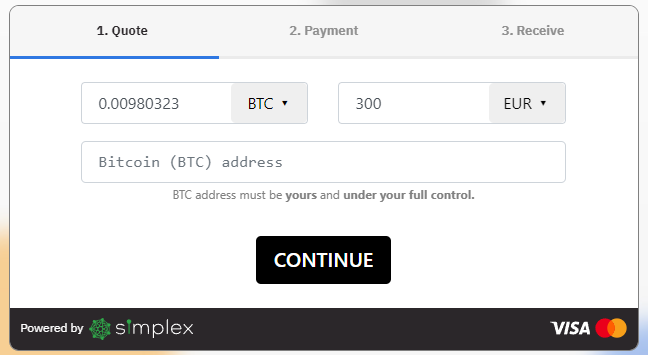 SegWit support
Coinomi supports SegWit for many cryptocurrencies, like Bitcoin (BTC) and Litecoin (LTC). Using SegWit transactions allows you to save money and hastens the processing of your payments because they have lower fees and quicker confirmations.
Multilingual, including 168 fiat currency alternatives
You may set up this worldwide blockchain wallet using the language and currencies of your choice. It supports 168 fiat currencies and is readable in more than 25 languages.
Coinomi Pros
No transaction fees
Up to 25 languages are supported
Hosts multiple blockchains
Different levels of security
Coinomi Cons
Does not support two-factor authentication (2FA).
Not suitable for hardware wallets
Not open source
Coinomi Security
The Coinomi Wallet is a very secure wallet that offers users up to three levels of protection against fraudsters and unauthorised individuals. It combines an alphanumeric password, a private key, and phrase words.
Combining these measures makes it less likely for hackers to get access to your account. You lose all your cryptocurrency holdings if you misplace any of your safety items. You must thus take care to keep these items safe.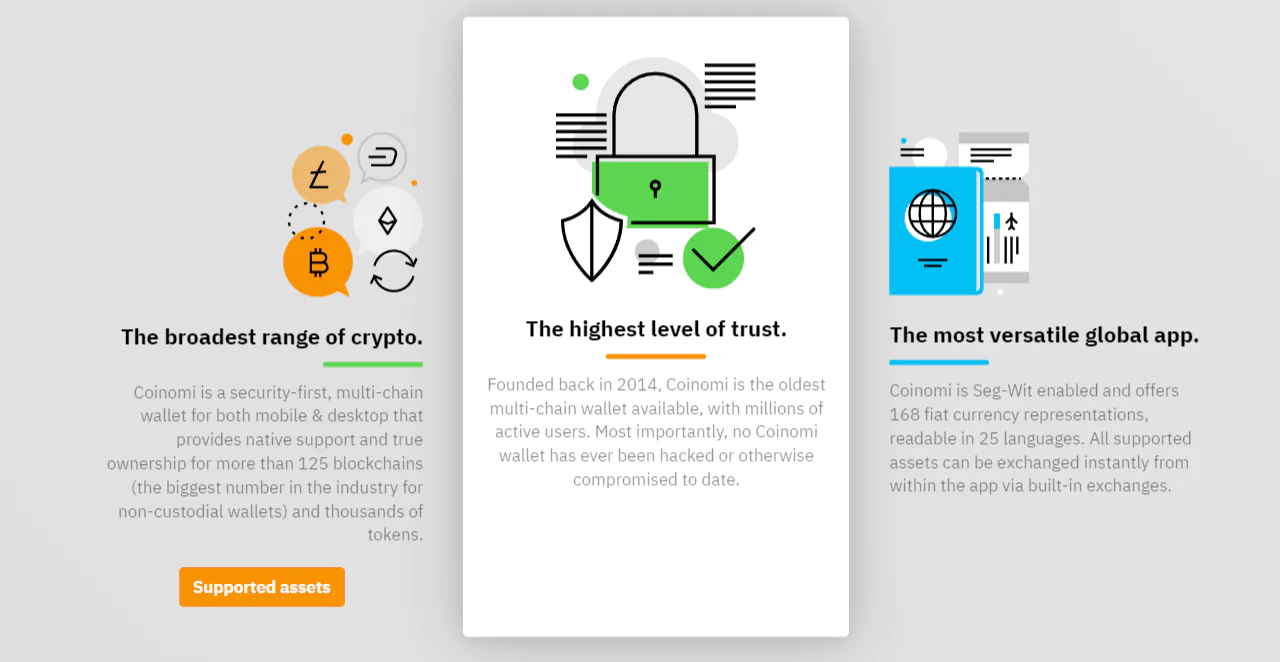 Coinomi Privacy & Anonymity
For those that like to stay anonymous, Coinomi is a great wallet. There is no need to provide confidential or contact details to sign up.
In addition, the wallet supports Digi-ID, a private authentication method built on the DigiByte network. You may safely and privately access your Coinomi Wallet with Digi-ID. Before using Digi-ID, you must log in using the Scan QR/WalletConnect feature.
How to Use Coinomi
All you need to do to set up your account and start using the Coinomi Wallet on your mobile device is create a password. Email and phone numbers are not required. You must first decide on a secure password with a maximum of ten characters before selecting the coins you wish to keep in your wallet. Users can add all 63 coins to their screen or simply those they are already familiar with.
Later, you can always go back to this page and select "Start Scanning," which will add any more coins that aren't already in your account. This, however, only applies to the first profile you create. If you open other accounts, you will have to enter more coins. After completing this step, your Coinomi Wallet is fully configured and ready for use.
Before, using Coinomi Wallet on your PC required an Android emulator like Bluestacks, but not any longer. To use this Coinomi on your PC, you have to install it on your computer. It is only accessible for Mac OS, Windows, and Linux PCs.
After installation, proceed in the same way as with the mobile app.
Coinomi Wallet Usability
Mobile
The Coinomi wallet is simple and ideally suited for new users who prefer more straightforward designs. Users looking for innovative UI designs may find this wallet too dull because it lacks many of the contemporary UX aspects seen in other wallets.
Users may access all wallet features via the hamburger menu, which includes dApps, a crypto exchange, NFTs, and an address directory.
Desktop
The desktop version of Coinomi Wallet allows users to transact on various blockchains easily, ensuring anonymous transactions without a trace and real-time synchronisation between desktop and mobile apps.
Customer Service
Coinomi Wallet has a handy support page where users may find answers to their queries and monitor the progress of their tickets. Users must, however, register individually for ticket services. The "Forgot Password" feature is accessible if you've lost your login information. The software offers live chat help, a knowledge base, and other support options.
Coinomi Wallet Price
Coinomi wallet is free for users to download and use, with network fees for standard transactions. Users can choose the amount they want to pay for transactions, such as "Low" for faster transfers, "High" for more secured transactions, or "Dynamic" for more flexibility.
Final Verdict
The Coinomi wallet promotes security and privacy while enabling anonymous transactions without needing Know Your Customer (KYC) procedures. In contrast to FTX, it is non-custodial, ensuring secure cryptocurrency storage without team interference. Users may safeguard their assets in several ways, such as via biometrics, passwords, 24-word mnemonic passphrases and unique BIP39 passphrases. Users that place a high priority on security and privacy should use this wallet.