Best Way to Buy Cryptos with Afriex
The best and fastest way to buy cryptocurrencies with Afriex is, without a doubt, OKX. With over 50 million users globally, OKX is one of the most trusted crypto exchanges in the world. The platform offers over 350 crypto for spot and futures trading.
Users can access trading fees as low as 0.08% for makers and 0.1% for takers on the spot market. For futures trading, payments are fixed at 0.02% for makers and 0.05% for takers.
If you want to buy cryptos with Afriex, follow our comprehensive step-by-step guidelines below to complete your purchase seamlessly on OKX.
How to Buy Cryptos With Afriex on OKX
Step 1: Create and Verify your OKX account
If you want to buy cryptos with Afriex on OKX, you first need to create an account. You can use your email or phone number to set up your account. Once you have set up your account, you must verify your identity, which requires uploading a valid ID and taking a live selfie.
Step 2: Go to "Buy crypto"
Click "Buy Crypto' at the top left corner of the homepage, then select "P2P trading".

Step 3: Select Afriex as your Payment Method and proceed to the payment
On the next page, choose your preferred crypto and USD as your preferred currency. Then, click the payment method tab and select "Afriex".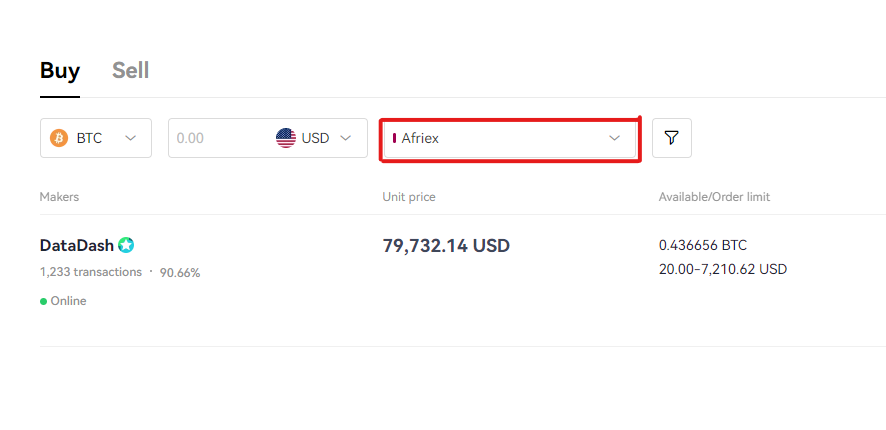 Next, choose your preferred advertiser from the list below and click "Buy". In the next window, copy the advertiser's payment details and proceed to your Afriex account to make the transfer.
After you've made the transfer, go back to OKX and click "Payment Completed", and your cryptos will be added to your account once your transaction is verified.
About Afriex
Afriex is a payment platform that allows you to send and receive money between the US, UK, Canada, and Africa. You can send money directly to a bank account or any Afriex user, and they get it instantly! That makes Afriex one of the fastest and most reliable ways of buying Bitcoin and other cryptos.
Bottom Line
If you're an Afriex user, you can transfer funds seamlessly to reputable exchanges such as OKX to buy Bitcoin and other cryptos. Afriex offers one of the most affordable ways to purchase cryptos, with zero transfer fees, saving you money anytime you transfer. We recommend OKX as the best platform to buy cryptos with Afriex. Follow the comprehensive guidelines provided above to complete your purchase.