The Brave Browser has existed for almost seven years since Brendan Eich, the co-founder of Mozilla and the creator of JavaScript. Within this timeframe, it has become a popular choice among users over the years. It records a good number of users in a short while.
This open-source browser incorporates the Chromium engine (the same engine used by Chrome) with additional privacy and security features integrated. It is often praised as a quicker, more privacy-focused alternative to rivals like Chrome or Firefox since it offers improved privacy and security. The browser distinguishes itself further by allowing users to earn cryptocurrency by interacting with advertising.
Early on, Brave foresaw the coming Web3 revolution and was one of the first firms to design products to give people digital autonomy. This led to the creation of Brave Wallet. The Wallet came out near the end of 2021. The wallet was integrated into the Brave browser.
In this post, we will review the Brave Wallet. We will touch on its security, features, pros, and drawbacks.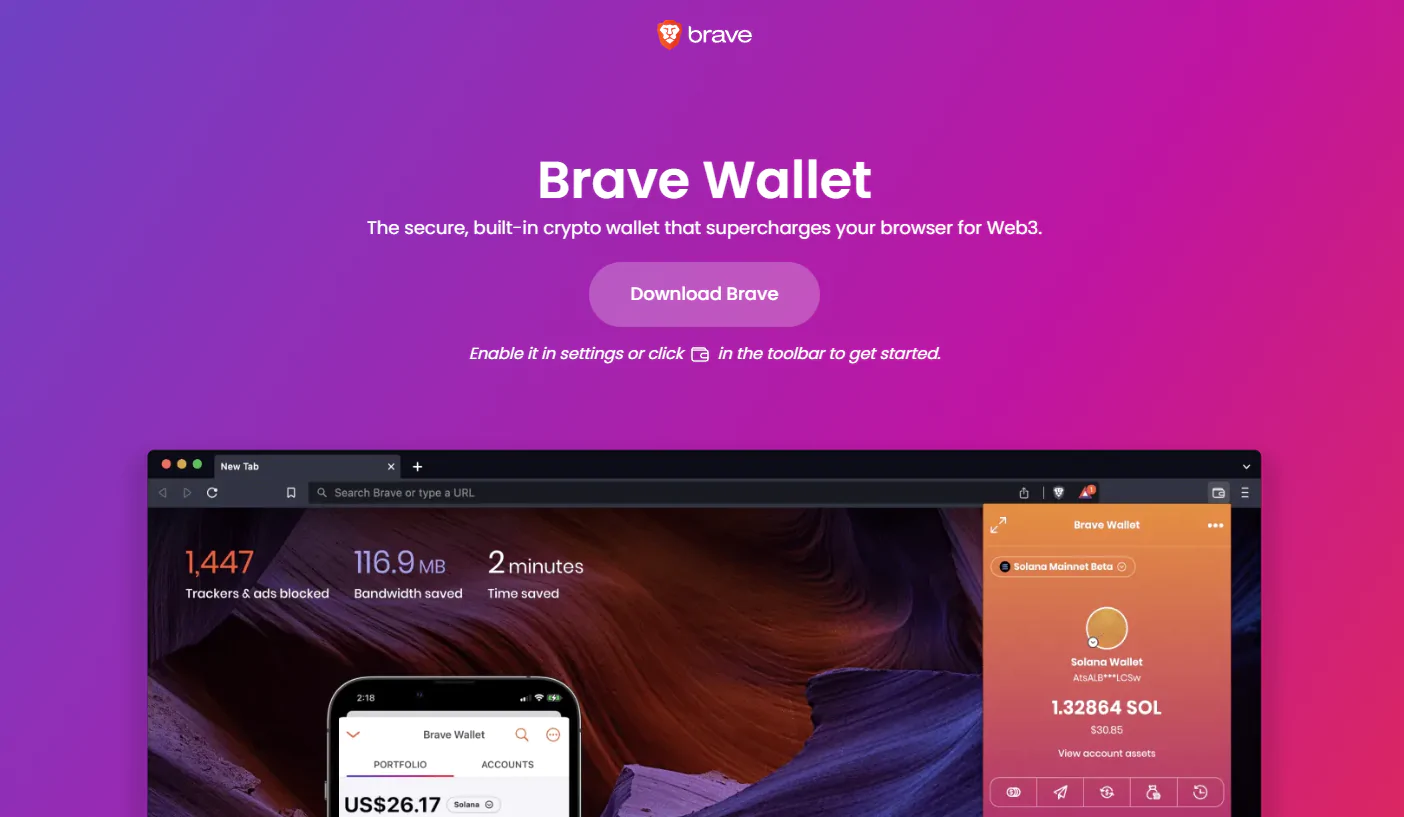 What is Brave Wallet?
Brave Wallet is an excellent solution for individuals seeking a convenient and secure way to purchase cryptocurrencies and NFTs and seamlessly connect with other crypto wallets. Its user-friendly and intuitive interface makes it well-suited for new users who wish to explore the world of cryptocurrency confidently.
Brave Wallet users do not need to install extensions to use the wallet. Additionally, the Brave Wallet has a built-in token exchange feature. This makes it unnecessary for users to connect to decentralized exchanges to transfer ERC-20 tokens, simplifying the procedure. This improves simplicity while lowering security concerns and putting less stress on CPU and memory resources.
The Brave Wallet also has a price matching engine that efficiently connects the assets users want to trade with various suppliers from the decentralized finance (DeFi) ecosystem, assuring access to the cheapest pricing. With this function, the wallet acts as an aggregator, enabling users to carry out quick and effective trades on a single platform.
Features of Brave Wallet
Brave Wallet Security
Brave Wallet particularly targets and reduce the hazards connected with crypto wallets. Its cutting-edge encryption algorithms and security procedures help protect sensitive data and transactions.
Also, as a non-custodial wallet, it gives users more control over their money by enabling them to complete transactions and maintain control over their digital assets without having to depend on a third party.

Data Integration
The Brave Wallet offers seamless integration with CoinGecko. CoinGecko is a well-known platform that aggregates and constantly updates data on the performance of various cryptocurrencies in the market. This feature lets users access live market data directly within the Brave Wallet. CoinGecko provides comprehensive details such as cryptocurrency prices, trade volume, and price fluctuations over customizable periods. This real-time data stream ensures that users can stay informed about the dynamic nature of the cryptocurrency market and make informed decisions based on the most up-to-date information available.
dApp Access
This feature gives users quick access to decentralized apps (dApps), products, and non-fungible tokens (NFTs). This capability covers a variety of blockchain services and domains.
Also, you can easily connect the Brave Wallet with decentralized finance (DeFi) platforms and other blockchain-based services. This makes entering the world of DeFi and other similar fields simple. In addition to improving accessibility, the functionality encourages users to use blockchain technology and all of its possible applications fully.
Browser Native
Brave Wallet distinguishes itself from rivals by operating as a built-in wallet rather than a separate extension and completely integrated into the Brave Browser.
According to the Brave team, the built-in aspect of the wallet promises great speed by using the least amount of CPU and memory on users' devices. This improves the wallet's overall functionality and responsiveness.
Brave Wallet Customer Support
Brave ensures customer support for Brave Wallet through its online ticketing system powered by Zendesk. Users can submit their queries or issues related to the wallet through this platform, receiving assistance from the Brave support team.
In addition, Brave offers a range of helpful resources to guide users in utilizing the wallet effectively. These include frequently asked questions (FAQs) and comprehensive guides that cover various topics, such as supported blockchain networks and other pertinent information.
Moreover, users can also reach out to the team via Twitter, where CEO Brendan Eich actively engages with customers. Brendan Eich is known for his hands-on approach to assisting users, providing support, and addressing concerns directly through the platform.
Cryptocurrencies Supported
Users of Brave Wallet can engage in transactions involving a wide range of crypto-assets. Brave Wallet ensures a cohesive and streamlined user experience. It supports the Ethereum network. Hence the wallet stores various ERC-20 tokens and other tokens compatible with the Ethereum Virtual Machine (EVM) or other Ethereum-based layer two solutions.
Some of the ERC-20 tokens Brave Wallet supports include Ether (ETH), Basic Attention Token (BAT), Wrapped Bitcoin (WBTC), Chainlink (LINK), USD Coin (USDC), and Tether USD (USDT).
Furthermore, you can leverage the wallet's capabilities to swap assets and actively participate in decentralized finance (DeFi) activities across EVM-based blockchains like Ethereum, Avalanche, xDai, and Polygon. Additionally, Brave Wallet extends its compatibility to non-EVM chains such as Solana.

Brave Wallet Pros and Cons
Pros
Brave Wallet operates as a non-custodial wallet, ensuring users fully control their assets.
The wallet is compatible with the Ethereum Virtual Machine (EVM) and various layer two solutions, enabling seamless interaction with multiple blockchain networks.
In addition to supporting the storage of ERC-20 tokens, Brave Wallet allows users to store non-fungible tokens (NFTs) securely.
The wallet incorporates a built-in swap functionality, enabling users to exchange their assets within the wallet easily.
Brave Wallet has built-in protection mechanisms to enhance security against phishing attempts and theft, providing users with an added layer of safety for their digital assets.
Cons
Brave Wallet does not support the storage of Bitcoin. However, it supports various other cryptocurrencies, including Ethereum and ERC-20 tokens.
Brave Wallet is exclusively available through the Brave browser. You can only access the wallet's features solely within the browser's ecosystem.
When purchasing cryptocurrencies with fiat currency, using Brave Wallet incurs higher costs than other platforms. The fees associated with buying crypto through the wallet could be comparatively expensive.
Additionally, Brave Wallet currently does not support staking, which means users cannot participate in staking activities to earn rewards or contribute to the security and operations of blockchain networks.
Brave Wallet is limited to its desktop browser; therefore, you can only use it on Windows, Linux, and Mac OS computers.
Conclusion
Brave Wallet is essentially an excellent wallet to use even as a beginner. Users use it to store cryptos and NFTs. Its security features shield user assets against fraud, theft, and unwanted access.
Additionally, since it is compatible with desktop and mobile devices, users can access it anywhere. The best part is that Brave Wallet offers all these capabilities at no cost to the user, but certain activities may incur transaction fees.
Brave Wallet Frequently Asked Questions
Is Brave Wallet Safe?
Brave Wallet stands out as a more safe option when compared to other crypto wallets due to its direct integration into the browser. The wallet's nature reduces the dangers of phishing attacks, theft, and fake program versions.
How to Set Up Brave Wallet?
The user-friendly design of the Brave Browser makes setting up a Brave Wallet very easy. You must first download the Brave Browser from their website. Next, you can register an account by clicking the wallet symbol in the top-right corner. Follow the prompt the browser brings.
You will get a unique individual recovery/seed phrase. You use This group of words to retrieve your wallet if you forget your password or change your device. It's crucial to keep your recovery/seed phrase safe.
Does the Brave Wallet Support Bitcoin?
This software wallet does not support the storage of BTC at the moment. The Brave team claims to be working on adding it to their upcoming releases. However, you can store Wrapped BTC, which is an ERC-20 equivalent of BTC.
Can I Include Other Blockchain Networks in My Brave Wallet?
Yes, you can. Brave Wallet lets you add EVM-compatible networks. This expands its compatibility to networks like Polygon, Binance Smart Chain, and Avalanche. By incorporating support for these networks, users can securely store tokens specific to these networks within the Brave Wallet.
Can I Store ERC20 tokens on Brave Wallet?
You can store all ERC-20 tokens and even ERC-721 NFTs on Brave Wallet. Brave Wallet works for coins that operate on other layer 2 solutions.