With over 67% of the total cryptocurrency trading market share, Binance is the biggest cryptocurrency exchange in the whole wide world. Therefore it's no surprise that not only does it allow crypto trading bots but also has the largest number of Binance crypto trading bots.
This means thousands of different crypto trading bots, all with different capacities, and capabilities, pros and cons, rules and regulations, etc. Choosing the best among them all can not only be difficult but also time-draining and energy-tasking.
What are cryptocurrency trading bots? , Does Binance allow the use of cryptocurrency trading bots? and what are the 7 best cryptocurrency trading bots used on Binance? All these and many more questions will be answered in this article. Stick with us.
WHAT ARE CRYPTO TRADING BOTS?
Cryptocurrency trading bots for Binance can be described as computer programs set and programmed with rules and instructions to automatically buy and sell cryptocurrencies when activated on an exchange account. This simply means that this computer program or software has predefined parameters that are based on a lot of factors including technical indicators, price of cryptocurrencies, trading volume etc, all of which it calculates using algorithms and mathematical formulas to make trading decisions on a variety of different cryptocurrencies, with an equally immense variety of strategies, all without emotion or ever feeling tired.
Simply put, theoretically, cryptocurrency trading bots are faster and more efficient, all-around-the-clock traders. However, theory is not reality, as there are some grey areas, if not, there shouldn't be any human traders.
One of those grey areas is in the fact that it's human traders that design these Binance cryptocurrency trading bots, and most of these cryptocurrency trading bots even have the option where you can design your own specialised cryptocurrency bot.
Another grey area is that because you are using a 3rd party application on your exchange account, you can never really be certain of the security of your account. Your funds could always be accessed if the company of the cryptocurrency trading bot you are using goes rogue.
Finally, because of the technicalities involved in fine-tuning your cryptocurrency trading bot to suit your taste in trading, it may become a little complicated for beginner traders who are the major users of these trading bots.
The cryptocurrency trading bots for Binance cannot trade without your internet connection. So if you want it to trade 24/7 for you on your account, your internet connection has to be available for it 24/7, or you use a cloud-based crypto trading bot. Examples of such include Pionex, Coinrule, Cryptohopper etc.
It is also very important to note that while most cryptocurrency exchanges would grant you a trial account of crypto trading bots upon registration, the bot cannot access your account nor trade on your behalf unless set to. Crypto trading bots only work when you have attached them to your account and activated them by setting them up, and they also stop working immediately after you deactivate or disconnect them from your trading account.
DOES BINANCE ALLOW CRYPTO TRADING BOTS?
Yes, Binance allows the use of crypto trading bots. There are a lot of crypto trading bots that work singularly and concurrently on both Binance Spot market and Binance Futures. For newbies and professional traders, these bots are invaluable tools for making profitable trades better and more efficiently, or so they think, and Binance cannot deny them this.
As long as these crypto trading bots do not, in any way, violate Binance's terms and conditions for offering services on the exchange. However immediately they fall short, their access is lost, especially when Binance can no longer ascertain their security. With Binance holding more than half of the entire trading market, it would be a very costly mistake for a cryptocurrency trading bot to go against Binance's rules and regulations.
With its huge user base of over 28 million annually, and more than 9 trillion dollars traded, as far back as 2021, Binance is more concerned about its users than its trading bots and rightly so.
POPULAR CRYPTO TRADING BOTS STRATEGIES USED ON BINANCE
While countless strategies are used on cryptocurrency trading bots, 10 of them are quite popular on Binance:
1) Arbitrage:
Utilising speed and fast execution, these bots are set to examine the prices of cryptocurrencies across exchanges like Binance and make a profit off the discrepancies through trades. In simpler terms, these bots sell a cryptocurrency in exchanges where their prices are high and use that money to buy that same cryptocurrency in exchanges where their prices are cheaper, probably because of delays in the exchange updating their prices, and continue this cycle until the prices are regulated. Then the bots look for another cryptocurrency to take advantage of.
However, while arbitrage bots make profits, these profits on their own are usually very small and would require both a high volume and scale of trade to make real money.
2) Trend trading:
This strategy is one of the simplest and easiest to set. Based on the belief that a lot of people cannot be wrong, this strategy sets cryptocurrency trading bots to search for trend line signals, and make trading decisions based on what the trend is implying i.e. buy when the price is going up and sell when the price is going low. This strategy is popular among traders not only because of its simplicity but also because it can provide high returns in a very short amount of time. When done right, and a trend is identified correctly and 'early', you can ride it for a long time making a lot of money in the process.
It is important to note the emphasis is on early, as no trend lasts forever no matter how long it lasts. An upward trend can easily become a downward one when it has lasted long enough. This means you can lose money entering a trade thinking it would keep going up only for it to start going the opposite way.
3) Market Making:
Similar to arbitrage, market-making refers to the act of taking advantage of the difference between the spread of a cryptocurrency. Market-making bots buy and sell a cryptocurrency by taking advantage of the difference between the bid and ask prices, also known as spread. The bigger the spread, the higher the profit that can be made.
The goal of this strategy is to make huge amounts of trades on a cryptocurrency, to keep the market stable and liquid, while also making little profits on the side. Similar to arbitrage, the profit made per trade isn't much, so it requires a huge scale and volume of trade to make a tangible profit.
4) News trading:
A distant cousin of trend trading, news trading bots make trading decisions based on information gathered in hopes a trend would follow. Searching the internet for any information that might affect cryptocurrencies, new trading bots after finding one or more, take buying or selling positions in quick reaction to that news in the hope that others will take that decision as well or in some very rare cases, go against that position.
So not only do traders use this to predict what trend the market is going to take, negative news and bad occurrences – sell trend, positive news and awesome happenings – buy trend, but the professionals also use it to be able to take risks and go against the market in the hope that in the nearest future, a reversal trade begins earning them huge returns.
The profitability of this strategy is based on both the validity of the news and the accuracy of its interpretation and prediction.
5) Mean reversal
This is a strategy based on statistical analysis and the probability that whenever the price of a cryptocurrency increases way above or decreases way below the mean price of the cryptocurrency, it will rebound and find its way back to the mean value. Mean reversal bots make trading decisions based on these probabilities. For example, they buy when the price of the crypto is way lower than its mean value in hopes that the current price would rise, or they sell when the price is way higher than its mean value in hopes that the current price would reduce.
6) Other Crypto Trading Bot Strategies
Breakout strategy bot
Crypto Scalping bot
Momentum trading bot
Reversal trading crypto bot
Dollar-Cost Averaging (DCA) bot
7 BEST CRYPTO TRADING BOT FOR BINANCE
After critical research and analysis of various crypto trading bots available on Binance, using criteria such as; ease of use, free accounts, features and bots offered, etc. Below are the top 7 cryptocurrency trading bots on Binance.
3Commas – Overall comprehensive Cryptocurrency Trading bot and Binance 1st partner
Pionex – Beginners-friendly crypto trading bot
CryptoHopper- Best for paper trading and copy Trading
Bitsgap- Overall best at arbitrage.
Coinrule- Awesome trading experience providing the best indicators
HaasOnline- Best for Real-time Backtesting
ArbitrageScanner- Specialized expert at Arbitrage.
1. 3Commas
Available on Binance, and all its derivatives; Binance Margin Cross, Binance DEX, Binance Futures COIN-M, Binance US, Binance Futures USDT-M, 3commas is the best cryptocurrency trading bot on Binance and can be used on all pairs listed on Binance.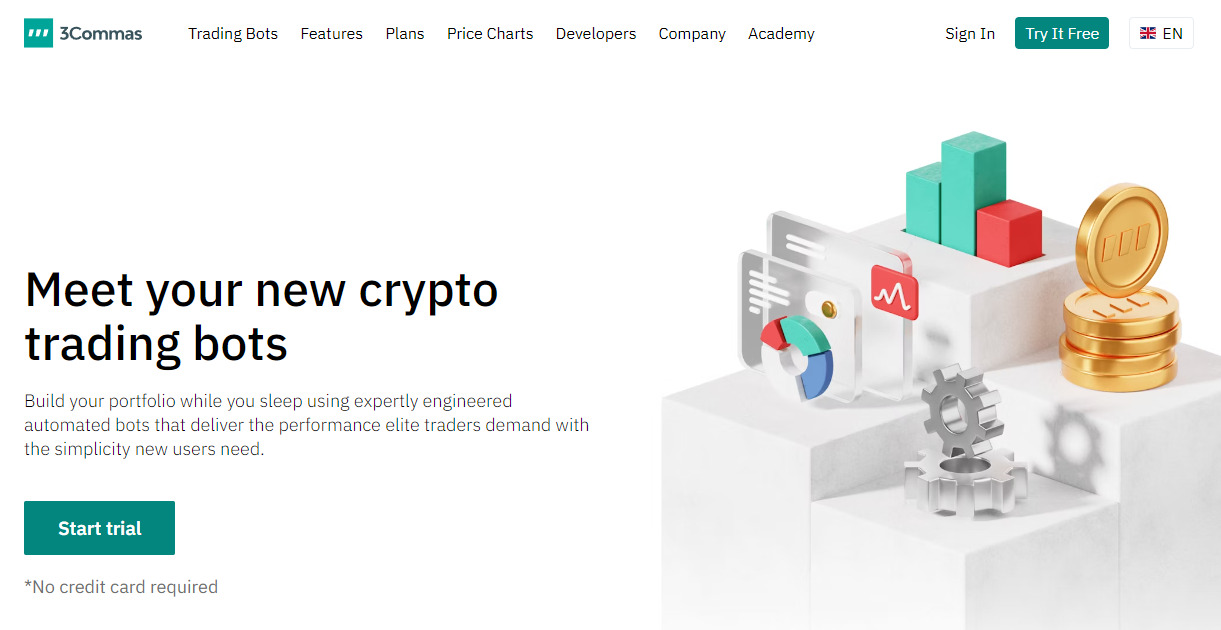 Becoming an official partner with Binance in October 2019, 3commas is the first broker partner Binance ever had. Its intricate and comprehensive platform has everything an expert trader would ever need while also providing the ease of usage and simplicity that a newbie trader requires.
Considered the best Binance cryptocurrency trading bot because of its ability to take complete advantage of the market volatility by placing even-spaced price level orders of buy and sell, it automatically adjusts your stop-loss as the trades progress, thereby preventing a loss in a sudden reversal, also can be set to take profits in portions to reduce risk.
3commas has a wide array of trading bots for Binance; these include Smart bots, Grid bots, HODL bots, Options bots, DCA bots etc. 3commas has three account types namely; the starter plan, the advanced account, and the pro account costing $29, $49, $99 per month respectively. It also offers a permanent free account that offers only portfolio tracking and unlimited scalper terminal.
| PROs | CONs |
| --- | --- |
| Mobile app available for both iPhone and Android | The platform can be a little bit complex |
| 24/7 support and assistance | The free account is powerless |
| Has a wide range of bots available to traders | It's a monthly based subscription |
| It's a cloud-based crypto trading bot | |
2. Pionex
Allowing free access to 16 crypto trading bots for Binance users, Pionex stands strongly at number 2 among the best Binance cryptocurrency trading bots. Pionex doesn't have any account charges and only collects a 0.05% maker-and-taker trading fee.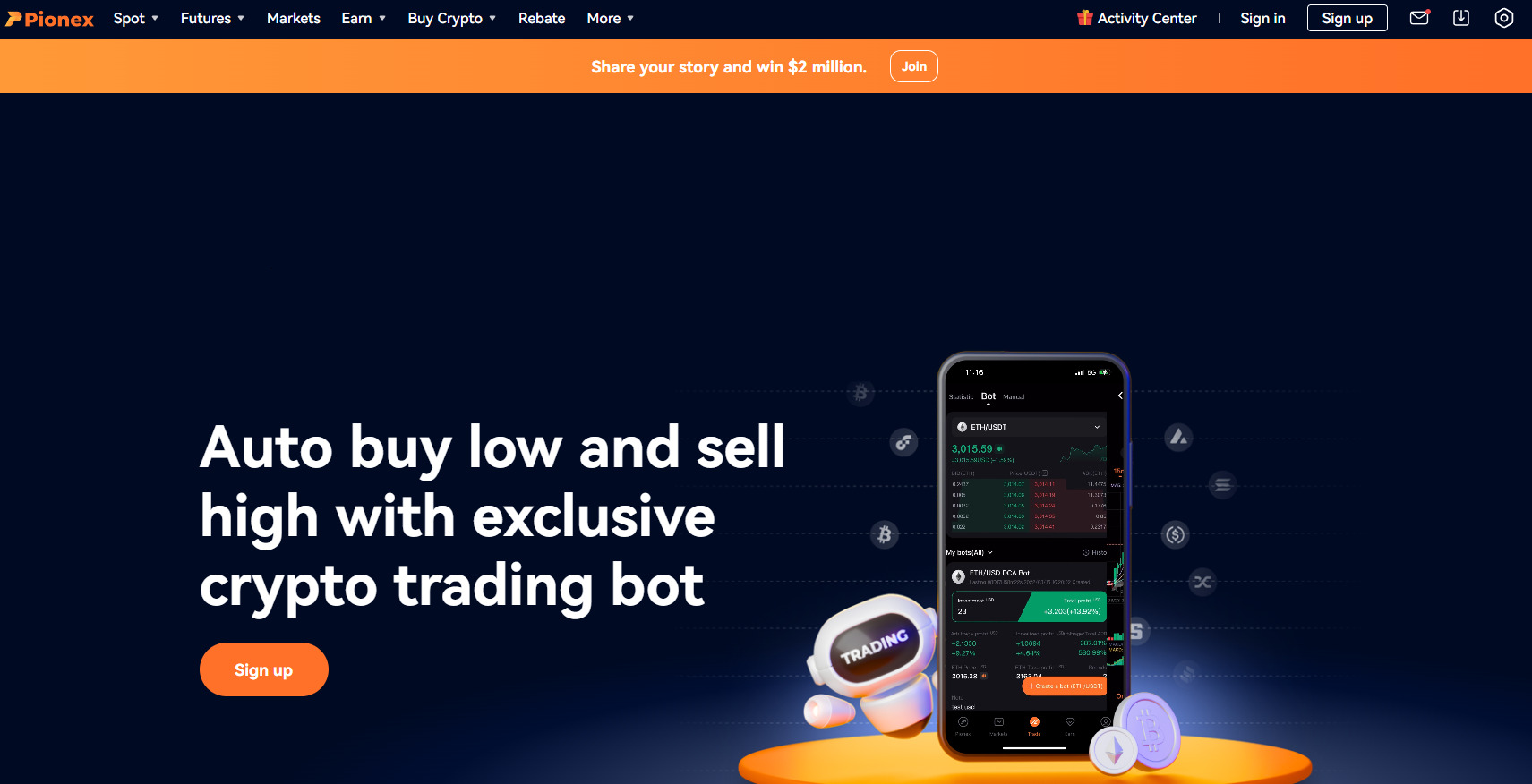 Reverse Grid bot, Martingale DCA Holding Bot, Spot-Futures Arbitrage Bot, Rebalancing bots and Grid Trading Bot, are just part of the bots Pionex gives free access to. All of them very efficient and can be modified and adjusted to suit your manner of trading.
It would have been the best if not for its flaw of not being able to connect remotely with Binance trading accounts. However, you can transfer funds or cryptocurrencies from your Binance account to your Pionex account where the bots would use it to trade for you on Binance.
It also provides an academy to learn everything about trading and bots and trial funds to kickstart your trading journey.
| PROs | CONs |
| --- | --- |
| Access to the bots is completely free | Cannot trade directly with your Binance account |
| Provision of an academy and trial funds | A lot of confusing information on the website |
| Mobile app for iOS and Android | Customizing bots might be a little complicated |
| Allows you to deposit and withdraw straight from/to your bank | |
| It offers 5x leverage | |
3. CryptoHopper
One of the most innovative crypto trading bots in the world, Cryptohopper stands at number 3 on our list of best cryptocurrency trading bot on Binance. Cryptohopper is one of the first Binance crypto trading bots to adopt Artificial intelligence and launch what it calls AI trading. AI trading is a situation where your bot studies all the strategies you give it, automatically backrests them and then decides on which one to use for different trading decisions.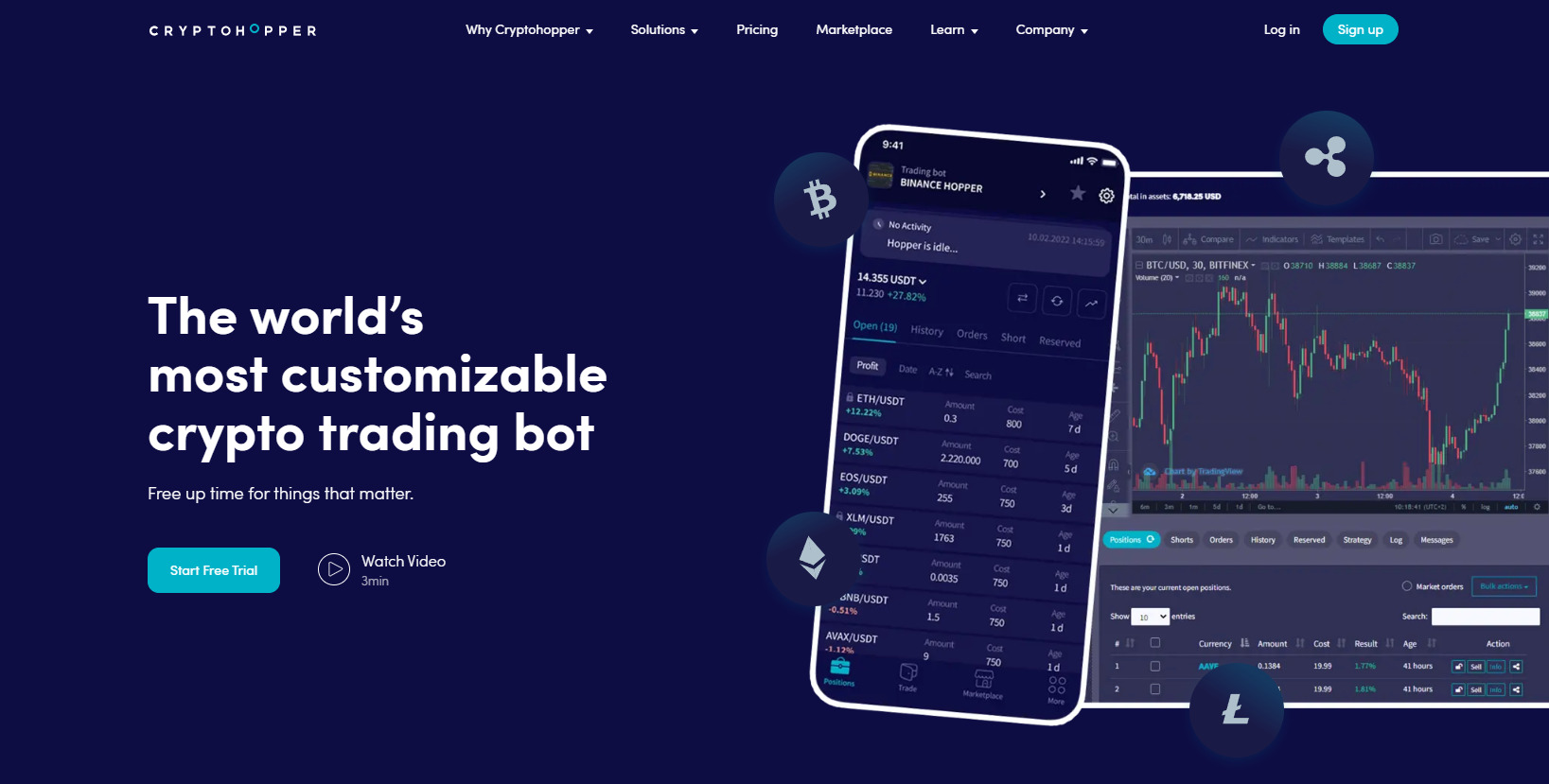 To rival its radical innovative side, Cryptohopper also has a conservative side. It has what is called Paper trading which is a simulation of the market, allowing you to trade without any risk. This is a means to build experience and expertise and also test out strategies.
Also offering social and copy trading bots, it is no surprise why this is one of the very best cryptocurrency trading bots on Binance and in the world. It offers Pioneer, Explorer, Adventurer, and Hero accounts for monthly costs of $0, $16.58, $41.58, and $83.25 respectively.
| PROs | CONs |
| --- | --- |
| Has an academy for free learning | The free account is too limited and risky as it offers no stop loss or paper trading for the free account |
| Offers up to 6 different trading bots which include trading bots, which you can use to implement any trading strategy. | Limited support offered |
| Mobile app for iOS and Android | |
| | |
4. Bitsgap
Known for its impressive number of cryptocurrency pairs it gives access to analyse, more than 10,000 to be precise, Bitsgap is one of the best cryptocurrency trading bots on Binance, the simplest and easiest to use among the bunch.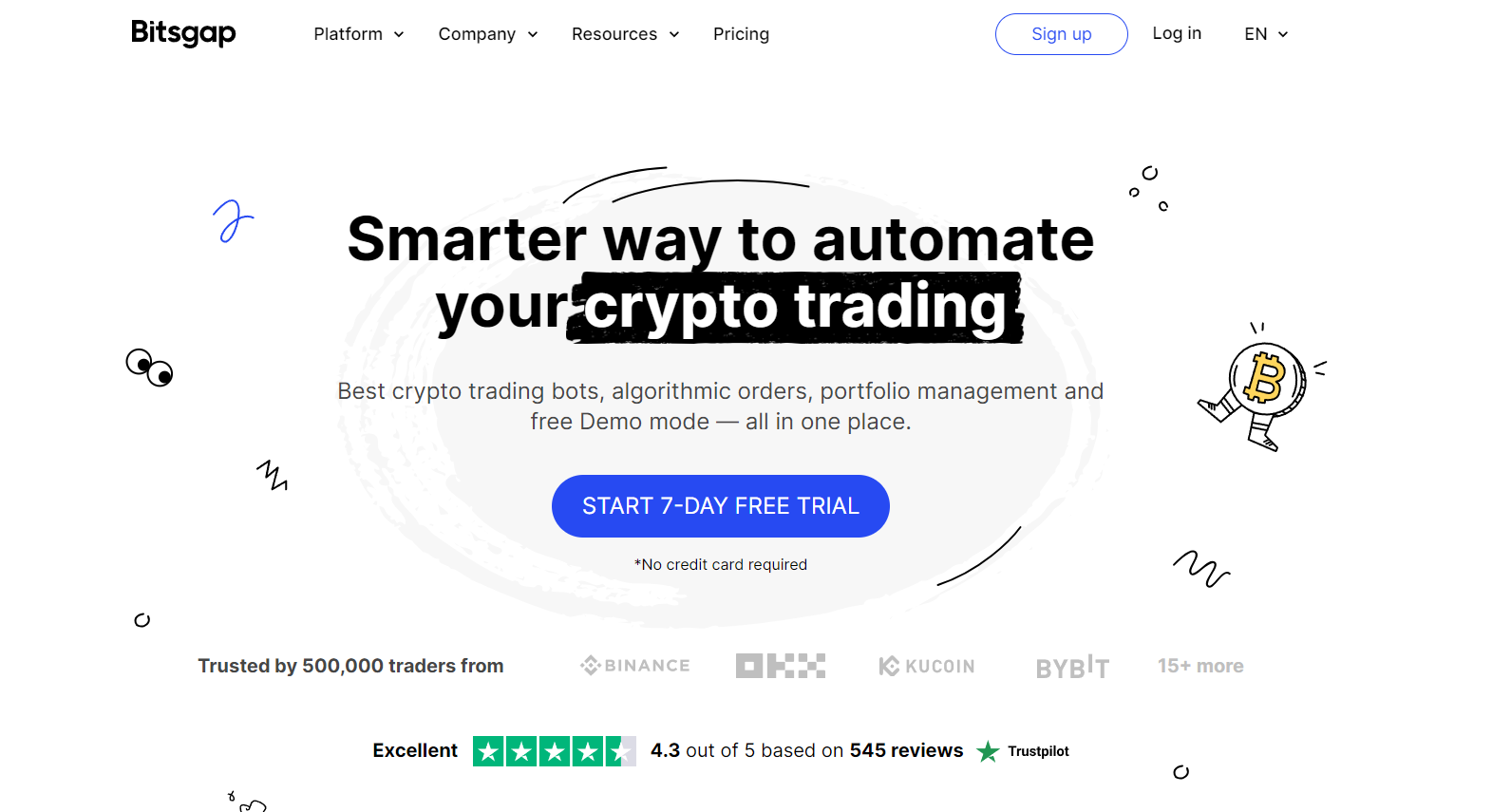 It gives you access to create a specialized Binance crypto bot, automate trading, and even trade futures on Binance. All of these and more you can do with just a few clicks. Some of the bots offered include DCA bots, arbitrage bots, combo bots, rebalancing bots, futures bots, flat bots, grid bots, buy dip bots, and scalper bots. Bitsgap offers a Basic, Advanced and PRO account for the monthly cost of $29, $69, and $149 respectively.
| PROs | CONs |
| --- | --- |
| It's very easy to use even with its numerous indicators and capabilities | It does not have a mobile app |
| It's very good for Arbitrage trading | The bots have operational limits |
| It supports demo trading | |
| It offers signals to its users | |
5. Coinrule
Having over 200+ trading template strategies, pre-set and ready for immediate use, Coinrule is one of the best beginner-friendly cryptocurrency trading bots on Binance and out there. Coupled with its tight and efficient security, and its wealth of educational materials, it is certain that Coinrule is interested in the success of her traders, especially the newbies.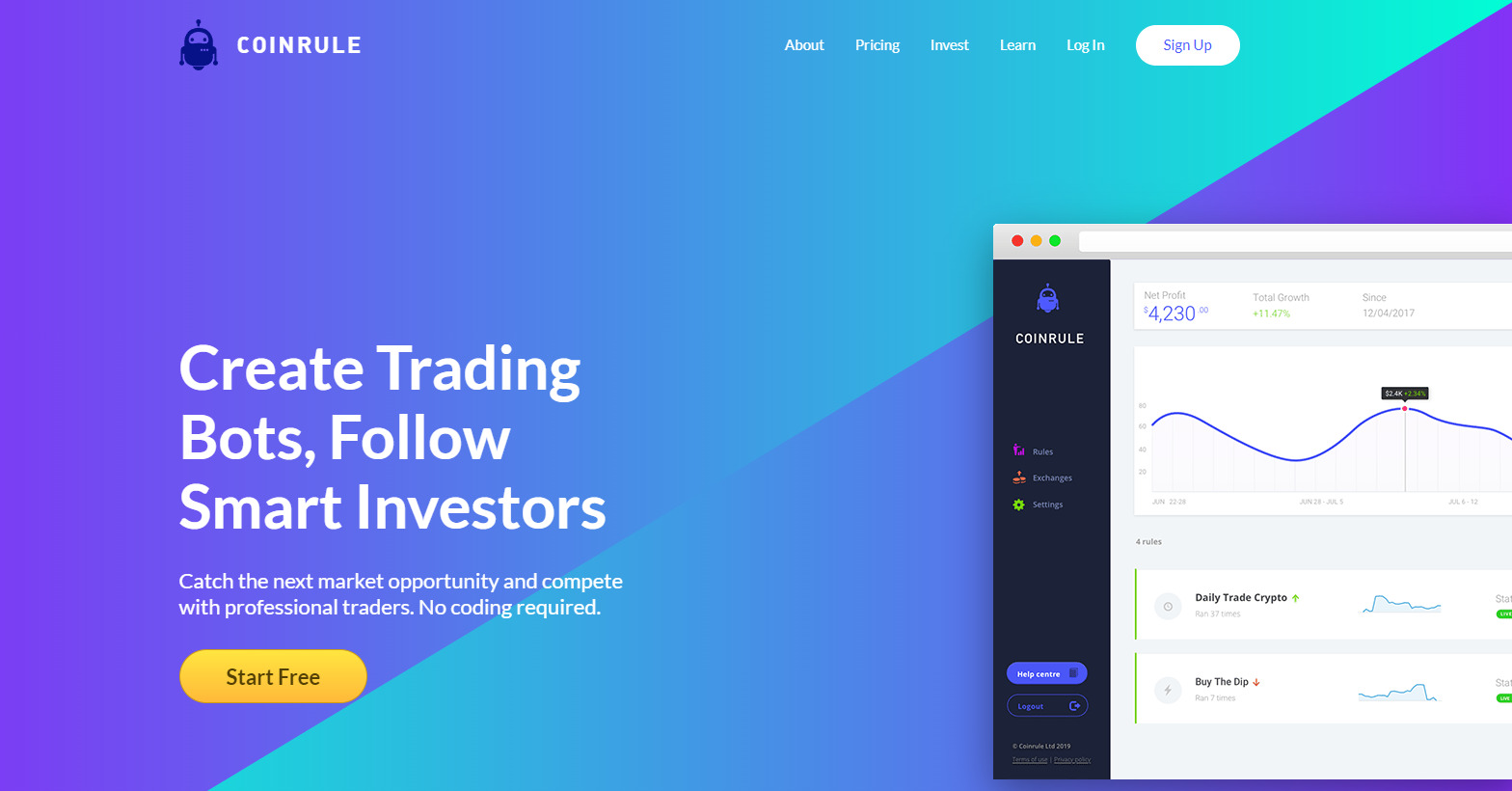 With an interface that's designed to be easily navigatable to any experience-level user, it also offers demo trading, for its users to try and backtest their strategies and see their efficiency. You can also create your trading bot on Coinrule, and use its demo trading to test out your creation. It offers a Starter(Free), Hobbyist, Trader, and Pro account for $0, $29, $59, and $499 respectively and monthly making it one of the most expensive crypto trading bot companies.
| PROs | CONs |
| --- | --- |
| It has a free account and offers demo trading | It's too costly |
| It has an academy for free learning | It doesn't have a mobile app |
| It has a trading community | |
6. HaasOnline
One of the oldest crypto trading bots in the world, HaasOnline offers access to diverse strategies for trading. From simple strategies such as Accumulation, Grid bots and Portfolio Index to more specialized approaches like Dollar-cost-averaging, Market Making, Scalping, Futures Bots, Trailing Stop and arbitrage can be easily replicated on HaasOnline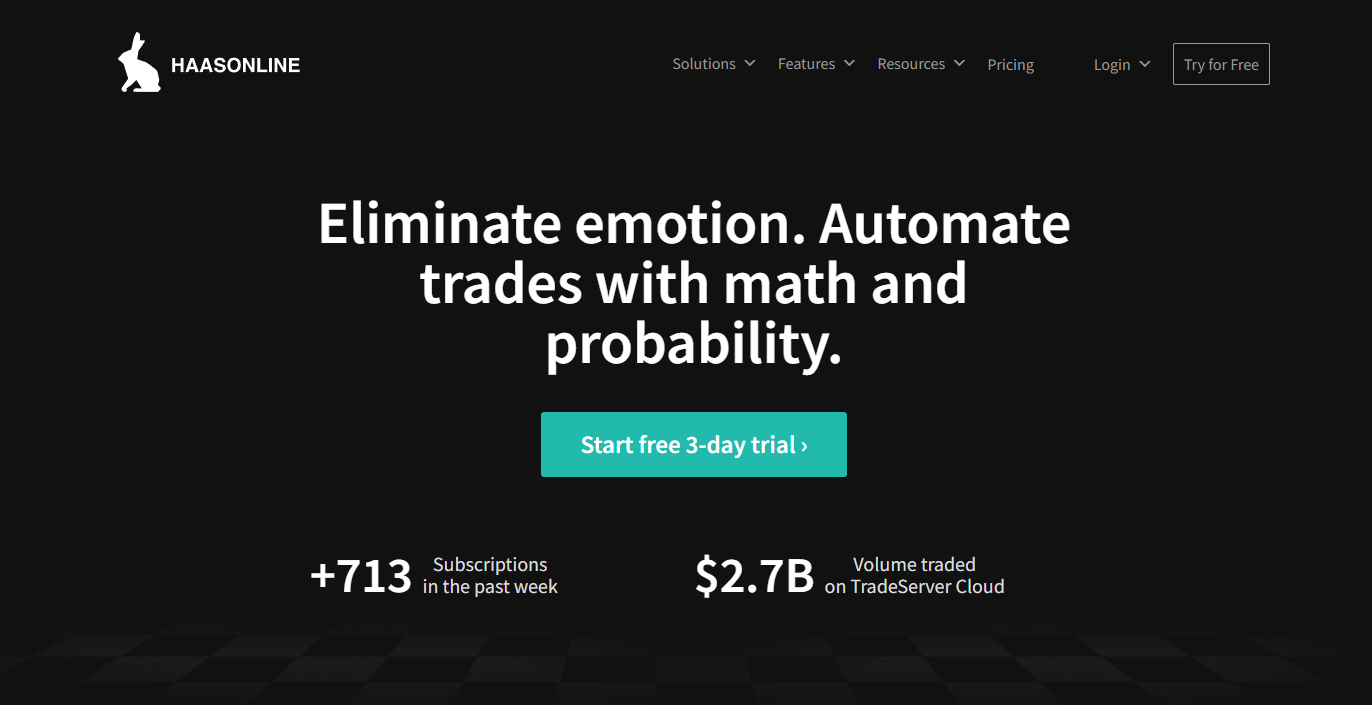 Using these strategies, you can create your specialised cryptocurrency trading bot on Binance drafting up to 600 commands, to cover chart plotting, position management, calculations etc, as a result of its crypto trading bot programming language HaasScript.
It also allows you to backtest and paper trade with this newly created or chosen bot to test its effectiveness. This way you don't invest money until you are sure the chosen or created bot works perfectly to your taste.
HaasOnline offers three accounts; Lite+, Standard and Pro for the respective price of $9, $49, and $99 monthly.
| PROs | CONs |
| --- | --- |
| It offers free trials | It does not have a mobile app |
| It has a free academy for learning | |
| It's extremely powerful in creating a specialized bot | |
| It has a community of traders also using its bots | |
7. ArbitrageScanner
Looking for a fully manual cryptocurrency trading bot on Binance? this is it. With its strict security regulations, ArbitrageScanner like the name implies doesn't touch your account but just scans the cryptocurrency you connected to it, searching for opportunities where you could make a profit by trading it on another platform, and sends the notification of this information to you, leaving the decision completely at your disposal.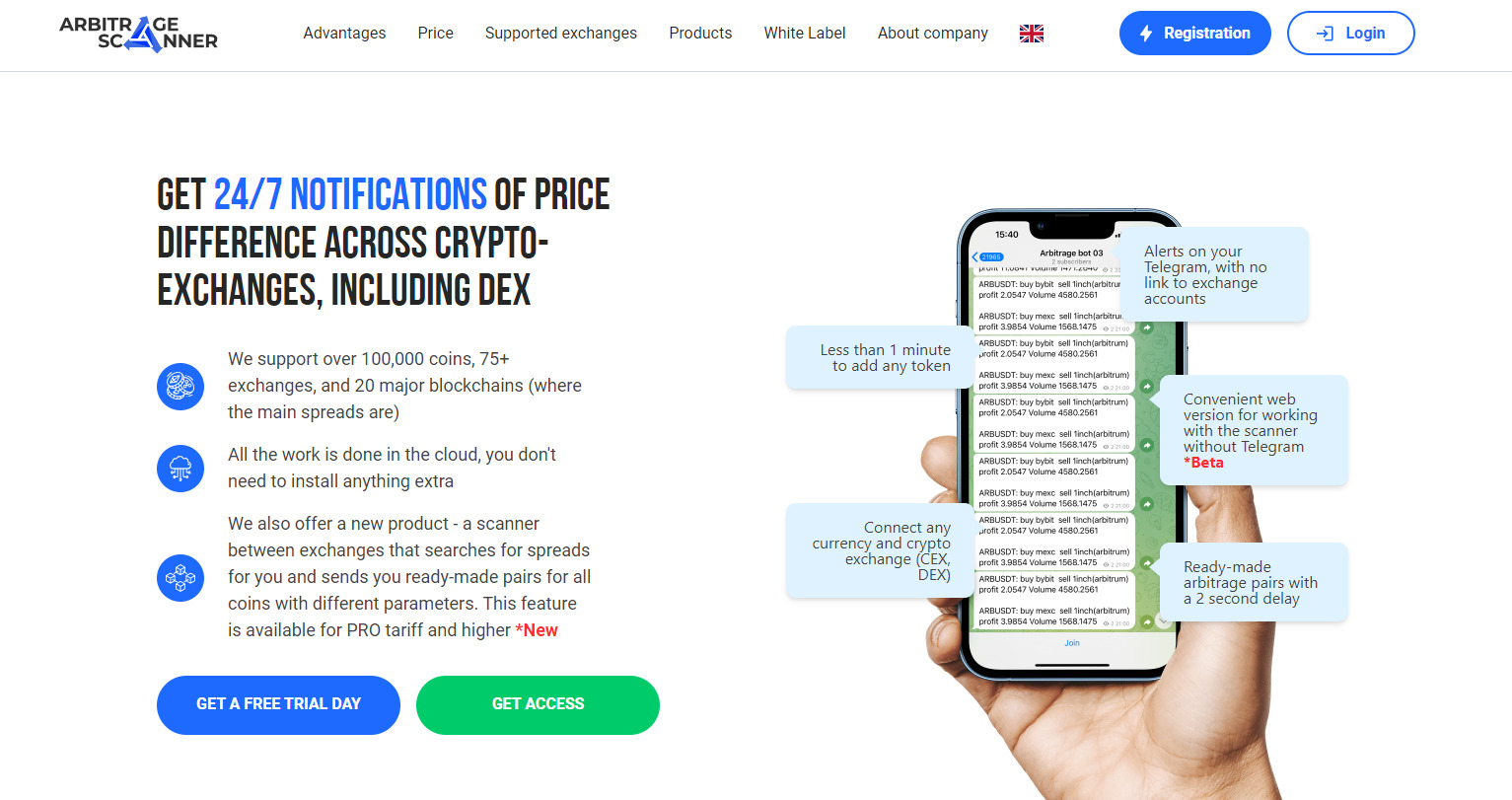 Communicating this information through a telegram chat, you get information about where to trade, the scale at which to trade and the proposed profit from this trade every 4 seconds. And this includes information across DEX exchanges.
ArbitrageScanner offers four different account types, namely Test, Pro, Expert, and Guru accounts that cost $69, $199, $399, and $1199 respectively. This is also monthly, making it one of the most costly cryptocurrency trading bots in the world.
| PROs | CONs |
| --- | --- |
| Your funds are completely safe as they can't make any trade decision | It is very costly |
| It provides information even across DEX exchanges | Arbitrage requires speed, of which sometimes isn't possible manually. |
| It provides prompt information | The information it provides can be overwhelming. |
BINANCE TRADING BOT API EXPLAINED
The Binance application programming interface, or as it is commonly called API is the intermedium between Binance and any crypto trading bot, you want to use for trading.
To fully understand this you need to understand what an API is. Think of a restaurant, where a customer walks in, probably with a beautiful date, and they both make an order to the waiter or waitress, who takes this order to the kitchen while offering them wine while they wait. In the kitchen, the cook whips up their meal, which the waiter or waitress serves up immediately while it's steaming hot. They have an amazing dinner and then leave, of course promising to return. Developing a liking for the chef's meal, the date turns the restaurant into her favourite spot, and now comes a lot even without her date.
Now, in this case, You are the customer, your cryptocurrency trading bot is the date, her return is automation, the restaurant/chef is Binance, and guess who the waiter is? Yes, an API. It collects orders for information or decisions from you or your cryptocurrency trading bot and then interprets them in a way Binance would understand, and then brings back the results or results showing it had taken action, and the cycle continues.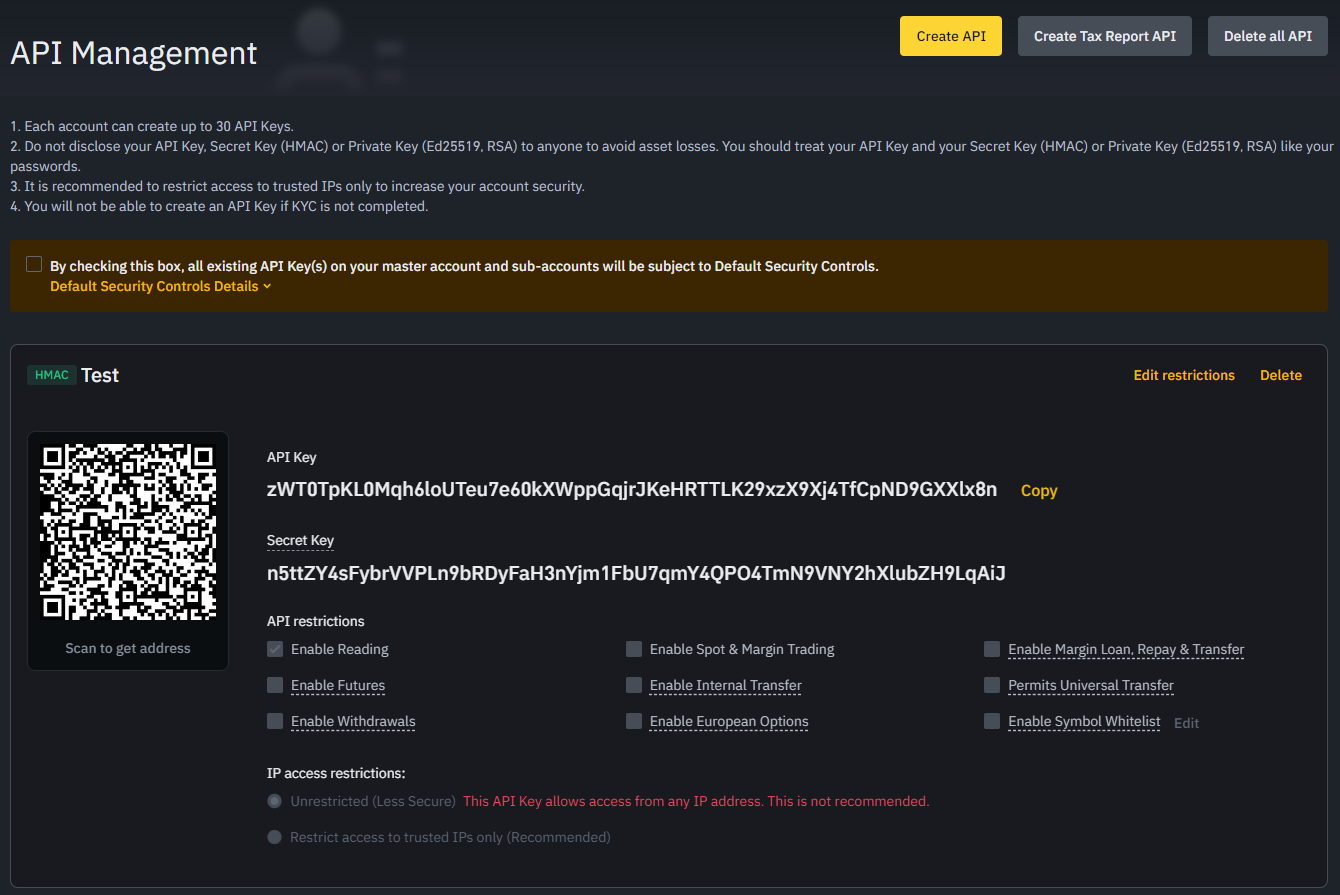 Like in most websites, just like the restaurant, having an API not only makes the website run smoother but also more orderly and faster. So most times, the API is made free to use by the website.
Binance APIs do not only exists for trading bots but for other services such as wallet services, market data to be shown on other website, transaction data, payment processing etc, and is present whenever Binance needs to relate with other programs.
For trading, almost all cryptocurrency trading bots, that are recognised by Binance, need to be connected to your Binance account through your API and then they can make trading decisions on your behalf.
You can request for your API, by clicking on the profile icon after logging into Binance, and then clicking on API management. This takes you to a page where you would be asked to create a label for the API key and be as descriptive as possible for future reference. After the authentication, the API key will be sent to your email. This is what you input in your crypto trading bot's account to connect it to Binance.
FREQUENTLY ASKED QUESTIONS
How profitable are crypto trading bots on Binance?
When done right and configured perfectly, cryptocurrency trading bots on Binance can rake in a lot of profits but like everything worthwhile, this isn't easy and takes a lot of time, consistency and experience. For most people though, crypto trading bots just make very small profits
How is cryptocurrency traded by bots?
Cryptocurrency trading bots analyse the markets using parameters, searching for indicators that have been integrated into their strategies. When they find these indicators, they take a trade based on these indicators.
What are the advantages of using bots to trade crypto?
The advantages of using bots to trade crypto are numerous, however here are some few 24-hour trading, Automation which saves you time, Backtesting and paper trading, lack of emotion, adequate risk management etc
What is the cost of using a cryptocurrency trading bot on an exchange?
This varies based on the bot, the exchange and the volume of the trade. While some cryptocurrency trading bots are free, others charge different amounts, while others charge trading fees. It varies.
What amount is possible to make with a cryptocurrency trading bot?
This also varies depending on the trading strategy employed, the market conditions, your risk tolerance and the amount of investment. However, it is possible to make millions.