As the public becomes more enlightened on the importance of crypto assets and the need to move away from centralized cash, several service provider platforms are emerging to offer crypto services, including PayPal.
Little wonder the crypto community in the US went agog with joy when PayPal announced its presence in October 2020. This stems from the fact that PayPal offers an easier way to get paid online using electronic means. The digital company allows people in the United States to buy and sell different cryptos like Bitcoin cash, Bitcoin, Ethereum, and Litecoin. Fortunately, this expectation has been met as crypto lovers can now purchase crypto on PayPal via the app or website without hassles.
If you want to buy crypto using PayPal, consider settling on a suitable platform. With the abundance of notable crypto trading platforms like eToro, Cex.io, Binance, and many others that accept the use of PayPal, it can be challenging to make a decision. But, it is easier than it seems.
Are you ready to buy crypto using PayPal but need help? Don't fret! We'll guide you on how to make the best pick to suit your needs. In making your decision, you need to consider three important factors- the processes involved, the reputation of the trading platform, and the different types of cryptocurrencies available on the platform.
The only exchange platform that ticks all the boxes is eToro. Interested in knowing how to buy
crypto using PayPal on eToro? Continue reading to find out how to buy crypto on PayPal using
eToro as an exchange platform and what to expect from the process.
Why Buy Crypto With PayPal?
Like other service provider platforms, there are many arguments on the relevance of PayPal in buying cryptos. However, it is pertinent to note that PayPal has some interesting benefits that set it apart from its competitors. Some of these benefits include:
Ease of access
Buying crypto with PayPal is easy compared to other service platforms. If you already have a PayPal account, you know how this works. PayPal is easy to set up and does not favor some of the tedious processes found among its competitors. Interestingly, if you're looking for an exchange that helps you buy crypto quickly, PayPal is your best bet.
For instance, when you are buying crypto in your application, you'll complete the process within the twinkle of an eye. Thus, if you have cash available in your account, PayPal will automatically make the deductions. However, if you need more cash in your PayPal account, PayPal will deduct it from your bank account.
Top-notch security
As a secure and trusted platform, PayPal ensures that all online transactions are safe. PayPal has notable security features that help people protect their accounts. It achieved this by investing considerably in its security development. Unsurprisingly, there is a two-factor authorization that notifies users when someone is trying to sign in. PayPal monitors transactions made on the platform through the use of advanced protection.
Accepted medium of payment
With over 426 million users, this is one of the most popular e-wallets in different parts of the world. Thus, it is commonly accepted as a means of payment by different exchanges. It owns a 32.3% share of the global market for online payment. Therefore, it is suitable for purchasing items on online platforms like eBay.
It is affordable
One of the most important benefits of buying crypto on PayPal is it is an affordable option. Whether crypto is purchased via mobile or website, crypto lovers do not pay a fee. Instead, the company generates its money through alternative means. If you are a crypto lover that wants to avoid paying high charges to a broker, PayPal will save you some extra cash.
Use on mobile platforms.
Many people prefer to use PayPal to buy cryptos because it is compatible with mobile devices. It has a website that is suitable for mobile browsers. The mobile application works well for both Android and iOS devices. The apps on mobile devices make it easy for you to buy crypto regardless of the time and environment.
Multiple currency support
A unique benefit of buying crypto on PayPal is that it supports using different currencies. This includes popular currencies like USD, EUR, GBP, and AUD. With this feature, you avoid currency conversion fees that are common with other trading platforms.
Crypto friendly
PayPal is constantly generating new ideas to protect its users and portray itself as a crypto-friendly service provider. In the first week of January 2023, PayPal announced that it was working on developing its stablecoin backed by the US dollar. The service provider has continued to encourage innovative ways to increase the number of cryptos users can purchase while educating them on its uses.
The Best Platform To Buy Crypto With PayPal
With several cryptocurrency exchanges and brokers, buying digital currencies with debit or credit cards is much easier. However, despite the abundance of these exchange platforms, only some offer support for PayPal.
Sadly, even the few providers that enable deposits and withdrawals on PayPal charge outrageous fees. Fortunately, eToro is the only exchange platform that allows you to buy or sell crypto on PayPal with only a 0.5% deposit fee. Interesting, right? Well, that's not all.
As a regulated broker on different fronts, it has various licenses from several countries- Australia (ASIC), Cyprus (CySEC), the UK (FCA), and the United States (FINRA). These different regulatory bodies enact strict regulations and laws that are essential in protecting crypto users. More so, eToro, an online trading platform that gained popularity in 2007, supports using various assets such as stocks, forex, ETFs, commodities, and cryptocurrencies.
eToro offers PayPal functionality. Its excellence in the trading industry has earned it over 24 million faithful users in 24 different parts of the country. The exchange platform also encourages a transparent transaction by charging a fixed 1% fee when you close or open a trade. Thus, this pricing structure is most suitable for different types of cryptos. Also, eToro links directly to your PayPal account and allows you to make free deposits with only a minimum of $10.
Furthermore, eToro has a unique feature that gives users the best experience while using PayPal. Notable among these features are CopyTrader and the Academy service. The CopyTrader feature on eToro supports the growth of other crypto users like you. To this effect, you can copy the trades of other eToro users and automate the process. The Academy service, on the other hand, feature different courses and tutorial to help fast-track your learning process.
Also, there are sixteen (16) digital coins you can buy on eToro. Purchasing cryptos like Bitcoin on eToro using PayPal is the best decision. This is because eToro allows you to buy Bitcoin with a credit card without making any deposit.
Finally, eToro protects your funds and personal information. It employs the highest standard of security measures to ensure that your information is kept away from the prying eyes of fraudsters. This, of course, is one of the major reasons eToro occupies the first place among other exchange platforms.
Step-by-step Guide To Buying Crypto On eToro
You can only buy crypto on eToro after opening an account. You'll need to provide personal information- email, name, address, and date of birth. It will only take a few minutes.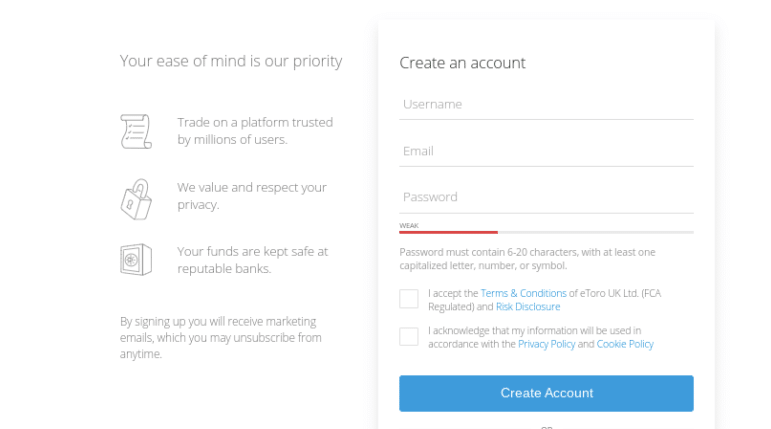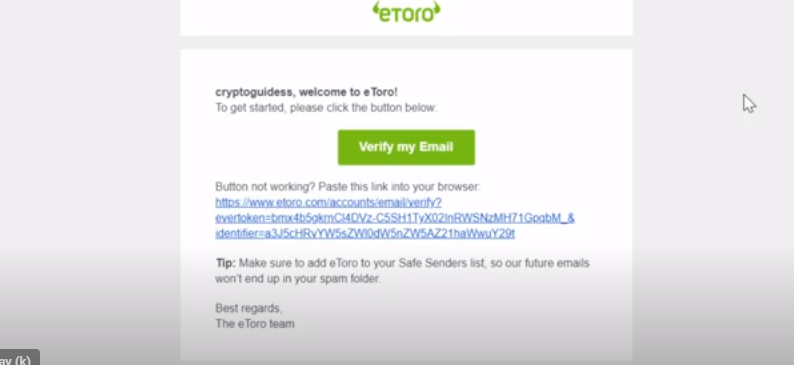 Click on the Complete profile.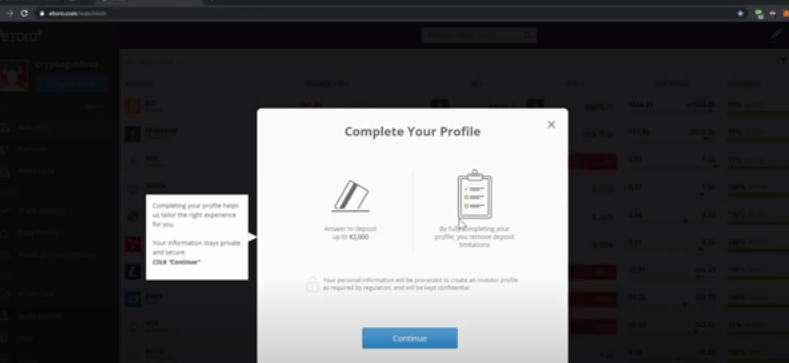 Deposit money with PayPal
On eToro, there is no Buy Feature. But you can deposit money into your brokerage account and buy crypto. Click on Deposit Funds on the left side of your dashboard.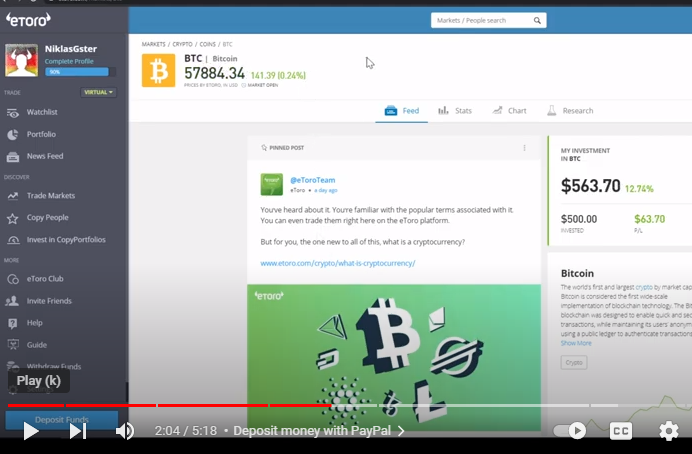 Click on credit/debit card, select the PayPal option, and click Deposit.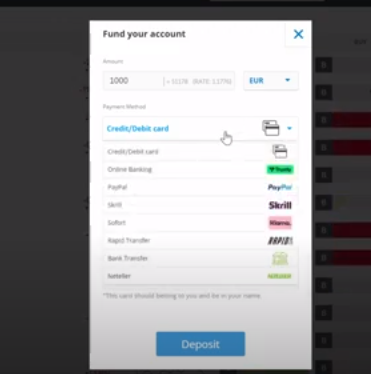 Click Continue to Deposit.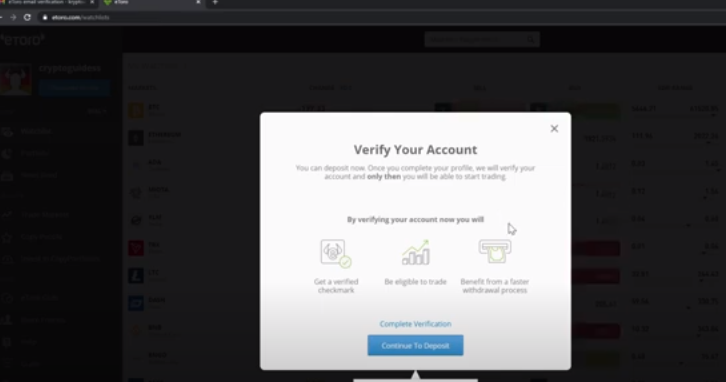 Enter the amount of crypto you want to purchase and Click Continue.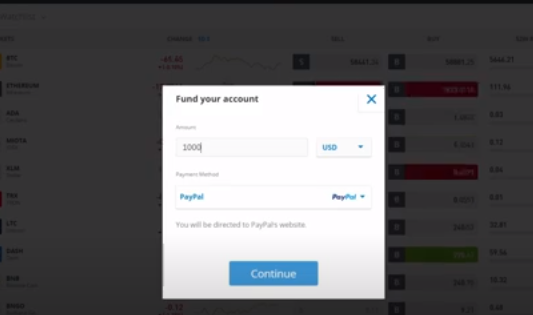 Choose a suitable Cryptocurrency to buy
You can proceed to the digital currency you want to buy once you make the deposit. If you know the digital currency you want to buy, go to the search column and type in your favored cryptocurrency.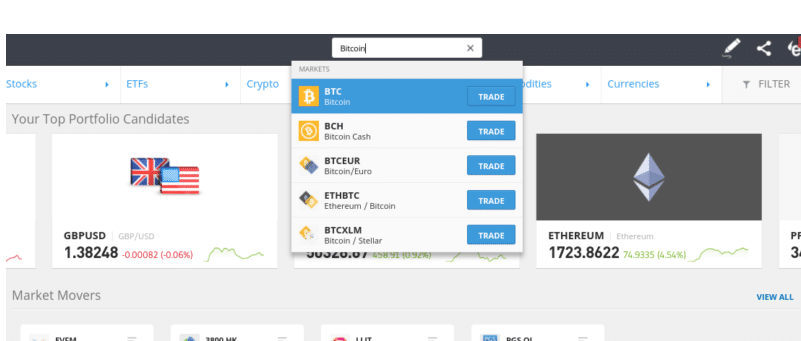 If you cannot find the cryptocurrency you desire in the search column, click on Trade Market on the left-hand side of your dashboard.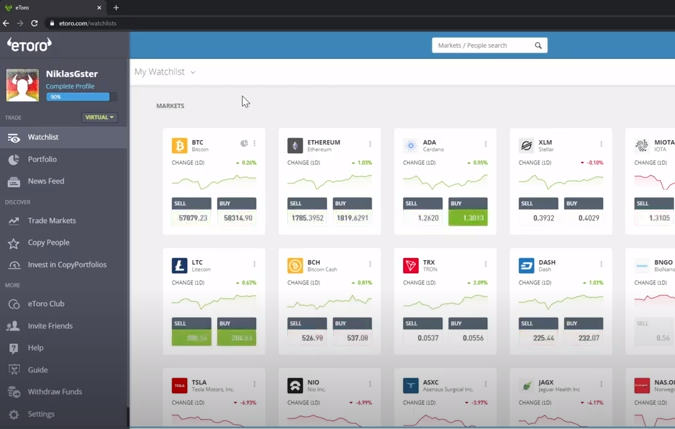 Click Trade on your dashboard.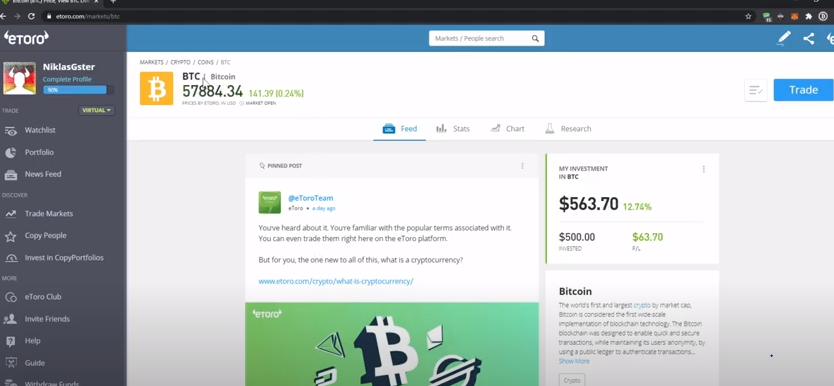 Select buy from the option available on your dashboard.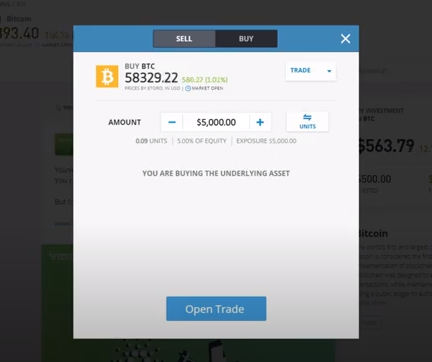 Enter the amount of crypto you want to buy and click on Deposit Now or Open Trade, depending on your region.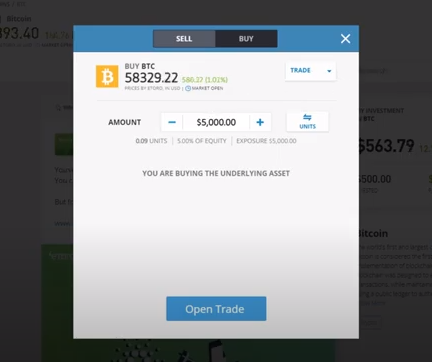 You have successfully bought Bitcoin on eToro. Now, you can make the best use out of your cryptos!
Conclusion
This guide explains everything you need to know about buying crypto with PayPal, including the processes involved. Buying crypto with Paypal is now easy with a brokerage site like eToro.
As you know, an exchange platform like eToro enables PayPal functionality and seamless deposits. The process of purchasing crypto on eToro is not only fast but cheap. If you want to buy crypto using PayPal, consider opening an account with eToro. In addition, eToro doesn't charge exorbitant trading fees!